New Rochelle
New Rochelle
is a city in
Westchester County
in
New York
. It is the home of
Iona College
.
Understand
New Rochelle was founded by Huguenot refugees from persecution in France and named after
La Rochelle
. Huguenot Street is today one of the main streets in the city, and the
fleur de lis
is the city's symbol; you can see colorful plastic fleur de lis sculptures on several streets in Downtown New Rochelle. The city is only a little beyond the northeasternmost reaches of the
Bronx
and reachable from there by bus, car and commuter train, but it has its own character. It is an ethnically diverse city with many private houses, low-rise brick buildings, some pretty churches, classic mid-19th-century to Art Deco commercial and office buildings Downtown, the neo-Gothic buildings of the former College of New Rochelle and some secondary schools, an increasing number of modern high-rises, upscale cafes and inexpensive shops and taquerias.
Get in
By train
New Rochelle is a stop on the
New Haven Line
of
Metro-North
between
Grand Central Terminal
in
Manhattan
,
New York City
and
Stamford
. Travel time from Grand Central Terminal is approximately 35 minutes. Additionally,
Amtrak
serves the city via its
Northeast Regional
trains between
Boston
,
New York City
,
Washington, D.C.
and
Richmond
. is at 1 Penn Central Railroad, next to downtown.
By car
The New England Thruway (I-95) traverses the city. Main Street, which is not a limited-access highway, is
US Route 1
.
By bus
A number of
Bee Line
Westchester County bus routes connect other towns in Westchester County and places in the Bronx such as the ends of the 2, 5 and 6 subway lines with New Rochelle, and if you are transferring from or to the subway or another Bee Line or New York City Transit bus, you can use your MetroCard and get a free transfer. However, the Bee Line buses often run only every hour or half hour, and actual bus arrival times are often as much as 15-20 minutes behind schedule but can also be ahead of schedule.
Get around
Taxis are not too expensive if you need them, but while some wait near the train station, you may have trouble hailing them on the street. Uber and Lyft are also available.
Some of the
Bee Line
buses can be useful for local travel if they happen to arrive at a convenient time.
Much of the city is walkable.
See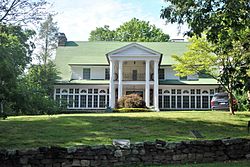 Church of the Blessed Sacrament

phone: +1 914-632 - 3700

address: 15 Shea Place

This sizable Catholic church is a historic neo-Gothic building, completed in 1897, with a tall spire that can be seen for some distance. Outside the front of the church is a statue of Jesus with his hands upraised to bless passersby. Inside the church are fine stained glass windows. In the yard to the right of the front doors is a replica of the Grotto of Lourdes.

phone: +1 877-MERCY-GO

address: 29 Castle Place

The College of St. Angela, as it was known from its founding in 1904 until it became College of New Rochelle in 1910, was the first Catholic women's college established in New York State. It is now a coeducational institution and since Fall 2019, part of Mercy College. The campus is pleasant and full of neo-Gothic buildings. Unless you are visiting for professional reasons or to consider attending, it probably isn't worth a huge detour, but if it's not out of your way, it is a nice sight to see, especially in April and May when many trees and bushes are in bloom. Toward the southern end of the campus, there is a building with a very peaceful though relatively plain chapel, with very nice paintings of the Stations of the Cross.

Davenport Park

phone: +1 914-633-1776

address: 20 Sicard Ave

Trinity Saint Paul's Episcopal Church

phone: +1-914-632-5368

address: 311 Huguenot St

This medium-sized church and the adjoining Parish House are quite pleasant neo-Gothic buildings, and they are very close to the train station, so it's quite worthwhile to walk past them if you are traveling on foot from the station. If you can get inside, you will have a chance to see beautiful stained glass windows in the very pretty sanctuary. The church is usually open only on Wednesdays, Sundays and church holidays.
Buy
Squiggy's Dugout

phone: +1 914 636-7585

address: 237 Main St

Exemplary comic and card retailer. Owner (used to?) teach appraisal classes at New Rochelle Library.

Lieb's Greenhouses

address: 1 Askins Pl

Pleasant set of greenhouses, nurseries and garden. Be sure to find the moated gazebo in the rear and cross its bridge.
Eat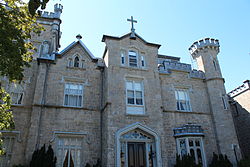 Drink
phone: +1 914-358-1841

address: 302 Huguenot St

Serious coffee, very tasty tea and pastries from Balthazar Bakery 2 1/2 blocks from the train station. The atmosphere is relaxing and they play nice Latin music on their sound system. They will ice any kind of tea for you. The rooibos is excellent.
Sleep
phone: +1 914 636-7888

address: 35 LeCount Place

All rooms are suites, with kitchen and living room area. Walk through the garage to the grocery store next door. The largest suite has two bedrooms and can sleep six. Free breakfast buffet on top floor each morning, and free supper or snacks on some evenings.
Go next