New Taipei
New Taipei
(新北市), while officially a city, is more like a region surrounding the cities of
Taipei
and
Keelung
in
Northern Taiwan
. It is considered a part of the Taipei Metropolitan Area.
Districts
New Taipei City is broken into 29 districts. They can be categorised by their geography, history, and degree of urbanisation.
Northern Coastal Districts |
Famous for coastal views and water-front cafes. It's also home to a number of hot springs and unusual rock formations. |
Southern Coastal Districts |
Home to the surfing community of Fulung and the former gold mining town of Juifen. |
Commercial Districts |
The central area of New Taipei and serve as the city's business hub. |
Former industrial belt |
This area was once known for its small industries. The majority of these factories have long since been relocated to countries with lower labour costs and the areas are now characterised by densely packed apartment complexes. |
Western Mountain Areas |
Known for lush mountain scenery and hot springs. |
Eastern Mountain Areas |
Mostly mountainous regions with a low population density. |
Townships
Districts and townships with notable attractions:
Other destinations
Fulong villagea with good beach and surfing.

Jiufena once prosperous gold mining town. It now attracts travelers who want a trip back in time.
Understand
New Taipei is basically an extension of Taipei and is the home of more than 3,500,000 people. The city has quite a diverse environment, from the densely populated industrial districts of Sanchong and Shulin to the coastal regions around the district of
Tamsui
and the sparsely populated mountain districts near Shenkeng.
Before 25 Dec 2010, New Taipei was known as Taipei County.
Get in
By plane
Taiwan Taoyuan International AirportThe main international airport on the island, and the closest major airport to New Taipei. The pre-2006 name, Chiang Kai Shek International Airport (often abbreviated as CKS), may still be used. Airbus operates an express airport bus route that directly connects Taoyuan International Airport, Tucheng and Banqiao. The bus runs every 30 minutes during the day and costs NT$135. Travelers going to other regions of New Taipei however may have to visit Taipei city first, and head to the destination from there.
By train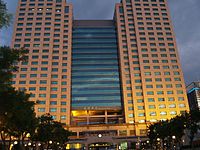 There are several TRA stations scattered through New Taipei .
Banqiao (Banciao) Railway Stationis the major transportation hub in New Taipei. This station connects the railways, Taipei MRT and Taiwan High Speed Rail. It also has local and inter-city bus stations. (Wunhua Road Sec. 1, Banqiao City)
By bus
Inter-city buses arrive and depart from the
Banqiao Railway Station'
s terminal. The inter-city bus terminal is just east of the Banqiao Railway Station, and the local bus terminal is in the west. Bus services are easily available, both to travel in the city and from or to nearby regions.
By subway (MRT)
Taipei Metro
, commonly called
MRT
, is the most convenient transportation method between Taipei and New Taipei.
By boat
CSF
operates fast ferries (about 3 hours) from
Pingtan
in mainland China to New Taipei's Bali District and back. As of February 2019, it runs on Tuesdays, Wednesdays, Fridays, and Saturdays (
full schedule
). Adult fares for non-Taiwan citizens start at NT$3,000 one-way, $5,300 round-trip if purchased in advance (
fare table
), a couple hundred more if purchased at the pier (
fare table
). Fares are cheaper for Taiwan/ROC citizens (
advance
/
pier
).
Get around
By bus
Every district of New Taipei is accessible by bus. Most of them are a part of
Taipei's bus network
. If you know how to take a bus in Taipei, you will have no problem taking a bus in New Taipei.
By subway (MRT)
Taipei MRT
is an efficient way to travel between the city's north, west and south sections.
By taxi
Taxis are the most convenient way to get around, and the price is not very high. Note that most taxi drivers speak little or no English.
See
phone: +886 2 2498-7171
address: No. 14-5, Lin 7, Sanjie Village, Jinshan district (金山區)
A large and modern chan monastery and monastic college. Impressive buildings and gardens.
phone: +886 2 24989940
address: No.2, Xishihu Road, Jinshan district (金山區)
A museum with indoor and open air exhibits of the works of the Taiwanese sculptor Ju Ming.
Do
New Taipei has a great variety of outdoor activities available, including hiking, cycling, hot springs and rock climbing.

Eat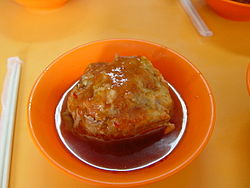 A-Gei (阿給) - the most famous snack in Tamsui consisting of a piece of fried tofu, stuffed with cooked Cellophane noodles, and sealed with surimi.
Taro balls (芋圓) - Jiufen's famous product.
Box lunches - famous Biandang (box lunches in Mandarin) are sold on the left of the Fulong train station.
Drink
Soy Milk (豆漿) - is a traditional Taiwanese breakfast dish. Yonghe Soy Milk, this household name comes from the original shop which is located at Yonghe.
Tea - Pinglin's Baozhong tea (包種茶) is the most famous tea in Taiwan.
Cope
phone: +886 2 8228-2090

address: 1F., No.135, Min'an Street, Yonghe.

Visa applications/extensions for foreign residents of New Taipei City should be made at this agency.
Go next
Keelung - This harbor city is Taiwan's second-busiest seaport.
Dasi - In Taoyuan County, this old township is the temporary resting place of Chiang Kai-shek.