Newark (Delaware)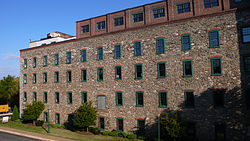 Newark
is in
Delaware
.
Understand
While European settlement of the area began in the 17th century, the city was not established by royal charter until 1758. Today Newark is one of the largest cities in Delaware and is home to the state's largest institution of higher learning, the University of Delaware.

Get in
By car
From the south take Maryland 279 (Exit 109 on I-95) north to Delaware 2 and continue directly into town. From the north exit I-95 at Exit 3 and take Delaware 273 West. DE-273 continues directly onto East Main Street (which becomes one-way westbound at Library Avenue).
By bus
DART First State buses, routes #6, 16, 33, and 34, providing service to Wilmington and the nearby Christiana Mall. Most routes travel through the university campus.
Megabus. Service from Philadelphia, Baltimore, Washington, D.C., Richmond, and Hampton. The bus stop is at the University of Delaware's Parking Lot #6.
By train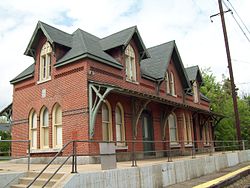 Newark's Rail Station on South College Avenue at Mopar Drive is served by both SEPTA and Amtrak. Newark is the last stop on SEPTA's Wilmington/Newark line, and tickets from Center City Philadelphia and the university stops (Temple University and University City) are $6.75 if bought in advance and $8.00 if bought on board the train on weekdays and $5.25 if bought in advance and $7.00 if bought on board the train on evenings and weekends. Regular Amtrak service is available from nearby Wilmington station, with both standard-speed Northeast Corridor trains and high-speed Acela Express trains serving the station. SEPTA service from Newark is only available on weekdays in the morning and evening hours; daily service from Wilmington is more regular.
The Maryland Transit Authority is considering extending its MARC Train Penn Line service to Newark allow for direct travel to Baltimore and Washington via commuter rail (2017).
Get around
The best way to get around downtown is on foot or by bicycle, but please do not bike on the sidewalk. Where available, such as on Delaware Avenue, use dedicated bike lanes. Bike lanes in Newark run in the same direction as automobile traffic.
Motorists will find ample spaces to park on-street or in lots operated by the Newark Parking Division. Just be sure to feed the meter when parking your car on the street, because the meters run late into the night. Hours for parking meters are M-Sa 8AM to 1AM and Su 1PM to 1AM, excluding city and federal holidays. Parking at metered spaces is prohibited between 2AM and 6AM. Rates for the parking meters are $1.25 per hour and may be paid with quarters or credit cards. The time limits at parking meters vary, with the meters along Main Street having a two-hour time limit while meters farther from the downtown area have an eight-hour time limit. Hourly parking is available at Lot 1 behind the Main Street Galleria, Lot 3 on the west side of Center Street north of Main Street, and Lot 4 on the east side of Center Street north of Main Street. Parking at the downtown lots costs $1 per hour and may by paid with cash/quarters, credit cards, or with parking validation from most local businesses. The downtown lots free parking Su from 7AM to 1PM on Sunday and on city and federal holidays.
A free bus, called the Unicity, is operated jointly by the city and the University of Delaware to shuttle people around town Monday through Friday. The N1 route runs from 8:51AM - 3:46PM. This route runs every two hours. This route only stops at the train station at 11:57AM. Routes N2 and N3 are primarily for commuters.
Take the James F. Hall Bike Trail to cut through town the scenic way. Starting in College Square Shopping Center, and ending just off of Elkton Road, the trail roughly follows the Amtrak tracks that run parallel to Main Street.
In the evenings, Bike Line offers a bicycle pedi-cab service that runs all over Newark. All rides are free, but please tip your driver.

See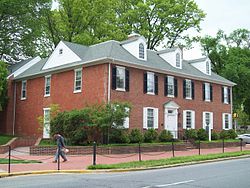 The Green
is the centerpiece of the University of Delaware's campus. It is a handsome, tree-lined mall framed by Georgian revival buildings on a roughly north-south axis, best viewed from East Main Street, just east of South College Avenue. University buildings of architectural significance include the antebellum Old College, home to
Old College Gallery
(open W-Su noon-5PM and Th noon-8PM), the Frank Furness-designed Recitation Hall and Venturi, Scott & Brown's controversial Trabant Student Center. Geology enthusiasts will want to visit the university's
Mineralogical Museum
in Penny Hall on Academy Street just south of Lovett Avenue.
There is more to this college town than the cap and gown. Check out the delightful mural honoring Edgar A. Poe on a concrete wall on North Chapel Street just south of East Cleveland Avenue, and tour the
Newark History Museum
at 148 E. Main Street for a crash course in local history.
The
Newark Reservoir
on Old Paper Mill Road, north of downtown, boasts a path around its perimeter offering commanding views of the city and surrounding countryside. Wildlife, especially birds, flock to the area. Fishing is not permitted.
Boundary markers north and west of town mark points on Delaware's border with Maryland and Pennsylvania. Most accessible is the
Tangent Stone
, laid in 1892, along Hopkins Bridge Road.
Do
Catch Blue Hen fever at a
Fightin' Blue Hens football
game at Delaware Stadium on South College Avenue. For a change of pace, take in a free concert in the
Amy E. du Pont Music Building
at Amstel Avenue and Orchard Road, a film at
Newark Cinema Center 3
(401 Newark Shopping Center) or commune with nature at
White Clay Creek State Park
, north of town on New London Road.
Deerfield Golf & Tennis Club
is open to the public and is just north of town at 507 Thompson Station Road.
Buy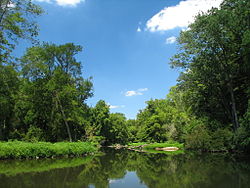 Retailers downtown come and go, and most cater mainly to college students. But there are some gems that have stood the test of time. These include:
Abbott's Shoe Repair 92 E. Main. Wide selection of boots available that suit any purpose.

address: 253 E. Main

A local landmark, Bing's has been selling delicious baked goods since 1946.
Gamble's Newark Florist--258 E. Main. Local florists with amazing and beautiful displays. Perfect for Prom Night or Mother's Day.
Wooden Wheels--301 Newark Shopping Center. Family-owned and -operated for over 30 years, this bike shop is the one stop spot for all of your BMX, Mountain Bike, Road Bike, or Fixed Gear needs.
Bike Line-- 212 E. Main. Local bike store, specializing in top of the line products and extensive repair.
Grassroots -- 93 E. Main. Handcrafts.

address: 64 E. Cleveland Avenue

All-natural meat products. Open since 1967.

Minster's Jewelers205 Newark Shopping Center. Family-owned since 1895.

address: 66 E. Main.

Family-owned variety store with souvenirs, co-ed essentials, University gear, costumes and everything in between.
Newark Newsstand -- 70 E. Main. Periodicals, tobacco products and the like.

address: 54 E. Main.

This Newark institution has a wide selection of used and new books, vinyl, CDs, DVDs, art and more.
Switch Skate & Snow -- 54 E. Main. Skateboarding is not be a crime, but failure to mention the local skate shop ought to be. Opened 1994.
Newark Natural Foods Co-op-- 280 E Main. Support local agriculture and organic produce here, where you can find all of the delicious vegetarian and vegan goodies that the chain stores don't carry.
Aunt Margaret's Antique Mall294 E Main. Amazing selection of antiques, from ancient cameras to Buddy Holly records.
Eat
address: 90 E. Main

address: 108 W. Main

This West Main Street and New London Road landmark has been a tavern since the early 1800s. Notable guests include Edgar Allan Poe who is said to have laid a curse on the entire town after tripping on his way out of the tavern.

phone: +1 302-369-0600

address: 45 E Main St

A Delaware favorite, Grotto Pizza is a modestly-priced local pizza chain known for pizza with a swirl of sauce on top. Also features a sports bar. The Main Street location is popular with college students who prefer watching sports to conversing.

Jake's Wayback Burgers

address: 1100 Ogletown Road

Original location of growing burger franchise.
Margarita's Pizza -- 134 E. Main. New York style slices and pies.
Newark Deli & Bagels -- 36. E. Main. Specializes in bagels.
Home Grown Cafe- 126 E. Main. Local flavor with a particular flair for vegan and vegetarian specialties. Great food, great bar, the perfect spot for a laid back dinner with friends.
Mojo Main-- 270 E. Main. Cajun style dive bar. Specials include Tater Tots, Nachos, and Po' Boys.
Banh Mi Boy -- Vietnamese sandwich shop with a variety of lunch plates and tasty sandwiches.
Drink
Like any college town Newark has plenty of places to wet your whistle. The demise of the storied Stone Balloon where a young Bruce Springsteen played, and the stoner's favorite East End Cafe, has left:
Deer Park as the undoubted king of bars, but thirsty visitors have options. So pick one, saddle up to the bar, and order "a lager". If that gets you a Yuengling, stick around. If it gets you a blank stare, try someplace else.

address: 147 E. Main

There's no Yuengling here, but since opening in the late 1990s this popular brewpub has added six locations in the area. This is the original.

Klondike Kate'sAcross the street, is a college bar with nightly specials and deejay nights, where in clement weather you can fill your belly with beer on the porch over what was once a gasoline filling station.

Timothy's -- 100 Creek View Road. A vaguely Irish sports bar in a former industrial building overlooking White Clay Creek.
Home Grown Cafe-- 126 E. Main. Awesome selection of craft beers on tap and in bottles, relaxed atmosphere and live music make this a great stop for your weekend.
Mojo Main -- 270 E. Main. Two bars, 10' TV, weekly karaoke and live DJ dance parties make this dive a guaranteed interesting night on the town.
Catherine Rooney's -- 102 E. Main. Irish pub with specials to match. If they don't draw a shamrock in the foam of your Guinness, switch to another brew.

16 Mile TaphouseA bar that serves primarily beer from 16 Mile Brewery in Georgetown, DE; also has a large selection of bottles from other breweries around the world.
Sleep
Go next
Cooch's Bridge -- On Old Baltimore Pike just south of town. Site of a Revolutionary War skirmish, and the only action fought on Delaware soil.
Fletchwood Inn -- 208 Fletchwood Road, Elkton, Maryland. This roadside bar has a pool table (or two) and serves beer and sells six-packs to go until 2AM (one hour after liquor sales end in Delaware.)
White Clay Creek Preserve -- In nearby Landenberg, Pennsylvania.
Winterthur Museum & Country Estate -- 5105 Kennett Pike, Wilmington. World-class decorative arts museum with beautiful gardens to boot.