Newark (England)
Newark-on-Trent
is a small market town in
Nottinghamshire
, on the edge of Sherwood Forest. It's famous as the place where King Charles I surrendered during the English Civil War.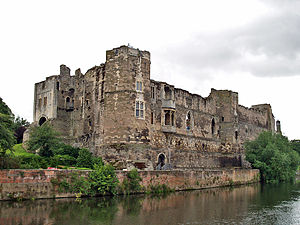 Newark has probably been a transport hub since Roman times – here the "Fosse Way" reaches the River Trent, which is navigable. The town prospered through wool and cloth, and in the early 11 century it was owned by Lady Godiva, she of the legendary naked ride. King John died here in 1216, a year after signing
Magna Carta
. When the English Civil War broke out in 1642 over the powers of the monarch versus parliament, Newark supported the Royalists. But by 1646 Charles I found himself defeated across England and surrendered (actually at nearby Southwell); in 1649 he was beheaded. His son Charles II continued the war until 1651 but then fled into exile, and Britain became a republic. Castles that had resisted parliament were demolished, so Newark Castle became a ruin.
Get in
By road
Newark stands on the A1 some 120 miles (192 km) from London, at the junction with the A46 and A17. You'll know you're close when you see the steaming chimneys and silos of the British Sugar plant at Kelham just west of town. The junction is messy, especially when there's a big event at the Showground, watch out for standing traffic queueing back onto the A1.
The bus station is central, off Lombard street. National Express coaches take just under five hours to London Victoria, with departures at 8AM (NX447 direct) and 9:30AM (on NX339 from Grimsby to Birmingham and the West Country, change at Leicester). Coaches from London Victoria to Newark depart at 2:30PM (NX441, change at Leicester) and 4PM (NX447 for Lincoln/Hull, direct).
By train
Newark Northgate station
, which is Newark-on-Trent's main station is at the north-east edge of town in the Appletongate area. It's on the East Coast main line between
London Kings Cross
and the north. Trains to London (operated by LNER) run at least every hour and take 80 min.
is near the centre and is on the line between Nottingham, East Midlands Parkway (for East Midlands Airport), Lincoln and Grimsby. These trains are operated by East Midlands Trains and run hourly.
By air
The nearest airport is
East Midlands Airport
(
EMA
) (30 miles, 50 km). This has good connections across West Europe, including Edinburgh, Glasgow and Belfast. For anything further afield, use the London airports.
A shuttle bus connects EMA with East Midlands Parkway railway station, with direct trains to Newark Castle. EMA airport buses also run from Nottingham, Derby, Leicester and Loughborough.

By boat
Newark stands on the River Trent which is navigable and non-tidal. There is mooring for visiting craft, with two marinas in the town and a harbour at the nearby village of Farndon.

Get around

The town is readily explored on foot. The country around is flat and cyclable.

See
The main sight in town is the castle. Other notable buildings are the church of St Mary Magdalene, and the Governor's House which is now just a bread shop. The National Civil War Centre is the town's main museum. Millgate Museum is closed, so you can't see the "Newark Torc", a beautiful piece of Iron Age gold found near town by a metal-detectorist.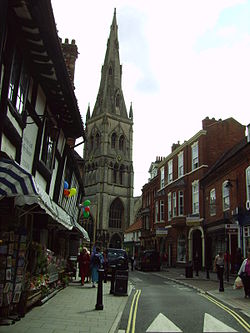 Newark Castle

phone: +44 1636 650000

address: Castlegate NG24 1BG

Newark and many other English castles were partly demolished after 1648, not in the heat of battle, but to prevent them ever being used again by rebels (a policy commemorated by Gracie Fields in her song "I'm one of the old ruins that Cromwell knocked about a bit".) The castle was partly restored in the 19th century; it's basically a masonry shell set in municipal gardens.

National Civil War Centre

address: 14 Appletongate NG24 1JY
There are frequent events at
Newark Showground
, the biggest being the
International Antiques & Collectors Fairs
held about once a month, see the website for calendar and prices. The Nottinghamshire County agricultural show is held here in mid-May. The showground is in the adjacent village of Winthorpe just NE of the A1, about 3 miles from town centre, on Lincoln Road NG24 2NY.
Newark Air MuseumThe flat terrain of Lincolnshire is well-suited to airfields, which during the Second World War were bases for RAF Bomber Command. Many members of the Polish Air Force served in this region and are buried in the war graves plot in Newark Cemetery. General Sikorski, their wartime Prime Minister and military commander, was buried there but his remains were repatriated to Krakow in 1993.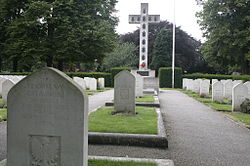 Five miles SW of town,
Southwell
has a magnificent minster and several other historic buildings. Here, rather than at Newark, is where King Charles I surrendered; he was then taken to nearby Kelham Hall. Newark to Southwell takes under 20 min on the hourly bus 29, run by Stagecoach Bassetlaw. You can either ask for "SUH-thell" or "South-well", both pronunciations are used locally.
Do
Skydive: The centre at Skydive Langar is one of the biggest and best equipped in the UK. It lies 30 km south of Newark at Langar NG13 9HY, near Grantham. The usual approach for a beginner is a "tandem" – strapped to an instructor, so minimum training and fitness are needed, but you do need decent weather. Email info@skydivelangar.co.uk or call 01949 860878. There's another big centre further north at Hibaldstow: see Lincoln entry.
Go to the races at Southwell Racecourse, five miles southwest of Newark. It's an artificial all-weather track with year-round flat-racing and jumps races in winter. Nearby Rolleston station has trains every couple of hours between Newark Castle, Nottingham, Derby & Matlock.
Buy
Enjoy the variety of stalls in Newark's market in the market place Tuesday through Saturday.
Browse the shops along Chain Lane and in the market place.
Eat
For traditional fish & chips, try Middle Gate or Appletongate. The town has the usual range of eateries: Indian, Chinese, Italian, small cafés. The stand-out local restaurant is Caunton Beck 5 miles (8 km) west of town, see listing.
Asha Tandoori

address: Stodman Street

Good Indian food.

Braith's

address: Carter Gate

Coffee bar with extensive range of hot & cold sandwiches.

Il Castello

address: Castlegate

Italian

Pizza Express

address: The Wharf

Pizza and Italian cuisine with excellent views over the River Trent.

Zizzi's at the Ossington

address: Great North Road

Pizza & pasta restaurant - brilliant ambience and service.

The New King Wah

address: Bar Gate

Cantonese-style Chinese restaurant.

Caunton Beck

phone: +44 1636 636793

address: Main Street Caunton NG23 6AB

Excellent all-day eatery.
Drink
The decline in the English pub scene has afflicted Newark, with many familiar names closing; those below are still with us in early 2017. Look for products of The Newark Brewery (77 William St NG24 1QU), with nine beers on sale.
The Old Kings Arms

address: Kirkgate

A traditional British pub.

The Old Post Office

address: Kirkgate

The Castle BargeNewark's floating pub on the wharf.

phone: +44 1636 671334

address: 3 Church St, NG24 1DT

The Springhouse

address: 15 Farndon Road NG24 4SA
Sleep
Mid-range places in Newark include Premier Inn, Best Western Deincourt, and Compton House. The more luxurious and characterful hotels are a few miles out.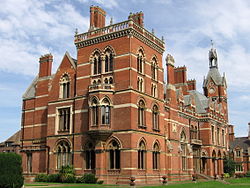 phone: +44 1636 980 000

address: Main Road, Kelham NG23 5QX

A pocket-sized edition of St Pancras designed by Sir George Gilbert Scott. The Hall and its predecessors have variously served as King Charles I's first place of confinement, a country manor, a school for monks and missionaries, a sugar beet farm, and council offices. You can camp there or use the self-catering apartments, but the main hotel and spa haven't opened yet.
Stay safe
Newark is relatively safe. Places to avoid at night include Yorke Drive (near Northgate Railway Station), Devon Road (on Hawtonville Estate) and Sconce Hills Park.

Go next
Newark is 11 miles (19 km) from
Sherwood Forest
, home of Robin Hood, the legendary (okay, let's be frank, fictional) outlaw. What's factual is that this is the last stand of primeval forest in England. Everything else is a later planting, so the eco-system is unique, with the gaunt ancient oaks.
Lincoln
is a must-see, with its cathedral and castle enclosing a picturesque historic city centre. If you want a day at the seaside, the most accessible is
Cleethorpes
. Major cities within an hour or so by train include
Nottingham
,
Sheffield
,
Leeds
and
York
.