Newark Liberty International Airport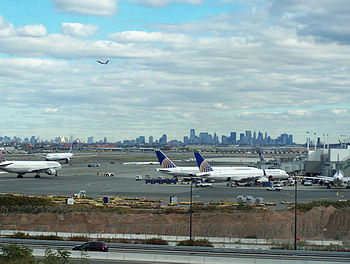 Newark Liberty International Airport
, 1-800-EWR-INFO, (
EWR
), is west of New York City in Newark and Elizabeth, New Jersey. It is one of three major airports in the New York metropolitan area, along with John F. Kennedy International Airport and LaGuardia Airport, both in Queens.

Understand
Newark opened in 1928 as the only airport in
Metro New York
, but became pretty deserted when LaGuardia Airport opened in
Queens, New York
. After World War II, commercial activity returned to the airport. Gradually, it grew to the massive international hub it is today.
Before 9/11, the airport was called "Newark International Airport". The word "liberty" was added to the airport's name after 9/11 to honor the victims, as one of the four hijacked planes that day, United Airlines Flight 93, took off from this airport. Additionally, the word "liberty" is also a reference to the Statue of Liberty not very far from the airport.
Flights
The airport has three sprawling terminals, labeled A, B, and C, arranged in a semicircle around a central roadway. Terminal C is the home of United Airlines' major East Coast hub. As a rule of thumb, most international airlines use Terminal B while most domestic airlines use Terminal A.
Terminal A, especially the small section that serves American Airlines and Virgin America, has
insufficient security capacity
at peak times, most notably Monday afternoons. You should plan to arrive
at least 2 hours before
your flight during these periods.
Terminal A
Air Canada, Alaska Airlines, American Airlines, JetBlue (note 1), United Express (note 2)
Terminal B
Aer Lingus, Air China, Air India, Allegiant Air, Austrian Airlines, Avianca El Salvador, British Airways, Cathay Pacific, Delta, El Al, Elite Airways, Emirates, Ethiopian Airlines, Eurowings, Icelandair, JetBlue (note 1), La Compagnie, Level Airlines, LOT Polish Airlines, Lufthansa, Porter Airlines, Scandinavian Airlines, Singapore Airlines, Sun Country, Spirit Airlines, Swiss International Airlines, TAP Portugal, United Airlines (note 2), Virgin Atlantic
Terminal C
United Airlines (note 2), United Express (note 2)
Note 1: Flights arriving from international destinations will arrive in Terminal B.
Note 2: Check your departure or arrival terminal. International United flights arrive at Terminals B or C while United Mainline and Express flights can either depart from or arrive at Terminals A or C.
Singapore Airlines' flight from Newark to Singapore is the longest nonstop commercial flight in the world, taking around 19 hours to cover a distance of 9,521 miles (15,323 km).
Ground transportation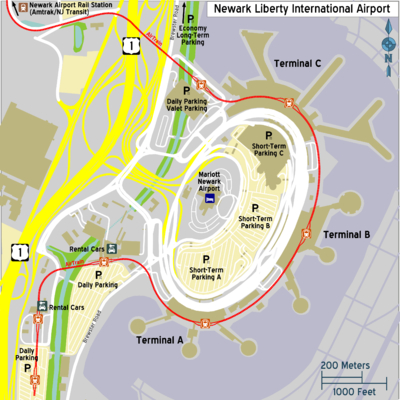 Newark Liberty is well connected to New York City by both train and bus. NJ Transit train tickets bring you to New York Penn Station in
western Midtown Manhattan
for $13. If you are with a few people, you could consider a taxi, which will set you back around $60 plus tip.
By bus
New Jersey Transit Bus #62 - The most inexpensive option, New Jersey Transit bus #62 runs from in front of the airport terminals to Newark Penn Station (one-way fare $1.60; exact change only; 25 minutes). From there, you may take a PATH subway train ($2.75) either to World Trade Center station in lower Manhattan (25 minutes), or, to Journal Square, where you can transfer to the Journal Square-33rd Street train across the platform, which runs to the following stops along 6th Avenue: Christopher St in Greenwich Village, 9th St, 14th St, 23rd St, and 33rd St. Plan on 90 minutes including waiting times. As a word of caution, note that this is not a well-publicized option; you may well find yourself to be the only tourist on the bus, so don't expect much help or companionship in finding your way. The bus runs 24 hours a day, 7 days a week, but be careful at night, as this bus travels through some rough areas.
GoBus 28 - a limited stop service that also travels to downtown, with continuing service to North Newark.
Newark Airport Express Bus - ($16 one way, $28 round-trip) runs every 15 minutes to 42nd street in Manhattan. It stops in the Port Authority, outside of Bryant Park, and outside of Grand Central. The trip takes about 40 minutes depending on traffic. At peak times (afternoons in particular), the bus to the airport can fill up at the first stop, so allow extra time for mishaps, and try to catch it at Grand Central.
By train
Newark Liberty International Airport Station - The station can be accessed directly by New Jersey Transit's Northeast Corridor and North Jersey Coast Lines, as well as Amtrak's Northeast Regional and (some) Keystone services. At the station, you can disembark and board the AirTrain Newark monorail to get any of the three terminals, as well as airport parking lots. There is a $5.50 fee for passing to or from AirTrain and NJT/Amtrak (children 11 and under are exempt). The fee is included in the ticket price when you buy an NJT/Amtrak ticket starting or ending at this station, so be sure to keep your ticket (and the magnetic strip embedded in it) so that you can pass through the gates (you can also use a ticket or monthly pass for a station beyond here to get to the station, but you will need to pay the fee separately to get to AirTrain). From this station, NJ Transit trains run north to Newark Penn Station (about 6 minutes) and New York Penn Station (about 25-30 minutes); for other North Jersey destinations served by NJ Transit, change at Secaucus Junction. NJ Transit trains also run south along the Jersey Shore as far as Bayhead (2 hours or more to get this far, though) and Trenton (30-50 minutes depending on the time of day); from the latter you can change for a SEPTA train to Philadelphia 30th Street (about an additional 30 minutes, not including wait time). Amtrak trains also run north to New York Penn Station and south to Trenton and Philadelphia before moving on to points all along the East Coast, though they will be more expensive. Two things to note if you're taking the train to New York:
First, NJ Transit tickets are not valid on Amtrak trains.
Second, NJ Transit trains stop at both Penn Station in Newark and at Penn Station in New York, so if your destination is Manhattan stay on until the second Penn Station (past Secaucus Junction). The platforms in the Manhattan station are below street-level following a stretch of underground travel through the tunnels under the Hudson River while the platforms in the Newark station are above street level if you're seeing most of the disembarking passengers walking down stairs, get back on the train as soon as possible because you're still in Newark (the stairs at the New York station lead up.)
By taxi
Taxis - Travelers from EWR to New York City are charged a flat rate based on the destination (the dispatcher will note the fare and destination on the taxi form). The fare to most parts of Manhattan is $50–70. Tips and round trips tolls ($8 to/from Manhattan) are extra. You may also pay a ~$2 toll if the driver uses the New Jersey Turnpike. A $5 surcharge is added for trips to New York, except Staten Island, during weekday rush hours or weekend afternoons. There is also a 10% discount for people above age 62.
By van and private car service
Private Car Service - An alternative to taxis, car services are useful for getting to the airport from the outer boroughs where taxis are harder to find, or if you prefer to have transportation reserved in advance. Typically $50 between EWR and Manhattan, $70–80 to/from Brooklyn.
Supershuttle - Country-wide, shared van door-to-door service. $19 to Manhattan.
Go Airlink Shuttle - Shared van door-to-door service. $18 to Manhattan. 10% discount for online purchase.
Get around
The automated AirTrain Newark monorail system travels frequently (every 3-5 minutes) between the three terminals, as well as some of the parking areas and, as mentioned above, the Newark Airport rail station (about a ten-minute ride from Terminal A, the farthest of the three from the station). Within the terminals it is easily accessed via elevators and escalators and runs 24 hours, though during off-peak hours (late evening/early morning) trains may run in segments rather than the entire length which will force you to disembark and wait for another train to take you onward - plan accordingly if you're arriving at the airport during that time via train station or the airport parking lots. AirTrain is before security, so plan extra time if you need to use it for a connecting flight. There is a $5.50 surcharge for exiting the AirTrain and going onto an Amtrak or NJ Transit train after, but this is usually included in your rail ticket.
United operates a post-security shuttle bus service between the terminals, but only for passengers connecting on United-branded flights. As of December 2017, the shuttle stops gate C71, tow locations at terminal B and gate A28. Since security checkpoints are at the entrance of each terminal's "fingers", if you are connecting to another flight, you may need to leave the airside and pass through security again even if the next flight departs from the same terminal but from a different "finger".

Wait
If you want to get some good views of airplanes, ride the AirTrain around. It may even be worth it to explore other terminals.
Lounges
American Admirals Club

Art and Lounge

Air Canada Maple Leaf Lounge

British Airways Galleries Lounge

Delta Sky Club

United Lounges
United Polaris Lounge

address: Between gates 102 and 120

United Clubs

*

address: Terminal C, upper level, near Gate C74

*

address: Terminal A, Concoursa A2

*

address: Terminal C, near C124
address: Terminal B after security
Eat and drink
Each terminal has plenty of restaurant options before and after security (see
Shops, Restaurants, Services and Amenities
), but many are mediocre at best. Terminal C has been renovated, though, and many great options are available there.
In Terminal A,
Jersey Mike's Subs
is a good pre-security take-out option, while
Phillips Seafood
(Gates A30-39) is a good sit-down option airside.
Terminal C offers several options spread throughout the branches of the terminal. All of the restaurants listed below are outfitted with ordering on iPads and offer power outlets at seats. All have counters or bars and some also have tables. United customers can pay with miles and United credit card holders receive a discount, as of 2017.
In between gates C107-109, the Happy Clam offers counter and to-go service for breakfast, lunch and dinner. Though the breakfast food is average, it is convenient for early sit-down meals.
Garden State Diner offers classic diner fare.
Next to gate C103, Little Purse dumplings offers dumplings, including dumplings and kimchee omelets for breakfast.
Next to gate C102, Proof offers a bar and dining, including counters and a few tables.
Just past security, next to gate C101, Vanguard Kitchen offers an enclosed restaurant with tables and bar.
Across from gate C70, Abruzzo is an enclosed restaurant that bills itself an Italian steakhouse, with breakfast including farro, frittatas, ricotta pancakes, and avocado toast.
In the gate C120-135 wing, Saison offers classic French food.
Connect
Like
JFK Airport
, Newark Liberty International Airport also has Wi-Fi is available throughout the airport provided by Boingo, but at various prices. Boingo gives users 30 minutes of free usage at 5 Mbits/second, and upon expiry charges for additional usage as a day pass or a recurring monthly charge. However, if one clears the web browser cookies and cache related to the "Boingo" domain, you can keep signing up for more free 30 minute sessions.
You can buy a pay as you go plan for $4.95 or a Day Pass with unlimited access $7.95. If you're willing to buy a Day Pass and know you'll be staying in Newark more than a few days within the month, you could also buy a month pass for only $9.95.
Sleep
phone: +1 973-623-0006

address: 1 Hotel Rd.

The only hotel actually located on airport property. It's not connected to the AirTrain, unfortunately, but there is a courtesy shuttle if you have trouble walking and/or have a lot of luggage.
There are many other hotels scattered around the airport, with room rates starting at around $50/night for very basic accommodation up to $300-$400 for high-end business traveler-oriented hotels. Almost all hotels within a 5-mile radius will provide a shuttle service to and from the airport, but call the hotel beforehand just to be sure.
Stay safe
The area to the west of the airport, Newark's South Ward, is a slum and should be avoided. The parking lots in the airport are usually patrolled at all times. so you should be secure there. The airport can be used by homeless people in Newark as a shelter. Although they very rarely pose a threat, make sure you hold tight on to your belongings to be on the safe side.

Nearby
New York City
is the obvious main attraction, but to be on the safe side, allow two hours (one hour each way) to get to and from New York Penn Station by train.
In New Jersey,
Newark
itself,
Jersey City
,
Elizabeth
and
New Brunswick
are within an hour of the airport by public transportation.
Princeton
is more than an hour away.
If you want to take Amtrak, you can get to
Philadelphia
in 59 minutes to 1 hour 14 minutes, though the trains do sell out in advance at times.