Newbury and Thatcham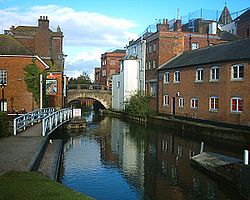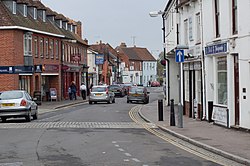 Newbury
and
Thatcham
are adjoining towns in the county of
Berkshire
, in the
South East
of
England
.
Newbury is the principal town in the west of the county, and is a historic market town. Thatcham is a dormitory town some three miles to the east, with little obvious boundary between the two towns.
Understand
Newbury has a population of about 35,000 and has become something of a booming company town recently as it houses the world headquarters of Vodafone, a major mobile phone operator with operations in many countries.
Newbury also attracted a lot of national and international coverage in the 1980s when it was the scene of the Greenham Common Peace camp in protest at the stationing of nuclear armed cruise missiles at a nearby air base, and in the 1990s when it hosted perhaps the most famous road protest against the Newbury bypass. The vast majority of the population probably did not appreciate either campaign.
Thatcham is best known as England's fastest growing town, with large housing areas being built to house a population which largely commutes to work in Newbury,
Reading
or
London
.
Visitors may hear both the terms 'Newbury District' and 'West Berkshire' in use; these are effectively synonymous and refer to the town of Newbury and its surrounding rural area. They are also the old and new names for the local government which runs the area that includes Newbury and Thatcham.
Get in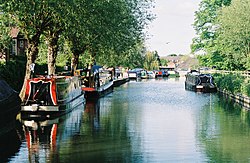 By train
Newbury and Thatcham have rail stations on the main line from
London
to
Exeter
,
Plymouth
and
Penzance
. Some through trains between those cities stop at Newbury Station, but these are relatively infrequent. Local trains stop at both stations and run from
Reading
approximately every half hour taking some 20 to 30 minutes for the journey; some local trains start their journeys in London. From London, travel from
London Paddington
Station and, if necessary, change at Reading. Train times (from any station) can be found on the
National Rail Planner
or by calling 0845-748-4950 from anywhere in the UK.
address: Station Approach, Newbury RG14 5DG

address: Station Rd, Thatcham RG19 4PP
By car
Newbury is 17 miles west of
Reading
on the A4, 18 miles north-west of
Basingstoke
on the A339, 26 miles south of
Oxford
on the A34, 27 miles east of
Swindon
on the M4 and 25 miles north of
Winchester
on the A34. Thatcham is 3 miles east of Newbury on the A4.
The M4 motorway also runs just to the north of Newbury, for which the junction is number 13.
By plane
If arriving by plane, see the 'Get In By Plane' section of the
Reading
article, and then travel on from Reading as described above.
By bicycle
By boat
The towns are on the
Kennet & Avon Canal
(running 87 miles from
Bristol
&
Bath
to
Reading
).
Get around
By foot
The central area of Newbury is easily walkable.
By bus
There are several town routes within Newbury and Thatcham, with hourly (or better) services during the day, and infrequent service in the evenings and on Sundays. Beyond that distance, bus routes are much less frequent, with often only a handful of buses per day and no evening or Sunday service.
Traveline, telephone 087-608-2-608 from within the UK, provide an impartial online travel planner and telephone query service for local bus services.

Newbury Bus Station

address: Market St, Newbury RG14 5DP

Newbury Buses run services throughout the Newbury, Thatcham and surrounding rural areas. A regular service to Reading is also operated. There is one National Express bus a day from here to London. All buses leave or terminate from the Market Street Bus Station which can be found on the south side of the canal, adjacent to the Kennet Shopping Centre.
By car
Newbury's roads can be congested at peak periods, but in general are less congested than London or even Reading. A car is one (possibly along with cycling) of the only really practical ways of seeing a lot of the local countryside and villages.
By map
If you are planning to do any visiting or exploring beyond central Newbury, you will probably want to obtain a decent map of the area. You should ensure that any map you buy clearly shows the national grid reference lines, and explains how to use them, as grid references are frequently used to indicate out of town locations. The best maps for this purpose are those published by the Ordnance Survey (Britain's national mapping agency) and both the following maps cover all the locations mentioned below:
Ordnance Survey Explorer 158. This map covers the area around Newbury and Thatcham at a scale of 1:25000 and is best for walking or local touring by car or cycle.
Ordnance Survey Landranger 174. This map covers the area around and between Newbury and Thatcham at a scale of 1:50000 and is best for longer range exploration by car or cycle.
These maps can be found in any good bookshop, or can be bought online from the
Ordnance Survey's web site
.
See
Central Newbury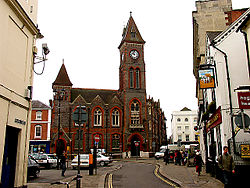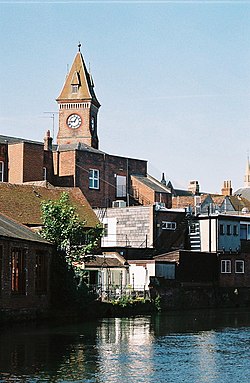 phone: +44 1635 519562

address: The Wharf, Newbury RG14 5AS

Housed in historic half timbered buildings dating from the 17th and 18th centuries, the museum houses exhibits on local history and archeology
Surrounding area
Do
Go to the races at

Newbury Racecourse

address: Racecourse Rd, Newbury RG14 7NZ

This has frequent flat races April-Oct and occasional jumps races Nov-March.

phone: +44 1635 40035

address: Bury's Bank Rd, Newbury RG19 8BZ
Theatre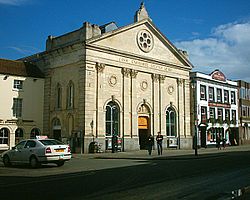 phone: +44 845 5218 218 (premium)

address: Market Place, Newbury RG14 5BD

This venue situated in central Newbury presents drama, comedy, music, dance, exhibitions, films and the resident orchestra Southern Sinfonia. For performance information, times and prices see their website or telephone the number above.

phone: +44 1635 46044

address: Bagnor, RG20 8AE

The Watermill is the home of a repertory company and has earned a reputation nationally and internationally for presenting quality work. Every year the company mounts eight or nine new productions each showing for an average of seven weeks, and is considered to be in "the premier league of British regional theatres" (Daily Telegraph). Normally open M-Sa with performances at 7:30PM, and matinee performances at 2:30PM on Th and Sa. For performance information and prices see their website or telephone the number above.
Buy
Newbury has a number of shops and a number of leading high street chain-stores. See
NewburyTownCentre.co.uk
for more information.
Cyclists
phone: +44 1635 43186

address: Unit 4 & 5, Norman House, Hambridge Rd, Newbury, RG14 5XA

phone: +44 1635 48113

address: Ampere Rd, London Road Ind Estate, Newbury RG14 2AE
Eat
A reasonable range of choices including Pubs, the usual chain restaurants (Pizza/Pasta or French), Indian and most recently a New Thai. Local restaurants of note include
Drink
Sleep
There are a number of hotels in and around Newbury
Connect
Post Office

address: 87-89 Northbrook St, Newbury RG14 1AE
Phone
The area code for Newbury and Thatcham is 01635 when dialed from within the UK or +44 1635 from outside the UK.
Go next