Newcastle (New South Wales)
Newcastle
is a city at the mouth of the Hunter River, approximately 150 km north of
Sydney
in the
Hunter
region of
New South Wales
,
Australia
. The city is the focal point for the diverse Hunter region that encompasses beaches and mountains, restaurants and wineries.
Understand
Newcastle is a great place for surfers, wine buffs, bush walkers, and anyone interested in Australian history. The second largest city in the state of NSW and sixth largest in Australia, Newcastle city had a population of 153,000 and the suburban area of over 500,000. Similar to its
English namesake
, Newcastle was an important centre for the coal mining and iron ore industries. Newcastle is Australia's oldest sea port, and the second most important in the country in terms of overall tonnage, and significant for coal exports.
Many Novocastrians take an avid interest in sports, as participants, spectators or both. The local NRL Rugby League team, the Newcastle Knights are widely followed. Newcastle also hosts soccer, baseball, ice hockey, netball and various other sporting teams. Hunter New England Health and the University of Newcastle are the city's primary employers.
To the north is Stockton Beach with miles and miles of uninhabited beaches that stretch up to Nelson Bay. Stockton Beach can be seen from Fort Scratchley, which was Newcastle's maritime defence during the world wars. Travel westward to the wineries and taste some of Australia's best wines. Barrington Tops National Park in the north west has beautiful fresh water rivers and rain forests, a good place to spot a platypus.
Newcastle Visitor Information Centre

phone: +61 2 4929 5948

address: Honeysuckle Wharf
Get in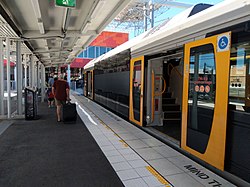 By car
The Newcastle area is at least two hours drive north from the centre of
Sydney
on the Pacific Highway and Pacific Motorway (A1/M1). This stretch of road is a major commuter route for traffic from the
Central Coast
and North Shore so travel time increases significantly in the peaks to and from Sydney.
The Pacific Motorway is on the western side of Lake Macquarie. To travel up the eastern side of Lake Macquarie (through Swansea) then take the "Charlestown" exit. This route is more scenic, more hilly, and less congested (though it takes a few minutes longer). If you follow this route you will eventually come to the "Charlestown Bypass" at Bennett's Green which you can take if you wish to head north-west (towards Lambton). Otherwise veer right to keep following the Pacific Highway until you reach Charlestown and then follow the signs to the city.
Traffic during holiday periods and long weekends is also affected, with heavy northbound traffic at the beginning of the period as Sydneysiders flee the city for the weekend, and heavy southbound traffic as they return.
By train
Sydney's Central, Strathfield, Epping and Hornsby stations have
regular trains
to via the
Central Coast
. Travelling time varies between 2 to 3 hours. This line uses the Opal card (the same as in Sydney) and trips from Sydney are quite comfortable and cheap at $8.30 peak and $5.81 off-peak. This trip is included in the $2.70 fare cap on Sundays. You can also use your contact-less credit card to at the Opal gates if you don't have an Opal Card.
Trains terminate at Newcastle Interchange, where you can transfer to Light Rail to go to the city centre or beach.
There is also a train service from Newcastle Interchange to various Hunter towns such as
Maitland
.
Check the Sydney Trains website for trackwork along the
Central Coast & Newcastle Line
; when these occur, buses replace trains between stations and can add an hour to the trip.
Several
NSW Trainlink regional
services pass through Newcastle's (approximately 5 km from the CBD) daily from Sydney and the Central Coast to the south and from the
Northern Rivers
and
New England
. These trains are more expensive than intercity services and tickets must be booked in advance, but they are somewhat more comfortable and are also faster. Occasionally NSW Trainlink discount tickets offer discounts, and $1 fares for kids, so it may be worthwhile checking their fares.
By bus
phone: +61 2 4997 4788

address: 36-38 Stroud Street, Bulahdelah

Operates services that run to Newcastle from Taree and to Newcastle from Hawks Nest/Tea Gardens, north of Port Stephens.

GreyhoundNewcastle from Sydney direct twice daily, Newcastle from Brisbane three times daily with many stops along the Pacific Highway.

Port Stephens CoachesProvides daily services from Port Stephens and Williamtown airport to Newcastle Railway Station.
By plane
The region has an airport
Newcastle Airport (Williamtown)
served by a number of domestic airlines.
Jetstar
has direct connections to
Brisbane
,
Gold Coast
and
Melbourne
.
Virgin Australia
connects
Brisbane
and
Melbourne
.
QantasLink
flies to
Brisbane
.
Rex
flies to
Sydney
and Sydney and
Ballina
.
Flying may not the be fastest way to travel such a short distance as Sydney to Newcastle, especially since there are only a handful of flights every day, and the airport is not particularly central to Newcastle. However, the flight is particularly scenic, especially on a fine day, as there are stunning views of the northern beaches between Sydney and Newcastle. It can be well worth finding an excuse to fly if the cost is not an issue.
If flying into
Sydney Airport
, then take the train to Sydney Central station, and then change for the next train to Newcastle. The entire journey will be around 3 hours.
Get around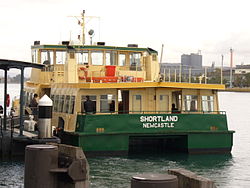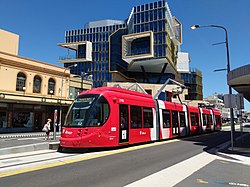 The city centre is fairly walkable. Light rail and
public buses
are the best way to get around Newcastle city. The Sydney
Opal card
is used here, and used in exactly the same way. The shopping centres, John Hunter Hospital and the university are served by several bus lines.
Google Maps works for transit in Newcastle, as do
several 3rd party smartphone apps
that Transport NSW recommend.
There are taxis available, although you will likely need to call for one. Hamilton station has a taxi rank which often has a few taxis waiting for the Sydney train. Uber has some drivers here, and GoCatch has just a handful. Newcastle Taxi Co-operative can be reached under 131008.
There is a single ferry service between and , costing $2.40 each way, also using Opal cards.
Riding a bicycle is possible, and infrastructure is slowly being built, but takes some time to discover. Select areas around Wickham, Islington, and along Honeysuckle Drive have some infrastructure, quiet streets, a gentle terrain along waterways that can be quite pleasant to ride through. Other areas which have some infrastructure are around Adamstown and Kotara Shopping Centre. It is possible to ride to and in the surroundings of the John Hunter Hospital, University of Newcastle but these are up significant gradients. Even so, much riding will occur on roads shared with motor vehicles.
Car hire
See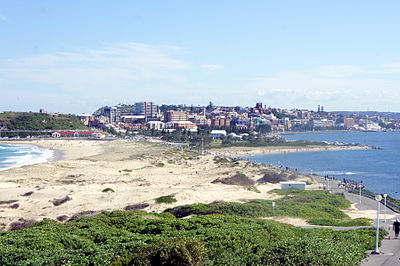 Landmarks
Christ Church Cathedral

address: 52 Church Street

See Newcastle's Cathedral. Tour the inside and climb the tower, with a guided map.

Heritage architectureIn and around the city. Notable buildings in the CBD area include the courthouse (top of Bolton St), former Customs House, Newcastle Railway Station, and Post Office (cnr of Hunter St and Bolton St).

Nobbys HeadNobbys Island is connected to the mainland by a pier built using convict labour (completed in 1846). The pier is accessible to pedestrians, and is flanked by Nobbys Beach. It provides an excellent vantage point to take in views of the harbour and Stockton Beach across the water.

Queen's Wharf TowerSuggested as resembling a large phallic symbol but has great views across the city.
Museums and art galleries
Parks and gardens
The foreshoreLarge grassed open spaces on the old goods marshalling yards at the eastern end with playground equipment for children. Bars, cafes and restaurants overlooking the harbour starting from Queens Wharf where live music can be listened to on the outdoor area over the water (Hunter River)but very little grassed areas.

King Edward ParkA great place for a picnic or a BBQ. Nice views of the ocean.

Mount Sugarloaf lookout

address: West Wallsend
Do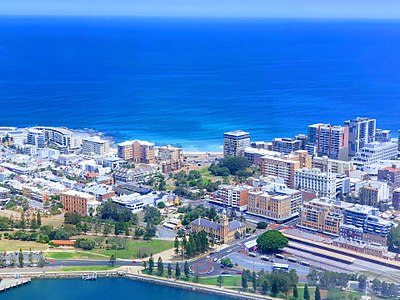 ANZAC Walk

address: 43 High St, The Hill

A short bridge connecting Strzelecki lookout with Bar Beach along the ridgeline, honouring the ANZACs who fought in World War I.

phone: +61 2 4951 6466

address: Wallsend Rd, Sandgate

A regenerated 45-hectare wetlands area adjacent to Hexham Swamp. There are walking trails, a bicycle trail, a canoe trail, picnic and barbecue facilities, and a visitors' centre.

See some live musicThe TE Guide provides weekly entertainment listings and appears in Wednesday's Post free newspaper and Thursday's Newcastle Herald in print and online. The online version is not always kept up to date, so it is best to get hold of a print copy. Alternatively, look for Uturn streetpress, which is widely distributed to shops and libraries around town.

Blackbutt ReserveA 182-ha reserve in suburban Newcastle. A natural bushland area which is full of native animals, picnic areas, wildlife exhibits, bushwalking trails, children's playgrounds. Don't miss the flying fox colony on the Rainforest trail. Main entrance is off Carnley Avenue, Kotara. Other entrances - Lookout Road, New Lambton Heights (on bus route) & Richley Reserve off Freyburg Street, New Lambton. On foot from Kotara train station, enter by the small trailhead opposite Grinsell Ave. on Carnley Ave., and stay to the right in the trail system to reach the info booth and animal displays at the Carnley Avenue entrance.

Fernleigh TrackA 15.5-km long cycling, walking and running trail that starts in the Newcastle suburb of Adamstown and ends in the Lake Macquarie suburb of Belmont. It follows the remains of a railway line that used to run from Adamstown to Belmont down the coast.

address: Laman Street

A large local library which also hosts exhibitions. This library is a stunning war memorial in a unique setting and style. Note also the curious bikestands outside the front steps. The Local Studies Library on the second floor will answer most questions about Newcastle and the Hunter Valley. A small library well done.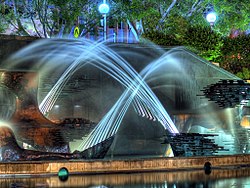 Bar BeachRegarded by many as the best of a range of beaches that ring the city. Surfing and kite-surfing available.

Nobbys BeachOne of the safer beaches to swim at, fairly close to the city and Newcastle train station.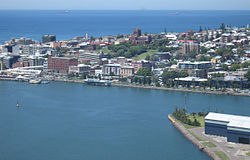 Newcastle BeachAnother good beach next the city centre.
Ocean baths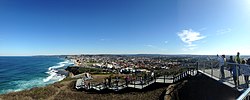 No visit to Newcastle during the warmer months would be complete without taking a dip in the ocean baths. On sunny days you can sunbathe on the Grandstand on the Fort side of the baths.
The baths are also open during the winter, for the more adventurous. The Newcastle baths are home to the "Newcastle Pirates", a winter swimming club not unlike the Icebergs or Polar Bears of other places.
Newcastle Ocean BathsClose to the city centre, these historic baths were opened in 1922.

Merewether Ocean BathsThe largest ocean baths complex in the southern hemisphere.

The Bogey HoleCarved out of the rock by convicts, this ocean pool at the bottom of King Edward Park is a great place for a relaxing dip.
Festivals and events
Mattara FestivalA festival held each year during the Labour Day long weekend in late September/early October. The Mattara festival formerly included the Mattara Hillclimb, a car race held in scenic King Edward Park. The festival features family entertainment and market stalls.

This Is Not Art FestivalHeld in the same long weekend each year, and showcases the talents of young and emerging artists, writers, media makers and electronic musicians from around Australia.

SurfestAustralia's largest surfing contest and festival held at Merewether Beach. The event is held annually over 12 days in late February.

Carols by CandlelightHeld each December in many of Newcastle's parks.

Cultural Stomp

address: Civic Park

A one-day celebration of the region's cultural diversity. Forums, panels, music, art, films, spoken word.

address: Newcastle East

Newcastle's inaugural round of the V8 Supercars series, held on a street circuit in the East End of the city. Late November.
Learn
The
University of Newcastle
is one of the major regional universities in New South Wales. Its academic program is quite broad and includes many liberal arts courses. Their undergraduate medicine degree is very highly regarded.
Buy
For locally made clothing with a quirky, hip look, try

High Tea with Mrs Woo

phone: +61 4926 4883

address: 74 Darby Street, Cooks Hill

Darby Street is also a good place to browse in the boutiques, although the options here aren't cheap.
Retro and second-hand clothing: Newcastle has a range of interesting

second-hand storesSome stores are priced very competitively when compared with their Sydney counterparts.

Patsan Dance Music Specialist

phone: +61 4925 3996

address: 301 Hunter Street

phone: +61 2 4930 5156

address: Newcastle Showground, Brown Road, Broadmeadow

phone: +61 2 9999 2226

address: Hunter Street Mall

Every Th-Sa 9AM-3PM. Also runs whenever a cruise ship is in town.
Eat

Most of the city's restaurants and cafés can be found along three main eatery strips: Honeysuckle Drive in Honeysuckle, Darby Street in Cooks Hill and Beaumont Street in Hamilton.

Budget
Cafés

There are numerous options along Beaumont St in Hamilton and Darby St in Cooks Hill. At Three Monkeys (Darby St Cooks Hill) coffee can be ordered by the bowl.


Mid-range
Splurge
Drink
Coffee
Dark Horse Espresso

phone: +61 449 540 463

address: 20-24 Greenway Street, Wickham

Funky little cafe connected to a furniture shop in an industrial area, serving Campos coffee.

phone: +61 432 034 703

address: 155 Darby Street, Cooks Hill

phone: +61 421 506 651

address: Corner Hunter and Morgan Streets

phone: +61 2 4009 1237

address: 68 Hunter St

Suspension Espresso

phone: +61 2 4962 2717

address: 3 Beaumont Street, Islington
Bars and clubs
Queens Wharf BreweryOn the foreshore. A popular spot for a drink. The pub sells its own beers and has harbour views. During the day and M and Tu nights the atmosphere is relaxed, whilst W-Su evenings can get very busy. There's also entertainment (generally DJs, top 40 cover bands, R&B soloists) on W-Su evenings. There is a large outdoor (beer garden style) area on a jetty over the river - great way to relax on a sunny day.

Silo Lounge BarA drawcard is the selection of Belgian beers available.

Northern Star Hotel

phone: +61 2 4961 1087

address: 112 Beaumont St, Hamilton

An Irish pub in the middle of Hamilton's restaurant strip. The Northern Star regularly functions as a music venue - check the blackboard out the front to find out what's on.

phone: +61 2 4961 3303

address: 59 Beaumont Street, Hamilton

A busy pub on Hamilton's restaurant strip. Check out the popular trivia night (each Wednesday, starts at 7:30PM).

address: Fredrick Street, Merewether

A Newcastle institution. The place to be on Sunday night is sitting on the front deck overlooking Merewether Beach at sunset with a locally brewed Bluetounge Beer.

Gateway Hotel

address: Maitland Rd, Islington

The local establishment frequented by Newcastle's gay & lesbian community. The venue features a rotating mix of local and Sydney DJs, special events, drag shows and feature performers, featuring a nightclub (Club G), main bar and bistro.

phone: +61 2 49622459

address: 789 Hunter St, Newcastle West

Newcastle's premier live venue plays host to the best national and international touring bands. Enjoy cheap drinks and great music while meeting friendly locals.

phone: +61 2 4907 6700

address: 347 Hunter St

Voted best pub style accommodation in Australia in 2009, this venue is a great place to have a drink or a meal at their restaurant that offers good food at reasonable prices. They also host the Sundae Fundaze event several times a year with a number of world class dance music acts.

MJ Finnegans Irish Pub

address: Cnr. Darby and King street

One of the most popular night spots on Friday and Saturday nights. Not really an Irish pub anymore.
Sleep
As the largest town in the Hunter, Newcastle has a wide range of accommodations options. Parking campers overnight at the beaches is prohibited, but still occurs to a certain extent.
Budget
address: Address

ibis budget

phone: +61 2 49 500 244

address: 3-5 Thomas Street, Wallsend

A reasonable option if driving - a little far out from the city centre, but convenient to the freeway.
Mid-range
phone: +61 2 4925 2266

address: 700 Hunter Street

Close to the heart of the Newcastle CBD, the hotel is an easy stroll to the Regional Museum, art galleries, Civic Theatre, Civic Playhouse, Newcastle's popular Honeysuckle and Queens Wharf harbour foreshore and retail precinct.
Sovereign Inn Newcastle

address: 309 Maitland Road Mayfield

With family, twin share and double rooms, plus cable TV, in-room Internet connectivity, direct dial phone, clock radio, coffee- and tea-making facilities.
Splurge
address: 347 Hunter Street

4½-star boutique hotel centrally located in Newcastle's CBD. Serves excellent meals and many boutique beers. Has one of the few genuine beer gardens in the CBD at the rear where with live music Fri and Sat evenings.

phone: +61 2 4032 3700

address: 5 King Street

Novotel Newcastle Beach hotel is almost on Newcastle beach, and a short walking distance into town.

phone: +61 2 49075000

address: Corner of Merewether Sreet & Wharf Road

Good quality hotel on Honeysuckle drive. A 15-minute walk to the CBD.

address: 131 Beaumont Street

Noah's on the Beach

address: Cnr Shortland Esplanade and Zaara St

Close to the CBD, views over Newcastle Beach.
Cope

Good walking shoes are required for the CBD as many streets are steep slopes. Use the walkways or footbridges to get to and from the CBD and the Foreshore. Make sure you note the Historic Markers in the CBD as they make sense of the magic that is Newcastle.

Go next