Newhaven
Newhaven
is a small coastal town in
East Sussex
.
Understand
Newhaven lies at the mouth of the River Ouse, in the valley the river has cut through the South Downs. Over the centuries the river has migrated between Newhaven and Seaford in response to the growth and decay of a shingle spit (shoal) at its mouth.

Get in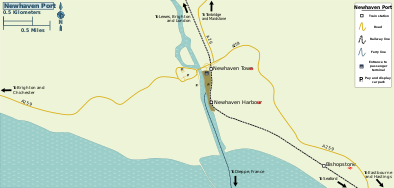 By train
There are two train stations in Newhaven;
Newhaven Town
and . Counterintuitively, you should get off at the Newhaven
Town
station for the port - not Newhaven
Harbour
. There is only about a two minute journey between the two stations and they're both on the same line, so there's no problem if you miss the station you were meant to get off at. You can get to Newhaven easily with direct trains from
Lewes
and
Brighton
. You can also, with changes, get there from
Eastbourne
via Lewes, Gatwick Airport via Brighton,
Portsmouth
and Southsea station via Brighton and
London Victoria
via Lewes as well.
By ferry
If you are in Europe, you can
take a ferry
from
Dieppe
to Newhaven. The journey's about four hours, but there is a great restaurant on the ship serving cooked food with a nice, sea view. The price of one adult travelling with a small car is about £50-£70 one way, and travelling just on foot is about £20 one way.
Newhaven Port
phone: +44 844 576 8836, +44 1235 845138
The port was built in the mid-19th century and has a passenger terminal, with a small cafe, the
phone: +44 1235 844 117
There is also a car park at the terminal, which costs £4.50 per 24 hour period (however, this can only be paid for at the terminal and can't be pre-booked). More car parks are available in the town, most on the other side of the river though (
see below
). There isn't anything else really at the terminal, so long waits there
won't
be fun. If you want to buy anything like a newspaper or magazine, the Sainsbury's just along the A259 to the east about 10 minutes walk away will be the best option.
By car
From Brighton, take the A259 east to Newhaven and from Eastbourne, take the A259 west to Newhaven. From Lewes, take the A26 south, then the A27 east briefly, before taking the A26 southbound again. From Gatwick Airport (and
Crawley
), take the M23 southbound, then the A23 southbound. Just before you reach Brighton, take the A27 east, then take the A26 southbound from near Lewes.
Car parks
If you are catching a ferry, you may wish to park your car in the town. There are a few of them in Newhaven.
Car park at Newhaven Port

West Quay

phone: +44 1273 477105

Dacre Road

phone: +44 1273 477105

Bay Vue

phone: +44 1273 477105
Get around

The town is not big enough to warrant taking a bus around, it is only about a fifteen minute walk from the entrance to the port to the north end of town (in an industrial estate). Car parking is available at the Fort and Paradise Park. Both of these places are within walking distance from the station and ferry port.

See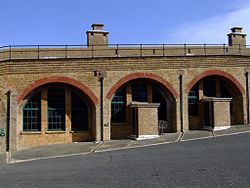 phone: +44 1273 517622

address: Fort Road, BN9 9DS

A fort in operation since Napoleonic times, it ceased operation after World War II and has been converted into a fascinating museum.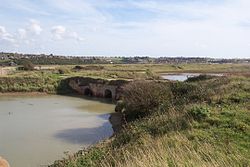 Tide MillsA derelict village about a mile south east of Newhaven. Not a great tourist attraction, part of the old course of the Ouse River; before it broke through and 'New - Haven' was created. There are various specialist plants. Possible to walk to the nearby town of Seaford, very pleasant on a sunny day
Do
phone: +44 1273 512123

address: Avis Road

Originally a garden centre but has had bits added to it, now includes a model railway, dinosaur museum, a mini arcade

phone: +44 1273 515404

address: Paradise Park, Avis Road

A museum dedicated to the town's history.
Buy
Fish Newhaven has a small fishing port and various places around the town sell fresh, local fish
Tents etc. If you need one, or other sporting goods there is a sporting shop, ask locals for directions
Food Newhaven has two supermarkets, which should supply a traveller with any food he or she needs
Ferry Tickets From the 'Transmanche' desk, in the Western Harbour; it is signposted from the main road
Eat
phone: +44 1273 612356

A Brewers Fayre pub next to a Premier Inn.

phone: +44 1273 516334

address: 12 Bridge Street

An Italian restaurant not far from the river.

phone: +44 1273 515389

address: West Pier

Serves good food, and has a quiz night every Wednesday.
Drink
Being a port there's a fairly decent selections of drinking establishments, most pubs that serve food also serve alcohol.

Sleep
Bed and Breakfasts Ask at the ferry port or a local.

address: 10 Avis Rd

Generic hotel.
Go next
Catch a ferry to Dieppe, see the Get in section.
Brighton to the West is a simple bus (£2.50 taking about an hour) or train (£3.60 return taking about half an hour) by car it is easily accessible along the coast road
Take a walk on the beach towards Seaford, passing the old Dieppe Seaplane station, tidemills water mill (disused) and the old railway to Seaford (it was moved in the late 1800s)
Visit Cuckmere Haven