Newport (Kentucky)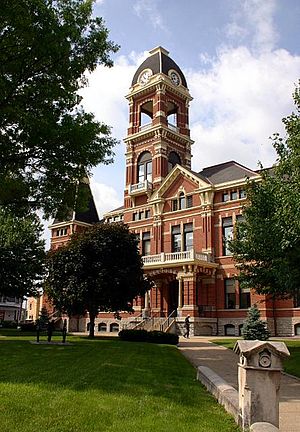 Newport
is a city on the Ohio River in
Kentucky
's
Northern Ohio River Region
or as locals call it, Northern Kentucky.
Founded in the 1790s by James Taylor, Jr., Newport is named after British Admiral Christopher Newport, who helped to found the Jamestown colony in 1607. In its early years, Newport was home to an army post, which helped to spur the town's growth. Later, it was known as a vice district, given Cincinnati's conservative nature it was a perfect nearby refuge for burlesque, gambling, and other vices. The City had a strong mafia presence for many years.
Today, it is proximity to
Cincinnati
that provides the spur, as Newport's hotels and riverfront area draw visitors from the Queen City. The city is quite a bit more family friendly these days with Newport on the Levee having an aquarium and many family friendly events. In spite of these changes, if you know where to look you can still find some vice.
Get in
By plane
There are three airports close to Newport:
By car
Newport is served directly by Interstate 471, which can be reached by Interstates 71 (from Columbus and Louisville), 75 (from Dayton and Lexington), US 50 (Columbia Parkway from the eastern suburbs of Cincinnati) and 275 (the circle beltway).
One of the most beautiful panoramic views in the country occurs when driving northbound on Interstate 71/75 (the interstate routes share the same highway in part of Northern Kentucky) traveling into downtown Cincinnati, just before the Brent Spence Bridge. If you go this way get off in Covington at 4th street and cross over the Licking River to Newport where 4th St joins 5th St.
By foot
The Purple People Bridge
(officially the "Newport Southbank Bridge"), formerly a road and rail bridge, now a pedestrian and bicycle only bridge, is a good way to get across from Downtown Cincinnati, particularly if you can't find a parking spot in Newport and want to park in one of the less traveled parts of the Cincinnati riverfront (though with a revitalization of Cincinnati's downtown and riverfront this is getting more and more difficult). The Bridge is nicely landscaped and could make a pleasant walk on a warm evening. Its also open to cyclists.
By bicycle
RedBike
, Cincinnati's bike share program, also has some stations in Newport most notably right by Newport on the Levee so you can quickly ride your bike straight from Downtown Cincinnati or Over the Rhine to Newport in minutes via
The Purple People Bridge
. Sadly, its not as easy to get from nearby Covington as the bridges over the licking river are quite high and could be difficult to ride a bike over.
By bus
TANK runs buses all over Northern Kentucky. Check website for routes and times.
The Southbank Shuttle which is provided by TANK provides regular bus service from Downtown Cincinnati to the Covington and Newport Riverfronts. For more information on times and stops check the Southbank Shuttle website here.
address: 4th Street at Race St

Megabus is a budget bus company offering service to Cincinnati from Chicago, Indianapolis, and Columbus. The Cincinnati stop is close enough to Newport that it shouldn't be hard to get down by public transportation or taxi. Fares start at $1.
Get around
By car
Newport is on a grid, so getting around by car is relatively easy. Keep in mind that the street numbers/addresses get larger as you are going south instead of north. Monmouth Street is the main commercial district and the area around
Newport on the Levee
its main Entertainment district.
Parking can be difficult. The Levee has a parking garage, but on weekends it can be full. It used to be free to park on the riverfront, but the restaurants in the boats on the river banded together to jack up prices to rates way above what you'd pay to park in the Levee garage, expect to pay around $6 to park there.
Finally you could try parking on the narrow city streets, but keep your eye out for any parking restrictions such as street cleaning.
By foot
Newport is very walkable. Most everything you'll need is within walking distance as the city is relatively small and compact. The pedestrian-only Newport Southbank Bridge (popularly known as the "Purple People Bridge") connects the Newport on the Levee mall with Downtown Cincinnati.
By bus
Transit Authority of Northern Kentucky (TANK), . Provides bus service in Northern Kentucky and has several routes that crosses the Ohio into Cincinnati.
TANK Sales Office; Mercantile Building; 120 East 4th Street, Cincinnati, OH; Hours: M-F 6:30AM–6PM.
See
phone: +1 859-261-7444

address: One Aquarium Way

An Aquarium that has a unique design, spectators are in a "cage" which is a glass surrounded tunnel, completely surrounded by large underwater exhibits.

World Peace Bell

address: 4th & York St

One of largest bells in the world, this bell was made to be part of a never built Millennium Monument that would stand right next to where its at now.

East Row Historic Districtlarge walkable historic district with well preserved collection of 19th century Victorian homes

General James Taylor Parkpark at the confluence of the Ohio and Licking rivers offers closeup views of the legendary Cincinnati, Ohio skyline. Site of the former Newport Barracks, a military instillation from 1803-1894.
Do
Newport previously had the reputation of being where to go to find strippers, due to revitalization, most of these places have closed down. In its place is a rich nightlife, and many family-oriented destinations and events, though if you look hard enough there still are a few gentlemen's clubs here and there.
Buy
Newport on the Levee1 Levee Way; The Levee is a collection of stores, restaurants, an aquarium, and movie theater.
Eat
Budget
phone: +1 859-291-5337

address: 733 Monmouth St

Cincinnati-style chili served a bit spicier than most varieties of the regional specialty. Also notable for offering a "6-way" chili (see here for an explanation of "ways"), which adds chopped garlic to a "5-way". Locations also in Covington and Erlanger.

La Mexicana Restaurant

phone: +1 859-581-0700

address: 642 Monmouth St

Probably the best authentic Mexican taqueria in the Cincinnati area. This is the real deal, and if you aren't familiar with real Mexican street food, make sure to get the horchata (rice milk) on a hot day nothing beats it.
Sis's Family Affair: Home cooking with a popular steak night on Thursday. Live music several times a week.
Mid-range
phone: +1 859-581-3065

address: 6th Street and Washington Ave

Pompilio's is a good Italian restaurant. The restaurant is famous for playing host to the scene in Rain Man, where Dustin Hoffman knows how many toothpicks fell onto the ground.

phone: +1 859-431-0900

address: One Levee Way

Italian restaurant
Sweet Tooth Candies: Homemade candies and ice cream.

address: 601 Monmouth St

Locally owned pizzaria, notable for having pizza with Cincinnati Chili on it.
Splurge
Drink
phone: +1 859-291-8990

address: 1 Levee Way, Suite 2119

phone: +1 859-491-7200

address: 3rd and Saratoga

Originating in Munich, Germany, this is the first Hofbräuhaus in the United States which makes sense when you realize that Cincinnati is Munich's sister city.
Huddle's: Sports bar with a diverse crowd and plenty of regulars

Crazy Fox Saloon

phone: +1 859-261-2143

address: 901 Washington St

Laid back, friendly neighborhood bar. It is gay-friendly and doesn't allow any discrimination. Great jukebox, cheap drinks, great people.

Beer Sellar

address: 301 Riverboat Row

Floating bar on a barge with a spectacular view of Downtown Cincinnati. Huge variety of beers on tap. Has kind of a post-college fratty atmosphere with a larger selection of drinks than places like that often have.

phone: +1 859 261-2172

address: 629 York St

Cozy brewery with a decent beer selection and on site restaurant, specializing in small batch brews.
Coffee
address: 107 E 9th St

Cafe and roaster that offers excellent coffee they also have pour over style brewing by request. Their mission is to be an ethical company that not only buys their coffee from ethical sources but also gives back to communities where it was grown. Free Wifi as well.
Sleep
phone: +1 859-291-4434

address: 222 York St

Comfort Suites

phone: +1-859-415-0678

address: 275 Columbia St

Includes Wi-Fi, Breakfast, and indoor pool.

phone: +1-859-916-5306

address: 201 E 3rd St
Connect
Go next
Covington is also a Kentucky-based satellite of Cincinnati.
Cincinnati is the largest city in the region.