Newport (Rhode Island)
Newport
is a beautiful seaside city in
Rhode Island
that is famous for its mansions, shopping, and scenery.
Understand
phone: +1 401-845-9123

address: 23 America's Cup Ave
History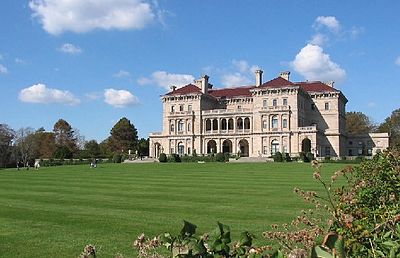 One of the largest cities in the future
United States
during colonial times, Newport's decline in the early 19th century is good news for today's visitors, who can experience one of the nation's largest collections of intact colonial architecture; had Newport followed the same path as its former peer cities, its historic buildings might have been razed decades or even centuries ago. But Newport is even more well known for another historical period: the Gilded Age of the late 19th and early 20th centuries, when some of America's most prominent families built eye-popping summer homes, which they called "cottages," along the waterfront. Many of the mansions are now open for tours.
Newport is also known for hosting the Newport Folk Festival and the Newport Jazz Festival and many other festivals and fairs. Cobblestone streets and brick sidewalks accent an upscale touristy downtown area with many shops, galleries and great restaurants, all located near the water. Newport sits on the southern end of Aquidneck Island and features several fine beaches, rocky cliffs and much history including an old fort.
Climate
The summer weather generally calls for shorts, short sleeves, and swimsuits. Newport is also surrounded by water you might want to pack a sweatshirt for the night time because it can get a bit cool. Be sure to bring an umbrella with you because Newport is not exactly invincible to rain. It would also be a great time to break out your sunglasses because the summer is the sun's favorite season.
Get in
By car
To get into Newport, or anywhere on Aquidneck Island, you can take one of three bridges: The Claiborne Pell Bridge (known by many locals as the Newport Bridge), from
Jamestown
, The Sakonnet River Bridge, from
Tiverton
, or the Mount Hope Bridge, from
Bristol
.
By plane
T.F. Green Airport (PVD) in Warwick offers many low cost and regular flights to many cities in the United States. It is about 45 minutes away.
Boston's Logan Airport (BOS

) is much larger and is generally used for most international flights. It is 1 hour 35 minutes away.

Newport State Airport (NPT). Located 20 minutes away in nearby Middletown, this airport is small and does not offer commercial flights.
By bus
RIPTA
runs an express bus service from
Providence
every 30 minutes.
By boat
Block Island Ferry
runs multiple ferries daily from
Block Island
and
Fall River
. From
Providence
,
Seastreak Ferries
offers four daily round trips with a journey time of just under one hour. Additionally,
Jamestown and Newport Ferry
offers a more leisurely trip from
Jamestown
, just across the bay and islands in between.
If travelling on a private boat, there are many marinas in Newport harbor that offer dock space for sailboats, powerboats, million dollar yachts, and even cruise ships that set anchor in the harbor.
phone: +1 401 848-7950

address: 351 Thames St

Amenities include: Restaurants, Restrooms, Floating Docks, Dockage for Yachts up to 250 ft, Concierge Service, Ship-side Dining Service and more. 2009 Transient Rates: available upon request (2007 Transient Rate: $7.50 per foot).

phone: +1 401 846-4500

address: 24 Bannisters Wharf

Amenities include: Diesel Fuel, Gasoline, Ice, Laundry, Restaurants, Restrooms, Showers, and a Travel Lift. 2009 Rates: available upon request (2008 Rates: $5 per foot per night). Bannisters wharf has a very nice staff and an excellent location on the same pier as the Black Pearl and 22 Bowen restaurants. There is a great game room across the street for kids along with discounted fuel for customers.

Brenton Cove Moorings

phone: +1 401 849-2210

address: 68 Long Wharf

phone: +1 401 847-0321

address: Commercial Wharf

Amenities include: Diesel Fuel, Gasoline, Laundry, Maintenance Facilities, Oil Recycling, Pumpout, Restrooms, and Showers. "Excellent maintenance services and repairs & installations. Electronic sales & service. Dealer for Raymarine, Si-Tex, Simrad, B&G, Furuno, Sea/Datamarine, KVH. Cummins marine diesel certified."

phone: +1 401 846-5100

address: 21 Brown & Howard Wharf

Floating docks can accommodate vessels from 30 to 250 feet. Amenities include: Charter Rental, Diesel Fuel, Floating Docks, Laundry, Pumpout, Showers, Spa, and Wireless Internet. 2009 transient rate: $5.50 per foot per day. Good marina at the center of city with very modern facilities, but limited dock space. Make reservations far in advance.

phone: +1 401 849-5655

address: 5 Marina Plaza

Amenities include: Cable TV, Diesel Fuel, Floating Docks, Gasoline, Hotel/Lodging, Ice, Internet Access, Laundry, Maintenance Facilities, Pumpout, Restaurants, Restrooms, Ship Store, Showers, Spa, Swimming Pool, Tennis, and Wireless Internet. A long list of amenities and superb facilities, this is a great marina to visit. However its location on goat island makes it one of the furthest marinas from downtown.

phone: +1 401 846-1969

address: 186 Wellington Ave

Ida Lewis Yacht club welcomes both members and non-memebrs to visit the marina. Its location on the south side of the harbor makes it a 15 minuet walk to downtown. The great staff and service make it a worthwhile destination.

phone: +1 401 848-3310

address: 49 America's Cup Ave

Amenities include: Cable TV, Hotel/Lodging, Ice, Internet Access, Laundry, Restrooms, Showers, and a Swimming Pool. 2009 transient rate: $5 per foot/per night (5.50 for special events/holiday). This hotel is well known for its excellent location in downtown Newport. However it is also known for its outdated and overpriced rooms.

phone: +1 401 849-2293

address: Lee's Wharf

Amenities include: Cable TV, Floating Docks, Ice, Internet Access, Laundry, Picnic Area, Pumpout, Restaurants, Restrooms, Showers, and a Swimming Pool. 2009 Rates: $5 per foot per night plus electric (Boats Over 70 Ft. $5.50 per foot) A great choice. The marina is next to the IYRS, offering not only a central location for restaurants but a wonderful view of the classic yachts next door. The heated pool is great, as are the bar-b-ques, picnic tables, and family-friendly surroundings. This marina is in the center of the action but avoids the crouds and lack of security at other marinas. New floating docks make it boat friendly as well.

phone: +1 401 846-6002

address: 1 Washington St

Amenities include: Complete repair facilities, wireless internet, on-site restaurant and catering, Crew Facilities, Secure Dockage Area. 2009 Transient Rates: $4.95 per foot per night (May 15- Sept 30). As one of the best known shipyards on the east coast, it is the premiere location for mega yachts in Newport. It is with in walking distance to the shops and restaurants downtown and features the best yacht repair service in New England.

phone: +1 401 847-9047

address: 4 Commercial Wharf

Amenities include: ATM, Diesel Fuel, Dry Storage, Fitness Center, Floating Docks, Gasoline, Groceries, Ice, Laundry, Maintenance Facilities, Oil Recycling, Pumpout, Restaurants, Restrooms, Showers, and a Swimming Pool. 2009 Rates: April–June 14: $2.75/ft June 15-Sept. 5; $5/ft & July 1–9: $5.50 (3 night min. stay required) Sept. 6 - November: $2.75/ft & $4/ft (Fri., Sat. & Sun. of holiday weekends). This is a great marina in a great location. Very professional staff and well maintained facilities. They are associated with the Marriott, so you can use the gym and the pool at the hotel. It offers a variety of services for people who enjoy and expect the very best.

phone: +1 401 849-4300

address: 1 Waite's Wharf

Amenities include: ATM, Diesel Fuel, Floating Docks (boats up to 220 ft), Ice, Laundry, Oil Recycling, Pumpout, Restrooms, Showers, 2 restaurants on-site, 2 bars on-site, and 1 night club. 2009 Rates: $4 to $5 per foot per night, call for details. West Wind Marina specializes in dealing with smaller yachts in the 50–80 foot range, but can handle much larger yachts. Great downtown location with their own restaurants on site.
Get around
Newport is a great town to walk, ride, and utilize other modes of transportation besides cars in. When visiting places throughout Newport, you'll notice that most people are walking or bikeriding. Many people use bikes, scooters, and mopeds to get around the city. Most of the restaurants and shops are packed into the harbor area, which is perfect for walking, especially on a cool summer night. Parking your car can get pretty difficult at certain times of the year, which is another benefit of walking. If you decide to take your car downtown, there are various locations that have parking meters. The meters take only quarters (15 minutes) and dimes (5 minutes), and allow you to park for 3 hours. In addition to meters, there are many parking lots that charge around 15-30 dollars for parking.
There is also the option of using the Rhode Island Public Transit Authority
phone: +1 401 781-9400

RIPTA has authentic looking trolleys that travel around Newport and offer bus trips all around the state of Rhode Island.

phone: +1 401 849-8005

Sponsored by RIPTA bus company, this more stylish and town like cruiser accommodates the same amount of passengers as a bus on a more breezy, clean and pleasant ride. The trolley also does mansion and scenic tours of Newport.
Taxis
phone: +1 401 841-0030

phone: +1 401 841-0047

Cozy Cabs

phone: +1 401 846-2500

Yellow Cab

phone: +1 401 846-1500

phone: +1 401 841-0030
Limousine
Newport Limousine Service, LLC.

phone: +1 401 418-4301

Paradise Limousine Service

phone: +1 401 847-2704

Newport Adventures

phone: +1-800-936-0277
Bike and Mopeds
phone: +1 401 619-1349

phone: +1 401 847-5609
Pedicabs
phone: +1 401 432-5498

There are pedicabs everywhere during the summer. You can find groups of them waiting for customers throughout Newport. A pedicab ride is a convenient ride home after a night on the town. In addition to convenience, pedicabs are eco-friendly and safe. Newport pedicab offers a "pay as you please" policy; there is no set rate for your ride, but be sure to tip as you see fair!
See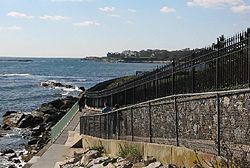 Famous Cliff WalkDedicated in 1975, this 3.5 mi. (5.6 km) public access walkway is a beautiful walk, and two-thirds of the trail is easy walking for all ages. The cliff walk offers some of the most beautiful views existent in New England, and wildlife can be seen everywhere throughout the walk. The Cliff Walk offers beautiful ocean views and, since it is located in a national historic district, offers a peek at the famous Newport Mansions. The walking trail starts at Newport's First Beach and follows the coast up to the island's Ocean Drive. While walking, watch out for poison ivy. Some portions of the Cliff Walk drop off steeply into the water, so proceed and pass other walkers at your own risk. Rocks can be slippery, and parts of walk are not well paved, so wear proper footwear. The Cliff Walk can take from 2 to 4 hours, depending on how fast you walk. While bikes are not permitted, dogs are as long as they are kept on a leash. The Cliff Walk does not offer refreshments or picnic areas, so be sure to eat, or pack light snacks like granola bars. The Cliff Walk's hours are from sunrise to sunset and the attraction is completely free of charge. The north end is handicapped accessible and baby carriage accessible. There are multiple ways to exit the Cliff Walk, all of which lead back to Bellevue Avenue and the front side of the mansions. Walking back to the car can take a while, so the free RIPTA trolley is a viable option to get back to your vehicle.

Breton Point State Park, Ocean Drive.

The Ocean DriveThis is a 10 mile drive along the beautiful Newport shoreline. Along the drive you will see, Green Bridge, The Private Beaches (Gooseberry Beach, Hazards Beach, Bailey's Beach), Brenton Point State Park, Castle Hill Inn, and many gorgeous houses that hug the shoreline.

phone: +1 401 841-0707

address: 1 Lincoln Dr

Containing over 180 years of history, the fort itself is the largest coastal fortress in the United States and offers seasonal guided tours that showcase the property's soldier's quarters, Naval War College Museum Exhibit, beautiful architecture and engineering. Besides looking at the splendor that is Fort Adams, you can see the view of the Newport Harbor and Narragansett Bay. Fort Adams is not just a historical part of Newport, it is also home to various festivals and events that take place on the fortress' six and a half parade field and lawns. Some of these festivals include Family Day, a celebration for families, especially those with small children, which include clowns, face painting, and other fun activities and attractions. Fort Adams is also home to the annual George Wein's Folk Festival, George Wein's Jazz Festival, and McGrath's Public Clambake.

Fort Adams State ParkPerhaps one of the most well-kept establishments on Aquidneck Island is Fort Adams. The 30-year construction of the fort began in 1824, and was built by hundreds of immigrants new to America. The fort was used during the Civil War by the Naval Academy. This elaborately constructed fort used to contain more than 500 cannons, some of which were preserved and can be seen today. The stone structure is only used recreationally for festivals, and often for wedding receptions due to its beautiful location. Fort Adams can be seen to the right of the Newport Bridge in crossing.

Forty StepsWhile experiencing Cliff Walk, be sure to look out for Forty Steps; a cryptic and amazing set of staircase that leads directly into the ocean below. During Newport's Golden Age, the Forty Steps were a gathering place for the servants and workers from the nearby mansions. Here they would hold weekend dances and play the Irish songs and music that reminded them of home. Not only is there historical meaning behind the structure, but is also safe for swimmers, runners and walkers alike.

phone: +1 401 849-4982

address: 20 Americas Cup Ave

The team plays a 42 game summer schedule, consisting of 21 home games, plus a Team USA Exhibition and the playoffs, at historic Cardines Field, which dates back to 1908. The New England Collegiate Baseball League is composed of 12 teams in all 6 New England states. The Gulls also host 6 summer camps located throughout Aquidneck Island, benefiting the youth of Newport County. Adults $4; Ages 13–18, Seniors, and Military ID's $2; under $12 1. Seasons passes are $50.

International Tennis Hall of Fame

phone: +1 401 849-3990

address: 194 Bellevue Ave

A non-profit institution made to preserve the history of tennis. Built in 1880, it shows the icons of tennis. Visitors of all ages can come to this historical casino and experience the art gallery, and the plaques that commemorate the great players.

phone: +1 401 619-3377

address: 226 Bellevue Ave

If there were any particular area in Newport that would be described as park perfection, Ballard Park is the unrivaled paragon of parks in Rhode Island, let alone in Newport. Surrounded by a dense forest, the park itself is also shadowed by a massive stone wall in the background, creating a very unique setting to have any sort of event, such as stage music, jack-o-lantern trails, and family picnics. The owners of Ballard Park have hosted many similar public events in the past, all of which had been considered large community successes.
Mansions
Like most of Newport the Newport Mansions ooze history. The mansions represent over 250 years of history and architecture with walk through audio tours of the establishments. The mansions are a spectacle to see for all who attend. Each establishment, fully preserved, has a different history, some from the Women's Right's Movement in 1920 with Greek and Roman sculpture, some that double as 19th century art galleries, and some with impressive gardens complete with sculpted topiaries. Admission prices vary by tour, whether it is one property of your choice ($14.50 for adults and $5.50 for children ages 6-17) or a five property tour of your selection ($31.50 for adults and $10 for children ages 6-17). Tours of the more popular mansions, such as the Breakers or Hunter House are a bit pricier than the rest. You can purchase your tickets on site at any of the houses or in advance online or .
The Newport Mansions consist of eleven historical sites all with different architectural aspects, history, interiors, and landscape. Out of these eleven, seven are nationally recognized historic landscapes. The Newport Mansions do not only showcase historical house museums, but are also hosts to different galas and functions on the lawns and inside the mansions themselves. The Newport Flower show, proms, and specialty tours are just some of the extra features to see at the Newport mansions including the exquisite array of holiday decorations that are put up during the season.
Newport Mansion tours are not only for those interested in historical architecture or Rhode Island history, but for all ages due to the walk through tours, audio information, and the overall grandiose appeal of the estates.
Park in the free off-street parking spaces provided by all Preservation Society properties (with the exception of the Hunter House where you can park on the street.). Allow an hour and a half per house to fully enjoy all that the Newport Mansions have to offer, from their gorgeously elaborate interior to their spacious and breathtaking grounds.
Astor's Beechwood Mansion

phone: +1 401 846-3772

address: 580 Bellevue Av

This privately owned mansion is now closed to the public.

Belcourt CastleBellevue Av. Built between 1891 and 1894 for Oliver Belmont. Privately owned but open to the public.

The Breakers

address: Ruggles Ave

Built between 1893 and 1895 by the Vanderbilt family. The Preservation Society of Newport County owns The Breakers.

Chateau-sur-Mer

address: Bellevue Ave

address: 120 Narragansett Ave

address: 367 Bellevue Ave

One of the beautiful historic Newport Mansions located on this street.

Hunter House

address: Washington St

Isaac Bell House

address: Bellevue Ave

address: Bellevue Ave

address: 596 Bellevue Ave

Ochre Court

address: Ochre Point Ave

address: Bellevue Ave

phone: +1 401 847-8344

address: Bellevue Ave
Museums
National Museum of American Illustration

phone: +1 401 851-8974

address: 492 Bellevue Ave

Museum at historic Vernon Court houses works by Norman Rockwell, J. C. Leyendecker, N. C, Wyeth, Maxfield Parrish, and more.
Movies
phone: +1 401 847-3456

address: 19 Touro St

The Opera House is undergoing renovations and is not open to the public. The cinema has three screens, two smaller theaters on the first floor and one larger open theater on the second. The Opera House has been in business since 1968 and continues to play the most recent and relevant films. Call for tours of the theater or to volunteer in the restoration of this historic landmark.

phone: +1 401 846-5252

address: 49 Touro St

This unique art house cinema was built in 1834 as a church and converted to a two–story theater in 1919. The theater has a capacity for 500 people. Jane Pickens' beautifully renovated interior is a perfect setting to watch the newest independent films and documentaries. The theater can be rented out for private functions such as fundraisers, parties, business events, weddings, and anniversaries. With its small stage, Jane Pickens can also accommodate artists and filmmakers to debut their work for a private audience or to the general public. This theater is one of the only cinemas in Rhode Island that will re-release classic films for the public to enjoy again. Today, the theatre retains its charm by bringing the arts to the public through movies, films, performances and more. Attractions range from 2011 release "The Artist" to the La Corsaire from the Bolshoi Ballet.
Do
Newport offers a variety of activities throughout the year. During the summer season, water sports are extremely popular among Newporters and tourists. Sailing and boating tours are also available starting in the spring, while an outdoor skating rink is a great place to be during the winter. Shopping and gambling are also great tourist attractions throughout the entire year in Newport. You can even take a food tour and get a taste for several restaurants so you know where to go for lunch or dinner while in Newport.
Beaches
Newport is known for its beautiful beaches. There are a variety of both public and private beaches located in the Newport area. Many beaches located in Newport and Middletown are within a few blocks from each other, and have a variety of different features. Some are great for swimming, fishing, and making sand castles, while others have picnic areas and great surf. Some of Newport's beaches provide family events and entertainment during different times of the year. All beaches in Newport have great views and are perfect for a little relaxation.
Bailey's Beach

address: Ocean Ave

This beach is one of the most exclusive beaches on the East Coast. This private beach club has historically been a summer getaway for rich Newport families. Tennis courts are available to members, but there are no parking or concession stands available in this private club, just good sunbathing and chatter. Though the beach mostly remains off limits to the general public, non-members do have access to the northeast end (separated from the rest by a fence, of course). This section is popularly known as Reject's Beach, though club members refer to it delicately as "the public end."

Eastons Beach

address: Memorial Blvd

This beach has a wonderful view of the beautiful Cliff Walk as well as ocean swimming, beach board, surf board, umbrella and beach chair rental. A skateboard park, playground, seasonal carousel, and an exploration center for "Save the Bay" are available for children and adolescents. The concession stand is seasonal, so if you are visiting during the off season, be sure to pack a lunch. Picnic tables, indoor/outdoor showers and restrooms are available. Parking is $10 on weekdays from Memorial Day to Labor Day and $10-15 on weekends. The beach is open from 9AM to 6PM and the parking lot closes at 9PM. Free parking is available off of side streets off Memorial Boulevard. There are restaurants within walking distance.

Fort Adams State BeachLocated in Fort Adams State Park on Ocean Avenue. Besides tours throughout the park, this historical site offers a beautiful beach with picnic and fishing areas. Concession stand and public bathrooms are also available.

Gooseberry Beach

address: Ocean Ave

A private beach club that allows daily admission to the public; entry is free for guests, but parking will cost you. Even by Newport standards, the scenery here is particularly striking, with grand houses sitting atop cliffs surrounding the water and large rock formations that visitors can wade out to. Showers, chair rentals, and parking are available for guests. The concession stand is one of the state's best, with some surprisingly fresh and creative options; don't leave without trying the strawberry lemonade. Seasonal parking passes are also available for those who can't get enough.

Hazard Beach

address: Ocean Ave

This is a private beach which offers nearby parking. Bathhouses and a concession stand are available to those who have a membership.

Kings Beach

address: Wellington Ave

It has a free boat ramp, but this beach is fairly small. It has a great view of the Newport Bridge. Kings Park also offers picnic tables and areas to barbeque.
Fishing
There are many places in Newport and the rest of Aquidneck Island to go fishing. Saltwater fishing for striped bass, bluefish, and tautog (blackfish) is the way to go. Being on an island, there are many places to fish from. Some of the best spots with easy public access are Fort Adams, Brenton Point, Castle Hill, and any of the public beach areas. You can also charter a fishing boat out of one of the many marinas.
Rhode Island has passed a law that requires all fishers to obtain a license to fish the waters of the state. The license costs $7, and is to be renewed once a year. To qualify you must go to the local Wal-Mart (by the rotary on Connell highway) and pay the small fee to legally fish while you stay in Newport.
Newport Sport Fishing ChartersThis collaboration is a state-wide experience, boats leaving from Newport docks and fishing towards Block Island.

The Saltwater EdgePrivately owned operation, located just outside of Newport within a mile of first beach (Easton's). Saltwater activities range from fly fishing, surf-casting and light or heavy tackle; staff providing a compilation of offshore and onshore experience.

On The Rocks Newport Charters

phone: +1 401 359-3625

Fly fishing oriented, and light tackle and fly fishing gear provided. Other than Newport areas also covered are Narragansett Bay, Westerly and Watch Hill.
Events
Art Newport, aboard SeaFair- the fine art mega-yachtThis 228-foot, 2,800-ton privately owned yacht is one of the ten largest in the United States. Groundbreaking in scale, ingenuity and style, the yacht - which remains dockside during each event - pairs international fine art glass, paintings, photography, sculpture, jewelry and collectables with harbor view dining and special events.

St. Patrick's Day ParadeThis is the place to be for St. Patrick's Day. The parade kicks off the day, while countless parties and festivities follow until the wee hours of the night. Parade route: City Hall to Washington Square to Thames Street and ending at Saint Augustine's Church.

Bowen's Wharf Christmas Tree Lighting

phone: +1 401 849-2120

First Saturday in December, America's Cup Ave. Frosty the Snowman arrives at 4:30PM, children's musical program begins at 5PM. The mayor lights the tree at 6PM and Santa arrives by a Coast Guard Crash Boat (weather permitting) immediately after tree lighting.

Christmas at the Newport Mansions

phone: +1 401 847-1000

address: Bellevue Ave

Marble House, the Elms and the Breakers are open and decorated for the holiday season. Celebrate a timeless holiday season amid elegantly decorate surrounding. All three houses are adorned with period-inspired ornaments, elaborate yuletide decorations and ring with music of the season.

phone: +1 401 847-7666

Citywide. Features more than 150 individual events combining food, music and entertainment for all ages. Includes concert series, sand sculptures, chili cook-off, citywide scavenger hunt, ice sculpting competition, children's fair, pizza cook-off and fantasy auction.

Newport Jazz FestivalThe Newport Jazz Festival is a famous annual festival held every August at Fort Adams State Park. It was first founded by jazz painist George Wein in 1954, and has hosted many famous jazz musicians ever since.

phone: +1 401 846-1600

Throughout the summer, the Sunset Music Series features national and international entertainment overlooking beautiful Newport harbor. This upscale event is set in a great location and allows entertainers to expose themselves to the public. 2,500 seats are reserved under a colorful waterfront tent with a separate tent for VIP receptions.

Newport Waterfront Irish Festival

phone: +1 401 846-1600

Each Labor Day weekend, the Newport Waterfront Irish Festival offers a celebration of Irish music, culture, food, libations and crafts. This event provides quality family entertainment and an authentic cultural experience. It is a community celebration that features five stages of national and international entertainment, an Irish Marketplace with Irish and handcrafted items for sale, a dance hall and a children's play area. A festival great for all ages!

phone: +1 401 846-2720

Once a year, during the summer in July and August, the tall ships come into Newport docks from all over the world. This huge celebration is a place to meet sailors, pirates and mariners from all over the world, as well as go onto the boats and see the deck. This event can be extremely crowded and at times difficult to maneuver around the crowd. Ticket prices vary on the day you plan on going and the ships you plan on seeing.

Black ShipsJapanese American society.

phone: +1 401 846-1600

The Taste of Rhode Island offers a unique experience featuring food, crafts, talent and culture. This annual event includes over 100 exhibitors comprised of restaurants selling appetizer size portions of the areas finest cuisine, beverages, craft and marketplace vendors. Live entertainment, strolling acts, a wine garden, and children's activities are some of the exciting happenings to be enjoyed.

International Great Chowder Cook-off

phone: +1 401 846-1600

The Great Chowder Cook-Off provides an opportunity to taste the Nation's best chowder in the downtown Newport. The Cook-Off features over 25 international and national restaurants competing for the coveted title of Best chowder in the Nation in 3 categories: clam, seafood, and creative. This event offers 3 stages of continuous entertainment, culinary demonstrations, a community tent with activities for children.

phone: +1 401 846-1600

The ending of the fall festival season, an authentic German Oktoberfest celebration with lively Bavarian music from throughout New England, delicious German food and American cuisine (seafood, pierogies and more), an International Biergarten, Weingarten, and special area for children.

phone: +1 401 846-1115

The largest Spring Boat Show in the Northeast. A first class exhibition of brokers and dealers selling brokerage boats, past-season and new models. Booths offer attendees an array of products, services and accessories throughout the boat show.

Newport International Boat Show

phone: +1 401 846-1115

The third largest in-water boat show in the country covers over 14 acres of Newport's waterfront. Hundreds of exhibitors offer a full spectrum of new boat related products and services to any boating enthusiast. Music, food, and fun abound at one of the leading boat show in the world.
Golf
Newport National Golf Club

phone: +1 401 848-9690

address: 324 Mitchell's Ln

Newport National is an 18-hole public course which offers great views and picturesque holes throughout. With paths made of sea shells, players may feel as though they are on a remote island. For a public course, Newport National offers a great location to play and enjoy a day on the links. In-State Summer Green Fees: Monday, Tuesday, Wednesday, Thursday and Sunday after 1PM: $70, Friday and Saturday: $110, After 2PM: $80, Sunday before 1PM: $95. Out-of-State Summer Green Fees: Monday-Thursday: $125, Weekend and Holidays: $150.

Newport Country Club

phone: +1 401 846-3701

address: 280 Harrison Ave

Newport Country Club is one of the oldest and most beautiful courses throughout the state. With a mansion for the clubhouse, the facilities are second to none and one hole is more breath-taking than the next. It was the location for many professional golf tournaments including the U.S. Open, the Women's U.S. Open, as well as the U.S. Amateur.
Learn
Newport is a great place to learn and take classes in a variety of different activities. Scuba diving and sailing are two incredible summer activities that you can learn in Newport. Learn to dive at the Newport Diving Center and learn to sail at the Newport Sailing School. There are art classes available at the Newport Art Museum. The classes are offered year-round and are an enjoyable option if you find yourself in Newport during the "off" season (September to May).
Buy
Newport has become a great destination for shopping. During the Summer it is extremely popular because in the Downtown area there are so many stores and they are all within walking distance of each other. It is a great way to spend a day, park the car in any of the nearby parking lots and walk around as long as the weather is good!
Brick Market Historic District

address: Brick Market

Located between lower Thames street and Americas Cup Avenue, in the heart of Newport. The Brick Market is a year-round family friendly outdoor shopping area, with 25 shops ranging from corporate, small businesses and places to eat, and selling everything from jewelry to clothing to handmade gifts and souvenirs. The open-air market is made up of three parallel rows of businesses, and plenty of outdoor seating. Brick Market Place is open daily for visitors and locals alike.

Be Dazzled

phone: +1 401-849-3290

address: 225 Goddard Row

Be Dazzled creates and manufactures high quality costume jewelry. This little boutique has women's custom jewelry and accessories, hair clips, stretch bracelets, and scarves. The jewelry is sparkling, fun and affordable; most pieces are under $24. Their slogan is "Wear everyday pieces at everyday prices."

The Magic Studio

phone: +1 401 841-0735

address: 433 Thames St # 4

Past Ben & Jerry's and before the Newport Yacht Restoration. The fun magic store sells magic, jokes, kites and juggling. The sales staff are very knowledgeable with magic, juggling and kite products. The sales staff are able to demo magic tricks. The products range from a dollar and up. The store is neat and clean.

Cabbage Rose

phone: +1 401 846-7006

address: 493 Thames St

Right before O'Briens Pub on lower Thames you will find this organized and clean outlet for a more semi-casual look appropriate for women ranging form preteen to adult. Clothing options range from clean cut denim and Rhode Island themed graphic tees to white ruffled blouses and night-on-the-town dresses. The store is set up in a rather small studio-like layout. Items are moderately priced and sales are occasionally offered.

address: 160 Thames St

A thriving multi media destination for any consumer on the hunt for DVDs, CDs, cassettes, video cassettes, records, posters, nicknacks, stuffed animals, toys and trinkets. The shop consists of middle isles filled with CDs, old records towards the back, season collections of sitcoms and reality television shows on the far left side and various non-music related merchandise on the outer walls of the store. Newer CDs are more expensive; the older the CD the lower the price. Young shoppers are watched carefully to the point it is almost uncomfortable, otherwise staff is usually very helpful and readily available.

phone: +1 401 293-6625

address: 380 Thames St

Located a block down from America's Cup just beyond the cusp of the beginning of Thames Street lays this small vibrant boutique on the first floor of a three story building. The environment is confined to limited space; cramped with numerous racks and shelves of clothes and jewelry that may come across as overwhelming. Pink Pineapple's fashion is focused on bright, bold and pieces that make a statement; extremely popular with a younger crowd. Merchandise can be rather pricey, but the quality and uniqueness is that set apart from other stores you may come across in the area.

phone: +1 401 846-1202

address: 121 Swinburne Row

Pleasant Surprise is a contributing shop in the Brick Market Place community, providing a fun, playful, colorful and comical atmosphere for shoppers. This store is what some may refer to as an adult joke store, offering merchandise ranging from hand painted party themed Margarita glasses and quirky birthday cards to silly animal hats and fun home accessories. The store is appropriately organized providing a busy and stimulating shopping environmental; it is near impossible not to touch, play, read or laugh at anything you may see. Prices are moderate and by visiting the shop you will add some comic relief to your shopping experience. They offer shipping and there is an ATM.

Trendz

phone: +1 401 619-3838

address: 435 Thames St

Trendz has re-located further up Thames Street, having a more central location in the shopping strip. The store strictly focuses on jewelry such as earrings, necklaces, rings and bracelets, but occasionally may offer headbands or other hair decor. Merchandise is organized by color, type, style and polish (whether the pieces are garnished with silver or gold). Trendz provides costume jewelry with extremely reasonable prices, appropriate for fun everyday accessories or a quick fix to dress up any outfit in an affordable way.

Tropical Gangsters

phone: +1 401 847-9113

address: 375 Thames St

Nestled in the middle of lower Thames, Tropical Gangster resides as a female fashion icon for locals and tourists alike. This store's modern themed layout provides and organized and encouraging environmental for shopping. The fashion focuses on the latest styles for woman's dresses, skirts, shoes and shirts. Plenty dressing rooms are readily available, but prices are expensive and the staff is not the friendliest. Styles are not particularly unique compared to competing boutiques in the area.

Green Envy Eco-Boutique

phone: +1 401 619-1993

address: 223 Goddard Row

Opened in 2008 by a University of Rhode Island graduate, Green Envy Eco-Boutique is a unique shop which offers items held to extremely high environmental and ethical standards. The store offers a variety of clothing, jewelry, accessories and gifts which all fit the "eco-friendly" label the owner has worked hard to enforce. Each piece of merchandise meets requirements held by the World Fair Trade Organization (WFTO). The staff is extremely knowledgeable and committed to furthering their environmental causes. Green Envy Eco-Boutique truly practice what they preach.

phone: +1 401-846-4531

address: 107 Swinburne Row

Tourist Trap is perfect for picking up Newport related souvenirs, items ranging from tee-shirts and sweatshirts to bumper stickers and coffee mugs. The store is filled with knick knacks and fun souvenirs of all shapes and sizes. They offer gift certificates, gift wrapping and shipping and accept debit cards, all major credit cards, and cash, although there is no ATM.
Eat
The Newport restaurant scene is a pretty elaborate and lavish experience. From places like Sardella's and The Red Parrot to the more upscale places like The Mooring and 22 Bowen, Newport offers a variety of dining experiences. The night life carries a stigma all its own. For the simple fact that most bars and clubs are all within walking distance of each other, getting around in downtown Newport is a breeze. From the authentic cobblestone Thames Street to Broadway Street, there are plenty of places to lose yourself in a Cape Codder or a Martini.
Budget
Annie's

address: 176 Bellevue Ave

An inexpensive breakfast option. The menu features classic diner food and their Early Bird Special is a substantial meal. Although this establishment provides access to an ATM (charging $2.50), credit cards are not accepted.

Corner Café

phone: +1 401 846-0606

address: 110 Broadway

They have outdoor seating along Broadway. The Fitsy's Irish fry up is a specialty that costs around $10 but it is well worth the price. The fry up has eggs, black and white pudding, grilled tomatoes, bangers and hash browns making it a large classic Irish breakfast.

phone: +1 401 847-8141

address: 4 Wave Ave

Closed Jan. Fried seafood, raw bar, cold beer. Excellent fried clams close to the beach.

address: 124 Broadway

The Hungry Monkey offers a variety of eggs and omelets; the chourico omelet is a popular choice, as are the stuffed waffles. For those with a larger appetite, you can order the Gorilla Special: a combination of 3 pancakes, 2 eggs, your choice bacon, sausage or ham, and steak with home fries.

Ocean Coffee Roasters

phone: +1 401 846-6060

address: 22 Washington Sq

Diner serving breakfast until 2PM. Bagels, muffins, soups, salads, too.

Beluga Froyo

phone: +1 401 619-3991

address: 217 Goddard Row

Rhode Island's first self-serve, frozen yogurt shop, froyo, bottled water. @belugafroyo on Twitter. Dog-friendly patio.

phone: +1 401 916-2115

address: 32 Broadway

Cheap food and a wide variety of draft beers on lower Broadway.
Mid-range
phone: +1 401 846-6000

address: 1 Washinton St

Open for breakfast and lunch, Belle's Cafe is a casual eatery located inside the grounds of the Newport Shipyard. Along side their freshly prepared meals, Belle's also offers a variety of prepared foods that can easily be stored in a day bag or cooler for the day's activities. With an extensive breakfast and lunch menu available for takeout or delivery to your boat, this is a great option if you are looking for a quick bite to eat while cruising around Newport Bay.

The Black PearlThe Black Pearl is one of the more popular restaurants in Newport, and it features a selection of grilled shrimp, baked cod, sea scallops, and New England lobster. You also have your choice of sitting in the tavern, or out on the patio depending on the season. From the patio you have a nice view of the water as well as the various boats and yachts tied to the surrounding docks.

phone: +1 401 849-6334

address: 140 Thames St

Extensive, massive menu including steaks, seafood, drinks, pasta dishes, children's menu and serve great clam chowder. Custom made salad bar with decorative walls and accessories every place you look. Very, very busy place with a friendly staff.

Buskers

phone: +1 401 846-5856

address: 178 Thames St

Buskers is a middle-of-the-road traditional Irish pub restaurant. Here, the bartenders have the authentic Irish accent and a fully stocked bar. The atmosphere is appropriate for both families with children or just a group of friends looking for a few good laughs of Guinness drafts. Buskers is complete with a menu full of variety with appetizers, sandwiches, Irish fare and entrees.

phone: +1 401 619-2640

address: 11 Bowens Wharf

Diego's combines classic Mexican style cuisine with a modern twist, successfully combining the fresh fish Newport is known for with classic Mexican preparation. They focus on fresh ingredients, homemade sauces and bold flavors. They also have a long list of Mexican-inspired cocktails, and provide seating at an outside patio and inside.

phone: +1 401 619-4100

address: 41 Bowens Wharf

Relaxed modern American cuisine with a heightened focus on fresh, local and seasonal produce and seafood. Dining rooms on the second and third floor of the building provide a stunning view of Narragansett Bay and the Newport Bridge.

phone: +1 401 619-4100

address: 345 Thames St

Offers two outdoor patio seatings with views of the bay, three different bars, and private rooms. Their focus is on fresh and local seafood and they have an impressive raw bar menu, offering approximately 10 different raw bar options.

phone: +1 401 846-2260

address: Sayers Wharf

Waterfront seafood restaurant featuring one of the state's most extensive wine lists.

phone: +1 401 847-3800

address: 348 Thames St

The atmosphere in this restaurant is casual and light-hearted. The menu includes lobster, oysters, corn dogs and fries and is family-friendly.

phone: +1 401 619-4777

address: 19 Charles St

Mexican restaurant located in an old Victorian home. Serves dinner only. Two floors of seating with a lively but small bar downstairs. The well lit rooms, some of which have fireplaces, offer a charming atmosphere perfect for a date night or a friendly gathering. They are very accommodating for parties with small children, too, especially if you arrive before 6. Fish tacos and Yucatán pork are favorites. Reservations recommended.

phone: +1 401 848-9800

address: Sayers Wharf

Outdoor eating featuring ribs, smoked corn and crab chowder, along with plenty of other smoked items.

phone: +1 401 846-9233

address: 37 Bowen's Wharf

Pub with a family atmosphere. Good beer selection.

Gas Lamp Grille

phone: +1 401 845-9300

address: 206 Thames St

Serves an eclectic menu with dishes like wasabi tuna wrap. They also host live entertainment during late spring and all summer long.

Cappy's Hillside Cafe

phone: +1 401 847-9419

address: 8 Memorial Blvd

Cappy's is a local sports bar. This is a great spot for enjoying a drink and watching the game in an open, friendly environment. Cappy's offers billiards, fuseball, and an outdoor smoking area.

People's Cafe

phone: +1 401 619-1022

address: 282 Thames St

Converted from an old bank, with walls are covered with modern paintings from local artists, People's Cafe offers customers a unique dining experience. Sundays offer a buffet brunch special until noon accompanied by local musicians. Prices are reasonable, especially considering the beautiful décor and good service.

Sardella's Restaurant

phone: +1 401 849-6312

address: 30 Memorial Blvd

Winner of the Best Italian Restaurant in Newport several years running. Live jazz music on Wednesdays. Two-for-one dinner specials Monday-Wednesday.

address: 527 Thames St

A strictly seafood restaurant that carries a wide variety of fish such as grilled fish (salmon, mahi mahi and bluefish) as well as a wide selection of wines. The entrees feature muscles marinara, linguine with clams, and lobster fra diavolo.

address: 28 Washington Square

Yesterday's features a wide selection of entrees that is sure to have something for everyone. Here you will find a variety of club sandwiches, pizza, burgers, salads, pasta, soups among other items. There is also an extensive list of draft beers and cocktails available.
Splurge
Newport is one of the state's quaintest sea towns. It harbors some of the finest seafood restaurants in the area. However, if seafood is not your style, Newport still has plenty of other fantastic dining options. Places like 22 Bowen or The Mooring are some of the most upscale places you can go in Newport short of having dinner at The Breakers. The atmosphere is high class. These places are great for anniversaries, celebration dinners, and expensive couple's nights out. The menu is only rivaled by the wine lists. Both are quite extensive. You can get some of the best seafood in the state at these places, while also finding exquisitely prepared chicken or steak.
Drink
Newport is known for its lively night scene. Whether you want to enjoy a quiet cocktail, hang with the locals, or dance along to a live band, you will find a place in Newport to suit your preferences. "Downtown" Newport has bars all within walking distance of one another. Many bars are located just a few blocks from most hotels and inns, making a scenic walk an easy choice. Most bars are in the downtown area including upper Thames Street, lower Thames Street, America's Cup Avenue, Memorial Boulevard, and Bellevue Avenue.
There are too many bars in Newport to include them all, below is a diverse collection of the best. Walking or taking a cab is recommended to avoid the dangers of drinking and driving, and the nuisance of finding a parking spot.
Listed below is a suggested "bar hop" for lower Thames Street and America's Cup Avenue. Beginning with Pelham East, you can walk to each bar in the order it is listed. Remember that the bar hop is for both alcoholic and non-alcoholic drinks. Try a drink from each, but remember to be responsible.
The Fastnet Pub

phone: +1 401 845-9311

address: 1 Broadway

Thursday-Sunday 10PM-1AM, live music. This genuine Irish pub is easily the best place in Newport. They have live Irish music on Sundays, it's always full but not packed, and the service & ambiance are great. Start here: you won't regret it.

One Pelham East

phone: +1 401 847-9460

address: 276 Thames St

Thursday-Sunday 10PM-1AM, live music.

Studio 3

phone: +1 401 324-6111

address: 3 Pelham St

DJ or live music, and dancing.

phone: +1 401 841-5510

address: 286 Thames St

Dinner till 10PM, kids eat free with purchase of an adult meal, live music starting at 10PM (must be 21 or older after 10PM).

Boom Boom Room

phone: +1 401 849-2900

address: Bannister's Wharf

Their legendary club is located beneath The Candy Store Bar. Disc Jockey Torry Mars and Music Composer Chips Hanson playing dance music from all genres and artists like "Frank Sinatra" to "Black Eyed Peas".

phone: +1 401 849-2900

address: Bannister's Wharf

Enjoy the scenic view of Newport Harbor.

Rhino Bar & Grille/Mamba Room Night Club

phone: +1 401 846-0707

address: 337 Thames St

Th-Sa 10PM-1AM, live music or DJ, students never pay cover.

phone: +1 401 847-3800

address: 348 Thames St

Three floors of bars! Daily drink specials.

phone: +1 401 849-6623

address: 501 Thames St

Outside bar open seasonally. Outdoor patio includes plentiful seating and fountain, both dog and kid friendly. Kitchen offers a gluten free menu. Open year-round serving pub-style food inside by the fire in the winter.

phone: +1 401 619-2552

address: 111 Broadway

Come in for their drink and meal specials in a casual dining atmosphere.

Cafe di Mare

phone: +1 401 847-2962

address: 11 Bowen's Wharf

Italian specialties, soups, salads, sandwiches, espresso, ice cream, frozen yogurt, shakes, floats, and sundaes.

22 Bowen's Wine Bar and Grill

phone: +1 401 841-8884

address: 22 Bowen's Wharf

Newport's Prime Beef steakhouse on the water with seafood, extensive raw bar, and over 600 wines.

Cookie Jar

phone: +1 401 846-5078

address: 29 Bowen's Wharf

Fresh baked cookies, coffee, and beverages. Can even do boat orders!

Newport Fruit and Smoothie Co.

address: 30 Bowen's Wharf

Exotic fruit smoothies and fresh squeezed lemonade.

The Wharf Pub and Restaurant

phone: +1 401 846-9233

address: 37 Bowen's Wharf

Pub style restaurant, gourmet sandwiches, and a dinner menu.

Jimmy's Saloon

phone: +1 401 846-5121

address: 37 Memorial Blvd

Lunch, live music, locals favorite.
Sleep
There are a few big hotels, and an abundance of bed & breakfasts. In season, it's expensive everywhere, and many places require multiple night stays. Newport is a great place to go visit for the day but also offers many lodging options such as hotels, bed and breakfasts, and various campgrounds.
Stay safe
Though many visitors awed by Newport's mansions, immaculate public gathering places and well-preserved historic sites would be surprised to hear that the city has a higher-than-average crime rate, it is generally very safe in the areas where tourists would typically find themselves. Like in most areas that attract large numbers of tourists, the crime rate is inflated because when visitors fall victim to crime, the statistics, which measure crimes per resident, reflect the crime but not the presence of the non-resident visitor. Nonetheless, Newport is a major destination and as such, visitors should be as alert as they would be in any dense area where criminals may seek to target people who are on vacation and therefore less aware of their surroundings.
One area where visitors should be particularly cautious is the Cliff Walk. Though crime is virtually unheard of here, more than a few people have been injured, some of them seriously so, while wandering off the path. The Cliff Walk's dramatic views come with dramatic drops. If you stay on the path no matter how tempting it may be to get a closer look, you'll have nothing to worry about.

Go next