Newton
Newton
is a city in
Massachusetts
and a western suburb of
Boston
. Newton is nicknamed "The Garden City" and is one of Boston's oldest suburbs, settled in 1630.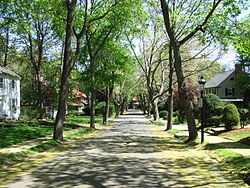 Understand
Newton is made up of 13 "villages" or neighborhoods, including Auburndale, Chestnut Hill, Lower Falls, Newton Centre, Newton Corner, Newton Highlands, Newtonville, Nonantum, Oak Hill, Thompsonville, Upper Falls, Waban, and West Newton. While mainly a suburb of Boston, it is a sizable city in its own right, boasting a population of over 80,000. Each village has its own historical and architectural character. Many of the villages grew up around railroad stations after the Boston & Worcester Railroad opened up through the north side of Newton in 1833. Another railroad line opened up across the south side of Newton in 1851 and is the "D" Branch of the MBTA's Green Line today. Walking tours of most villages are available through the website of the
Newton City Planning Department
.
Striking enclaves of Victorian houses and Gothic Revival churches can be seen in Auburndale, Chestnut Hill, Newton Centre, Newton Corner, Newton Highlands, and Newtonville, and West Newton Hill. Newton's grandest boulevard is Commonwealth Avenue, which winds through the entire city and is lined with historic mansions. "Comm Ave," as it is known to Bostonians, connects Boston to Weston and serves as the route of the Boston Marathon (Patriot's Day, third Monday of April). Heartbreak Hill begins just east of Newton City Hall. Divided down the middle by a landscaped mall that runs throughout the city, the street was designed by celebrated landscape architect Fredrick Law Olmstead, who also designed Central Park in New York City and the Emerald Necklace in Boston.
For trivia buffs: in 1886, Nabisco's Fig Newton cookie was named after the City of Newton.
Get in
By plane
Logan International Airport
in
Boston
is the most convenient and has various ground transportation alternatives available.
By train or bus
Mass Bay Transportation Authority (MBTA), . Newton is connected to Boston and surrounding communities by light rail/streetcar, commuter rail, and busses. The Green Line "D" Branch (Riverside line) is a light rail line running into downtown Boston, about 30 minutes away. It runs frequently throughout the day. The commuter rail line, which originates at Boston's South Station, has stops at Newtonville, West Newton, and Auburndale villages and travels west to Framingham and Worcester. It operates frequently at the rush hours and less often the rest of the day. Express busses travel from Washington Street to the Massachusetts Turnpike and on to downtown Boston.
By car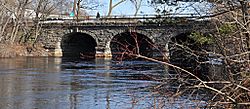 Newton is on the Massachusetts Turnpike (Interstate 90) and Interstate 95 (also called Route 128). Routes 9 and 16 also pass through the city. From Boston, you can also reach Newton via city streets: both Beacon Street and Commonwealth Avenue run directly to and throughout Newton, and provide a more scenic drive (particularly Beacon Street).
Get around
By car
Cars are generally the most convenient means of transportation, but sometimes impractical due to traffic.
By train or bus
Newton is well-served by the MBTA bus, light rail, and commuter rail lines. The D line of the T's Green Line provides the best access throughout Newton, with 7 stops located in the city. Otherwise, there are 3 commuter rail stops in the city, and several bus lines. Note that most bus service stops around 6PM, and some bus routes do not operate on the weekends.
By bike
Drivers are not considerate to bikers, so only an experienced biker could bike in Newton on the street. However, there are numerous parks and school yards to bike in.
The Charles River Bike Path is a mostly off-road path that runs from Newton and
Waltham
east through
Watertown
,
Boston
, and
Cambridge
along both banks of the Charles River. Cyclists of all levels can enjoy this scenic path. There is also a carriage road that is used as a bike path that runs along part of Comm Ave.
By taxi
Taxis are exorbitantly expensive in Newton and in Boston in general; try to avoid them if you can. If you have to call a taxi try
Veterans Taxi
, they are courteous, punctual, and clean.
See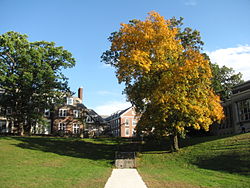 Newton History Museum at the Jackson Homestead

phone: +1 617 796-1450

address: 527 Washington St

A Federal-style farmhouse built in 1809. The museum offers an intriguing introduction to Newton's history with exhibits of paintings, photographs, costumes, and historic objects. The house was a station on the Underground Railroad hiding escaped slaves. $5/$3.

address: 140 Commonwealth Ave, Chestnut Hill

See the original Neo-Gothic campus with buildings designed by Maginnis & Walsh. The McMullen Museum of Art shows changing art exhibits. Alumni Stadium and the Conte Forum showcase BC's football, basketball, and hockey teams.

phone: +1 617 796-1360

address: 330 Homer St

Airy contemporary library with extensive collection, Newton History Room, and auditorium with constant concerts and lectures.
Newton Centre, Intersection of Centre Street and Beacon Street. The largest and most bustling of the city's village centers. Boasts a number of high-end clothing stores, salons and spas, restaurants of various cuisines, coffee shops, ice cream shops, and banks. Abuts Newton's largest public park. Only a short stroll from beautiful Crystal Lake.
Newton Highlands, Intersection of Walnut Street and Lincoln Street. Perhaps the most quaint of Newton's village centers. Mostly a daytime destination for locals, but has some of the best restaurants in the city, and one of the best independent coffee shops, Lincoln Street Cafe.
Do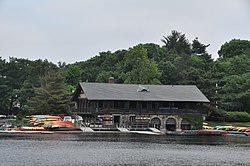 In the warmer months, rent a canoe or kayak at the Charles River Boathouse off Commonwealth Avenue at the Weston Bridge (Route 30).

phone: +1 617 964-6060

address: 1296 Washington St

See a foreign or independent film at one of the region's top cinemas.
In Newtonville, view annual Independence Day firework at Albemarle Field along the banks of Cheesecake Brook (corner of Albemarle Rd and Crafts St).
Go for a swim at scenic Crystal Lake in Newton Highlands, and enjoy the beautiful houses abutting the lake.
Chestnut Hill Reservoir, Beacon St, Chestnut Hill. Located between Boston College campus and Cleveland Circle. A beautiful reservoir with biking and walking trails surrounding it. Very popular during warm weather months. Like Commonwealth Avenue in Newton, the reservoir was also designed by renowned landscape architect Fredrick Law Olmstead.
Buy
phone: +1 617 244-6619

address: 10 Langley Rd

Contrary to the name of the store, Newtonville Books has now moved to Newton CentreIndependent bookstore noted for contemporary fiction, children's books, and frequent author readings.
Chestnut Hill Mall, Route 9, Chestnut Hill--A very expensive, high-fashion mall. Houses the only Bloomingdale's in New England and, until recently, the only Barney's New York (a second store opened in 2006 in Copley Mall in downtown Boston).

Just Next Door

phone: +1 617-965-6796

address: 327 Auburn St, Auburndale

Independently owned card, gift and toy store. Best cards around. Unique gifts. Friendly and helpful staff. Always something new.

phone: +1 617 965-1240

address: 249 Walnut St

A great local camera shop that has been around for ages. The owner is very helpful.

address: 11 Florence St

A beautiful flower shop, if a bit pricey.

phone: +1 617 965-5054

address: 130 Needham St

Primarily a CD shop, not a comic shop. They also have posters, memorabilia, clothing, and more.

phone: +1 617 527-0967

address: 71 Needham St

Local bike and bike repair shop.

phone: +1 617 969-2722

address: 1296 Centre St

Local toy store.

phone: +1 617 527-5817

address: 82 Needham St, Newton Highlands

A huge book store! Check out the used half of the store.

Leather World

phone: +1 617 332-6519

address: 30 Langley Rd Ste A

Beautiful luxury leather goods and luggage.
Eat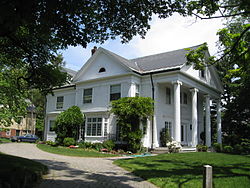 phone: +1 617 965-6785

address: 1185 Walnut St, Newton Highlands

Irish pub with full menu.

phone: +1 617 332-2583

address: 1375 Washington St, West Newton

Authentic barbecue with all the fixings.

phone: +1 617 332-9343

address: 1371 Washington St, Ste 5, West Newton

Irish wheat soda bread, petit fours, sandwiches, and coffee.

phone: +1 617 244-9199

address: 1293 Washington St, West Newton

Top-rated French restaurant.

Cabot's Ice Cream & Restaurant

phone: +1 617 964-9200

address: 743 Washington St, Newtonville

Classic ice cream parlor with full menu and all-day breakfast. Largest selection of sundaes around. No credit cards accepted but there is an ATM in the front of the restaurant.

phone: +1 617 332-6886

address: 311 Walnut St, Newtonville

Independent cafe featuring crepes and specialty sandwiches. This is by far the best coffee in Newton.

phone: +1 617-467-3555 or +1 617-467-3133

address: 57 Union St, Suite 1, Newton Centre

Lively Russian restaurant.

phone: +1 617 527-3223

address: 30 Langley Rd, Newton Centre

Contemporary diner-style breakfasts and sandwiches.

phone: +1 617 964-0920

address: 75 Union St, Newton Centre

Full-scale Mexican restaurant with outdoor terrace.

Antoine's Pastry Shop

phone: +1 617 527-6747

address: 317 Watertown St, Nonantum

Old-fashioned bakery with cakes, cinnamon bread, and cookies.

phone: +1 617 277-7300

address: 43 Boylston St, Chestnut Hill

The most famous of Boston's seafood restaurants. The clam chowder has been served at the U.S. president's inaugural ball for years. Very pricey.

phone: +1 617 964-3400

address: 839 Washington St, Newtonville

Armenian and Middle Eastern cuisine, plus featuring live music and belly dancing. Go while you can. A large redevelopment project will rebuild the entire block and Karoun's will be evicted.

phone: +1 617 244-7050

address: 759 Beacon St, Newton Centre

Great Thai food. Seating is limited.

phone: +1 617-527-5255

address: 1 Newton Pl, 287 Centre St, Newton Corner

Another great Thai restaurant with an authentic ambiance.

phone: +1 617-244-8833

address: 22 Union St, Newton Centre

Very popular Italian restaurant overlooking Newton Centre.

phone: +1 617 969-8100

address: 1191 Centre St, Newton Centre

Small taco joint, not nearly as good as Annas Tacqueria in Brookline

phone: +1 617 795-5200

address: 719 Washington St

Great place for breakfast and lunch.

phone: +1 617-730-8900

address: 3 Boylston St, Ste A, Chestnut Hill

Frozen yogurt, ice cream, coffee and pastries.

phone: +1 617 558-0222

address: 47 Langley Rd

A great pizza place specializing in thin crust pizza.

Rosenfeld Bagel Company

phone: +1 617-527-8080

address: 1280 Centre St, Newton Centre

A local bagel shop specializing in gourmet bagels and cream cheese. The shop is small but always crowded, especially around the Jewish holidays. It is cash only but there is a Bank of America just up the street.

phone: +1 617 916-1795

address: 335 Walnut St

Newtonville diner with great food and fresh-squeezed orange juice. Try the banana and Nutella French toast!

phone: +1 617 244-2550

address: 70 Union St

A quaint diner in Newton Centre operated by the owners of the well known Deluxe Town Diner in Watertown. The food can be good but the service uneven. Not as good as the Watertown venue.

phone: +1 617 928-1162

address: 316 Walnut St, Newtonville

Local bakery with fresh baked bread daily. Come around lunchtime for a free slice of bread!

phone: +1 617 277-7888

address: 612 Hammond St, Chestnut Hill

A great sushi place with a trendy vibe. A bit pricey but good.

phone: +1 617-527-8790

address: 19 Commonwealth Ave, Chestnut Hill

A cute local ice cream shop. Open late.

phone: +1 617 965-6699

address: 1385 Washington St West

Local sushi restaurant. Casual, quiet, and not too pricey for sushi in Newton.
Drink
Union Street, 107R Union St, Newton Centre. An older, more local crowd. A popular after-work place, with a very pleasant terrace designed to feel like a roof deck.

Buff's Pub

address: 317 Washington St, Newton Corner

After work place. Good bar food.

The Biltmore

address: 1205 Chestnut St, Newton Corner

Lunch/After work place. Crowd is mostly aged 25-40. Updated tavern atmosphere, restaurant features craft cocktails and local seasonal produce.

phone: +1 617 965-6444

address: 95 Elm St W

A pub/restaurant. A good place to get a drink that is also kid friendly.

phone: +1 617 964-7600

address: 344 Walnut St, Newtonville

Great beer selection and nice atmosphere.
Sleep
Learn
Mount Ida College, Located in the more suburban south side of the city.
Boston College, Originally located in Boston's South End, the campus moved to the Boston/Newton border in the 19th Century. The Boston campus (which is actually located in Newton) is filled with stunning Collegiate Gothic architecture, while the Newton campus boasts more modern buildings.
Lasell College, Located in Auburndale. Lovely campus, some of which overlooks Woodlands Country Club golf course.
Andover Theological Seminary, Located right next to Newton Centre.
Newton North High School and Newton South High School are among the best public high schools in the country. There are several elementary schools which feed into four middle schools and ultimately the two high schools.
Connect
Greater Boston uses 10-digit dialing. This means you need to include the area code whenever you are making a call. The standard area code is 617, but some phone numbers, especially cell phones, use the new 857 overlay.

Go next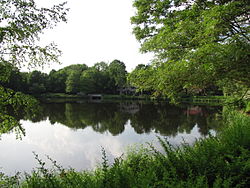 Boston proper is a 10- to 20-minute train ride on the Green Line of the T, and only a 5-minute car ride on the Mass Pike (I-90).
Cape Cod is home to some of New England's best beaches, seafood, and sightseeing. The Sagamore and Bourne Bridges are about 1 hour by car from Newton. The Cape is also accessible by bus.