Ngorongoro Conservation Area
Ngorongoro Conservation Area
is a park and
UNESCO World Heritage site
in the
Northeast Tanzania
. It contains an old volcano that has collapsed and formed a crater (caldera). The steep sides of the crater have become a natural enclosure for a wide variety of wildlife.
Understand

History
Considered to be "the cradle of humanity".
Landscape
The Ngorongoro Crater is essentially and ancient collapsed volcano. It is a natural "utopia" for East African wildlife, and thus is rich in a wide diversity of animals. Roughly 100 square miles (260 km²) of savanna is completely encircled by a mountainous ring which is covered in dense jungles.
Flora and fauna
Fauna: Lions are in the highest density in the world in the crater, so there is a good chance of seeing them. There are herds of wildebeest, zebra, and a lot of buffalo and Grants' gazelles too. This is one of the best places in East Africa to see a Black Rhino. Hippos and flamingos are seen in Lake Magadi. Hyenas are a common predator, and cheetahs are frequently seen. Leopards are in the conservation area but rarely seen, along with Wild Dogs.
Climate
Get in
Most people come to Ngorongoro from
Arusha
on organized safaris. It is, however, cheaper to organize a safari from
Karatu
, a town 10 km from the gates. Here you can organize a safari with an independent driver. If using an independent driver, the profit will go to an individual Tanzanian instead of a larger safari company, however these vehicles are less reliable and are known to have parts fall off while driving around the crater. That can add or detract from your experience, depending on what you're looking for.
Fees and permits
For foreigners:
US$70.80 per person/day.
US$295 per car/day (not a car full of people, just the car.)
No credit cards or cash are accepted, payment by prepaid TANAPA card only.
For Tanzanians it's Tsh 15,000 per day. Most of the locals believe that the bulk of the park fees go into pockets.
See
Olduvai GorgeOne of the most important sites for the investigation of human evolution. There is a small museum with a collection that includes two million year old fossils and stone tools found in the gorge.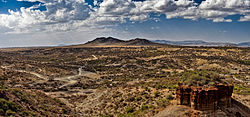 Empakaai CraterThis extraordinary caldera (collapsed volcano) consists of a ring of cliffs encircling, some 300 m below, a salt lake around 6 km across. Its colours range from vivid turquoise to sparkling marine to pewter, depending on the time of day and the mood of the cloudscape.

Olmoti CraterBeautiful landscape for a hiking safari. Olmoti Craters's floor is shallow and covered with tussocks of grass. Besides the Maasai and their livestock you can sometimes see eland, buffalo and reedbuck.

Ol Doinyo Lengaiis an active volcano located northeast outside the park. It's a long and difficult drive to reach it.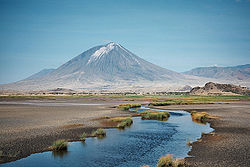 Do
HikingScenic hike in a canyon of a stream leading in to Lake Natron. Go and return to a small waterfall which you can dive through into a hidden cave. Guide is required.
Sleep
Lodging
Camping
Backcountry