Nha Trang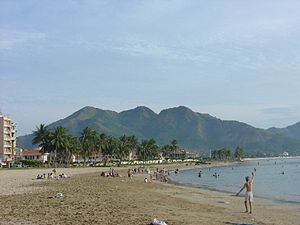 Nha Trang
, sometimes spelt
Nhatrang
, is
Vietnam
's most famous seaside resort town, and the scuba diving centre of Vietnam. It's more lively and urban in character than other beach destinations such as
Mui Ne
and
Phu Quoc
.
Understand
Traces of human settlement in Nha Trang date back to the Cham Empire, though in times of Vietnamese rule, there wasn't much more here than small fishing villages. The French recognised that this beautiful bay, with its islands and white sand beaches, made for a perfect bathing spot, and began the transformation into a resort town. American soldiers agreed, and Nha Trang became a favourite R&R stop during the war.
After the end of Vietnam war, the Soviet military became increasingly more present in the Cam Ranh Bay, just south of Nha Trang. After retiring, many
Russian
military personnel settled down in Nha Trang and opened tourism businesses, leading to an increasing influx of Russian tourists to the city, who form nowadays the bulk of foreign tourists - in the main tourism area of Nha Trang, signs in Russian are even more common than in English. More recently,
Chinese
tourists have become quite common as well, as in the rest of
Southeast Asia
.
However, Nha Trang is definitely not a Westernized resort town like
Kuta
in
Bali
- it is hugely popular among Vietnamese tourists, who go to the beach mainly on early morning and late afternoon, and spend the rest of the day enjoying other attractions including mud baths or
Vinpearl Land
- dubbed Vietnam's
Disneyland
, although it's probably more akin to
Singapore
's
Sentosa
.
The monsoon season is from Oct to mid-Dec. Sea winds can be heavy, and sometimes the weather can get pretty chilly. Summer, naturally, brings many vacation goers into town and hotel rooms get somewhat more difficult to find.
Get in
By plane
Cam Ranh International AirportThe 4th busiest airport in Vietnam. Opened as a commercial airport in 2004 on the grounds of a former American military airbase, replacing Nha Trang Airport. A new international terminal is less than 5 minutes' walk from the older domestic terminal.
There are lots of domestic flights from
Ho Chi Minh City
,
Vinh
,
Da Nang
,
Hanoi
,
Haiphong
, with prices starting at 250,000 dong.
International flights to KL Malaysia (Airasia),
Seoul
,
South Korea
and to cities in
China
including Hong Kong (via HK Express).
Taxi
fixed rate from the airport to downtown locations is 250,000 dong, if going by the meter it will be about 100,000 dong more expensive.
Nhatrang Private Car
does transfers by private car.
A cheaper option is to take the
airport bus
which goes directly to the city center. There are a few companies operating on this route, their buses such as the yellow Đất Mới airport buses (no.18) can be found just outside opposite front entrance of the airport. Tickets 50,000 dong, 45 mins ride (2017). They can drop off at certain major hotels, within the traditional tourist center the usual drop off point is hotel Liberty Central.
Đất Mới airport bus terminal

address: Yersin St

Start and end point for this airport bus route number 18. Online maps have this location called Land Transport Corp New. This bus could be used also as an economical way to visit Bai Dai beach.
Some mid-range and upscale hotels organise airport transfers, often for free.
By train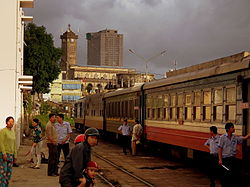 The
train station1 km north from the city centre.
Nha Trang is a stop on the main railway line connecting
Hanoi
and
Ho Chi Minh City
. If you want a soft-sleeper (the highest class available on Vietnamese trains), book your train ticket directly at the train station as far in advance as you can. Having a private travel agent book this ticket will quite often result in you paying the agent for a soft-sleeper — the agent will book a hard-sleeper and you will not know until you board the train and it is too late to make changes. This is one of the most common scams in Vietnam. Soft sleeper rooms are 4 berth, hard sleepers are 6 berth. You can sit comfortably on a lower bed in a 4 berth room but in a 6 berth you will have to be very short in order to sit up straight. SNT trains (meaning Saigon to Nha Trang) have similar quality cars, but are slower than the SE trains. The TN trains have the oldest and dirtiest cars and are the slowest so therefore are not recommended.
The journey to Nha Trang from Ho Chi Minh City takes between 6-8 hours on SE trains (often delayed), so a sleeper is not really necessary, a cushioned seat in the air-con car costs 190,000 dong, soft seats are 330,000 dong, soft sleeper about 500,000 dong (2012). There are 2 overnight and 2 daily SE trains. The SNT trains take over 9 hours and travel overnight only, departs Ho Chi Minh City at 19:40 and arrives in Nha Trang at 05:20, 535,000 dong (2012). The scenery on this journey is not that great compared to further north, so you are not missing out too much by travelling overnight.
By bus
Nearly all long distance sleeper buses stop in Nha Trang. They come from
Ho Chi Minh City
(10-12 hours, 200,000 dong, both morning and overnight buses available, both are sleeper buses),
Hoi An
(12 hours). Besides, there are hourly buses from
Da Lat
(3-4 hr, 120,000 dong, hourly between 07:00-15:00) and a couple ones from
Qui Nhon
(6 hr, 115,000 dong, at 07:30, 08:30, 13:00 and 15:30),
Mui Ne
(6 hr).
Buses may drop off passengers near the tourist areas, or stop at the
Central Bus station (Bến xe phía Nam Nha Trang)
which is 7 km west of the city center on the road Hai Mươi Ba Tháng Mười, next to the MM Mega Market. To get to the center, you can take a taxi or motocycle from here or catch the #2 city bus going East on Hai Mươi Ba Tháng Mười road. If you travelled with Phuong Trang (FUTA Bus Lines) you may catch a free shuttle bus which is operated by FUTA to your hotel and if not
do not take a taxi conveniently parked beside the bus or inside the bus station (there is a gate at the front)
and
if in doubt ask 1) the FUTA ticket sellers inside the main hall or 2) several completely unrelated people
.
By car
Private car rental with a driver are usually modern air-con cars and can be rented for about 1,000,000 dong per day. Car rental prices (as mostly anything in Vietnam) usually increase during holiday seasons especially around Tet (Vietnamese New Year). Make sure to avoid high prices by booking it beforehand with the car rental services.
Get around
Orientation
Nha Trang has two main beaches: a larger one south of the Cai river, and a smaller one on the north. The southern beach, lined by the Trần Phú avenue, is by far the most popular among the visitors. Tourism infrastructure catering to foreign tourists, including diving schools, tour agencies, western-style bars and international restaurants and cafes, is mostly concentrated in the southern part of the beach, between Nguyễn Thị Minh Khai and the old airport. In the central part of the beach, lie the upmarket international chain hotels such as Sheraton, Novotel and InterContinental. The rest of the beachfront, as well as the northern beach, has infrastructure mostly aimed at Vietnamese tourists. A few blocks far from the beach, Nha Trang is a normal, bustling Vietnamese city.
By motorcycle
In Nha Trang, as in the rest of Vietnam, motorcycles are the least safe but most convenient way of going around, especially to go to the beaches and sightseeing spots outside of the city. See the general advice for
riding a motorcycle in Vietnam
.
By bus
Nha Trang's city bus system is surprisingly useful for travellers that have more time than money. Buses are white and blue in color, have air conditioning, Vietnamese music, and are very cheap, typically costing less than US. While there is very few information available, online or otherwise, about city buses, there are not many bus routes such that it is relatively easy to understand them. In addition, buses are rarely crowded except on peak hours. On the negative side, buses are often infrequent and with limited working hours, drivers and fare collectors seldom speak English, and bus stops are often quite far from each other. Therefore, make sure that you have enough time and patience before going somewhere by bus.
Bus #4 is probably the most useful for visitors, as it passes through the main tourist area (between Nguyễn Thị Minh Khai and the old airport) as well as many points of interest, including the Vinpearl cable car entrance, the Hòn Chồng promontory, the Po Nagar towers and Nha Trang Cathedral, as well as nearby the Cho Dam Market. Visitors staying in the main tourist area can take the bus at Nguyễn Thiện Thuật.
Bus #3 also passes through the main tourist area, and can be used to go to Doc Let beach. While this would take at least 90 minutes, it is one of the few ways to go to Doc Let for travellers which do not have their own transportation. If you find a bus stop for the #3 try asking the locals where the bus will stop, since the locations sometimes amalgamate and aren't where you thought they were.
Buses are always paid with cash. Fare collectors can provide you change, but avoid using large bills. As in other cities in Vietnam, buses often do not completely stop to allow people to board, and even when they stop, they will often start moving as soon as the first person climbs the stairs of the bus. Therefore, do not stop or try to pay the fare as soon as you board the bus; instead, find a place to sit or stay and the bus fare collector will walk towards you.
On foot
Although not as treacherous as in
Hanoi
or
Ho Chi Minh City
, walking in Nha Trang is certainly no walk in the park. Zebra crossings are almost meaningless as no vehicle will ever stop for pedestrians crossing the street, and the few traffic lights in the city are systematically ignored. Pavements are often unusable for walking, as they are almost entirely occupied with parked motorcycles, kiosks and restaurant tables, such that pedestrians are expected to walk mostly in the road. See the
general advice for crossing the road in Vietnam
.
One of the few pleasant places to walk in Nha Trang is the walking path along the beach, which is quite well-maintained and lined with nice gardens, monuments and public places, although sometimes interrupted by motorcycle parking lots.
By taxi
Tourists are advised to take Mai Linh (preferably) or Vinasun taxis, where the drivers usually use the meter and do not attempt to cheat on tourists. A ride inside the city of Nha Trang should never cost more than a few dozen thousand dong. On the other hand, going to places outside of Nha Trang by taxi can cost hundreds of thousand dong, and possibly much more if you would like the driver to wait for you to bring you back to the city.
Grab now operates in Nha Trang for both car and motorbike taxi via their smart phone app.
By cyclo
A wonderful option for seeing the sites is to hire a cyclo-driver for the day. This runs about US plus tip. All the in-town highlights, the post office, and my choice of restaurants from 08:00-19:00. English skills may be basic. The driver will keep the touts awaya real bonus!
By bicycle
Nha Trang is quite flat and bicycles can be rented for typically 30,000 to 50,000 dong for one day for a basic no-gears bike if you lucky to find somewhere. Locals on bicycles are more commonly seen at night when its cooler and no sun to burn their skin. However, note that if you have no experience with Vietnamese traffic, you should think twice about using a bicycle as your main means of transport in Nha Trang. Electric bikes (ebikes) are a common sight in Nha Trang.
See
Beaches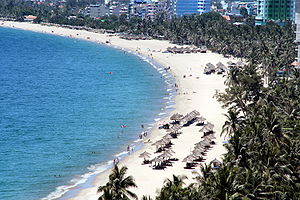 Nha Trang BeachThe city's main beach, south of the Cai river, is about 6 km long and lined with a beautiful, well-maintained promenade containing walking paths, gardens, monuments and leisure spaces. The beach itself has a broad strip of sand, and the calm waters are extremely inviting for swimming - but care is needed, as the waters get deep very quickly. While Nha Trang's beach is hardly one of the most beautiful beaches of Southeast Asia, it can still provide one of the best urban beach experiences in the region. You will see many female vendors walking along the beach selling fruit and hot, steamed seafood. Vietnamese typically come to the beach during sunrise and sunset, with the Russians occupying the beach en-masse during the peak sunshine hours. Make sure that you visit in the right season. The beach can be disappointing when the weather is grey and the waves choppy. The experience is then one of murky sandy waters, a strip of standard brown sand with a multitude of empty beach chairs and no one to be seen.

Bai Doung BeachNorth of the Cai river, Bai Duong beach is smaller than in the main tourist area. It is a beautiful beach, but the sewage channels make it somewhat less appealing. The beach is mostly popular among Vietnamese visitors, and hence quite empty during peak sunshine hours. Near the beach there are several seafood restaurants catering to Vietnamese tourists. It can be reached using bus #4.

Hon ChongScenic rock formations in the sea. The disposition of the rocks, as well as the sculpture of a giant fist mark in one of them, is mysterious and a source of several folk tales. You can climb the rocks and get some nice views of Bai Doung Beach and the nearby islands. It can be reached using bus #4.

Hòn Tre islandHas several nice beaches, but unfortunately, almost of all them are of exclusive access to guests of the Vinpearl resorts. The exception is the small beach in front of the Vinpearl Land's waterpark, which is accessible for those who bought a ticket to Vinpearl Land. The beach offers waterports and contains a Russian restaurant.
Temples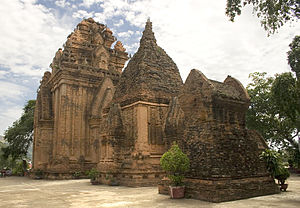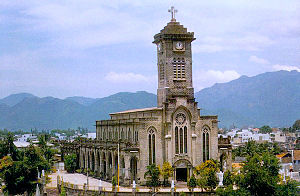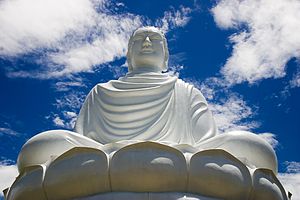 Po Nagar Cham Towers

address: 2 Thang 4 St

These four brick towers were built by the Cham civilization between the 7th and 12th centuries to honour Yang Ino Po Ngar, mother of the kingdom, and the aroma of incense emanating from within makes it clear that this remains a religious site for the local Buddhists of Nha Trang today. The longevity of these last vestiges of a once-dominant SE Asian civilisation should impress temple enthusiasts even if the insensitive restoration and surrounding mass of tourists don't. The small complex sits on a hill which enjoys views across Nha Trang's fishing village. It is a 20-25 min walk (or short motorbike ride) from the main beach strip, however be prepared to wander through the real Nha Trang, quite an abrupt change from the showy built-up beach side resort. Public Bus 4 stops near the Cham Towers.

Long Son Pagoda

address: Thai Nguyen St

At this pagoda, you will see a 24-m-tall white Buddha. The pagoda was established in 1963 to honour the monks and nuns who died demonstrating against the Diem government. Beware of scammers claiming they are students studying in the temple, demanding that you offer a donation to the school before going up the pagoda. These students have no affiliation with the school and entry to the pagoda is free.

Nha Tho Nui CathedralOn a hill overlooking the city, the cathedral shows the influence of French Catholicism. The Nha Trang area still has a strong Catholic population. There are Catholic shops around the cathedral.
Museums
Alexandre Yersin Museum

phone: +84 58 822355

address: 10 Tran Phu St

This is a scientific museum of Swiss-born Dr. Alexandre Yersin (1863-1943), who arrived in Vietnam in 1891 to study infected animals. He later produced a serum from horses and buffaloes. In this museum, you will be able to view all of his work as well as his equipment. Yersin never went back to Switzerland and spent the rest of his life in Nha Trang. Don't try to take pictures. Do respect the rules as they're quite serious here.

Khánh Hòa Museum

phone: +84 58 3813 654

address: 16 Tran Phu St

Exhibition presents Cham statues and artifacts of the ethnic minorities of the Nha Trang area. One of the rooms is devoted to Ho Chi Minh and his personal belongings.

National Oceanographic Museum of Vietnam

phone: +84 58 590037

address: 01 Cau Da

This is like an aquarium with popular and rare species of the sea. A good place to bring kids as they will get to see sharks, turtles, coral reefs, lion fish, sea horses, and many other creatures.

Impressions Museum

phone: +84 165 232 3028

address: Buu Doa - 10

Not really a museum. 3D art paintings to interact with. Great for selfie addicts, but don't go alone! Ideally go as group of 3 or more. Two is OK, but it will be difficult to take photos of the two of you together. Not easy to find, located on the other side of the old airport from the main tourist area. Receives mixed reviews, many consider it over-priced.
Outside of the city - beaches
Doc Let BeachLocated in the Ninh Hòa district north of Nha Trang, Doc Let is a beautiful, long beach with shallow, crystal-clear waters. The water has weak waves, but it is still excellent for swimming. Local fisher families sell and prepare seafood they will cook for you on the beach for a very reasonable price. The southern part of the beach contains the Ninh Hòa fishing village, where the north of the beach contains some relatively inexpensive resorts or it still underdeveloped. The best parts of the beach are the ones in front of the resorts, with the rest unfortunately with a lot of rubbish thrown by locals. You can pay a fee to rent a chair and use the showers/restrooms of White Sand Doclet resort or Paradise resort. Doc Let beach can be reached from Nha Trang using bus #3, by motorbike, and by some day tous generally aimed at Russian visitors. If you are staying in a resort there, the resort may offer you transfer services for a surcharge.

Long BeachLocated in the Cam Lâm and Cam Ranh districts, 20 km south of Nha Trang, Bai Dai is in the middle of a frenetic process of development, with upscale resorts being built nonstop in the beachfront. Even so, the beach is very long and it is still possible to find yourself alone if you walk enough. It has beautiful blue waters, soft sand and it is pleasant to walk upon as it is less steep than the beach in Nha Trang, but rubbish can also be a problem in areas which are not in the front of resorts. Seafood is served at many shacks with deckchairs right on the beach. Probably best to go by motorcycle. The airport bus number 18 might be another option. Get off by road entrance leading to The Shack Vietnam.

There are several other beaches in the vicinity of Nha Trang. About 30 km north of Nha Trang, just when past the village of Ninh Hoa, a peninsula juts out into the South China Sea, and on its northern coast is its tinier brother, Hon Khoi. Several resorts are on the eastern beach of Hon Khoi, where you find palm trees, white sand, and turquoise waters. To get there, follow the highway north past the turnoff to Dac Lac Province/Buon Ma Thuot. Then look out for a sign reading "Doc Let-Resort", close to a filling station. A taxi will take 2 persons for about 200,000 dong, while a xe om should not be more expensive than 100,000 dong. Or catch a through bus travelling Hwy 1 and get off at the turn off. There will always be some motorbike drivers waiting to take you. Whatever place you choose to go, be sure to reserve a bungalow in advance.
Outside of the city - other attractions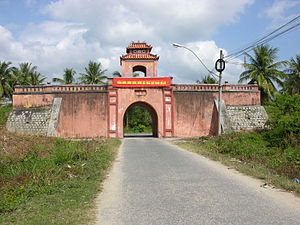 Diên Khánh Citadel

address: Diên Khánh Townlet

Citadel was built by French officer Olivier de Puymanel for Nguyễn Ánh in 1793. It housed royal palace, private houses, warehouses and jail. It was fenced by walls of 3.5 m height, surrounded by moats of 4-5 m deep and 10 m wide. It was built with 6 gates, but only 4 of them remain.

Fairy Spring waterfallsFairy Spring is a small, cool stream and swimming hole much visited by local kids on weekends. The swimming hole is at the end of a short jungle walk. It is a pleasant place to visit in summer. In winter the water is too cold to swim. The stream's source is the area of Hồn Bà, the highest peak in the province. Bottled and canned drinks are available, but no food is sold here yet. The area is slowly being developed and will eventually become a resort with a hotel, bungalows, and restaurant.

Ba Ho WaterfallsA series of three waterfalls and a fast flowing river tucked away in the forest. There are limited amenities, although you can buy food like rice, chicken, beers and soft drinks. Taxis are available in Nha Trang to take you there, but its not too difficult to find yourself and with good weather it's a pleasant drive, if you are confident on a motorbike. Its a good one hour trip from Nha Trang by motorbike through some rough, off-road tracks (especially in the wet season). The turn off from the main highway north of Nha Trang can be easy to miss (a stone pillar), but most locals along the road should be able to point it out. From the turn off it's a straight track to the river. You may want to bring some sturdy shoes to climb across the rocks and swimming gear for a dip when you get there. It will take about 45 minutes from the entrance of the tourist area to the lakes. There is an orphanage very close to the lakes (take a right turn when you get to a T-junction in the rice fields) that would really benefit from any gifts of vegetarian food (take milk, tofu, yogourt, etc.). Call Dieu An, the nun at +84 90 5823807. She speaks only Vietnamese.

Hon Ba Nature ReserveLocated at the summit of Hon Ba mountain at 1,514 m above sea level.

Monkey IslandCatch a ferry to Monkey Island (the pier is 1km further north of island), which is full of monkeys, has a 10:00 circus and simple go-cart track.
Do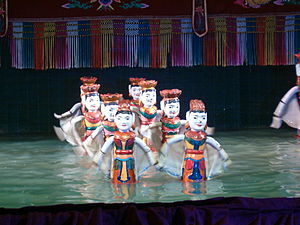 phone: +84 58 3527 828

Water puppetry is a Vietnamese original folk art that dates back as far as the 11th century when it originated in the villages of the Red River Delta area of northern Vietnam. Today's Vietnamese water puppetry is a unique variation on the ancient Asian puppet tradition.

CinemaThere are two multiplex cinemas. One on the 3rd floor of the Nha Trang Center shopping and entertainment complex has three movie theatres with an estimated 120 seats each. US films are in English with local subtitles. The second cinema is the Lotte Cinema, on the 5th floor of the Maximart Supermarket, near the train station.

Boat cruises. The going rate for a one-day multi-island tour is US, with snorkelling, fishing, and many other activities among the possibilities. Tours may provide lunch with drinks on board. Booking agents abound, so compare itineraries to find the best for you.

Swimming poolsPeople come here to swim in the sea, but there are also a number of swimming pools. Louisiane Brewhouse has a good one that is free to use. Hiring a soft chaise longue costs 40,000 dong. The Yasaka Saigon Nha Trang Hotel coffee shop in Yersin St has a small shady pool for free use. A number of mid-range hotels also have pools, some of which can be used by non-guests. Sea and Sun Hotel has a nice rooftop pool and costs 70,000 dong for non-guests. There is another large public pool at Yersin st, opposite the hospital, for 30,000 dong. Another option is Central Park on Tran Phu, near Louisiane Brewhouse. Buy a deckchair for 60,000 or 120,000 and swim for free. Has a small diving board for kids, a lazy river, and a pool bar.

Gyms

phone: +84 93 2405931

address: 12 Thi Sach St

There is a large gym in town called Nha Trang Body Building Club, part of a leisure complex that includes badminton and tennis courts, basketball area and football pitch. Daily pass 20,000 dong; monthly pass, 200,000 dong. Besides, Novotel Hotel also has gym memberships for non-guests, which provide access to the swimming pool, sauna and relaxation room. A daily pass costs 200,000 dong, one-month pass 1,400,000 dong, 3-month pass 2,700,000 dong. Monthly passes include one free massage; ask about this when purchasing. The Sheraton Hotel probably has the best gym in town with excellent views, but costs US for one month, and this doesn't include use of the swimming pool.

10 pin bowlingOn the 3rd floor of the new Nha Trang Centre shopping and entertainment complex.

phone: +84 90 511-6221

Operate easy rider tours out of Nha Trang riding pillion on the motorbikes with a guide each. Day tours are available and they specialize in multi day tours of the central highlands and Ho Chi Minh Trail through to Hoi An. Multi day tours involve securely attaching luggage to the back of the bike and include accommodation. You get the guides for the day, sharing most meals with them and stopping regularly for rests and for visiting local attractions. Accommodation is usually the best hotel in town (Central highlands are cheap) and the drivers are very safe. A tour of the central highlands is one way to get off the tourist trail. US per day including accommodation.
Amusement and mud bath parks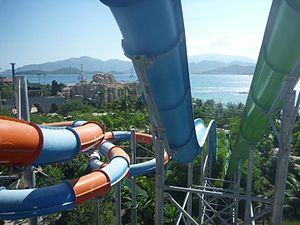 phone: +84-3739-58-387

At the Yang Bay waterfalls the Vietnamese have built up a concrete beach, and sort of eco park with a zoo. It used to be a lot nicer before they built it, but it is still a very nice place to visit. You can swim there, and walk around in the area. Just to mention, tourist park receives a lot of negative reviews.
Diving & snorkelling
Close off-shore from Nha Trang sit a series of islands that offer decent diving and snorkelling, easily accessible by day trip. The city has about two dozen dive shops, making for fierce competition and great value. PADI open water courses with equipment rental are available for US. A two-dive boat trip with equipment rental and modest lunch can be had for US.
Coastal and undersea construction has stirred up a lot of sediment in the area, so underwater visibility is sometimes not great. The area is heavily fished, so fish life is also limited. You wouldn't cross the world just to dive at Nha Trang. But if you always dreamed of getting a scuba certification, Nha Trang is a good place to do it. The shops generally offer good quality equipment and experienced, certified dive masters. Diving goes on year round, but in the Oct-Dec windy season, the boat ride can be a bit rough and diving is limited to a few sites in the lee of the islands.
Organisation of the Nha Trang dive industry is sometimes complex. If you sign up for a trip with shop A, you might find yourself joined with a group and divemaster from shop B, which shares a boat with another group and divemaster from shop C, the boat itself being independently owned. Consolidation is especially active in the off-season, when few if any shops can fill a boat on their own. It's a good illustration of Vietnamese culture, which does not stand on ceremony, and loves a bargain, and is very skilled at making maximum use of resources. The local divemasters are mostly great, friendly guys with lots of stories to tell.
Aloha Mark Scott's Diving Vietnam

phone: +84 12 29037795

address: 24/4 Hung Vuong

US for two dives (with certification) and US for two introductory dives. The boat has plenty of room for lounging and never rushed. American English spoken.

Angel Dive

phone: +84 58 3522461

address: 1/33 Tran Quang Khai

Expat-run, by a long-time resident of Nha Trang. PADI, SSI, SDI and TDI certified.

Jeremy Stein's Rainbow Divers

phone: +84 58 826528

European-owned operation with partially expat staff. A two-dive boat trip costs US (including water and fruit, but not lunch), about double the best deals available in town. The operation is well-organised and very professional, catering to divers who aren't comfortable with the more low-key local shops.

phone: +840586252023

address: Hung Vuong 176/6

Snorkeling, freediving, scuba diving, very relaxed schedule.

phone: +84 58 3521629

address: 29 Tran Phu

PADI Five-Star Dive Center offering a full range of PADI courses. Fun dives, nitrox, snorkelling and Discover Scuba Diving trips to Hon Mun Marine Protected Area every day. International team of instructors and divemasters. Very small groups, maximum of 2 students on a course and only 2 divers with a divemaster, personal service.

phone: +84 58 3522788, +84 58 826528

address: 72-74 Tran Phu

PADI Five-star Dive Centres offering a full range of PADI courses. Besides, you can get a group together and rent out a captain for about US.
Other watersports
phone: +84 58 3521541

address: 1/12 Tran Quang Khai St

Combination fast 30-km downhill biking passing through an ethnic village and meeting Raglai people. Then a 12-km rafting trip down the Cai River.

address: Nguyễn Tất Thành, Khánh Hòa

Bar, restaurant and surf club/school.
Buy
address: 27 Biet Thi St

This long established family run corner store is very good value and has an amazing selection of items for such as small shop. They are cheaper that the many A-Marts in the area which are very much aimed at the tourist market and few locals will be seen shopping in them.

phone: +84 58 3818727

address: 60 Thai Nguyen

Large Western-style supermarket. It covers 4,000 m2 in area, in a four-storey building. The supermarket itself is on the 1st floor, a cinema on the 5th floor and a food court on the 4th floor that includes Jollibee fast food restaurant. There is also an arcade games area on the 4th floor, 2,000 dong per token. Now that other newer shopping complexes have opened, such as Nha Trang Center and two VinCom Plaza, the whole building seems to be getting fewer visitors.

address: 20 Tran Phu

Shopping and entertainment complex on the main beach road. On the 3rd floor is a multiplex cinema, 10 pin bowling alley, a games arcade, mini 5D cinema and a food court. On the 2nd floor is the Citimart supermarket. On the ground floor are KFC and Highlands Coffee.

Shop Herman

address: 142 Ngo Gia Tu

Clothes from back home at half the cost.

Sunsport Sportwear Stores

phone: +84 97 7221295

address: 97 56A Nguyen Thien Thuat St

Major brands available: Nike, Adidas, North Face, Speedo, Greg Norman.

address: 78-80 Trần Phú

4-level beachfront shopping complex opened in August 2018 with cinema on the top floor.

Big CLarge supermarket from Thailand outside the center of town.
ATMs
ATMs are common but the vast majority have a transaction limit of 2 million dong or less. Agribank give 3 million dong per transaction with US fee.
TPbank has a 5 million dong limit and does not charge a transaction fee.
Eat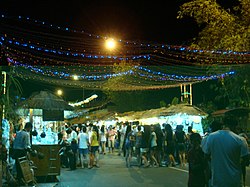 Budget
Far East Rock CafePopular restaurant and bar with tourists and serves international food. Now owned by Russians and has menus in Russian as well as English. Plays lots of rock videos, especially from the 1980s. Also sometimes live music in the evenings.

Tiem Banh Hoa Hung

phone: +84 58 3823141 and +84 58 2211992

address: 39 Phan Boi Chau St and 72 Ly Thanh Ton St

Bakery with sponge cake less than US, pâté chaud, chocolate cupcake, sesame toffee. Founded in 1936.

Lac Canh

phone: +84 58 3821391

address: 11 Hang Ca St

What's different about this long established restaurant (25 years) is that you get to cook, yourself, and both locals and tourists seem to love it. It's famous for its thinly sliced beef, marinated in chilli source that you cook with your own mini tabletop BBQ. Large San Miguel bottled beers are served by San Miguel-attired servers for 18,000 dong.

Lanterns Vietnamese Restaurant

phone: +84 58 2471674

address: 30A Nguyen Thien Thuat St

Local restaurant with authentic Vietnamese and also Western dishes. Relaxed atmosphere and friendly staff. Expect a large crowd there every night during dinner. They work closely with two local orphanages, where the children and their caretakers are invited to regularly dine at the restaurant. The restaurant also offers a half-day introduction to Vietnamese cooking, which includes travelling to the local market in a cyclo and a guided tour of the marketplace to teach you about local produce that you will buy and subsequently cook. Cost for the class is 540,000 dong.

Thien Thanh

phone: +84 58 3880195

address: 386-388 Le Hong Phong

This modern restaurant serves Vietnamese traditional dishes and provides excellent Western and Asian menu. Over 100 fresh seafood dishes.

Truc Linh 2

phone: +84 58 821259

address: Biet Thu St

Asian and Western food. Especially popular for seafood. Truc Linh has been here for years but the original corner one is now the location of a new high rise hotel.
Mid-range
BBQ Un InGreat new place along side the river. Same owners as Lanterns. Their speciality is bbq pork ribs.

phone: +84 58 815071

Pasta and other Italian food.

phone: +84 58 3521948

address: Lot 29, Tran Phu

Microbrewery with locally brewed beers, restaurant with fresh cakes and tarts, sushi, quality pizzas, steaks, Vietnamese food and seafood. Pool table, live music and own loungers right at the beach or pool available. Chaises longues at either the pool or beach are 40,000 dong per day. Even if you get a chair on the beach, you still have pool access. They have a sampling tray of beer for 100,000 dong.

Nha Trang Seafood

phone: +84 58 822664

address: 46 Nguyen Thi Minh Khai St

Serves fresh and scrumptious seafood. Inexpensive prices and good service.

phone: +84 58 826528

address: 72 Tran Phu St

This restaurant serves Japanese, Indian, Vietnamese, and Italian food. Crowded at night, when it turns into bar.

Local 4

address: 16 Tran Quang Khai St

Two-storey corner restaurant serving Western and Vietnamese food.

phone: +84 58 2240979

address: 26 Tran Quang Khai St

A taste of Texas in Vietnam. They import their steak, chicken and pork from the US. The ribs are smoked for 5 hours a day. Charcoal fired burgers and authentic Memphis and Texas BBQ. Nice waitress and staff, who speaks English well.
Splurge
Ana Pavilion

phone: +84 58 829829

address: Tran Phu Blvd

An Asian/continental restaurant, and it is excellent.
Vegetarian
Lac Viet Quan Chay

phone: +84 58 3513 716

address: 72 Huynh Thuc Khang St

Vegetarian restaurant. Plate of mixed vegetable and tofu/veg meat dishes with rice or a bowl of noodle soup, less than US. A small, humble place, but a nice option for vegetarians and it is right next to the market.

Restaurant at Long Son PagodaThe restaurant serves vegetarian meals only. Great Vietnamese food.
Drink
Alley CafeCheap drinking bar and cafe popular with English-speaking expats.

AltitudeFor a great view of Nha Trang at night, perhaps visit the second highest bar in Nha Trang.

phone: +84 2583 528 988

address: 38 Tran Phu

360˚ skydeck & rooftop club. Besides, it also features a skywalk, pool deck and an international restaurant - Chef's Club on the 43rd floor.

Blue Fox Sports Bar

address: 110 Nguyen Thien Thuat St

Located just above the former Booze Cruise bar which has now closed. Its last manager Paul has now opened his own bar, so named as he is a Leicester City football club fan. Entrance is at the back via a yellow staircase on a back street. Popular with English speaking expats.

Crazy Kim Bar

phone: +84 58 816072

address: 19 Biet Thu St

If you are young and wild, this is the place to be.

Ha Van 'A' Rooftop Lounge & Restaurant

phone: +84 58 3525454

address: 3/2 Tran Quang Khai, 5th floor

Offering the coldest beers, drinks and cocktails. Small, but very good menu of food. Great city views, and a favourite of expats. Internet stations and Wi-Fi free (good connection). 50-inch TV for movies and sport events. Live NHL ice hockey available in the morning. Football fans are welcome. Canadian-run & managed.

SinhTo20

phone: +84 58 3525870

address: 20 Hoang Hoa Tham St

This place has a very good yoghurt and many kinds of cocktails. Prices are reasonable.

Why Not Bar

phone: +84 58 811652

address: 24 Tran Quang Khai St

Long running and still one of the most popular late night bars for the young Western backpacker crowd in Nha Trang. It's been transformed into a much more upmarket establishment and is more popular with Asia tourists.
Coffee shops
address: 60 Hùng Vương

A small homestyle cafe with a good-quality Italian and Mediterranean food and drinks. They also have vegetarian and healthy food. Located upstairs above the green A-mart store. 20% off drinks when ordered with a meal. Its more of an eating place and often gets full, so the drinks discount is probably there to deter customers just buying drinks only.

Highlands CoffeeA number of Highlands Coffee houses have opened up in town including one on the ground floor of Nha Trang Center, near KFC.

address: Nguyen 31 Huynh Khang St

Coffee shop in similar style to the large chains such as Starbucks and Costa Coffee, i.e. espresso styles, lots of comfy seating inside and out with upstairs seating too. They also sell cakes and pastries and have a small food menu too.

Lava CoffeeMore of a Vietnamese-style coffee shop but with both comfortable air-con and alfresco dining areas.

Star Coffee HouseNice espresso style coffee shop with low prices..
Sleep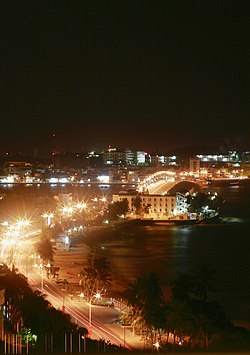 Budget
There are plenty of budget hotels in Nha Trang costing less than US per night and nearly all are en suite and have the usual air-con, cable TV, fridge, bedside table, wardrobe and night light. Most also have Wi-Fi, if not in rooms, at least in the reception area. "Mini-hotel alley" at 64 Tran Phu is a good place to head for as it has a dozen or so budget hotels located in a relatively quiet alley near the beach and the main tourist area. Hostel dorm beds are available for US per night. Don't be surprised if you are followed by a motorbike rider, sometimes they can be helpful showing you where your hotel is but often they are just annoying but either way if you arrive at a hotel with one they will demand commission from the hotel, even if you have a booking.
Mid-range
Splurge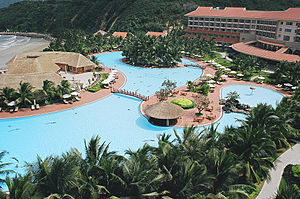 Resorts outside of town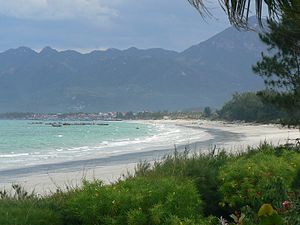 About 60km north of Nha Trang is a stretch of coastline about 20 km long that contains some of the best beaches in Vietnam. Soft power like white sand beaches with clear blue sea and gentle gradients, these beaches are more beautiful and easier for swimming than in Nha Trang. This is an ideal area to explore by motorbike, perhaps taking a night or two side trip from Nha Trang city. The turn off for Jungle Beach gets you off the busy highway for a more relaxing 20 km stretch of road to Jungle Beach Resort. Just after this turn off for Jungle Beach is the turn off for Doc Let Beach, which is another 13 km away and a similarly more relaxing and scenic road. There is an interconnecting road between Jungle and Doc Let so no need to go all the way back to the highway to get from one to the other.
Stay safe

Nha Trang generally has a low crime rate, though the risk of petty crime especially late at night is high compared to most other places in Asia. The most common crime is pick pocketing after midnight near the Sailing Club. During the day, it is relatively safe though bag snatching on the beach is no uncommon, so don't take any valuables to the beach. Staying cautious at all times is best. Do not wear too much jewellery, and keep an eye on your belongings. It would be smart to travel in groups when you are out roaming the streets at night. Also, people coming home from the clubs should take a taxi and not a motorbike taxi. Single males walking back to their hotels in the early hours from clubs and bars such as the Sailing Club and Why Not Bar, especially if a little drunk, should beware of ladies approaching, typically in twos or threes, but often with a couple of guys on motorbikes watching closely from a distance ready to be get-away drivers or to get involved if things get nasty. They come over all friendly and touchy-feely, first checking to see what valuables you have and where, then relieve you of them. Often the victim doesn't even know he's been robbed until he gets back to his room or after he wakes up. This is almost becoming a tourist attraction in the sense you can watch this spectacle almost nightly, perhaps helping out a fellow drunken tourist being robbed. Unbelievably, no police are seen, and no hotel or bar security gets involved.
Do not keep money in your passport. If you want your hotel to lock up your money, they will usually be happy to do so in their hotel safe and have procedures for doing that. Passports are kept separate from other valuables as they need access to these for reporting each day your stay to the government. Better than giving the passport to the hotel is handing over a photocopy (personal data page and visa). It is never a good idea to give your passport to anyone other than officials. Never store money in your passport. Keep some money in a different pocket to your wallet/money belt. No point in displaying it when paying for small purchases.
Drive-by motorcycle theft is fairly common in Nha Trang. Banknotes and wallets have been snatched from tourists' hands.
If hiring a motorbike, check what coverage your insurance company gives for riding motorbikes in Asia, and it is frequently none.
Do not argue with locals who try to hustle money from you. This includes tourist touts, moto taxis, etc. They can become violent and aggressive easily, often resorting to the use of rocks or even concealed weapons. Although they can be a bit harder to get rid of than in other places, it is best to avoid these people altogether.
There was one negative report about TM Brothers buses. It's claimed, that they have a bad reputation, and some of the seats are broken and you can find cockroaches on the bus. However, their buses are usually a few dollars cheaper than other companies.

Connect
Internet access can be found in many hotels. There are not that many Internet cafes around now as most hotels typically have computers available for free use by guests or Wi-Fi.
When using the telephone at a hotel be sure to check their rates. Skype or Google Hangouts is free or low cost.
Mobile SIM cards are readily available, mobifone seems the best option for tourists. Their SIM cards cost 50,000 dong or a little more depending where you buy it and come with about 100,000 dong credit for use in the first month. They also provide 3G Internet data packages, e.g., 1.5 Gb for one month costs 120,000 dong. Cellular Data info: APN: m-wap Username: mms Password: mms

Go next