Niagara-on-the-Lake
Niagara-on-the-Lake
is a town of 17,500 people (2016) in the
Niagara Region
of
Ontario
,
Canada
. It sits on the shore of Lake Ontario at the mouth of the Niagara River. It is a frequent destination for daytrippers from
Niagara Falls
, and a destination in its own right. It is situated in the middle of a thriving grape and fruit growing area featuring numerous wineries. There has been a recent growth in craft breweries. The town name is often abbreviated NOTL.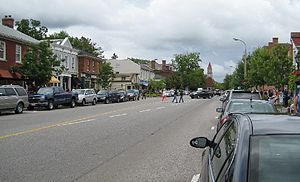 Understand
Niagara-on-the-Lake is important in the history of Canada: it served as the first capital of the Province of Upper Canada, the predecessor of Ontario, called Newark from 1792 to 1797. During the War of 1812, the town, the two former villages of St. David's and Queenston, and Fort George were the site of numerous battles following the American invasion of Upper Canada and the town was razed. Niagara-on-the-Lake is home to the oldest Anglican and Catholic churches in Ontario, and the oldest surviving golf course in North America.
Today, Niagara-on-the-Lake draws tourists with its quaint colonial-style buildings, the Shaw Festival, Fort George, wineries, an outlet mall on the highway, and its proximity to Niagara Falls. The Niagara Region has the second-highest percentage of seniors in Ontario.
Visitor Information, 26 Queen Street (in the lower level of the Court House building), +1 905 468-1950. Open daily.

Get in
By plane
Buffalo Niagara International Airport
(
BUF
) in Buffalo, New York, is about an hour's drive away—assuming you don't encounter any delays at the international border.
Buffalo Airport Shuttle (716-685-2550, toll-free 877-750-2550) offers service from the Buffalo-Niagara airport to Niagara-on-the-Lake. A group of up to 4 can expect to pay approximately $95 each way and the drivers often have great tips on where to go and what to avoid.
BUF Buffalo Airport Taxi Service (716-292-4425) Provides service from the Buffalo-Niagara airport to Niagara-on-the-Lake. A group of up to 6 can expect to pay approximately $80 each way.

Niagara Falls International Airport (IAG) is also across the border in Niagara Falls, New York, but less than a 45-minute drive (not counting border delays).
Hamilton John C. Munro International Airport (YHM) in Hamilton is about a 75-minute drive away.
Toronto Pearson International Airport (YYZ) in Mississauga is about a 1 1/2-hour drive away.

By car

Niagara-on-the-Lake is approximately 1½ hours from Toronto (depending on traffic) and 45 minutes from Buffalo.
From Toronto Airport: Take the QEW east (QEW Niagara). Once you pass St. Catharines, exit at Niagara Stone Road (Niagara Regional Road 55). Go north for 20 minutes.
From Niagara Falls (Ontario) follow the scenic Niagara Parkway north along the Niagara River.

By bus
Bus tour companies such as King Tours, Niagara Tours, Queen Tour Niagara Falls Tours and City Sightseeing Niagara offer excursions to (or including) NOTL from several cities in Ontario.
The Niagara-on-the-Lake Shuttle offers hourly seasonal shuttle bus service between Floral Clock (connection with WEGO buses in Niagara Falls) and Fort George (Niagara-on-the-Lake). There are intermediate stops at McFarland House, Laura Secord Homestead and Queenston Heights Park. Shuttle tickets are sold at Floral Clock and Fort George.

Get around
By bus
phone: +1 905-468-3278 ext 270

All buses are wheelchair-accessible.
By taxi
See
Queenston
The community of Queenston is located within Niagara-on-the-Lake near its boundary with Niagara Falls. The sites listed below are within 2KM of that boundary with the Floral Clock being approximately on that boundary.
Do
Festivals
phone: +1 905-468-2172

Named after playwright George Bernard Shaw, this theater festival runs from April to November and features plays by Shaw, playwrights who lived during Shaw's lifetime, or plays about his era (1856-1950). Three main theaters plus the Studio Theatre comprise the festival venues, and all are within walking distance of downtown. The season opens in April.
Shaw Festival Theatre

address: 10 Queen's Parade

Seats 869.

Studio Theatre

address: 10 Queen's Parade

Seats 200. Doubles as a rehearsal hall.

Court House Theatre

address: 26 Queen St

Seats 327. The flagship theatre.

Royal George Theatre

address: 85 Queen St

Seats 328.
Music NiagaraSummer music festival in Niagara-on-the-Lake featuring internationally renowned musicians of classical, jazz, opera, and more. From brilliant pianists (Andre Laplante, Dick Hyman), engaging ensembles (Swiss Piano Trio, Métis Fiddler Quartet), terrific instrumentalists (Paul Pacanowski, Julie Spring), and tremendous vocalists (Brett Polegato, Krisztina Szabo), hear great music round the clock in intimate venues including wineries, churches, and bistros. The season runs from mid-July to early August.
Niagara Wine FestivalThere is also an Icewine Festival in January and a New Vintage Festival in June of each year. Festivals include winery tours and tastings, cuisine, and entertainment.
Peach Festival

address: Queen St

First Saturday in August to celebrate peaches. It starts at 9AM sharp and the day is full of jams and pies and peaches.
phone: +1 905 468-5455

address: 247 Ricardo St

Art by the Lighthouse is a juried fine art show held on the grounds of the Niagara Pumphouse Visual Art Centre, accompanied by live music. Running concurrently; a free gallery exhibit of Robert Uhre and Katherine McDonald inside the Pumphouse Gallery.
Outdoor activities
Great Lakes Pyrate Lore & Harbour Walks

phone: +1 905 381-0396

address: 26 Queen St (Lower Level)

Join Pyrates in an historical walk through the town as they regale ye with true tales of Pyrates that used Niagara-on-the-Lake as a base of operations! Sunken ships, daring raids, men "put on account", merchant ships and sunken wrecks that sit at the bottom of Lake Ontario. Learn the secrets of Fort Mississauga & Fort Niagara, and what role Pyrates may have played in the disappearance of a notorious NOTL resident.

Haunted Hamilton presents a Lanternlit Ghost Walk of Niagara-on-the-Lake

phone: +1 905-529-4327

Prepare yourself to stroll back through history and hear tales of haunted pubs, inns, forts and homes where restless spirits of the past are still said to linger. Regular walks offered March to December start at the Angel Inn on Regent at 8:30PM.
Bike the scenic bike paths along the Niagara River.
Take a horse-drawn carriage ride or sleigh ride through the old town.

address: 61 Melville St

Powerful jet-boats speed upriver, making their way into the breathtaking stonewalled canyon that is the Niagara Gorge. The anticipation builds as the boats splash into the whitewater of Devil's Hole Rapids. April - October.
Spas
address: 160 Front St

Intimate boutique spa located in the Oban Inn overlooking Niagara-on-the-Lake Golf Course and Lake Ontario offering personalized massage, body treatments and aesthetics. Open daily, year-round. Outdoor pool, whirlpool and fitness room.

address: 48 John Street E
Buy
The village of Niagara-on-the-Lake is well known for the little shops along Queen Street. Hats, jams, cheese, fudge and many other items are available in these stores.
phone: +1 905-468-4500

address: 34 Queen St

Dedicated to Christmas all year round.
Beyond the village
The following are not within walking distance of the village (King and Queen streets):
phone: +1 905-684-2626

address: 335 Four Mile Creek Rd, St. Davids

Includes a chocolate tasting bar, and a production viewing area. Sugar free and nut free candies are available. Tours are available ($5 per couple, refundable on purchase), and are wheelchair accessible.

phone: +1 905 687-6777

address: 330 Taylor Rd

Open-air outlet mall opened May 15, 2014. The main anchor is Bass Pro Shops.
Eat
Drink
phone: +1 905-468-0049

address: 284 Mary St

Pool tables, dart boards, games, big screen TVs, and very good pizza and wings.

Olde Angel Inn Restaurant and Pub

address: 224 Regent St

A variety of domestic and import beers on tap, and a great atmosphere.
Wineries and breweries
Wine tours - The many wine tours of Niagara-on-the-Lake are an excellent way to spend an afternoon. Several companies downtown offer the tours - it's not strictly necessary to book, and you might want to take a look at the offerings. Choose your mode of transportation - by bike, bus or several other ways, and head off to between 3-5 wineries. Each winery offers a brief tutorial on wine-tasting, as well as a sampling of 2 or 3 of their vintages. Since you will be consuming alcohol it is strongly suggested that you consider joining a tour.
eTours.toOffers Niagara-on-the-Lake winery tours that depart from many locations in Toronto.

King ToursOffers group Niagara-on-the-Lake winery tours.

phone: +1 905-933-7433

Local and run by an industry professional.
Wineries of Niagara-on-the-Lake You don't have to take a tour to visit one or two of the local wineries. As of 2018, there are 27 wineries. Most feature tasting rooms, and have their wines available for purchase.
Craft Breweries - Craft beers are becoming more popular in North America.
phone: +1 289-868-9627

address: 2017 Niagara Stone Rd

Oast House sources their raw materials from local Niagara area farmers. Public tours & tastings on Saturday & Sunday 11:30AM & 3:30PM.

phone: +1 905-468-8447

address: 1523 Niagara Stone Rd

In a brick church from the 1890s. Their signature beer is a German-style Black Lager (Schwarzbier).
Niagara College teaches winery and brewery skills, and offers the student production for visitors to sample and buy. The college is about 2KM east of St. Catherines, and 14KM from the village of NOTL.
Sleep
There are a number of fine hotels, including several within walking distance of the Shaw Festival theatres and the centre of town. The town also has an extensive network of B&Bs, which provide an opportunity to mix with other tourists.
Go next