Niagara Falls (New York)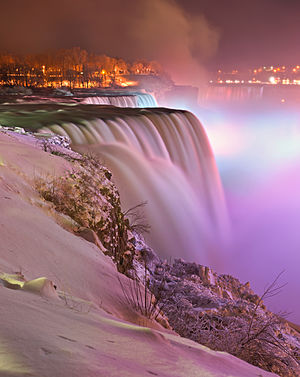 Niagara Falls
is in the
Niagara Frontier
region of
New York
state.
Understand
The Niagara Falls consist of three sections. The large Canadian falls—with their distinctive curved shape—are also known as the Horseshoe Falls. They are separated by Goat Island from the American Falls, which are separated from the narrow Bridal Veil Falls by a small island at their south end.
Each side of the falls offers a different perspective, and it is always best to visit both sides to maximize your experience. In contrast to the panoramic view of the falls afforded by the Canadian side, what is seen from Niagara Falls, New York is a heart-pounding, sidelong, close-up look at the rushing water at the moment it tumbles over the precipice. On the American side, the immediate vicinity of the falls is part of
Niagara Falls State Park
, the oldest state park in the nation. The presence of the state park (originally laid out by renowned landscape designer Frederick Law Olmsted) serves to preserve the natural beauty of the area and prevent the kind of commercialization that you'll find on the Canadian side. Visitors looking to experience the falls as a natural wonder will appreciate this.
During the winter season, a lot of maintenance of the falls, tours, and surroundings takes place. Many areas, such as Terrapin Point and Luna Island, are closed due to slippery conditions. Winter brings a different kind of beauty to the falls and a visit during that time is certainly worthwhile, but if you want to experience the full range of tourist amenities described in this article, plan to come in the warmer months.
Watch
You might check out the 2016 independent film The American Side, an old-fashioned hard-boiled noir film set in Buffalo and Niagara Falls (thus the name).
Visitor information
Get in
By plane
Buffalo-Niagara International Airport (BUF), just outside of Buffalo, is a major airport, with flights across the United States. It is about 30-40 minutes away.
Buffalo Airport Shuttle, +1 716-685-2550, offers service from the Buffalo-Niagara airport to Niagara Falls. A family of 4 can expect to pay $22 per person and the drivers often have great tips on where to go and what to avoid.
BUF Buffalo Airport Taxi Service, +1 716-292-4425, provides service from the Buffalo-Niagara Airport to Niagara Falls. Expected cost is $65 total for 1-7 people.
John C. Munro Hamilton International Airport (YHM) is about a one-hour drive west of Niagara Falls in the Canadian province of Ontario. The airport hosts low-cost Canadian carrier Swoop which offers frequent flights all over Canada. In addition, Transat Holidays offers weekly direct flights to Cancún, Mexico and Punta Cana, Dominican Republic.
Toronto Pearson International Airport (YYZ), in Mississauga is about a 90-minute drive from the Falls, assuming ideal traffic conditions on Toronto-area highways, which is not a good thing to assume.
By train
Niagara Falls is served by
Amtrak
via its twice-daily
Empire Service
from
New York City
and the once-daily
Maple Leaf
between NYC and
Toronto
. has been relocated to just north of the city centre and just a few feet away from the border, at 825 Depot Ave W.
By car
From Buffalo-Niagara International Airport: Take the I-90 East to the I-290 West to the I-190 North. Take the I-190 North (over both Grand Island Bridges, $1 toll) to the Niagara Scenic Parkway.
From Toronto Pearson International Airport: Take Highway 427 S to QEW towards Hamilton. Drive for about 60 mi (100 km) and then keep left to take the Regional Road 420 E/Roberts Street toward Niagara Falls Bridge to U.S. Continue onto Falls Avenue and then cross via Rainbow Bridge. Roberts Street changes to State Route 384/Niagara Street once in the U.S.
From New York, Boston, and the East Coast: Take I-90 W towards Buffalo to the 290 W. Exit onto the 190 N towards Grand Island and Niagara Falls. Follow I-90 N through Grand Island, then take exit 21A immediately after the North Grand Island Bridge (as you're leaving the island) for the Niagara Scenic Parkway. Continue until in downtown Niagara Falls.
From Chicago and the Midwest: Take I-90 East towards Buffalo to the 190 W. Follow signs for Grand Island and Niagara Falls. Follow interstate through Grand Island, then take exit 21A immediately after the North Grand Island Bridge (as you're leaving the island) for the Niagara Scenic Parkway. Continue until in downtown Niagara Falls.
By bus
Greyhound
offers service from Buffalo. There are two daily departures from the
Municipal Transportation Center
in
downtown Buffalo
, at 7AM and 9:30PM respectively, which drop you off in the Falls at the
Quality Hotel
at 240 1st St. The trip takes half an hour and costs $7. If you're headed in from elsewhere, you'll have to transfer at Buffalo first; see
Buffalo#By bus
for information on service from destinations further afield.
A cheaper ($2) but slower (50 minutes) option from downtown Buffalo is
NFTA Metro Bus #40
, which you board at the Buffalo Municipal Transportation Center and will drop you off at various locations in Niagara Falls. See the linked schedule and map for details.
OurBus
serves Niagara Falls from New York City with intermediate stops in
Binghamton
,
Syracuse
,
Henrietta
, and
Amherst
. There are six weekly departures from New York (8AM every day but Wednesday) arriving at 4:30PM at the
Niagara Falls USA Visitor Center
at 10 Rainbow Blvd. Fares are about half what Greyhound charges.
Get around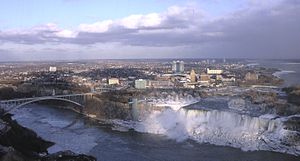 By foot
You can really do a lot without a car once you get to the immediate vicinity of the Falls. If you are staying downtown you may be able to get by without a car. The toll for walking the
Rainbow Bridge
westbound to Canada is $1 (both U.S. and Canadian currency accepted), paid on the Canadian side coming into Canada. (There is no eastbound toll.) If you travel with any baby carriage, you pay no extra toll. Do not photograph or film on the Bridge without getting Bridge Commission approval and signing a liability waiver first. You cannot walk across the Lewiston-Queenston Bridge.
By bicycle
Bicycling can be faster than walking to get around. The toll for bicycling and walking the bridge across the national border is the same. On the bridge sidewalk, bicyclists are officially supposed to walk their bikes, but you may bicycle on the far right lane of the Rainbow Bridge and Lewiston-Queenston Bridge like a car.
Reddy Bikeshare
, Buffalo's bike-sharing network, expanded to Niagara Falls in 2019, with about three dozen locations spread out citywide but (as you might expect) most heavily concentrated in the downtown tourist area. To use a Reddy bike, sign in to the SoBi mobile app to find and reserve an available bike at any of the various Reddy racks around the city (or simply walk up to a rack and enter your account number and PIN on the bike's keypad to unlock it). Then, when you're finished, simply lock your bike up at whichever Reddy rack is nearest you. There's a $2 fee for locking a Reddy bike up anywhere other than a Reddy rack. If you need to stop off somewhere along the way, you also have the option to "hold" your Reddy bike, which will enable you to lock it temporarily without incurring the $2 fee and without the bike becoming available for reservation by other users. When you're ready to take off again, simply enter your PIN number on the bike's keypad and you're good to go. Rates are $8.50 for a 30-day membership or $55 for an annual membership, after which point use of the bikes costs 6¢ and 1¢ per minute, respectively. If you're planning on visiting Buffalo before or after your trip to the Falls, your Reddy membership works there too.
By car
Car is a convenient option to get around, and to see the attractions surrounding the Falls.
Parking at Niagara Falls State Park is a breeze, with four ample-sized parking lots that charge $10/day. Parking on the American side and walking across the bridge may be an attractive method of getting to the Canadian side for a day trip.
Once you leave the park and enter downtown Niagara Falls proper, rates get steeper and availability gets scarcer. There are four public parking ramps downtown that each charge the same rate: $20/day M-Th and $30/day F-Su during tourist season (May-Oct), $10/day offseason. On-street parking is more expensive still, at $5/hour during the tourist season and $3/hour offseason.
If you're parking downtown, there are clearly posted signs directing you to the tourist area. Most shops and attractions are within walking distance from downtown.
Crossing the border
If you want to see the Canadian side, you can cross at the Rainbow Bridge (downtown) or the Queenston-Lewiston Bridge (north of the city). Be sure you have proper documentation for yourself (passport or other approved alternative) and your vehicle (registration, insurance card, etc.) If you're driving a rental car, pay particular attention to your rental contract. Unlike driving into
Mexico
, most national rental firms in the US don't have an issue with you driving into Canada; however, there's a decent chance that Canadian travel is not included in your unlimited mileage allowance (unless the rental originated in New York State) and surcharges may apply. Remember, you can always park in downtown Niagara Falls, New York and walk across the Rainbow Bridge to enjoy the sights on the Canadian side.
By bus
In addition to the aforementioned #40 bus, the
NFTA
municipal bus system includes five additional routes serving Niagara Falls. The two of most interest to tourists are:
Bus #55T (Trolley), which begins at Niagara Falls International Airport and runs westward down Niagara Falls Boulevard past the factory outlet mall, then along Pine Avenue through Little Italy as far as the Aquarium of Niagara, then descends southward into the downtown casino and hotel district, and
Bus #50 (Main-Niagara), which begins at the outlet mall, proceeding westward from there into downtown via Buffalo Avenue and Niagara Street, and from there northward, with service to the destinations in the upper Niagara Gorge (Whirlpool State Park, DeVeaux Woods State Park, Devil's Hole State Park, and the Niagara Power Vista) en route to its terminus in Lewiston.
See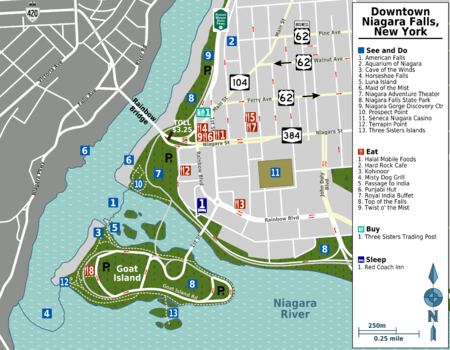 Waterfalls
Views of Niagara Falls are free and accessible. Access to the riverside walks and parks offer great views. You can walk across to Goat Island on the pedestrian bridge.
There are a number of attractions designed to give different experiences of the falls.
phone: +1 716 278-1730

An elevator takes you 175 feet down to a walkway that leads you right to the bottom of the Bridal Veil Falls. You will definitely get a feel for the true power of the falls! This is the closest you can get to the falls on either side without actually leaping into them! Ponchos and sandals are provided, and you will definitely need them.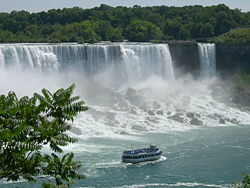 Maid of the MistA boat ride, taking you down around the bottom of the falls. Some information is given about the falls, but the real experience is looking up at the falls from below and feeling the mist coming off the falls (hence the name). Wear a poncho to avoid getting wet. Boats leave from both the American and Canadian sides, so you may want to check the exchange rates to see which will be more cost-effective when you visit! Apr-Oct.

The Niagara Gorge Discovery Center

phone: +1 716 278-1070

Although its easy to enjoy the falls visually, the Discovery Center provides another way to appreciate the magnificence of the falls; geologically. Exhibits show the history of the entire area, including the falls, how they were originally formed, and how they've changed over time.

address: 701 Whirlpool St

The aquarium at Niagara Falls.

Niagara Adventure Theater

Niagara Scenic TrolleyUse this to get around the park more quickly if needed. $2 adults/$1 children for the entire day. Hop on and off.
You can combine all these attractions with a Niagara USA Discovery pass for $35, which you can purchase at the attractions.
Whirpool Tours in nearby Lewiston is a jet boat ride that will take you to the falls.
Helicopter Rides Howard Johnson's on Rainbow Blvd.
Must stay a night and see the night view of the Niagara Falls. It is equally beautiful.
Other
Do
There are literally dozens of operators offering tours of the area; only a few offer value-added services on top of simply ferrying you place to place and describing the sites.
Rainbow Air Helicopter ToursIt's safe to say it's hard to replicate the experience of flying over the falls without booking a helicopter tour. It's an awesome experience, though $90 may seem like a lot for a 15-minute ride.
If you get bored with the scenery and
don't much care for probability and statistics
, the local Native American tribe has just the place:
Seneca Niagara Resort & Casino

phone: +1 716 299-1100

address: 310 4th St

Casino and hotel complex with stores and restaurants, a short walk from the falls.
If you really want to take the gamble of a lifetime, throw your freedom away by
tying the knot
in Niagara Falls, the most famous
honeymoon destination
in the state:
Buy
There is an outlet mall, which may be of interest to bargain hunters crossing the border.
There are numerous places to pick up gifts and souvenirs including:
phone: +1 716 284-3689

address: 454 Main St

A wide selection of unique gifts and souvenirs.
Book lovers should definitely check out:
phone: +1 716 285-2928

address: 1801 Main St

Western New York's largest independent bookstore. Three floors filled to the brim with new books and used treasures. Shows and other events on the third floor.
Eat
Niagara Falls Culinary Institute

phone: +1 716 210-2525

address: 28 Old Falls St

The new home of Niagara County Community College's Hospitality & Tourism programs opened in 2012 and they're serving up some of the best food in the city. And by dining at their restaurants, you're helping to train the next generation of hospitality workers.
phone: +1 716 210-2580

The Institute's fine dining restaurant offers pizza, pasta, steaks, and seafood. The seasonal menu is based on locally grown products.

phone: +1 716 210-2587

A French-style bakery with breakfast pastries and desserts.

phone: +1 716 210-2585

Soups and salads, and paninis and wraps made to order.
Budget
Collaso Taco II

phone: +1 716 284-1498

address: 2440 Pine Ave

A high rated Mexican restaurant.

phone: +1 716 283-3322

address: 7616 Niagara Falls Blvd

Home of the cheesesteak hoagie. It has some of the best cheesesteaks in the area.

Great Wall

phone: +1 716 283-2354

address: 8233 Niagara Falls Blvd

Halal Mobile Foods

address: 102 Niagara St

The food is filling and is in a tourist location.

Misty Dog Grill

phone: +1 716 285-0702

address: 431 Main St

The place for cheap eats. With over 100 menu items, you can't go wrong. From several different styles of hot dogs to venison, ostrich, buffalo, and Kobe beef burgers, this is the best place to eat lunch. Beef On Weck, a Buffalo favorite, is also available here.

Taste Good Chinese Restaurant

phone: +1 716 297-9318

address: 1609 Military Rd

Twist O' the Mist

phone: +1 716 285-0702

address: 18 Niagara St

Huge portions of frozen custard, ice cream, Italian water ice, and other specialties for very reasonable prices. It is located one block east of the Rainbow Bridge. The building is hard to miss as it's shaped like an ice cream cone.
Mid-range
A Taste of India

phone: +1 716 285-8100

address: 626 Niagara St

Casa Nova Restaurant

phone: +1 716 297-9544

address: 3041 Military Rd

phone: +1 716 285-7278

address: 1019 Main St

India Palace

phone: +1 716 282-2421

address: 539 Main St

Kohinoor Indian Restaurant

phone: +1 716 284-2414

address: 200 Rainbow Blvd

phone: +1 716 282-4043

address: 3011 Pine Ave

Very good prices and big portions of American and Italian fare.

Royal India Buffet

phone: +1 716 282-0444

address: 421 3rd St

New Punjabi Dhaba

phone: +1 716 285-7479

address: 26 Niagara St

Passage to India

phone: +1 716 285-2625

address: 441 3rd St

Punjabi Hut

address: 26 Niagara St

Home-style cooking.
Splurge
phone: +1 716 282-2252

address: 827 19th St

Main courses include handmade gnocchi, ravioli, steaks, veal, poultry, and fresh seafood. They use the freshest ingredients and even their salad dressings are all made there and there is a substantial wine list.

address: Seneca-Niagara Casino and Hotel

A fairly new fine dining Chinese place.
Pizza
Aside from a single
Papa John's
location inside the
Quality Hotel
downtown and a
Pizza Hut
way out by the outlet mall, the big national pizzeria chains don't have much of a presence in Niagara Falls. So you may as well take the opportunity to get acquainted with the local style, one that's very much distinct from
Buffalo pizza
and practically unknown even to folks from elsewhere in Western New York. Classic Niagara Falls pizza is cooked in a square pan and always sliced into squares, with a crust that's thin like
New York-style
but with a pillowy consistency and nutty flavor, and a sauce that is subtly seasoned with oregano and has a faint tinge of sweetness. The cheese is thin and sparse — generally there's just enough to fully cover the crust — with pepperoni baked underneath and any other toppings (generally there are none) on top. If you're intrigued, the stretch of Niagara Street between Portage Road and Hyde Park Boulevard is where you'll find the two best exponents of the style:
Frenchy's
and
The Pizza Oven
. Or if that's too rough of a neighborhood for you, head north to
Mr. Ventry's
on Pierce Avenue.
Drink
The drinking age in New York is 21, however, due to the fact that Niagara Falls straddles the border, 19 and 20 year-olds may cross the border into
Canada
to legally drink. Alcohol is more expensive in Canada.
Judi's Lounge

phone: +1 716 297-5759

address: 2057 Military Rd

Townie bar specializing in wings.
Sleep
There are not really any major luxury hotels in the area, but a new hotel is now at Seneca Niagara Casino. There are several other nice-looking hotels downtown by the Falls, and then a series of motels on Niagara Falls Boulevard, including several $20/night fleabag specials (where they really always charge you more than that anyway).
Downtown, the best hotels are
Seneca Niagara Casino & Hotel
,
Doubletree Hotel & Conference Center
, and
The Red Coach Inn
.
Radisson on the River
is coming soon on Buffalo Avenue and is located on the Niagara River overlooking the North Grand Island Bridge.
There are several B&Bs: Butler House, Park Place B&B, and the Elizabeth House.
phone: +1 716 282-1459

address: 2 Buffalo Ave

Historic bed and breakfast inn since 1923. Modeled after the Old Bell Inn in Finedon, England. Overlooks the Upper Rapids. Two-bedroom suites, one-bedroom suites and guestrooms, uniquely decorated with period antiques and reproductions, kitchens, fireplaces, canopy beds, air conditioned, other luxury appointments. Continental breakfast and newspaper are provided daily in the restaurant, plus champagne with fruit and cheese in your room upon arrival. Smoke-free. Pets are not allowed.

Wanderfalls Guesthouse & Hostel

phone: +1 716 804-6235

address: 601 Spruce Ave

There are three dorm rooms (four beds per room) and one private room (twin bunk). Free Wi-Fi, guest kitchen, BBQ grill, parking, laundry.

phone: +1 716 286-0707

address: 723 3rd St

Hostel with male, female, and co-ed dorms, along with private rooms. All bathrooms en-suite. Reception hours from 9AM-7PM daily; late check-in is possible if arranged in advance. Free wireless internet, laundry facilities.
Connect
The Niagara Falls area code is 716 for the entire area.
The Niagara Falls zip codes are 14301-14305
Stay safe
Downtown Niagara Falls — that is, the area immediately surrounding the falls themselves — is undergoing something of a renaissance, with a small boom in new hotels being constructed, new shops and restaurants on Old Falls Street, and a general sprucing up compared to a few years back. However, many of the residential neighborhoods surrounding downtown remain rundown, a victim of the economic malaise that swept over the region as a whole in the late 20th Century, a time when many of the chemical plants and other industries that employed residents shut down. If you're straying outside of downtown, common-sense rules for any urban area apply: lock your car doors, avoid flashy displays of wealth, keep your wits about you. Exceptions to this rule are the DeVeaux neighborhood as well as adjacent areas along the lower Niagara River north of downtown, which are quite well-to-do residential neighborhoods, as well as the busy commercial strip of Niagara Falls Boulevard and the adjacent middle-class neighborhood of LaSalle, near Niagara Falls International Airport.

Go next
There are numerous other waterfalls in western New York (all much smaller), notably the 3 falls of the Genesee River within Letchworth State Park. Old Fort Niagara, a historical site, is around half an hour to the north, and
Buffalo
is about half an hour away.
You can travel to the Canadian side for a closer view of Horseshoe Falls and to visit the other attractions in
Niagara Falls, Ontario
and
Niagara-on-the-Lake
, although you will need a passport or another document proving both identity and citizenship, the main
Canada
article covers documentation requirements and crossing the border by land in depth.
Lewiston
is just to the north, and is usually visited as part of a trip to the Falls. Lewiston sports a cute village center filled with shops, restaurants, and bed and breakfast inns. Lewiston is also home of Artpark State Park, with a popular open-air auditorium in addition to normal park activities.