Niagara Falls (Ontario)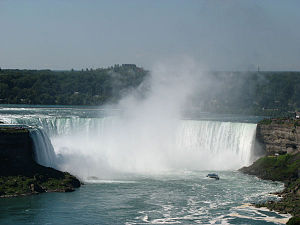 Niagara Falls
, Ontario, is the self-proclaimed "
Honeymoon
Capital of the World". For over a century the grandeur of the waterfalls of the Niagara River have attracted tourists to this destination.
Understand
Niagara Falls was incorporated on June 12, 1903. Its population was 88,000 in 2016.
Mainly a tourist destination, the main attraction has always been Niagara Falls, which brings hundreds of thousands of tourists to the city. Tourism plays a major part in the economy of the region. Increasingly, visitors seeking more natural settings are finding the Niagara River to a great place to hike and visit downstream from the Falls where the majority of visitors go.
Welcome Centres
open daily at 9AM, June through August. They offer advice and maps of the area, and sell WEGO day passes and the Adventure Pass. They are located at:
Table Rock Centre

address: 6650 Niagara Pkwy

Grand View Marketplace Welcome Centre

address: 5920 Niagara Pkwy

Niagara Parks Welcome Centre

address: Falls Ave

Murray Hill Welcome Centre

address: 5146 Murray St

Rapidsview Welcome Centre

address: Upper Rapids Blvd
Climate
Spring:
Temperatures range from 5° to 19°C (41°-66°F). Nightly temperatures range from -3° to 8° C (26° to 46°F). As temperature changes are sudden outdoor camping before mid-May is not advisable.
Summer:
In June, July & August the weather is generally bright and sunny with sporadic rainfall. Storms are caused by Lake Erie and Lake Ontario and are seldom severe.
Fall:
In the fall, it is unlikely to snow prior to the end of October. First killing frost and/or snowfall be expected by late October or early November. Mixed weather patterns prevail. Rain and cloudy skies are common.
Winter:
The days are generally cold and clear. Snow is moderate. Snow storms are infrequent. Lake effect snowfalls are mainly localized to areas near Buffalo and southward. Lake Erie, during extended cold weather will freeze over completely. Some of the activities associated with the falls (e.g. Maid of the Mist and Marineland) do not run during winter due to the frozen conditions, but most attractions now remain open year-round, dealing with mist-related ice near Niagara Falls.
Get in
By plane
The closest airports to the Falls are across the border in the U.S.
Buffalo-Niagara International Airport
(
BUF
) just outside of Buffalo, New York is about a 20-30 minute drive from the Falls and is served by most major American carriers. Niagara Falls International Airport (IAG) is the closest airport to the Falls, but only a few scheduled flights serve it.
On the Canadian side, Hamilton International Airport (YHM) in Hamilton is about 70 km (43 mi) from Niagara Falls, and is served by WestJet. Toronto Pearson International Airport (YYZ) in Mississauga is about a 1 1/2 hour drive from the Falls and is served by most major domestic and international carriers.
Buffalo Airport Shuttle, +1 716 685-2550, offers service from the Buffalo-Niagara airport to the Canadian side of the Falls. A family of 4 can expect to pay less than $25 per person and the drivers often have great tips on where to go and what to avoid.

By car

Niagara Falls is about 2 hours from Toronto (assuming ideal traffic conditions), and 30 minutes from Buffalo.

From New York, Boston, and the East Coast: Take I-90 west towards Buffalo to the 290 west. Exit onto the 190 north towards Grand Island and Niagara Falls. Follow the highway through Grand Island, then take the exit immediately after the North Grand Island Bridge (as you're leaving the island) for the Niagara Scenic Parkway. Continue until in downtown Niagara Falls, New York. Proceed on Rainbow Boulevard, to the Rainbow Bridge, across to Niagara Falls, Ontario.
From Chicago and the Midwest: Cross the international border at Detroit/Windsor, then take Ontario Highway 401 east to the 403 east. Divert around Hamilton via Lincoln M. Alexander Parkway and Red Hill Valley Parkway, which will lead you to the Niagara-bound QEW. Continue to Highway 420 (signs for The Falls and Niagara Falls, USA), which becomes Roberts Street. Stay straight to go onto Falls Avenue.
If you're coming from points east of Detroit, you can instead take I-90 east through
Ohio
and
Pennsylvania
, then at Buffalo exit at I-190 north. Pass through Grand Island, then take the exit immediately after the North Grand Island Bridge (as you're leaving the island) for the Niagara Scenic Parkway. Follow the signs for the Rainbow Bridge; downtown Niagara Falls, Ontario is at the far end of the bridge.
From Buffalo-Niagara International Airport: Take NY 33 west from the airport, the first exit off of which is I-90 eastbound (signs for Niagara Falls and Albany). Exit onto I-90, then get off at Exit 50 (I-290 west), which you'll follow to the end of the highway. From there, take I-190 north (over both Grand Island Bridges, $1 toll) to the Niagara Scenic Parkway. Follow the signs for the Rainbow Bridge; downtown Niagara Falls, Ontario is at the far end of the bridge.
From Toronto Pearson International Airport: Take Highway 427 south to the QEW towards Hamilton. Drive for about 100 km (62 mi) and then keep left to take Highway 420 east, which becomes Roberts Street. Stay straight to go onto Falls Avenue.
By bus
Niagara Falls Bus Terminal

phone: +1 905-357-2133

address: 4555 Erie Ave

Connections to WEGO Transport Services
Greyhound CanadaBus service to Niagara Falls from other Ontario cities.

GO Transit, +1 416-869-3200, the Greater Toronto and Hamilton Area's regional/commuter rail and bus system operates commuter/regional bus service to/from the Burlington train station, connecting with commuter/regional trains to/from Toronto. Most buses make stops en route in Stoney Creek, as well in Grimsby and St. Catharines. The bus ride to/from Burlington station is between 80-90 minutes. The train ride from there to downtown Toronto is another 60 minutes. However, during the summer, on Fridays (or Thursday if Friday is a holiday) evenings and weekends/holidays there are express bus services that run directly to/from Burlington station. These buses take around 65 minutes to reach Niagara Falls from Burlington. A one-way standard ticket is $22.30 to/from Toronto (as of 2019). The buses have coach style seating but seating is not reserved and there are no washrooms, wi-fi services, or any on-board amenities. Buses run every 60 minutes on weekends/holidays and 60-90 minutes on weekdays.

Taxi service to the Falls and main tourist area from the bus depot will run $10-15, If you fancy a walk the route is simple and easy, although nearly 5 km (3 mi), and has the advantage of seeing the Falls come slowly into view.

By train

The Maple Leaf train, operated jointly by Amtrak and VIA Rail, serves Niagara Falls. The train runs daily between Toronto and New York City via Oakville, St. Catharines, Buffalo, Rochester, Syracuse, Albany, and various smaller cities.
GO Transit offers two train services between Toronto and Niagara Falls. The most useful service for visitors is the Niagara Weekend GO Train Service which runs year-round on weekends and most statutory holidays. Less useful for visitors is the GO Transit workday commuter service running one train to Toronto in the early morning, returning in the evening to Niagara Falls.
Both the Maple Leaf and GO Transit trains can accommodate bikes.

Get around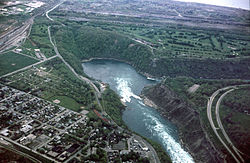 On foot
Many of the main attractions are within walking distance depending on where you walk from, and the rest are easily accessible by transit. Some roads are steep so it may be preferable to drop elderly family members off near the Falls before parking.
During the busiest tourist season (May - October), the Niagara Parkway and
Queen Victoria Park
along the Canadian side of the Falls, can become very crowded and finding a "picture perfect" view of the Falls is difficult. Walking to the attractions can be slow during peak tourist season with thousands of people bustling by.
If you want to park your car and walk around the city, consider parking at the Niagara Casino (near the Hilton Hotel). It is a flat $5 every time you leave the garage; there is no limit on how long you can leave your car inside the garage.
By bus
WEGO Niagara Falls
operates a bus network of 3 routes: Green along the Niagara Parkway, Red along Lundys Lane and Blue along Victoria Avenue and Fallsview Avenue. All three routes converge at Table Rock Centre near the edge of the falls. There are stops at points of interest, attractions and hotels. Before using WEGO, riders must buy a one or two day pass from a select retailer (see
website
); drivers do not sell WEGO passes. These passes cannot be used on the
NOTL
shuttle, Niagara Falls Transit or Niagara Regional Transit buses where separate fares are required. Note: The Adventure Pass and Wonder Pass sold at Niagara Parks Welcome Centres both include a two-day WEGO pass.
Niagara Falls Transit
, is the city's regular bus system covering sections of Niagara Falls not covered by WEGO. To pay the
fare
, insert exact cash (coins or paper money) into a fare box that counts and displays the amount inserted. US money is accepted at par but not pennies. After paying your fare, ask for a transfer to complete your trip on another Niagara Falls Transit bus. Day passes are available but are not valid for WEGO.
Niagara Regional Transit
, operates inter-city bus routes within Niagara Region connecting the nearby cities of Niagara Falls,
St. Catharines
Welland
,
Fort Erie
and
Port Colborne
. The
regional fare
must be paid in exact cash on the bus in Canadian currency. However, Niagara Regional Transit offers a free-transfer arrangement with local bus operators: Niagara Falls Transit, St. Catharines Transit and Welland Transit. If you pay the higher regional fare when boarding a bus for any of these four operators, you can request a transfer to complete the trip using any of the other operators at no extra cost. This is not valid for WEGO, nor with any other transit operator in Niagara Region.
The estimated arrival times for all WEGO, Niagara Falls Transit and Niagara Region Transit buses are availabe in
graphic
or
text
format.
By taxi
Central Taxi
provides 24-hour taxi service in the Niagara Region.
See
Most visitors' first view of the Falls, from the Canadian side of the river, is at
Queen Victoria Park
along the Niagara Falls Parkway. This grand, royal garden provides the perfect vantage point for experiencing the nightly illumination of the Falls and the summer fireworks displays. The Falls are
illuminated
, , every evening until approximately midnight (see website for exact times) and there are
Falls Fireworks
shows every night in the summer months (Fridays, Saturdays, and Sundays only in the late spring and early fall).
Niagara Parks
offers a suite of
Adventure Passes
that include tickets to the Hornblower Niagara Cruises, a selection of other attraction admissions (depending on price point), a two-day WEGO pass, and a bunch of discounts for additional attractions. Passes range from $65 to $90, and the components do not have to all be used on the same day.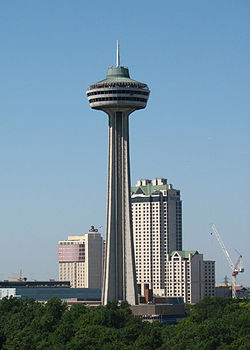 phone: +1 905-NIAGARA

address: 5920 Niagara Parkway

New operator of Niagara Falls boat tours effective 2014. A boat tour to the foot of the falls, where visitors can better appreciate their thunder and spray. There are three types of cruises: Voyage to the Falls, Sunset Cocktail Cruise, and Falls Illumination/Fireworks Cruise. See their website for hours, as they vary. Many people want to use their digital cameras to take pictures, but they will get wet, so plan ahead.

address: 6650 Niagara Pkwy

This is an interesting attraction to consider in lieu of Hornblower Niagara Cruises (or when Hornblower Niagara Cruises isn't operating). Although popular, the lines aren't nearly as long for "Journey" as they are for Hornblower Niagara Cruises, and therefore may be a better option on crowded days, or for those travelling with small children. Ponchos are provided, as the Journey still offers participants the chance to feel the "spray" of the Falls, from portholes opening behind the Falls, as well as access to a small open area on the bank of the river, no more than 200 feet from the base of the falls. An informative guided tour that still provides somebut not all--of the thrills of the other attractions. Open year-round except 25 December. Whilst this attraction remains open during winter, often some of the viewing points are inaccessible due to snow build up.

address: 4330 Niagara Pkwy

A 1,000-ft (305 m) boardwalk beside the rapids. Open seasonally.

phone: +1 877 642-7275

address: 3850 Niagara River Pkwy

Cable car ride over the Niagara Whirlpool. Open March - November.

phone: +1 905-356-2651

address: 5200 Robinson St

520-ft (160 m) tower that has an observation deck. There are two restaurants with a great view of the falls. One is a revolving restaurant, the other is a buffet. There are arcade games in the base.

phone: +1 905-358-4793

address: 4946 Clifton Hill

Ferris-wheel-like, with air-conditioned/heated pods and views of the Falls and surrounding skyline. 10-minute ride. Year-round.

address: 2405 Niagara Pkwy

Over 2,000 butterflies in an enclosed garden - great photo opportunities

phone: +1 905-356-8888

address: 5651 River Rd

This tropical adventure with over 400 birds is the largest free-flying indoor aviary in the world.

address: 14004 Niagara Pkwy

A clock made entirely of flowers.

address: 14184 Niagara Pkwy

This park includes the Brock and Laura Secord Monuments. It is also an end point of the Bruce Trail, which winds it way northward over 800 km (497 mi) to Tobermory.

IMAX theatre and Daredevil Museum

phone: +1 905-358-3611

address: 6170 Fallsview Blvd

Has a 45 minute movie about the history of the Falls, filmed in 2005, that's not quite worth the price of admission ($14.50). However, the theatre also houses a daredevil exhibition with original barrels used by falls and whirlpool daredevils on display, well worth the $8.00. Some online discounts and coupons from other attractions available.

Sir Adam Beck Power Station

phone: +1 905-357-2379

address: 14000 Niagara Parkway, Niagara-on-the-Lake

Guided tour every 15 minutes, year-round. See how the massive power of the Niagara River is harnessed and used to power the surrounding area

address: 7145 Niagara Pkwy

Interior garden of orchids, succulents, and other tropical plant species. Plus eight changing floral shows per year.

address: Niagara Pkwy

Dufferin Islands is a 10-acre park with several small islands connected by small bridges and footpaths. The park is a naturalized area with indigenous vegetation, fish, bird feeding stations and bird boxes.
Do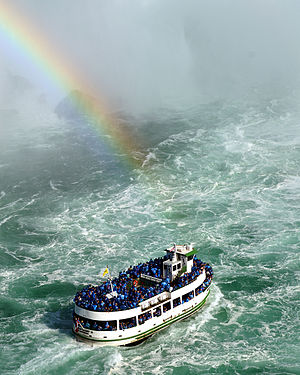 Niagara Falls is awesome! The list is never ending: world class casinos, rides, wax museums, haunted houses, a
huge
midway with more skeeball and games than you can shake a stick at, restaurants, clubs, bars, and so on. Go to Niagara Falls, get a hotel near the falls and then walk down towards Clifton Hill. The air is buzzing and there are people from all over the world there.
phone: +1 905-374-3598

address: 5705 Falls Ave

The original Niagara Falls casino. It is the oldest and smallest of the three Niagara Falls Casinos.

address: Clifton Hill

Check out the vast array of flashing lights, Haunted Houses, Mazes, a Fun House, Arcade. Tons of fun attractions and restaurants. Located right near the falls between the Niagara Parkway and Victoria Ave.
address: 4960 Clifton Hill

phone: +1 905-357-3327

address: 5631 Victoria Ave

Haunted house attraction, famous for the number of visitors that 'chicken out'.
address: 6380 Fallsview Blvd

A Vegas-style casino built to replace Casino Niagara. The second of three Niagara Falls Casinos and the last to be built on the Canadian side of the Niagara Gorge.
phone: +1 905-374-4444

address: 5685 Falls Ave

Niagara's largest indoor waterpark at 125,000 square feet. The water park features 16 slides, up to six stories high, full-size wavepool and outdoor year-round pool. The Fallview Indoor Waterpark is directly connected to the Sheraton on the Falls Hotel, Crowne Plaza Niagara Falls - Fallsview Hotel and the Skyline Inn Niagara Falls.
address: 3731 Victoria Ave

Over the Falls and surrounding area.
Get married: A wide selection of destination wedding venues (ranging from free-standing chapels to parkland to facilities within individual hotels) awaits on both sides of the Falls upon advance reservation. You'll need an officiant and two witnesses; a marriage licence must be obtained in advance from any city or town clerk's office in the province.
The City of Niagara Falls (4310 Queen St, +1 905-356-7521 ext 4283) issues marriage licences ($125, no waiting period, no medical tests) valid for 90 days anywhere in Ontario. No ceremonies are performed at Niagara City Hall.
Niagara Parks has information about weddings, receptions, and wedding photography near the Falls.
On your honeymoon? You can get an Official City of Niagara Falls Honeymoon Certificate from the Niagara Falls Tourism Office at 5400 Robinson St.
address: 5781 Ellen Ave

Illusionist Greg Frewin presents his Las Vegas-style magic show.
address: 7657 Portage Rd

Dolphin, sea lion and walrus shows. Exhibits of marine animals include killer whales, beluga whales and black bears. A variety of amusement park rides such as Sky Screamer, a three-tower ride which elevates riders high enough to see Niagara Falls a mile and a half away. The park was the subject of protests due to extensive Toronto Star coverage in 2012 where former employees documented poor conditions in which animals were held.
phone: +1 905-353-9555

address: Queen St

Queen Street has been revitalized into the latest Niagara Arts & Culture District. Art galleries, boutiques, cafés, bistros, live theatre and festivals.
WildPlay Niagara FallsThis Canadian chain of aerial adventure courses has two attractions in Niagara Falls.
MistRider Zipline to the Falls

address: 5850 River Rd

The ziplines take riders on a 670-meter (2,200-foot) trip along the river gorge, with great views of all three falls.

Whirlpool Adventure Course

address: 3351 Niagara Pkwy

A set of aerial adventure courses with obstacles and ziplines, near the Niagara Whirlpool. There are Classic (ages 7+), Extreme (ages 12+), and Kids' (ages 5-12) courses. There's also the "What's to Fear Jump" (ages 7+), a 40-foot loose-line freefall, available as a standalone activity or as a package with the courses.
Whirlpool Jet Boat ToursNiagara Glen departure point (approx. 8 km/5 mi from the Falls, People Mover Stop #9, very little parking). . The tours operating from Niagara Glen use the JetDome boat, which is enclosed and keeps you dry as the boat navigates the whitewater rapids. For the more traditional 'gets-you-soaking-wet' jet boat tour, you will need to use the Niagara-on-the-Lake departure point.
Winter Festival of LightsArea around the Falls. A 5 km/3 mi route along the Niagara Parkway featuring over three million sparkling tree and ground lights, and over 120 lighting displays. Illuminations run from mid Nov to Jan 31, from 5PM to midnight. Opening festivities includes fireworks. Fireworks over the Falls every Friday night at 9PM during Nov, and Dec. The fireworks are 4 minutes long. No admission, $10 donation per car suggested.
Also, don't forget the
wine tours
. Niagara is Ontario's best-known wine producing region. Its famous ice wines are processed in freezing temperatures in very early morning hours and only with "approved" grapes, producing a thick and sweet wine much like the muscats and ports, but without the afterbite.
Buy

As of 2018, US dollars will fetch about $1.25–$1.30 at banks and exchanges. Individual merchants will usually accept US dollars at a (lower) posted rate; $1.15 was common in mid-2018.
There are a great many souvenir shops in Niagara Falls, especially in the Clifton Hill area. The biggest might be the Grand View Marketplace at the foot of Clifton Hill just above the Hornblower Cruises docks. You'll find everything from the usual t-shirts and calendars to vials of Niagara Falls water.

Eat
As a major tourist destination, many restaurant chains are represented in Niagara Falls. In particular, there's a Hard Rock Cafe between Casino Niagara and the Sheraton on the Falls. Planet Hollywood closed in 2016.
Budget
phone: +1 905-356-7501

address: 4880 Victoria Ave

A super-cheap restaurant that may look like "a little hole in the wall" but the food is delish. Try the special: soup du jour (try the vegetable), coleslaw, potatoes or fries, tea or coffee, the special, and frozen yogurt or ice cream for the end for only about $8. Dinner prices range from $8 for a sandwich to $20-something for steak or seafood.

phone: +1 905-356-4553

address: 6768 Lundy's Ln

Diner/greasy spoon. Home of the $2.99 breakfast (two eggs, home fries and toast) served between 6AM and 10AM. Very busy on weekend mornings, but service is efficient.
Mid-range
Splurge
Drink
The legal drinking age in Ontario is 19.
phone: +1 905-371-2323

address: 5026 Centre St

Spicy Olive serves Italian food while providing live entertainment and bands in Niagara Falls. Part of the Centre Street Shuffle, a series of bars frequented by pub crawls and other group events.
Sleep
Prices posted are for high season (May–October).
Numerous hotels offer a room with a view of the Falls; check with the hotel when booking and specify that you want a
full fallsview
room when you book, or you may be given a room with only a partial view. If getting the 'perfect' room is important to you, book through the hotel directly as opposed to on-line or via their world-wide reservations number.
Budget
phone: +1 905-354-6038

address: 7895 Lundys Ln

phone: +1 905-357-0770

address: 4549 Cataract Ave

Shared and private rooms, activities organized (day at the beach, vineyard tours) and BBQ area.

phone: +1 905-374-4444

address: 4800 Bender Hill

The newly renovated Skyline Inn Niagara Falls features over sized family rooms that fit up to 6 people in one room. The Fallsview Indoor Waterpark is connected to the hotel vis the skywalk. Features Family Movie Night, which plays every night in the main courtyard.
Mid-range
Courtyard By Marriott Niagara Falls

phone: +1 905-358-3083

address: 5950 Victoria Ave

In the centre of the Clifton Hill tourist district, Courtyard by Marriott Niagara Falls features 258 guest rooms, indoor and outdoor pools, Keg Steakhouse & Bar and more. On-site parking.

Crowne Plaza Niagara Falls - Fallsview Hotel

phone: +1 905-374-4444

address: 5685 Falls Ave

This hotel maintains its old world Victorian style and design but provides all of its customers with new world amenities. The Fallsview Indoor Waterpark is directly connected to the hotel. The Crowne Plaza hotel features indoor dining options at it Fallsview Rainbowroom Restaurant.

Days Inn by Wyndham

address: 4 area locations

2-star hotels.
phone: +1 905-374-7771

address: 5234 Ferry St

Near Clifton Hill; 1km from Fallsview Casino and Casino Niagara. Price includes continental breakfast, local calls, cable TV.
Radisson Hotel & Suites Fallsview

address: 6733 Fallsview Boulevard

The newly renovated Radisson Hotel & Suites Niagara Falls has rooms and suites with spectacular views of Horseshoe Falls. The hotel features many family, romantic, and vacation packages that offer big savings. The hotel has a very elegant feel that is naturally inspired by the nearby falls.
Ramada Hotel by Wyndham Niagara Falls Fallsview

phone: +1 905-374-4142

address: 6045 Stanley Ave

Located in the Fallsview district this hotel is situated by Niagara's finest restaurants and attractions, and offers easy access to the border and highway.
phone: +1 905-358-1990
address: 5227 River Rd
Rodeway Inn Fallsview

phone: +1 905-354-2322

address: 6663 Stanley Ave

Clean and well kept hotel. Very reasonable breakfast restaurant on site ($5-10 per person for a large breakfast with coffee). Close to the falls and other tourist areas.
phone: +1 905-357-4040

address: 5905 Victoria Ave

Located in the Clifton Hill district. Access to Niagara Falls WEGO bus system directly outside hotel. Double, Queen and King Rooms available. Indoor and outdoor pool on-site.
Splurge
Go next