Nias
Nias
(or
Pulau Nias
, Nias Island) is an island the Indian Ocean off
North Sumatra
.
Understand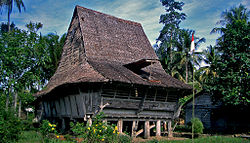 Isolated yet worldly, the Nias Island chain has been trading since prehistory with other cultures, other islands, and even mainland Asia. Some historians and archaeologists have cited the local culture as one of the few remaining Megalithic cultures in existence today. While this point of view is hotly debated, there is no doubt that Nias' relative geographic isolation has created a unique culture. As a culture of traders, the people of Nias find tourists to be a welcome – and historically familiar – phenomenon.
Get in
By boat
There are two ferry terminals (Gunungsitoli and Teluk Dalam) on the island, serviced mainly from
Sibolga
and
Medan
respectively. However, local ferry companies regularly go out of business (or their boats sink), so only one terminal may be active at any given time.
By plane
See
Nias is best-known for its diversity of
festivals
and celebration. The most well-known events are War Dances, performed regularly for tourists, and Stone Jumping, a manhood ritual that sees young men leaping over two meter stone towers to their fate. In the past, the top of the stone board was covered with spikes and sharp pointed bamboo. The music of Nias, performed mostly by women, is noted worldwide for its haunting beauty.
Gunungsitoli is home to Nias's only museum, the
Museum Pusaka Nias
(Nias Heritage Museum), which houses over 6,000 objects related to Nias's cultural heritage. The museum had recently built a new building and had improved their storage and exhibitions when the 2004 earthquake and tsunami occurred. The museum suffered some damage to the grounds and collections during the tsunami, but it appears to be going strong today.
Do
Surfing
Nias is an internationally famous surfing destination. The best known surfing area is Sorake Bay, close to the town of Teluk Dalam, on the southern tip. Enclosed by the beaches of Lagundri and Sorake, the bay has both left and right-hand breaks. As they wait for waves, surfers can often see sea turtles swimming below. There are also two consistent, world-class waves in the nearby Hinako Islands, Asu and Bawa. Many lesser-known, high-quality surf spots with low crowds await adventurous travelers.
Nias was part of the famous Hippie trail of the 1960s, particularly traveled by surfers, which led to
Bali
. Some claim that the waves at the southern beach of Sorake are better than the ones in
Maui
. It has been the site of several international surfing competitions in the past, particularly before the 1998 Indonesian Reformation Movement.