Nicosia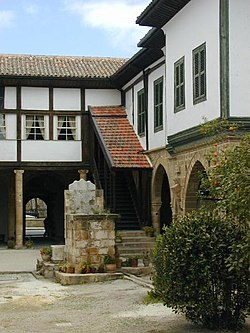 Nicosia
(
Greek
:
Λευκωσία
;
Turkish
:
Lefkoşa
) is the centrally located capital of
Cyprus
and by far the largest city on the island. It also acts as a separate administrative capital for the
Nicosia district
. The municipality of Nicosia governs only the central portion, but the city now sprawls for several kilometers and has engulfed surrounding villages and settlements. Its population hovers around 250,000 (a third of the total population of Cyprus) but the city has a feel of one much larger. It is the administrative and financial hub of the island as well as home to several universities, colleges and other educational establishments. It also hosts most foreign embassies and offshore companies (a big industry in Cyprus nowadays). Along with its international students and foreign workers it has developed a truly cosmopolitan feel.
Understand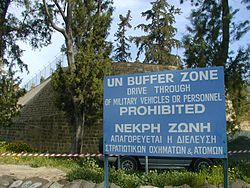 Nicosia is one of the very few
divided capitals
in the world. The barbed wire and guardtowers of the
Green Line
cuts the town in two, with the northern side being the capital of the self-proclaimed
Northern Cyprus
and the southern half being the capital of the Republic of Cyprus.
Politics aside, Nicosia is a little short on both the archaeological treasure troves and beaches with pulsating nightlife that bring most visitors to Cyprus. But the Old City with its museums and churches is pleasant enough, and precisely due to the comparative lack of tourists, the city retains more of an authentically Cypriot air than the resorts of the southern coast. Fantastic little cafes invite you in for a Cypriot coffee, so just walk around and see the many woodworking shops that are deep within the city, and take a walk down to the Green Line, the boundary that now divides North from South. Being the financial and administrative centre of the island, it is by far the best place for shopaholics.
Get in
By plane
(
NIC
) has been closed off since the partition of the country. Larnaca Airport (LCA) (40 km, 30-min drive) has scheduled flights to all major European cities. An airport shuttle bus operates between Larnaca Airport and Nicosia , this bus does not stop close to the city center so you will have to take a taxi or walk to the highway and take a public bus from there. Further away, the smaller Paphos Airport (PFO) is a 140-km (1hr 40min) drive from Nicosia.

By boat

Limassol (80 km away) and Larnaca (40 km away) ports have passenger terminals with ferry and cruise ship services to the Lebanon, Israel, Egypt and Greece. Timetables vary considerably with the summer season being the busiest.

By road

Nearly all visitors arrive via the southern highway from Larnaca (43 km) and Limassol (83 km). Regular, cheap and reliable intercity taxi and bus services connect Nicosia to the centre of Cyprus' other cities. Private hire taxis are considerably more expensive. Car hire is also affordable and all major car hire companies are represented at both airports. Cyprus By Bus provides information about buses in Nicosia.

To/from North Nicosia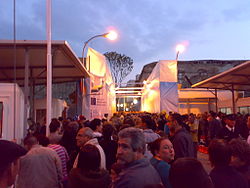 Entry from Northern Cyprus to south Nicosia used to be close to impossible. However, following a thawing in relations, it is possible for EU citizens to cross the border at official crossing points, regardless of their point of entry to the island. People from other parts of the world will likely be turned back at crossing point. For details on how you can cross the border, please see the Cyprus page.
The Ledra Street crossing (as opposed to Ledra Palace Hotel crossing) allows people to cross again from North to South Nicosia and vice-versa. The crossing traverses the United Nations Buffer Zone dividing Southern and Northern Cyprus. The (Greek) Republic of Cyprus does not maintain an immigration post at the crossing but conducts ID checks, while Northern Cyprus maintains an immigration and customs checkpoint on its side of the border.
If you're taking a taxi to North Nicosia before crossing, do not say "Ledra" because everyone in Northern Cyprus will assume the Ledra Palace crossing, which is outside the city walls to the west.

Get around

Greater Nicosia sprawls for kilometers on end, but the Old City is small enough to navigate on foot. Traditional Greek Cypriot shops line the streets of the Old City, and with very narrow footpaths/walkways, traffic must always be observed. GPS Satellite navigation systems may not include Cyprus, but a paper map can be picked up (free of charge) from the Nicosia Cyprus Tourism Organisation (CTO) Information Office (in Laiki Geitonia).
Nicosia is developing a more extensive network of bus services that connect the ever expanding sprawl. Transport is inexpensive, however timetables remain unreliable and only a few buses are air conditioned.
Private taxis abound, they are usually diesel Mercedes cars, and always have a number plate starting with the letter T. Some even have a yellow TAXI (or ΤΑΞΙ in Greek) sign above. Unlike other world cities, they are not in a distinctive colour. Make sure the meter is turned on the second you enter, as tourist expoitation is as common here as everywhere else in the world!
A cheaper alternative to buses and taxis is to use the bike sharing system Bike in Action. Smart card needed.

See
Nicosia's sights are concentrated in and around the
Old City
, surrounded by a picturesque star-shaped city wall whose moat has been converted into a pleasant park. Wandering around the Old City is an interesting experience in itself, although some buildings (esp. those near the Green Line) are derelict and crumbling. Many sights in the Old City close early, so try to get an early start - also a good idea for beating the heat in the summer.
Museums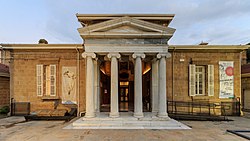 Cyprus Museum (Κυπριακό Μουσείο)Showcases the best of Cypriot archeology from the 9th millennium BCE to the end of antiquity. There is a café on the grounds. 20% discount for groups of 10 or more.

Byzantine Museum

phone: +357 22 430008

Easily spotted thanks to the giant statue of Archbishop Makarios standing outside, has one of the world's best collections of Orthodox icons and other artworks, mostly ranging from the 9th to the 16th century.

National Struggle Museum

address: Kiniras 7

Documents the history of the Cypriot independence movement (1955-1959), with a rather positive spin on the EOKA guerrilla movement.

phone: +357-22673375

address: Ippokratous 17, Laiki Yitonia

Housed in a converted, two-storey house since 1984 the Leventis Municipal Museum has exhibits dating from 2300 BC to the present day. Voted European Museum of the Year in 1989.

House of the Dragoman Hadjigeorgakis Kornesios

phone: +357-302447

address: Patriarch Gregoriou St

A beautifully restored 18th-century building now housing an ethnological museum.

phone: +357-22432577

address: 19 Apostolou Varnava Str

Housed in a converted old power station built in 1936. The building sat derelict for 20 years and reopened as a contemporary art gallery in 1994. Includes a decent cafe-restaurant with an imaginative Mediterranean menu. Winner of a 1994 Europa Nostra award.

Museum of the History of Cypriot Coinage

phone: +357-22677134

address: Bank of Cyprus Administrative Headquarters, 51 Stasinou Str., Agia Paraskevi

Hundreds of coins on display, from ancient to modern spanning nearly 3,000 years of coinage history on the island.

Ledra Observatory Museum

phone: +357-22679369

address: Ledra street, Shakolas Building

The Shakolas (older Nicosians know it by its former name The Mangli) building sticks out like a sore thumb in the medieval old city. To reach the observatory you have to go into the Debenhams shopping complex which is right in the middle of Ledra street, a mini skyscraper of 12 floors, towers over other buildings not rising higher than 2-3 floors. On its penultimate floor you find the observatory, where it's possible "to see" the division of the island. There is a café up on the sixth floor which also has some nice views which you can enjoy should it be quiet, but usually there are paying customers sitting at the best viewpoints. Entrance to the observatory on the 11th floor is a low €2 so it's a must-see. Entrance to the observatory also comes with a voucher for 20% off your bill at the café. So go there first if you are planning to visit the café anyway for some food.

The Cyprus Classic Motorcycle Museum

phone: +357-99543215

address: 44 Granikou Str.

Privately owned, this is the only such museum on the island and is tucked away in the medieval city. On display are about 150 classic (mostly British) motorcycles dating from 1914 to 1983.
Performance arts
Famagusta GateOne of Nicosia's three old gates, it has now been turned into the Lefkosia Municipal Cultural Centre, used for various exhibitions and performances.
Sport
FootballFor a taste of local sport, visit the home games of the local clubs. APOEL , Omonoia and Olympiakos (Nicosia). All three compete in the top division of the Cyprus football and basketball leagues. APOEL football team has enjoyed considerable success in European competitions.

Cyprus National Football teamThe tends to play its home games in Nicosia at the GSP stadium. Success on the international scene (a 5-2 thrashing of Ireland and a 1-1 draw with Germany in 2006) has bolstered national pride and made these games quite popular (so advance ticket purchase is advised). Tickets are relatively cheap when compared to European leagues. Anorthosis, a team that began in Famagusta and has been playing in exile since the Turkish invasion of 1974, play their Champions League home fixtures at the same ground. Entry prices vary.

phone: +357 22782727

address: Ayios Dometios

The small and picturesque race track has a colonial feel to it. Emotions run high here every Wednesday and Sunday. Check website or call them for race timetable.
Tennis - Cyprus plays its home Davis Cup matches at the Field Club. Clay courts line the moat that was once covered with water protecting the city from medieval invaders. It has a colonial feel to it. Again, if you are lucky you might catch Marcos Baghdatis playing for Cyprus.
Do
Explore the smaller city streets, small enough to easily do this on foot.
Visit a traditional Cypriot cafe, and sample a Cypriot coffee.
Greet the locals. Make sure you visit the Green Line and view all of the city from the Watchtower, into North and South Nicosia.
Spa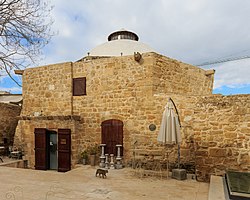 address: 8 Tyllirias Square, 1016 Lefkosia

In the heart of the old town within the ancient Venetian walls. Find your way to the 'Ohi' Round about, then head straight all the way until you find the Omeriye Mosque on your right - you can't miss it. Turn right here and the Hamam Baths are on your left. 14th-century building restored to operate once again as a Turkish bath. The site's history dates back to the 14th century, when it stood as an Augustinian church of St. Mary, built by the Lusignan (French) and later maintained by the Venetians. In 1571, Mustapha Pasha converted the church into a mosque, believing that this particular spot is where the prophet Omer rested during his visit to Lefkosia. Most of the original building was destroyed by Ottoman artillery, although the door of the main entrance still belongs to the 14th-century Lusignan building, whilst remains of a later Renaissance phase can be seen at the north-eastern side of the monument. Couples on Mondays, men only Tu Th Sa, women only W F Su. €20/two hours, incl. towels, disposable underwear, tea, sponge etc.
Cinema
In bygone times Nicosia was dotted with dozens of open air and closed cinemas offering films from local, Greek, Turkish and Hollywood producers. The advent of the video player and other home entertainment systems has strangled this industry and now only a handful of cinemas remain, none of which are open air. These offer the latest blockbuster movies from Hollywood and occasionally the odd arthouse European film. Most will be screened in their original language with Greek subtitles. The annual
Cyprus International Film Festival
is the local Cannes equivalent. Expect to see great movies, but not the same calibre of stars.
K. Cineplex 115 Makedonitissis, Strovolos 2057 +357-22355824. Modern multiscreen theatre, not much different to what one would find anywhare else in the world.
Zena Palace Cinema 18 Theofanous Theodotou, Nicosia 1065 +357-22674128. One of the oldest venues, has escaped the bulldozer by a thin film.

phone: +357-22762275

address: 67-71 Lefkonos Str., Phaneromeni, 1011 Old Nicosia

The name of this place translates as The Weaving Mill and is in fact a converted old factory. Very arty, no blockbusters here. You can sip your wine as you watch an alternative movie.
The Friends of Cinema Society was the first to bring forward to the Cypriot viewer, films from countries as diverse and distant as China, Iran, and Japan. With the popularity and recognition of Greek cinema, the Cypriot viewer was able to finally view modern, Greek productions by distinguished artists. Through various festivals (European, French, Spanish, German), Cyprus is able to admire films which are awarded important prizes by international critics, thus bringing state-of-the-art trends of world cinema to Cyprus.
Buy
The traditional shopping district runs along
Ledra street
and its tributary roads within the medieval walls of the city. A bustle of traditional jewelers, shoe and fabric shops give a blend of Middle Eastern and European feel.
Laiki Geitonia
is a pedestrianised neighbourhood that has been preserved in its original architecture and is the best quarter if you are after souvenir shops. Big chains (e.g. Marks and Spencer, Zara) line the more modern
Makariou Avenue
.
Stasikratous street
has evolved into a mini local version of 5th Avenue/Bond street with expensive brands such as Armani and Versace stores. All the above are within walking distance of each other.
There are no real department stores in a purist sense, but
Ermes
(this chain inherited and re-branded the old local Woolworths) has several mini department stores across the island and a couple on Makarios Avenue.
Alpha-Mega
and
Orphanides
are local hypermarket chains (worthy equivalent of a Tesco or Wal-Mart) where it would be difficult not to find what you were after. Most of their stores however, are located in the suburbs.
International newspapers
and periodicals (especially in the English language) are widely available but you can inevitably find them at the large kiosks (
periptera
) planted at the two corners of Eleftheria Square. These kiosks are open 24/7.
Eat
Traditional Cypriot cuisine is a melting pot of south European, Balkan and Middle Eastern influences. You will find most Greek, Turkish and Arabic dishes, often with a local name or twist. It is now decades since Cyprus has established itself as a tourist hotspot and as a consequence many of the local chefs have trained in Europe and elsewhere, bringing their experiences back home with them. As such most international cuisines are well represented (but unfortunately so are McDonald's & gang). In summary good food is not difficult to come by and most westerners will find dining quite affordable.
The shopping district is dotted with local tavernas and the likes of KFC and Pizza Hut. Virtually all restaurants allow smoking, (and unfortunately some don't even have a non-smoking area, and most restaurants with the non-smoking area don't enforce it). Al fresco dining is a luxury that can be enjoyed for over half the year. It would be a crime not to try (at least once) a mixed pork kebab with a chilled local KEO or Carlsberg (which is brewed locally and tastes different to the same brand overseas) beer. Carnivores are spoilt for choice, whilst vegetarians might find it a tad difficult.
The food is high quality and somewhat cheaper than in the most Western capitals. Snacks should be available from €2-4, kebabs from €7 and whole meals from €15-20. Local KEO beer costs around €4 a pint in bars, local wines starting from €10 a bottle. Hygienic standards are followed and even foods that usually are not recommended in the Mediterranean destinations, such as mayonnaise and salad-based foods, can be safely eaten.
Budget
Kebab houses. The epitome of Cyprus fast food. There is no neighbourhood without its local (99% of these are family-run businesses) so follow the BBQ smoke or smell. Try a traditional mixed kebab (aka souvlakia/sheftalia) with a cold KEO beer. That should set you back €12 at the most.
Sandwich kiosks. Several line Regina Str in central Nicosia close to Eleftheria Square. Some also offer doner kebab (gyros). You might have to stand whilst eating.

phone: +357-22681888

address: Eleftheria Square, City Centre

The Balkan answer to McDonald's. Don't expect more, don't expect less. Safe fast food option, some dishes have a local flavour.

Toronto PizzaThe first local pizza chain created by a Cypriot returning from Canada. Now has over a dozen outlets, some of which have seating but some are only for home delivery/takeaway. Choose this over Pizza Hut or Dominoes.
Mid-range
Erodos Cafe-Restaurant

phone: +357 22 752250

address: Erodos Patriarhou Gregoriou 1, Old Town Lefkosia

Within the Venetian walls and in the heart of Old Town. Live music, fine wines, good beers and traditional, yet eccentric gastronomy.

phone: +357 22 765501

address: 65 Trikoupi Street

Hidden away in the narrow streets of the old city, this can be difficult to locate alone. Ask any cab driver though and it's as much as a landmark as the Eiffel Tower is to Paris. Around since 1938, it serves traditional Greek-Cypriot meze at €14 a head. Booking is essential.

Eirinia

phone: +357-22422860

address: 64A Arch Kyprianou Str, 2059 Strovolos

This tavern has a colourful past. Legend has it that the local prostitute (called Eirinia) cooked so well, that customers came more for her food than her services (the other version claims her services were so bad). Hence she switched to a restaurant. Her descendants still run one of the most successful and well known (among locals) taverns. Eat till you drop. €20-30/head.

Akakiko

phone: +357 77 778022

address: Achaion 1, Engomi, adjacent to Hilton Nicosia

Asian-Japanese Sushi restaurant. Part of an Austrian franchise and not much different to a Benihana.

phone: +357-22663240 or +357-22663740

address: 27 Diagorou Street

Safe choice, but unadventurous. Part of the Pizza Express empire. Offers a similar menu to the UK version with a couple of extra pizzas with a local twist.

phone: +357-22352898 or +357-22590944

address: 65 Poseidonos Ave, 8042 Engomi

The quintessential Cypriot taverna, set in the middle of old Engomi (a Nicosia suburb) with tables spilling out on the street offering a strong meze. €15/head.

Xefoto

phone: +357-22666567

address: Aischylou 6, Laiki Yitonia

Traditional food in a traditional setting. Serves mezes too. The tables spill onto the pavement for the al-fresco months of the year. Live music on weekend nights. Open daily from 11am till late. €15-20/head.
Splurge
Seiko

phone: +357-77777375

address: 26-28 Stasikratous str.

Nothing to do with mass production Japanese watches, this is an expensive (by Cyprus standards) design conscious Japanese restaurant. Boasting 132 different dishes including a variety of sashimi and sushi. €60 a head.
Drink
The substantial student population supports a flourishing industry of bars, pubs and nightclubs which keep the old city alive. Cypriots are true socialites and spend most of their time
out
as opposed to
at home
. In line with other south European countries going out is unheard of before 10-11pm. There is no official nightlife reference point but Makarios avenue turns into a catwalk cum cruising strip for Porsche owner show-offs. If you are after a more traditional flavour (generally catering for an older population) you could try a bouzouki bar.
Bars will stock the usual international brands of spirits. Local giants KEO beer and Carlsberg (the only other brand brewed on the island)also Leon beer, the first Cyprus brew, was relaunched 4 decades after it was last produced and traded in the market of Cyprus. Based on the original Leon recipe that was used in 1937, Leon is a pure all malt beer characterised by a rich and strong taste and aromahave a universal presence. Local wines are now making a comeback after years of medioaracy and decline.
Commandaria
is the pride of Cyprus' dessert wines. The local spirit
zivania
(very similar to grappa) is usually drank as shots straight from the freezer.
Cyprus brandy
was introduced about 150 years ago and differs from other continental brandies in its lower alcohol content (around 32%). As such it is often drank by locals whilst eating (and before and after) and is the basic ingredient for a local cocktail,
The Brandy Sour
. Local Ouzo is also another favourite.
Cafés
Coffee culture is a way of life in Nicosia. It is the place to see and be seen in the afternoon to early evening. In the summer months, tables spill on to the streets. The posh cafés line Makarios Avenue, intertwined with shops. Starbucks and Costa coffee have invaded the island but local equivalents also survive. For a change don't stick to the latté/cappuccino, try a Greek coffee. In the summer you must order a frappé (iced coffee).
Da Capo café

phone: +357-22757427

address: 30 Arch Makarios Avenue

Regarded as one of the first modern cafés, caters for the nouveau riche. Serves basic meals, WiFi internet access.

Le Café

phone: +357-22755151

address: 16 Arch. Makarios Avenue

Used to be a confectionery. Now you'll find the suits of the Cyprus financial elite lunching there - book in advance if you're going for lunch. Wifi.

Pralina Café

phone: +357 22 660 491

address: 31 Stasikratous Street

The flagship café of a confectionery chain. A chocolate addict's paradise. You can easily overdose on sweets here, and before you know it, your diet is down the drain forever. The coffee is not bad either.

phone: +357-77778044

address: 9 Arch. Makarios Avenue

Large outside seating area, WiFi.

Svoura Café-Bar

phone: +357-22757750

address: 5 Thermopylon, Old Town

Serves coffee, snacks and alcohol; dance all night long. Free Wi-fi.
Bars and pubs
There is not much of a distinction between the two, most will serve beer, wine, cocktails and non-alcoholic beverages. Many will now serve food too, but kitchens usually close earlier than the bar.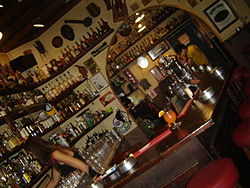 phone: +357 22 665757

address: 6 Iasonos Street, 2021 Lefkosia

Popular, long-established bar in a converted 1950s house. Has a large beer garden for the hot summers and cosy log fires for the cold winters.

phone: +357-22665735

address: 48 Demostheni Severi Avenue

As the name suggests it's a pub and on a corner. Some consider it a spooky shrine to Man Utd football club; its walls are adjourned with countless memorabilia and photos. Has several large projection screens so good for watching popular football games.

phone: +357-22666111

address: 2 Omirou Avenue, Eleftheria Square, 1521

Decorated with ultramodern minimalistic furniture and overlooking the dry moat surrounding Nicosia's Venetian walls.

phone: +357-22666552

address: 8-10 Platonos St

Long-established and popular, in the old city in an old converted house. Prides itself on its incredible range of beers, wines, malts and spirits selection. Good food menu. Has a beautiful yard open all year round featuring two massive fireplaces in the Winter. Nice Rock, Blues, Indie and Alternative sounds. Opens at 20:00 all year round. Entrance is not allowed to men with sleeveless T-shirts.

phone: +357-22817040

address: Pindarou St.

More than a bar, less than a club, frankly somewhere in between. Open till about 02:00 and serves finger food too. Live music on certain nights. More frequented by ages 25–40.

Svoura Cafe-Bar

phone: +357-22757750

address: 5 Thermopylon, Old Town

A hot spot in Nicosia for a coffee and alcohol. Chill out and have a coffee with a snack at daylight or dance all night long with lots of alcohol and cool people. Free wireless intenet and happy prices.
Clubs
Scorpios Club

phone: +357-99545690

address: 3 Stassinos Street

Probably the only discothèque in Nicosia having survived the test of time. Opened in the early 1970s and has reinvented itself (after several facelifts) since.

Sfinakia club

phone: +357-22766661

address: 1 Kyriakou Matsi Avenue

Opened in the 1990s and still going strong. Caters for an age group of 20-30s. Has a nice outdoors bar section open in the summer months. Usually packed on a daily basis and even on weekends.

Zoo Club

phone: +357-22458811

address: 15 Stasinou Ave

Started out as a club but over the years has taken over several floors on the same building. Has a restaurant section and a chill-out lounge bar.
Sleep
Being more of an administrative city plus the financial hub of the island, hotels tend to cater more for business travelers. Accommodation choice is more limited than the purely tourist destinations that line the coast
Budget
Nicosia Youth Hostel

address: 30/32 Chrysaliniotissis Street

Free Wi-fi available. It has an age limit of 35.

phone: +357-22773447

address: 19 Averof Str.

A cheaper hotel in a very residential area.

phone: +357 22666880

address: 7C Solonos Street

Budget hotel.
Mid-range
Cope
Embassies
phone: +357-22-449050

address: 14 Ayois Prokopios, 2406, Engomi

phone: +357-22-458 020

address: 9, Arch. Makarios Avenue, Severis Building, 2nd floor, 1065
Go next
You can cross over to Northern Cyprus and the northern side of Nicosia on foot or by car via the checkpoint near the Ledra Palace hotel, on the western side of the city wall. A more convenient checkpoint if you're on foot is the Ledra Street (Turkish: Lokmacı Caddesi) crossing which runs through the center of Nicosia.