Nicosia (North)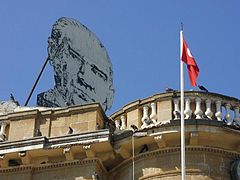 North Nicosia
(Turkish:
Lefkoşa
) is the Turkish Cypriot side of the city of
Nicosia
and the capital of
Northern Cyprus
.
Understand
Northern Nicosia is the capital and largest city of Northern Cyprus. It contains approximately half of the Old City, and the city streets are visibly crumbling.
Orientation
Atatürk Square, at the northern edge of the Old City, is the main square of the city.
Dereboyu Street, also known as Mehmet Akif Street, is the busiest place of the city with lots of restaurants and shops, and it is busy until late.
Get in
Most tourists visit northern Nicosia as a day trip from the southern side.
If arriving from abroad without going to the southern side first, from nearby Ercan Airport you can take a scheduled bus called
Kibhas
or take a taxi which costs about 50 TL.
By Plane
address: Tymbou (Greek: Τύμπου, officially Τύμβου; Turkish: Kırklar)

Regular flights from Ankara and Istanbul, seasonal flights from north-west European airports
On foot
The recently (2008) opened Ledra Street (Lokmacı Caddesi) pedestrian crossing is an easy way to walk to northern Nicosia from southern Nicosia.
By car
From
Kyrenia
on the northern coast, there is a road which connects to Nicosia.
From southern Nicosia the easiest crossing is the Ledra Palace crossing outside the city walls to the west.
Get around

The Old City of northern Nicosia can be comfortably covered on foot. If crossing through the checkpoint from South Cyprus, there are taxis that can be rented by the hour or by the day to cover the Old City and surrounding areas.

See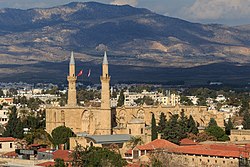 Most of Nicosia's sights are within the walled city:
Selimiye MosqueNorthern Nicosia's top attraction, this fortress-like cathedral-cum-mosque was completed in 1228 and has survived a number of earthquakes since then. The cathedral was converted into a mosque in 1570 and the two minarets added at the same time are a Nicosia landmark.

Kyrenia GateBuilt in 1567, the impressive Northern entry gate into Nicosia was built when the Venetians were in charge of Cyprus. Today it is home to the tourism information centre in Nicosia.

The Great InnIt has been totally transformed through sympathetic renovation and restoration over the past few years and today it's a place where you can shop for eclectic crafts, enjoy a light meal, watch some street theatre or listen to live music and marvel at the incredible architecture of this building constructed back in 1572.

Atatürk Squarebetter known as Sarayönü - the heart of the walled city, this square boasts the Venetian Column and the Judicial Building, with an opportunity to see other historical buildings and witness locals going about their daily business.

Samanbahçe Housesa very good reflection of traditional Turkish Cypriot architecture, these houses are well-preserved and well worth seeing and photographing.

The Great Turkish Bathbuilt over 400 years ago and still active, this bath is a place to relax.

Dervish Pasha's HouseAnother cultural anthropology centre is the recently resorted mansion that was once owned by Dervish Pasha.

The Lusignan HouseA French medieval residence

Lapidary MuseumAn archaeological museum

Mevlevi TekkeMuseum of whirling Dervishes

Arabahmet Mosqueanother historical mosque
Attractions outside the walled city:
The Museum of BarbarismThe house of Dr. Nihat Ilhan, a major who was serving in the Cyprus Turkish Contingent in 1963. During the inter-communal troubles of December that year, the house was attacked by the Greek-Cypriot terrorists. Dr. Ilhan's wife and three children were ruthlessly murdered in the bathroom where they had tried to hide. The house, in the Kumsal district of Nicosia has been preserved as a museum.

Kızılbaş Churchin the Kızılbaş area, within walking distance from Dereboyu, this historical church is now used as a cultural center with frequent exhibitions and other cultural events.

The Office of Rauf Denktaşthe office of the founder of Northern Cyprus, this is another attraction in the Dereboyu area.

The Republic Parkhosting the grave of Rauf Denktaş and a monument dedicated to the national struggle, this park is located in the Gönyeli area.
Do
Whirling Dervish Shows
take place in the walled city near the Selimiye Mosque, every night apart from the Sundays.
Try the 500-year-old
Great Turkish Bath
(Büyük Hamam) for an experience of true and relaxing cleanliness.
The Nicosia International Fair
, takes place every June, and it's more than a fair, with an opportunity to mingle with locals and enjoy the decades-old atmosphere of the mobile restaurants and funfair there.
Nicosia is home to
festivals
, especially during the summer:
International Gönyeli Festival - organized by the Gönyeli Municipality in July, one of the suburbs of Nicosia, the festival boasts concerts from some internationally-known Turkish bands and folk dance shows, with many other events
Nicosia Theater Festival - in September and October, with well-known plays and actors from Turkey and Cyprus, this is a festival the locals are proud of, though the plays are in Turkish
Nicosia Youth Festival - takes place in the summer, with concerts of local bands
Walled City Jazz Festival - in September
Golden Tulip Hotel, Saray Hotel, Merit Hotel and Royal Hotel host
casinos
, which are banned in the south.
The so-called
nightclubs
on the highway to Morphou are prostitution centers. While prostution is illegal, the government turns a blind eye to these "nightclubs" and they remain an attraction for men. These are called "gabareler" in Turkish Cypriot dialect (from "cabaret" in French). Information about these brothels as well as a vibrant discussion form is available online under the same name "gabareler" for curious clients who would like do some research before paying them a visit.
Buy
The Indoor and Outdoor Markets are the markets in North Nicosia are certainly worth a visit...There are many market stalls to browse selling everything from genuine fake designer clothes, bags, belts and shoes to stalls overflowing with fantastic fresh, organic and locally grown fruit and vegetables. You can pick up all the local cheese (Hellim cheese), Turkish delight, olive oil and such like that you want to take home to family and friends and you can negotiate a good clothing bargain or two to boot.
Arasta region in the walled city is home to cheap clothing, souvenirs and many other items with friendly vendors.
Outside the walled city, Dereboyu is the most classy area of the city. With frequent festivals, the area hosts several international clothing brands, restaurants and cafes. You will encounter Turkish Cypriot youths here, and hear foreign music. It is busy until late, and probably the only place in North Nicosia with this quality.

Eat
Traditional Cypriot cuisine is a melting pot of south European, Balkan and Middle Eastern influences. However, in northern Nicosia, the food you will find is by no means limited to that: while not incredibly cosmopolitan, as the cultural capital of Northern Cyprus, northern Nicosia will offer a unique blend of Cypriot, Turkish, Italian, and other cuisines. Food is cheap for European standards, and depending on the exchange rates, you should expect significantly lower deals than the restaurants in the south.
In Northern Nicosia, restaurants are omnipresent: Turkish Cypriots are an exuberant people who love to go out and eat, as a proverb states, "one should eat if they find food". Dining late is quite common outside of the walled city, and you will find that live music is quite common in restaurants.
While food is pretty much available everywhere, there is a large conglomeration of restaurants in the fancy Dereboyu area, where most of the students and the youth hang out and prices with a great range can be observed. Expect very few restaurants in the shopping district of Taşkınköy, but more in the Gönyeli area and Lemar Yolu. Traditional food (excluding kebabs and döner, which are available 24/7 in a few restaurants and everywhere in the city during daytime), while available in the modern city, can be more readily found in the walled city, although these restaurants tend to close earlier. Some examples of traditional food are:
Molhiya is a well developed dish appealing to Turkish Cypriot taste, preparation and presentation, since they were Arabs known for their spicy and tasty food who passed it to Turks.
Yalanci Dolma (vine leaves stuffed with rice, onions, and tomatoes) is a Turkish Cypriot dish. In Turkish Yalanci Dolma means "stuffed liar".
Shish Kebab (marinated lamb, skewered and grilled over charcoal), shis is the everyday word used by Turkish people which refers to "skewer", similarly Doner Kebab means "spinning kebab".
Musakka (layers of mince, potatoes, and aubergines baked in the oven with cheese topping).
Budget
Dönerci - they are everywhere. Apart from perhaps a few, notably the famous Enişte Restaurant in Dereboyu, this Turkish fast-food is readily available (Özgülen Kebap is known for its 24/7 service, while Ozie Kebap is known for its gigantic meals at rather affordable prices). Expect good deals, as low as 3 euros / 10-12 lira at some places.
Sandwich kiosks - much less ubiquitous than döner houses of course, but Ali Usta's place at Sarayönü Square is traditionally considered a decent place.
Burger City - totally the same as Burger King in other countries, only that the "king" in the name has been replaced due to the international embargo. The city's only international fast food chain, you can find it in Dereboyu or in Lemar Yolu (Ortaköy). A decent meal should cost around 6 euros.
Supermarkets are an option, they sell sandwiches or cold traditional foods at cheap prices.
Sandviççi Ali'nin Yeri - at Sarayönü/Atatürk Square, this small and inconspicuous place has a sense of heredity: it has been there for decades.
Simit Dünyası - at Girne Avenue, in the walled city, a sort of bakery where you can get cheap meals. You can see their vendors around the streets of the old city.
Yaprak Tantuni - traditional Turkish food (mainly southern regions of Turkey), found in the Dereboyu area, one meal could be as cheap as 3 euros depending on your appetite.
Etiler Marmaris - known for its wet burgers in the Dereboyu region.
Mid-range
The Dereboyu region is practically full of mid-range restaurants, below is a choice of them, but feel free to explore around
phone: +90 392 444 70 70

address: Mehmet Akif Caddesi No: 74

A popular restaurant in the Dereboyu region, can be a budget restaurant as well with meals as cheap as 6 euros, even though it has costlier alternatives as well. Great range of options available.

Meatballs

phone: +90 392 444 27 47

address: 20, Osmanpasa Cad.

In the Dereboyu region, choice of a range of burgers and sandwiches that may surprise you with their unconventionality.

address: İsmail Beyoğlu Sk 18

Ready for big gulps? A small, rather inconspicuous restaurant around the Ledra Palace checkpoint, serves burgers of 200 g, 350 g or 400 g with a choice of additional ingredients.
Büyük Han / the Great Inn - a classical favourite of tourists in the walled city, this place has a great atmosphere and sometimes live music. Offers a selection of traditional Cypriot and Turkish food.
Eziç - part of a restaurant chain, popular place for date nights or special occasions, with an elite approach and range of meals. May be considered upper mid-range but is by no means expensive in comparison to the south, expect around 10 euros per head, or a bit more if opting for red meat. Near the Taşkınköy shopping region.

Hamur

phone: +90 392 228 00 52

address: No 46 2. Selim Caddesi

Next to the Ledra Palace checkpoint, serves traditional Cypriot food.
Domino's Pizzas - in the Dereboyu region, very close to the walled city, just across from the parliament.
Splurge
Meyhane - the Gönyeli region is full of these, even though you may find them in central Nicosia as well, and they may be named "restaurants" at times. They are basically places with a great range of mezes, a slowly served fix menu of kebabs and an opportunity to drink your drinks of choice, with live music or entertainment at some places - might be synonymous to a tavern! Ask for assistance to pick the ideal one. Expect 20-30 euros per person, and the bill will usually be divided among all that pay.
Sleep
Budget
The going rate for a Pension is 30 TL for a 1 or 2 person room. There are many of them around the Great Inn. They don't have online reservations, but hotels are a minimum of 100TL in the low-season so it's much cheaper to walk into any pension.
Antalya Pansiyonu

phone: +90 392 22 77 396

address: Iplik Pazari No. 17

phone: +90 392 228 46 48

address: Mecidiye Sokak No: 63 LEFKOŞA
Splurge
Golden Tulip HotelA 5-star hotel

Merit HotelA 5-star hotel

Saray Hotel & Caesar CasinoA 3-star hotel

City-Royal Hotel & Casino

Gonyeli Kent Hotel
Connect

Tourism information may or may not be available at the tourism office on Atatürk Square. The telephone code of the city has no difference with the whole Northern Cyprus; (+90) 392.

Go next
Northern Cyprus
is a small country, and even the farthest area,
Karpaz Peninsula
, is just over 1.5 hours by car.
Before 2004, it was impossible to visit
the South
from the North, but controls have been relaxed since then. Now it is possible to visit the South on a day trip, provided you are an EU-Citizen. Citizens of other western nations (e.g. US, Canada, Australia) are allowed to pass by the Greek Cypriots on a case to case basis only. People from countries that need a
visa
for the Republic of Cyprus
cannot
visit the South if they entered the island via the TRNC. The main checkpoint for pedestrians is on Ledra Street.