Nieder-Olm
Nieder-Olm
is a town in
Rhenish Hesse
a few kilometres south of
Mainz
.
Get in
Get around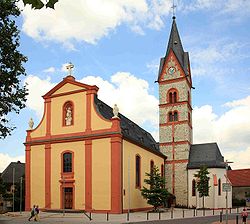 See
Katholische Kirche Sankt Georg

address: Alte Landstraße 30

The Catholic parish church was build in the late 1700s but the quire tower on the east side is a remnant of the old mediaeval church from the 12th century.
Do
Klein-Winternheim is a village whose recorded history dates to April 1100. The region's economy was dominated by wine-growing for a long time. Nowadays many people live in Klein-Winternheim because it's close to the state capital, Mainz. It has a few shops, bakery and ice cream cafe. There are two retail areas, one off Oppenheimer Street near the rail station, the larger to the west of the autobahn exit 4.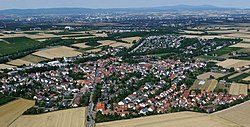 Eat
phone: +49 6136 7665545

address: Bussolengo-Platz 6

Good Italian food, good décor and service.

Olli's Snackbox

phone: +49 6136 766808

address: Am Neuberg 7

Excellent German fast food stand with some Dutch items: Currywürst, large burgers, fries etc. Standing only, very popular with truckers and local office workers.

phone: +49 6136 3627

address: Kleine Wassergasse 3

Good Chinese food

phone: +49 6136 75880

address: Backhausstraße 12

Typical German food. Attached to Hotel Becker.

phone: +49 6136 9231537

address: Ludwig-Eckes-Allee 1

Well modernised conversion of the station building, quality Thai dishes, although not spicy.
Drink
phone: +49 6136 9260965

address: Pariser Str.aße 127

Pleasant place for coffee and cake.
Sleep
phone: +49 6136 75880

address: Backhaus Street 12

phone: +49 6136 814480

address: Pariser Str. 129

Modern hotel with restaurant
Go next