Nieu-Bethesda
Nieu-Bethesda
is a small village in the
Eastern Cape
, most well-known for the Owl House, and its artistic community.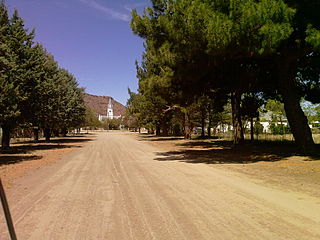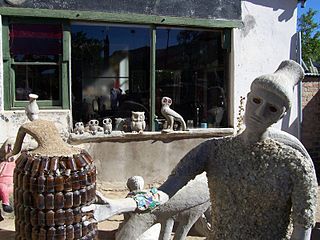 Get in
From
Middelburg
(north) take the marked gravel road (27 km).
From
Graaff-Reinet
(south) take the first turn off to Nieu-Bethesda - 25 km tarred road.
From
Cradock
(east) take the
Graaff-Reinet
road. When at the T junction turn right towards
Middelburg
for 600 m and then left towards Nieu-Bethesda for 27 km.
See
Donkey Cart tours

phone: +27 83 870-0381

Sam will take you on his donkey cart through town and will tell you all you need to know about the village. In Jan 2009, 15-20 minute tours of the village were R30 for an adult, R10 for a child, or you can tour the township as well for double the rate.

phone: +27 49 841-1302

Guided tours are offered to San and Khoi shelters found on Ganora farm, where rock art dating back to 10 000 years ago can be viewed. The farm's private museum also houses a collection of Bushman artifacts and fossils, while guided fossil walks are available if bookings are made in advance.

Kitchining Fossil Exploration Centre

phone: +27 49 849-1733

The Kitching Fossil Exploration Centre showcases the rich fossil deposits found at Nieu-Bethesda and in South Africa in general. The centre was established as part of a collaborative programme between the Bernard Price Institute for Palaeontological Research at the University of the Witwatersrand in Johannesburg, the Albany Museum in Grahamstown and the Department of Science and Technology to set up palaeotourism and provide employment opportunities.

phone: +27 49 841-1733

A community effort to preserve the life work of Helen Martins, a home-bred artist who turned her house into an exhibit, until her suicide in 1976. Using raw materials, like concrete and glass, she and a Bushman artist sculpted the Owl House and its garden.
Do
phone: +27 49 841-1731

Art, music, dance, theatre ... visit the gallery, see a class in progress, take part in a workshop, or catch a performance at the magical open-air theatre.

Creche

phone: +27 49 841-1656

Visit the creche in the township.

The Two-Goats Brewery & Deli

phone: +27 49 841-1602

Enjoy homebrewed ale, fresh goat's cheese and homemade bread under the trees at our micro brewery and deli. You can also meet the goats who provide the cheese, a couple of cows, ducks and a peacock or two. Take a tour in the brewery and cheese factory.
There are several hiking areas around town, and biking and horse-riding opportunities.
Buy
Egbert's Book and Coffee shop.Enjoy coffee at Egbert's while you browse through his book shop. Art also for sale.

Inclusive BooksArt and books.
There are art shops, and local cement and other crafts can be bought from the side of the road.
Eat
Because the village is so small, most eateries require you to book in advance for anything beyond light meals. Most food includes the local karoo lamb, so vegetarian food needs to be specifically requested. Try some sheep's yoghurt or sheep's cheese, a surprisingly mild taste, and probably more palatable for most than goat's dairy.
Auntie Evelyn se eetplek

phone: +27 49 841-1780

Traditional food served with township style. Book in advance, and Antie Evelyn will prepare a set 3-course meal for you, including "moerkoffie", which, translated politely, is very strong coffee! "Vegetarian" options include fish bobotie. It was superb, but let her know in advance if you don't eat fish. Evelyn will come and chat with you, making this an enjoyable way to meet the local community.

Sneeuwitjie Restaurant

phone: +27 49 841-1656

An inspiring initiative serving tasty home cooking to raise funds for the community pre-school.

The Brewery & 2Goat Deli

phone: +27 49 841-1602

Visit the local brewery & deli to enjoy Bethesda beer and goat cheese.

Waenhuis Pub & Grub

phone: +27 49 841-1627

Enjoy meals & drinks in a nice atmosphere and at a fire during winter. Big screen for rugby and other big events.
Sleep
There is ample accommodation in the town, with numerous guest houses available.