Nijmegen
Nijmegen
lays claims to the title of oldest city in
the Netherlands
, and has indeed a long history and still lots of interesting heritage to enjoy today. World-famous among hiking enthusiast, the city annually hosts the
International Four Days Marches Nijmegen
. It's the largest multi-day walking event in the world and comes with a range of festivities. Attracting over 42,000 participants and over a million visitors, including many international ones, the event celebrated the 100th edition in 2016. Nijmegen is the largest city in the province of
Gelderland
and well known for its left-wing politics and its large student population.
Understand
With about 160,000 inhabitants, Nijmegen is a relatively large city in the southeast of the
Netherlands
. It's the main town in the
Arnhem
-Nijmegen metropolitan area (pop. 725,000) and a major stronghold of the Dutch socialist and 'green' parties.
History
The town's written history goes back to the first century BC, when a Roman military settlement was established at this place. The local hill provide good views over the surrounding valleys and the rivers Rhine and Waal that pass by here. A village grew around the Roman stronghold. In the year 98 it gained Roman city rights. After the
Roman Empire
crumbled, the area became part of the Frankish lands. The town grew as its trade activities via the river Waal flourished.
In the 12th century, Henry VI, the later Holy Roman Emperor was born in Nijmegen but it was his son, Holy Roman Emperor Frederick II, who granted city rights in 1230. Some 17 years later, the city and the surrounding lands were used as collateral for a loan from the Guelders, that would never be repaid. As a result, Nijmegen is part of the province of Gelderland still today.
As modern warfare rendered traditional fortifications as good as useless, the city walls were finally demolished. The city had already expanded massively by that time, with far too many souls living packed inside the city walls. And it kept developing further. A university was established in 1927 and in 1936 the reportedly largest bridge in Europe of that time was constructed for car passage over the river.
In 1944, the city centre sustained massive damage when it was bombed by the Americans by mistake, as pilots thought they were attacking the German city of
Kleve
. Shortly after, it was the scene of severe battle during Operation Market Garden. When the city was finally liberated, most of its historic heritage was gone or damaged. Rebuilding efforts and city planning in the following decades included further destruction of some of the remaining structures. The fine collection of monuments today is therefore only a small glimpse of Nijmegen's rich history.
Tourist information
address: Keizer Karelplein 32h

The tourist information office (VVV) works closely together with that of the city of Arnhem and all the smaller destinations around. The Nijmegen office is located in the centre of town and has a wide collection of maps and brochures, can assist in any bookings you want to make and is generally very helpful.
Get in
By plane
Airport Weeze (NRN

)
, , located 45 km southeast of town just across the border with Germany, between the villages of
Weeze
(
Germany
) and
Nieuw-Bergen
(
Netherlands
) (the airport itself is in Germany). Although both Ryanair (the sole airline serving the airport) and the airport itself advertise with Düsseldorf-Weeze, Düsseldorf proper is actually not anywhere near the airport. The city of Düsseldorf is located 60 miles to the southeast of the airport, making Nijmegen the only
major
city close to the airport. Weeze serves about 30 destinations, most of them seasonal, across Europe and Northern Africa.
The only form of public transportation nonstop to Nijmegen is a taxivan you have to reserve in advance and will set you back €16 euro one-way. For timetabling see or call +49 28 37 66 55 55. Quick tip: If your plane lands shortly before the bus is scheduled to leave give them a quick call on the tarmac and they will wait for you.
For the more adventurous traveller, it's possible to get to Nijmegen by city bus to the Weeze railway station, then take a train into
Kleve
, where you can get a bus into Nijmegen. This will take about 75 minutes and costs €5.90-7.60 (one-way).
Another option is to just hitch. There's a major freeway not far from the airport, connecting Düsseldorf with Nijmegen. This can take as little as 30–45 minutes if you're lucky, and 4–6 hours if you're not.
Eindhoven Airport
(
EIN
), . Located 60 kilometres (35 miles) to the southwest of Nijmegen. From the airport you take bus 401 to Eindhoven Central Station and then a train to 's Hertogenbosch (which is the same as Den Bosch). In 's Hertogenbosch, change trains and take the train to Nijmegen. This journey will take you approximately 90 minutes by public transportation.
When driving yourself, take the A326 feeder motorway to the A50, (Zwolle-Eindhoven) which skirts the west of the metropolitan area to the Eindhoven ring road (A58/A2) Airport exit is exit 29 on the A2.
Flughafen Düsseldorf (DUS), . Located 110 kilometres (65 miles) southeast. About one-third the size of Amsterdam-Schiphol, but with plenty of international connections, including to the USA, and gets served by all the major airlines in Europe. Although it doesn't get nearly as many flights as Amsterdam does, it's cheaper, doesn't have nearly as many congestion problems, and generally much less hassle at the airport itself. Major inconvenience here is the lack of a good public transportation link to the Nijmegen area; you either need to take bus 58 to Kleve, and change there for a regional train to Düsseldorf Hbf, where you can take S1 to Flughafen terminal or take the train to Venlo, and change there for Düsseldorf Hbf. Both options take about 2,5–3 hours one way, since it'll be taking commuter trains all the way. When driving there this airport should be the obvious choice though. A73 to Knooppunt Rijkevoort, then follow the signs to the A77 which changes to A57 when it passes the German line. By Kreuz Meerbusch take motorway A44 to exit 31 which is right by the terminal. Expect a 75-minute drive, although it can be done in 50–55 minutes if there's little traffic, because 2/3rds of the route is on the German Autobahn.
Amsterdam-Schiphol airport (AMS), . The largest airport in the Netherlands, and the fifth largest in Europe. 135 km (85 miles) to the northwest. Train takes about an hour and a half, and will cost €17.50,- one way. You no longer have to change trains for Nijmegen, there are direct trains to and from Schiphol twice an hour on weekdays, although if you miss one you can catch a train to Utrecht 15 minutes later and change there. Schiphol airport gets served by most major carriers, and has in excess of 100 flights to the United States alone per day.
When driving; A73 to Knooppunt Ewijk, A50 to Knooppunt Valburg, A15 westbound to Knooppunt Deil, A2 northbound to Knooppunt Holendrecht, A9 westbound to Knooppunt Badhoevedorp, and finally A4 southbound to exit 2, Schiphol airport. Expect this to take anywhere from 75 minutes to over three hours, depending on traffic. the route will take you through both the Utrecht and the Amsterdam metropolitan areas, both infamous for their traffic jams.

By train

The Dutch Railways, (Nederlandse Spoorwegen, NS) serve Nijmegen from all parts of the Netherlands non-stop. There are 4 trains an hour to Utrecht, 2 of which continue to Amsterdam and Den Helder. At Utrecht, you can change on trains to Schiphol Airport or Rotterdam and The Hague. 4 trains per hour depart for Zutphen of which 2 continue to Deventer and Zwolle (with connections to Leeuwarden and Groningen in Zwolle). Furthermore, 2 trains per hour connect to Tilburg-Breda-Roosendaal (with connections in Breda to Rotterdam/The Hague, and in Roosendaal to Antwerp/Brussels).
The neighboring cities of Arnhem and 's-Hertogenbosch are served by commuter trains: 4 trains per hour leave for 's-Hertogenbosch and 6 trains per hour for Arnhem. On this last connection, there are up to 10 trains per hour between Nijmegen and Arnhem during rush hour. The full adult fare on this line is €5.20 one way or €9.40 return, as of July 2010.
Veolia Limburg runs 4 commuter trains an hour to Nijmegen Heyendaal,Molenhoek (nearby Malden), the town of Cuijk and further to Venray. Two of these trains continue all the way to Roermond.

By bus

Nijmegen is connected to the German cities (and railway stations) of Kleve and Emmerich by bus. This bus (58) usually runs once per hour, but it barely goes on Sunday.

By car

The A73 connects Nijmegen with Venlo, the A77/A57 leads to the German Rhineland. The A15 runs between Nijmegen and Rotterdam and the A50 (Eindhoven-Zwolle) skims the western edge of the metropolitan area. There are many feeder highways connecting these freeways to the city.
From Amsterdam one would take the A2 southbound to intersection (knooppunt) Deil, and take the A15 eastbound to Nijmegen from there.
Avoid visiting the city by car during the Four Days Walking March, as roads tend to be blocked and circulation is even worse than normal. Also, you may find almost no available parking anywhere near the center of the city.

By thumb

Nijmegen is probably one of the easiest places in the Netherlands to hitch from. The best spot is just south of the Waal Bridge, on the northbound lane leading to the bridge. You will see a sign saying 'liftershalte' here. This means it's an official hitching spot. Usually it takes anywhere from 1–30 minutes to get a ride.

By bike

Nijmegen has exceptionally good cycle links. The RijnWaalpad is a cycle high way connecting Nijmegen and Arnhem. There are also two Dutch national cycle routes that come through Nijmegen: the LF12 and the LF3-3. In Millingen the LF3-3 connects with the Rhine Cycle Route (EuroVelo 15), giving Nijmegen a good cycle connection with Germany, France and Switzerland.

Get around

The city bus company, Breng, connects every neighbourhood in Nijmegen to the city center. Breng runs buses into the suburbs as well as a few towns outside of the metropolitan area.
Forget about using your car unless you're absolutely sure of your driving skills: the city can get extremely clogged up during rush-hour because 6 main roads end up at an infamous roundabout in the middle of the town. Beside this, parking is relatively expensive. Nijmegen is extremely bike-friendly, and the old downtown area is compact (every place in the downtown area can be reached within 20 minutes from the Central Station by foot) Commuter trains serve the neighbourhoods of Lent, Dukenburg and Heyendaal (the campus area), as well as the nearby town of Wijchen.

See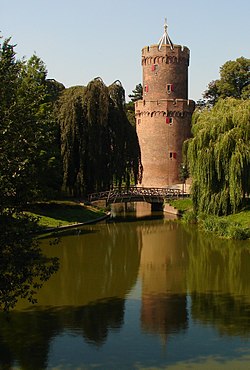 Nijmegen is widely considered to be the oldest city in the Netherlands, celebrating her 2000th birthday in 2005. Unfortunately not a whole lot of very old buildings are left in town: first the Americans carpet bombed it in February 1944, later the Germans shelled it for about 5 months after the liberation in September 1944, and finally there were a lot of very rigorous city planners in the 1950s, 60s and 70s who finished what the Americans and Germans started.
There are still a few noteworthy sights, however. Valkhof hill downtown features a
Carolingian chapel
(eight, ninth century AD) and a small remainder of an imperial castle that was demolished in 1798. From Valkhof hill walk west through the Burchtstraat. Here you will see, on your left hand, the fifteenth century town hall. If you've finished admiring its exterior (there's nothing of note inside) continue walking west to the
Grote Markt
(
Great Market
) on the north side is a sixteenth-century weighing hall that now serves as a restaurant. To the left is the Blauwe Hand, the oldest bar in a town that boasts the most pubs per square feet than any other town in the Netherlands. On the west side you will see the entrance to the
St. Stevenskerk courtyard
. Enter it. On the left is a fifteenth-century Latin school. On the right stands the thirteenth century St. Stevenskerk, the interior of which was destroyed during the Dutch revolution of the sixteenth century. To the north of the church is a series of small seventeenth-century houses that now serve as trinket shops.
Although the city center was heavily bombed during the war, the old neighborhoods around the center were not, and are nice to stroll around. Most interesting are the neighborhoods east and south of the center.
Bottendaal
, a five minute walk from the train station, has a nice vibe, a few good pubs (try
De Kluizenaar
and
Maxim
, listed below) and a park (Thiemen Park).
phone: +31 24 360 88 05

address: Kelfkensbos 59

The fine collection of archaeological finds, modern and some old art is well worth spending a few hours on. Artefacts go back to prehistoric times, but also include Roman and Medieval pieces. In addition to the permanent displays, there are temporary exhibitions focussing on specific artists or crafts.

phone: +31 24 3604710

address: Sint Stevenskerkhof 62, Nijmegen

The construction of the church began around the middle of the 13th century . In 1273 the church was consecrated by Albertus Magnus , the auxiliary bishop of Cologne. Of this Romanesque- Gothic church remain the base of the tower and the westernmost bays of the ship. Large-scale construction took place over the course of the 15th century , including the choir and chapels . In the 16th century, was built in the transept and a small part of the ship . After about 1560 halted construction, which the church remained unfinished . The tower was in the 15th century, a new floor clocks. In the bombing of February 22, 1944 the tower collapsed largely in . In addition, the south- western part of the church was heavily damaged . The church also was badly damaged during the period of Nijmegen front city . After World War II the church was thoroughly restored in 1969 and was re-opened in the presence of HRH Prince Claus. The inventory of the church - namely pulpit monument to Catherine of Bourbon , baptistery-screen , gentlemen banks , candelabra , organs and some frescoes - are from the 16th, 17th and 18th centuries.

Nationaal Fietsmuseum Velorama

phone: +31 24 322 58 51

address: Waalkade 107

The Velorama is a bicycle museum in the Netherlands
Do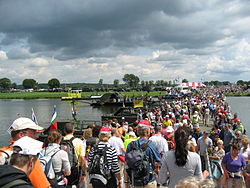 The Nijmeegse Vierdaagse/Zomerfeesten (Four Day Marches and the Summer Festival) in July is the biggest event in the entire Netherlands and according to the organisers the largest walking event in the world. The Four Day Marches draw about 45,000 people alone, walking 30, 40 or 50 km (depending on age and sex) per day for four days in the Nijmegen area. The Summer Festival lasts for 10 days, starting the Friday before the marches start, continuing all the way to the Sunday after the Marches. For these 10 days, the entire downtown area is one big festival with concerts everywhere, even more beer stands and 1.5-1.7 million people partying or trying to get some sleep because they have to walk another 30 miles the next morning.
Participating in the marches costs €50 and you'll need to register well in advance. In 2014, registration will open in February and anyone interested should follow the organisation's website closely around that time. In 2013, registration closed after only a few days because the maximum number of participants was surpassed. Note that you'll need proper preparation. You'll likely have to train in order to ensure you're physically fit for the challenge. Also make sure to check local weather predictions. Dutch summers are usually mild, with average temperatures in July around 20°C and monthly precipitation around 80mm. Dutch weather is however notoriously changeable. In 2006, a heat wave caused widespread dehydration and two people died from hyperthermia. The marches were cancelled after the first day.
Guided city tourReaders of the Guardian selected Nijmegen's city walks, organized by the tourist office, as one of the top 10 guided city tours in the world. The 90 minute tours indeed give a much deeper insight in the city's history and its heritage. Groups can make private reservations at a requested time (€100 for the guide, up to 25 people can join). Individual travellers should check availability with the tourist office. If there's no tour to join, they also have routes which you follow on your own.
Other events
Spring
Carnaval Six weeks before Easter is Carnaval. People dress up in funny costumes and drink. There are parades in every town & village. To the south of Nijmegen Carnaval gets celebrated more, and if you like this kind of thing, go to Maastricht, Den Bosch or Kerkrade instead.
Dag van het Levenslied Every year in May there's a traditional Dutch folk festival in the Valkhofpark. Don't expect Dylan though, The type of music is comparable to the German schlager music as the lyrics are usually about shitty stuff in your life. Again: Lots of drinking!
Roze Meifeesten Also in May, this is the annual Gay and Lesbian festival in downtown.
Summer
Heavy Metal festival Traditionally, there's a one-day Heavy Metal festival in the Goffertpark, 2 miles SW of the Central Station. Usually it's called Fields of Rock, Dynamo Open Air or Ozzfest, but they all get organized by the same company anyway. Usually draws 15-25,000 people depending on city regulations.
Other festivals In some years, a one-day festival, called Rockin' Park, is organized in the Goffertpark. The line-up usually consists of various national and international rock acts. Another festival is the Arrow Rock Festival, featuring several (older) national and international rock acts. Also, the Goffertpark is often used for large once only concerts of prominent bands (often with numerous support acts) such as the Rolling Stones, the Red Hot Chili Peppers, Radiohead and Coldplay.
Fall
Nijmeegse Kermis The oldest street carnival in the Netherlands, dates back to 1272. Usually lasts a week and a half, and there are a lot of attractions, traditional ones like the Ferris Wheel and the Merry go-'round, Bumpercars, but also modern stuff like a Bungy-Jump.
Zevenheuvelenloop An annual 15 km (9 mi) run around Nijmegen and its surrounding hills. (Hence the name Zevenheuvelen - which means "Seven Hills" in Dutch.)
Buy
If you like a day of shopping, you'll surely enjoy this city. It's considered one the top shopping destinations in the country, for its cosy old centre, many cafés, car-free shopping zone and of course the wide range of stores and boutiques. Over 400 shops are available in the city centre alone. The recently modernized
Marikenstraat
and
Moenenstraat
are full of large chain stores, including the usual department and fashion stores.
The smaller streets leading to the car-free centre are called the
Ringstraten
, and are packed with smaller boutiques, giftstores, speciality stores and independent home decoration shops. Good examples include the
Hezelstraat
(said to be the oldest shopping street in the country), the
Van Welderenstraat
and the
Tweede Walstraat
. For design boutiques, try the
Houstraat
.
Stores are usually open between 9.00 and 17.30h, many also until 18.00h. Thursday is so-called shopping evening, with most shops open till 21.00h and as in the rest of the country, most places close at 17.00 on Saturdays. Every first Sunday of the month, the city centre opens between 12.00 ad 17.00h
There are general
markets
in the centre every Monday and Saturday.
De Bierhoeder

phone: +31 24 3601620

address: Bloemerstraat 86

A small but excellent beer specialty shop. The friendly owner knows his produce well, and has a preference for punk music.
Eat
Being a student town (roughly 21,000 students in a population of 160,000) there are plenty of relatively
cheap restaurants
("eetcafés") to be found. Look for them in the
Van Welderenstraat and on Kelfkensbos
. Fast Food is also widely available in the city center, with two McDonald's, a Burger King and numerous snackbars often offering traditional Dutch snacks, but also Turkish dishes.
De Ontmoeting Tapas & Catering

address: Graafseweg 27

On the corner of the Graafseweg and the Stijn Buijsstraat (at walking distance from the central station and the city center). De Ontmoeting is one of the most popular restaurants in Nijmegen, famous for the enthusiastic staff and delicious Aioli.

phone: +31 24 3222 757

address: Bloemerstraat 90

An absolute classic. Not only is it a mainstay of Nijmegen's sizeable alternative scene (don't be surprised to have your meal served by a pierced waitress with dreadlocks or a waiter with a mohawk) it's also famous throughout the Netherlands for its Kaasgehakt - a hearty dish made with cheese and breadcrumbs that's supposed to be a vegetarian version of "gehakt" (minced meat).

Dromaai

address: Plein 1944

A dirt cheap student eatery.

address: Franseplaats 1

Great dining experience in a fantastic historical building in centre. Guests are served 6-8 rounds of small appetizers and bites for dinner. De Hemel serves a great variety of food and on top of that an intimate setting. Also opened for lunch and highly popular High Tea.
Restaurant Ankara, on the corner of the Burghardt van den Berghstraat and the Graafseweg in the Bottendaal district, is at walking distance from the central station and the city center. It offers a wide range of affordable Turkish meals, as well as a wide range of pizzas. You are always offered a free soup, which is quite spicy and tasty.
De Kluizenaar, of the Burghardt van den Berghstraat, offers tapas from various cooking styles, and more traditional meals, such as salads and spare ribs. In the summer, it is a nice place for a drink, just like cafe Maxim across the street.
Van Buren, of the Molenstraat, offers traditional French cuisine for a good price, and also has plenty of lunch options. Furthermore, in the summer, you can enjoy your food outside.
Funkenstein, on the Lange Hezelstraat. Small, cosy, and good value for money.
Meneer Dijkstra on the corner Hobbemastraat/Daalseweg, opposite the Albert Heijn supermarket, is a typical student restaurant.
Eten & Drinken on the Groesbeeksedwarsweg (corner Heyendaalseweg/Groesbeekseweg) is very cheap (almost all main courses are under € 8), but portion size and quality is good enough. Lunch is also possible.

phone: +31 24 324 48 33

address: Arsenaalpoort 1-4

Very good Belgium/Netherlands food, such as beef stew, liver and onions and of course fries. Odd concept of shared side salad. Little slow service.

phone: +31 24 3605208

address: Van Broeckhuysenstraat 46, 6511 PK

Political café and organic, vegan eatery. Soup café on Wednesday nights, vegan three-course meals on Saturdays and Sundays from 18:30 (reservation obligatory, by phone or dropping by).

phone: +31 24 7370012

address: Koolemans Beijnenstraat 80, 6521 EW

Many vegetarian and vegan options, pies, and alcoholic and non-alcoholic cocktails.
If you love pizza, you'll find yourself well-catered for. Many pizza-restaurants are specialized in take-away/delivery, but there are several nice options if you'd like to sit down. Generally, all pizzas in the restaurants below are under € 10. Most of the establishments also offer other Italian dishes.
Donatello's, Eerste Walstraat, on the edge of the city center. It's a bit hidden, don't let the alley-like street scare you away.
Pinoccio, beginning of the Molenstraat, one minute walking from Donatello's
Mr. Jacks, Kelfkensbos. Do not expect top quality service, but the food is cheap and tastes reasonable. You might have to wait long whilst you have already ordered - there is often a table available, but not enough capacity to serve it. Instead of a pizza, you may also choose to order a Greek dish here.

phone: +31 623366490

Restaurant at an old factory now used by several local companies. The restaurant has a unique view over the river the Waal.
Splurge
If your budget allows it, there's also plenty of opportunity for luxury dining.
Hoo Wah
on Plein 1944 serves excellent Asian food (not to be confused with the stuff sold in normal Dutch "Chinese" restaurants).
Het Savarijn
in the Hertogstraat offers classy French food and is known for its extensive wine list while Heertjes in the Ridderstraat is the place locals go to when they want to indulge themselves.
Het Lemke
in the Lange Hezelstraat offers high quality French cuisine, though it might be a little bit too experimental for some. More up market dining can be found along the Waal river. From the casino, walk west past the terraces and into the old downtown. For up market dining near the university,
Chalet Brakkenstein
is well worth a visit. Finally, for more classic French style cuisine in a historic ambiance, try either
Belvedere
(the tower) or
Het Poortwachtershuis
(the small building west of the museum) west of the Valkhof park. (Please note that for the moment, the
Belvedere
is only open to groups with a reservation, due to a lack of cooking staff.). If you're into that sort of thing, in 2008 the Michelin guide has awarded a Bib Gourmand to Het Savarijn, Liberty's (on Kelfkensbos) and Vesters (Groesbeeksedwarsweg 307a).
Drink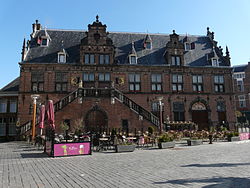 Downtown Nijmegen and the neighborhoods just next to it are positively swarming with pubs and cafés. Some notable ones:
In De Blaauwe Hand, Grote Markt. The oldest pub in Nijmegen. Very, very picturesque.

address: Houtstraat 4, 6511 JN

Houtstraat. Old fashioned and classy with service of a high quality. They have a lot (>100) of different beers available.

address: Franseplaats 1

Local beers in an amazing setting: picturesque monument "De Commanderie van St. Jan".
Universiteitscafe Piecken, Studentencomplex Hoogeveldt, university campus. This bar, owned by students, is the homeplace for all the local and the international students in Nijmegen. Visit the website to see if there is a party or other activities.
St. Anneke, St. Annastraat. Of interest primarily if you're staying in Hotel Catharina as it's right across the street but even then you'd be wise to walk a little (50 meters) further to Frowijn on the corner of the Pontanusstraat as that has a much nicer terrace.
Mets, Grotestraat. The premier gay / lesbian hangout.
Kollektief kafee de Bijstand. Van Welderenstraat. This is where the local activist scene congregates. Wednesday night is cheap vodka night. All profit goes to charity.
Odessa (Sint Anthoniusplaats) is a reasonable and fairly cheap restaurant, but on Mondays it functions as a Jazz bar that attracts lots of foreign students.
Chaps (Gay Leather Bar) is a reasonable and fairly priced pub with interesting socks-only and jack-off parties. Only for men that are interested in the same sex.
Bascafe, Fuik, Tweekeerbellen, Drie gezusters, Heidi's Ski Hut
Fuik, Irish Pub
Music venues
Sleep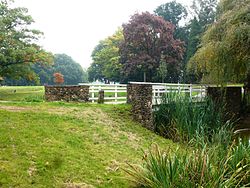 Nijmegen has many hotels, although budget options are remarkably limited. The opposite is true for high-end lodging. Finding a place to sleep during the summer festival and the four day's marches is absolutely impossible. Everything will be booked full months in advance. To give you an idea; during these days the population of Nijmegen swells from 160,000 to 1,800,000. It goes to the extent of people needing accommodation because they're walking the marches being taken into private people's homes and sleeping in sporting arena's. However, during the festival many trains and buses run around the clock, giving the opportunity to find a place to stay outside the city.
Budget
phone: +31 6 10662058

address: St. Anthoniusplaats 14

This newly opened hostel is one of the best options if you're travelling on a budget. Fun and friendly staff, clean rooms and near the city centre's bars and restaurants.
Mid-range
Mercure Hotel Nijmegen Centrum

phone: +31 24 2019000

address: Stationsplein 29

A well-appointed hotel in the Mercure chain. Some of the bathrooms are a bit outdated but the rooms are nicely restyled and the staff is very helpful. Breakfast comes at an extra cost of €17, but due to this hotel's central location, it's quite possible to take breakfast elsewhere in the city for less. There's parking available for €7.50 per day. Facilities include a sauna and fitness area.

phone: +31 24 3603000

address: Grote Markt 38-40

Right on the main square, this place offers some nice views of the liveliness below and has a pleasant grand café/restaurant downstairs. Some of the rooms are a bit outdated and they're fairly simple, but adequate and clean. Parking is in the nearby public garage for €10.75 per day.

phone: +31 24 3232344

address: Graadt van Roggenstraat 101

This place gets somewhat mixed reviews as some of its designs are a bit outdated and service sometimes lack detail. However, it's a large hotel in a central place with a swimming pool, and at times offers good deals. Parking is tricky, as there are not enough places available when there are many guests. Cheaper rooms come without breakfast, which can be taken for an extra fee of €15.50.
Splurge
phone: +31 6 20720288

address: Gerard Noodtstraat 143

This small, 3 star boutique hotel is a travellers' favourite for its well decorated, clean and modern rooms, friendly staff and excellent breakfast. There's free wifi and the location on the edge of the town centre works well to explore the city. Keep in mind that this is an old building and there's no elevator, while all the rooms are on the first or second floor. It's best to make reservations well in advance, as there are only 5 rooms.

phone: +31 24 3650990

address: Oranjesingel 2c,

A high end and award winning boutique hotel with ten well-appointed and nicely decorated suites only. Facilities in the rooms include air-conditioning, a rain shower, Apple iMac on the desk and a Nespresso machine. Breakfast is served until noon and there's an excellent in-house restaurant for lunch and dinner. Prices vary per suite, as they vary in size.
Go next
Cycling
The surrounding area of Nijmegen is unique in that it has to offer almost every landscape type available in the Netherlands. Rent a bicycle and start exploring the river landscape of the Ooijpolder to the northeast, the forested hills around
Groesbeek
to the east, the drier heath landscape to the south or, if you insist, the typically Dutch flat lowlands to the west.
There are many ready-made cycle routes you can try:
Places of interest
If you're interested in cities, pay a visit to
Hertogenbosch
or
Zutphen
(both between 30 min / 45 min by train) which have city centres far better preserved than that of Nijmegen itself.
During World War Two, the 82nd Airborne Division landed near Groesbeek as part of Operation Market Garden. Groesbeek has one of Canada's war cemeteries, called
Groesbeek Canadian War Cemetery
. The Cemetery is a short drive out of Groesbeek.
The Africa Museum, in Berg en Dal, has an indoors and outdoors section and specializes in African cultures. On most summer days, they organize all kinds of workshops.
Museumpark Orientalis, in the Heilig Landstichting, provides a contemporary view of the three religions that have played a decisive role in establishing the identity of present day Europe: Judaism, Christianity and Islam.