Nishitokyo
Nishitokyo
(
Nishitōkyō-shi
) is a city in
Tokyo prefecture
.
Understand
Nishitokyo is located in western Tokyo, about 30 minutes by train from Shinjuku. Like much of western Tokyo, it's largely residential, with businesses concentrated around the train stations. The area has a lot of small parks and trees, in contrast with central Tokyo, which has skyscrapers and a lot more concrete.

Get in
The only train line running through the city is the Seibu Shinjuku Line (), which ends in Shinjuku to the east and Hon-Kawagoe to the west.

See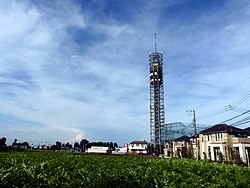 Skytower West TokyoThis tall tower is perhaps the only iconic landmark in Nishitokyo. At night, it lights in varying colors.
Do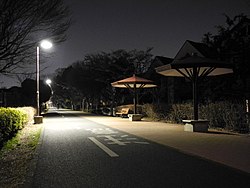 DyDo Drinco Ice Arena

address: Higashi Fushimi 3-1-25

This ice rink has ice hockey and public skating. On weekends, there are very limited public skating hours, so calling in advance to check on open skating times is recommended.

Tamako JitenshadoThis twelve kilometer bike and pedestrian path begins along the southern edge of Nishitokyo, runs fairly straight NW, and terminates far to the NW at two reservoirs. It makes for a nice walk or leisurely bike ride of any desirable length.
Buy
The best shopping in Nishitokyo is found around the north side of Tanashi Station, where there are several department stores and many other shops.
address: Tanashicho 2-1-1

This shop has best selection of foreign food in Nishitokyo.
Eat
Restaurants are found in concentration near Tanashi Station.
Abiskar

address: Prince Plaza 109, Minamimachi 4-4-2

A small Nepalese-Indian restaurant, great for budget travelers.

address: Tanashicho 3-11-9

This restaurant specializes in okonomiyaki and has a well-stocked bar.

Mae Sre Ruan

address: Minamimachi 5-5-1

This Thai restaurant serves tasty Thai fare.

RAJ

address: Minamicho 4-1-15

An Indian restaurant that makes for a good late evening stop.

address: Tanashi-cho 3-3-8

This is a western-style steak house serving hamburgers, steaks, and a number of desserts.

Ichikawa

phone: +81 42-468-7559

address: Minamicho 4-4-2

A small and tasty and clean tempura restaurant.

Yamatoken

phone: +81 42-461-3323

address: Mukodaicho 1-20-11

A mom-and-pop Japanese diner. Serving size is large.
Drink
Karaoke Mokomoko

address: Tanashicho 3-9-14

This is a clean karaoke parlor with an extensive drink list. The song selection is quite extensive.

phone: +81 42-446-7000

address: Sky Building 5F, Tanashicho 2-2-3

A bar with standard drinks, lots of whiskey, and tasty appetizers.

Half Yard

phone: +81 50-5789-1742

address: Tanashi Daini Marble Building B1, Tanashi-cho 4-28-14

This beer hall has many international beers in the bottle and a few on tap. The food is well-prepared pub fare. The place is clean, and there are several big-screen TVs showing sports.
Sleep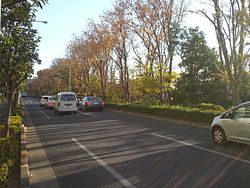 If you have no specific reason to stay in this area,
Shinjuku
is thirty minutes by train, centrally located, and has a large selection hotels.
phone: +81 42-461-4438

address: Tanashicho 4-6-8

This is a small and clean ryokan. The staff are friendly and helpful, but they only speak Japanese. Reservations by telephone, also only in Japanese.
Connect
address: 5-6-13 Minamicho

City Hall has essential for long-term residents of the city. Important information is available in Japanese and (on paper) in English.
Go next