Niterói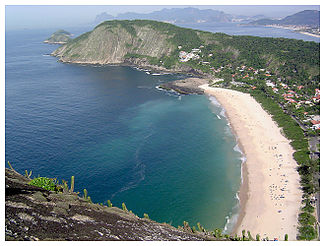 Niterói
(476,000 inhabitants) is a city in the state of
Rio de Janeiro
,
Brazil
. Nicknamed "The Smile City" (Cidade Sorriso), it is just a short ferry ride from downtown Rio across Guanabara Bay. In fact you may encounter plenty of reasons to smile about: many beautiful beaches (within the bay or facing the open ocean), historic forts and a world-class museum. Besides, Niteroi is scheduled to become in a near future the place with the largest number of works from renowned architect Oscar Niemeyer - second only to the entire Brazilian capital,
Brasilia
.
Get in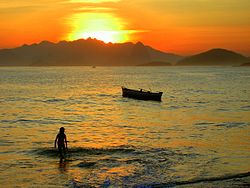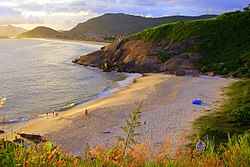 By boat
The ferry between
Rio
and Niteroi is a pleasant and affordable trip. It takes between 10 and 20 minutes to cross the bay, depending on the fare for a slow or fast boat from adjoining terminals at
Praça XV
.
By car or bus
From
Rio
you just drive through the longest bridge in Brazil, the Ponte Rio-Niterói; just like the name says it connects both cities. It´s 13 km (8 mi) in length and there is a toll of R$ 3,20 (you pay 1 way only, coming from Rio).
If you are coming from
Búzios
or
Cabo Frio
you take the highway called "Via-lagos".
Get around

On Saturdays and Sundays the "Linha Turismo" (Tourism Line) operates on schedule leaving the Arariboia Square (@ the Fery Station) at 10AM, 12:30PM and 2:30PM and making 7 different stops along Niteroi's main attractions from downtown to the Fortress (R$10 for a round-trip all day hop in and out ticket).
To get to the Oceanic Area you'd better have a car, otherwise take a municipal bus at the Bus Terminal next to the Ferry Station. Look for the specific Beach name sign on the bus(30~40~50 minutes ride from downtown to Piratininga/Camboinhas ~ Itacoatiara ~ Itaipu respectively ).

See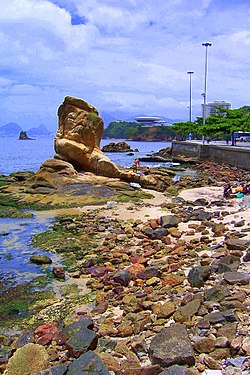 Niterói Contemporary Art Museum

phone: +55 21 2620-2400

address: Mirante da Boa Viagem

Built in 1996, this intriguing contemporary art museum looks like a flying saucer jutting out over the sea and is worth the visit to Niteroi alone.

phone: +55 21 8449-7393

Opened in 2007 this is the new addition to the Caminho Niemyer (Niemeyer Way), a series of Architectural buildings along Niteroi's Bayside.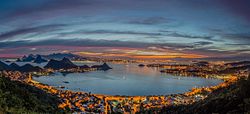 Parque da CidadeAn amazing view of Rio de Janeiro (city). Watching the sunset from there is a 'must do' if you are in Rio. It is on the top of a mountain in the 'Charitas' neighborhood. You can go there by car / taxi.

Fortaleza de Santa Cruz (1555)- located at the Guanabara Bay entrance, this is a big fortress with a close-up view of the Sugar Loaf Mountain from an entirely different angle.(R$4 guided tours) Thu~Sun 10AM-5PM -> To get here on the weekdays you will need a car/taxi, but on Sat and Sun you can take a tourist open bus (called Jardineira)in downtown Niteroi at the Ferry Station. It runs all the way along the bayshore and stops at the town's main attractions and neighborhoods.
Barao do Rio Branco(1555), Imbui(1863/1901) and São Luis(1715/1775) Forts - enter at Rio Branco Fort in Jurujuba for a guided tours of this and the other 2 forts and ruins overlooking the bay with a splendid view of the surrounding mountains of Niteroi and Rio. (R$6 each Fort) Al. Mal. Pessoa Leal, 265 - Sat. & Sun 9:30AM-4PM
Beaches
Niterói has a wonderful unique view of Rio and one of the state's most beautiful beaches,
Itacoatiara
, which can be reached by bus number 38. It is considered a surfer's paradise (actually it takes part of a world circuit of Surfer's Competition). Expect a young and beautiful crowd, have a snack at one of the healthy cabana-bars along the shore or yet, take trails to climb the mountains and watch a uniquely crazy sport: "Rock Surfing".
Not further from here you can find the "lost in time"
Itaipu Beach
, a fishermen's colony surrounded by sand dunes, a lagoon, a canal, a white church on a hill and some colonial era ruins. It is probably one of the best sunsets you can see over Rio's shoreline (Copacabana, Ipanema & Barra on the horizon). Also worthwhile is a visit to next door
Camboinhas Beach
(it's easier and faster to hire a fisherman's boat to cross the canal than driving around the lagoon to get there). Other beaches include: Piratininga, Prainha (cliff diving from the Whale Rock) and Sossego, all on the Atlantic side. Boa Viagem, Inga, Icarai, São Francisco, Charitas, Jurujuba (fishermen village, not proper for bathing)and Adao & Eva, all along the Bay starting at downtown and ending at the Fortress.
Do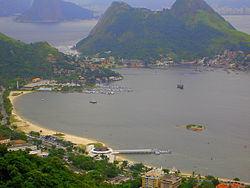 Shopping - Icaraí is where the upper middle class lives. So there are plenty of nice shops for all tastes. "Moreira Cesar" (1st street parallel to the beach)is the most popular shopping street in town. Here you will find exclusive and expensive boutiques such as Animale, Agilita, H.Stern, Salinas (beachware) all the way down to little t-shirt shops. There are plenty of exotic juice bars and little restaurantes here as well. Don't leave town without tasting Acai, a Brazilian fruit from the Amazonas which is served very cold and has a very special flavor. .
Meanwhile in Downtown (Centro), the
Plaza Shopping
is the largest shopping mall in town and is conveniently located across from the ferry Station (Estacao das barcas). Here you will find basically all the stores that you would find in any mall in nearby Rio de Janeiro.
Niteroi Shopping
is also a mall in downtown (Rua da Conceicao). Even though this is not at the same level of Plaza Shopping is a landmark, very easy to find, since it is the tallest round building you can see.
Icaraí is to Niteroi what Copacabana is to Rio's residents: the most traditional neighborhood with excellent shopping opportunities and great restaurants. Great for jogging and biking with a view of Rio's main landmarks across the Guanabara Bay (one of the 7 natural wonders of the world): the Sugar Loaf and the Corcovado. How can you ask for more?
Nightlife - "São Francisco" the adjacent neighborhood is filled with lively bars, pubs and restaurants especially on the ocean front. There are not many discos in Niterói as people prefer to go to Rio to dance.
Hang-glide from Parque da Cidade (see above)
Windsurf in Charitas and São Francisco
Cliff Diving in Prainha dew Piratininga
Guanabara Bay Tour - 2 hour Bay cruise on a ferry where a camera is a must. Showcases Rio and Niteroi's postcards (narration is in Portuguese only, but the view is worth a thousand words) . Sundays only, departs @ 9:30AM from the Main Ferry Station in downtown. R$12
Buy
Souvenirs from Niteroi, like T-shirts and magnets, can be bought at the Tourist Information Office. There's a cabin located right at the ferry station exit. Here you can get brochures, maps and tourist tram schedule also. If you go to São Francisco neighborhood the main office is located to your left right after the tunnel and before you reach the beach.

Eat
do Museu - Museum of Contemporary Art underground restaurant. Varied Cuisine and a fantastic view.
Porcao Probably the most traditional restaurant in town. Non-stop parade of meats brought on skewers to your table. Huge salad bar with all kinds of delicacies. This is the typical Brazilian Bar-b-que It is a meat-lovers paradise - Av. Quintino Bocaiuva, 151 @ the beginning of São Francisco Beach.
Olimpo - Charita's Ferry Station @ the second floor. Just look for a modern building (blue neon lights at night) right over the beach sand adjoining the pier. Food is varied; the building is a work of art by Oscar Niemeyer and the view is dramatic and romantic.
Familia Paludo Gourmet - Not to be missed! The food is displayed in a very elegant buffet, exceptional quality and amazing variety and purchased by kilo.
Gendai - A very popular Japanese restaurant with an incredible selection of Japanese dishes. You can either order à la carte or choose to pay a fixed price and eat as much as you want including anything on the menu. If you like Japonese food you will love this restaurant.
Tratoria Torna - One of the most traditional Italian restaurant with excellent food and a typical Italian environment.
Torninha - Consider one of the best Italian gastronomies in town. Once a month offers a thematic dinner with special wine tasting.
Gruta de Santo Antonio - A family owned Portuguese restaurant located in downtown Niteroi. Cozy atmosphere, excellent service and delicious food. One of the best wine cellars in the city.
Caneco gelado do Mario - Very rustic fish restaurant in the center of the city. Recommended by all of the travel guides as a restaurant not to be missed. Open only for lunch.

A Mineira

address: Av. Quintino Bocaiuva, 353

Open flame regional cuisine of Minas State in a cozy chalet style restaurant. Very affordable and lots of food for the money.
All restaurants are reasonable priced compared to American and European standards, all are highly recommended.
Drink

Try the Brazilian Caipirinha made with Kiwi, Passion Fruit or some exotic tropical fruit at Familia Paludo, a restaurant (painted Red) located in São Francisco Beach. Have a Coconut Water at any beach-stand and enjoy a cold Brazilian Beer or Chopp (Draft) anywhere with a view. Relax and Smile! This is Niteroi !

Sleep
Although this is a small city there are several options when thinking about staying overnight.
phone: +55 21 3604-1681

address: Rua General Osório, 62 - São Domingos

A/C, mini-fridge, microwave, kitchenette, TV, phone.

phone: +55 21 2714-5242

address: Rua Mariz e Barros, 109 - Icaraí

A/C, mini-fridge, cable TV, phone. Breakfast and parking. Free wi-fi.

phone: +55 21 2610-5221

address: Av. Prefeito Silvio Picanço, 839 - Charitas

phone: +55 21 3602-3753, +55 21 8882-5013

address: Rua Mariz e Barros, 97 - Icaraí

A/C, fridge, phone, cable TV, balcony. Free wi-fi, breakfast, and parking.

Solar do Amanhecer

Tio Sam HotelA new structure with comfortable rooms, swimming pools, gym, tennis courts... Steps to one of the most wonderful oceanic beaches of the city.

phone: +55 21 2612-2121

address: Rua Ary Parreiras, 12 - Icaraí
Go next