Nizamabad
Nizamabad
is a city in
Telangana
state of
India
. The city falls in the category of a developing town with many famous monuments which are in ruins. This district is famous for the Tramaric crop and the large number of monkeys within its limits.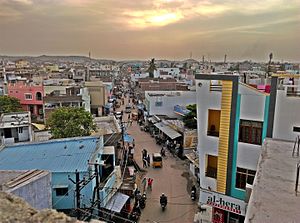 Get around
See
Temple of Rama is situated at Dichpally - a town in this district.
The famous Temple of Lord Shiva (Kanteshwar around 1400BC.) is situated in Nizamabad.
Few Miles away from Basar ( Saraswathi Devi Temple).
Eat
Plenty of Dhabas (Road side open Restaurants) at Dichpally.
Breakfast
Idly at road side tiffin center beneath old Eenadu office, the peanut chutney there is amazing.
Dosa at tiffin center in gandhi ganj.
Vada at tiffin center in vinayak Nagar.
Manasa Restaurant, HYD Road. For a decent tiffin or breakfast with normal price. Nice tiffin and nice people.
Poori at Manasa Restaurant,Nizamabd on Hyderabad road is too good.
Pani Puri. bandi opp collector ground, in gandhi ganj
Pav Bhaji, gopal pav bhaji, one more in Gandhi Gunj
Jeelebi : Kumar Galli
Dokhla: Devi Road Bandi
Hind Bakery - awesome hot hot puffs
Fast Food
Aroma, Hyd Road.
NAVRANG fast food center in Gandhichowk.
Dinner
Pay More KAPILA Any chicken you order tastes the same, but out of all Chicken tikka and chicken 65 are good.
Biryani Mahfil and paradise.
Ankapur Desi chicken..( awesome. One would never forget the spice in lifetime. ). The tastiest Chicken Curry.Ankapur Chicken was recognized as International Trademark by popular Telugu News Channel TV9. This brand cuisine is also available in Hyderabad, UAE and USA.
Drink
Go to Maklur and drink kallu and neera.
Beers and whiskey. Better to drink at home; don't go out.
OK kind of place is Kapila and King Club
Sleep
Go next