Nizwa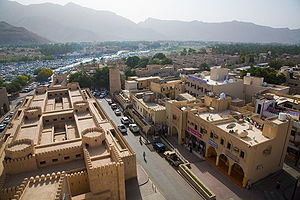 Nizwa
is a historic city in
Northern Oman
.
Understand
Nizwa was the capital of
Oman
in the 6th and 7th century, and is known as one of the first cities in Oman to convert to Islam. For centuries it was a seat of conservative Islamic scholarship, and was considered to be so hostile to outsiders that even in the mid-20th century the explorer Wilfred Thesiger was forced to abandon his attempts to visit the city.
In the 1950s Nizwa revolted against the Sultan of Muscat; this was eventually suppressed with the aid of British forces. Since the 1970s it has quickly modernized, yet managed to retain its traditional character in its newer architecture. Today the city is known for date cultivation, the most highly prized varieties of which are khalas and khumaizi.
Nizwa is located at the base of the
Hajar Mountains
, and can be a good base for day trips into the mountains or nearby wadis. It is now after Muscat the second city most visited by foreigners.
Get in
Nizwa is about 1 hr 30 min southwest of Muscat on Highway 15. For travelers driving from Al Ain in the UAE, it is just over a 3 hr drive on Highway 21.
Oman National Transport Company

phone: +968 25 431979, +968 99 449680

address: Saqar Karsha (Agent)

Runs buses to and from Muscat twice daily, with a travel time of 2 hrs 20 min.
See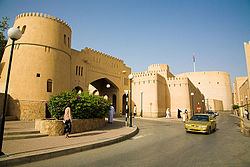 Nizwa Fort

phone: +968 26 5411844

Built in 1668 by Imam Sultan bin Saif al Ya'rubi, this imposing fort is one of Oman's most-visited national monuments. In the early 1950s the large round tower of the fort was bombed by the British Royal Air Force during the revolt. It houses a museum, and from the tower there are good views of Nizwa and the surrounding date plantations.

Falaj Daris

address: Hwy 21

One of five aflaj, gravity-fed irrigation systems which are collectively listed as a UNESCO World Heritage site, this falaj has been in operation since at least 500 CE, although it is believed a similar irrigation system has been used in the area since 2500 BCE. A pleasant park has been created around one section of the falaj, and makes an ideal spot for a picnic.
Do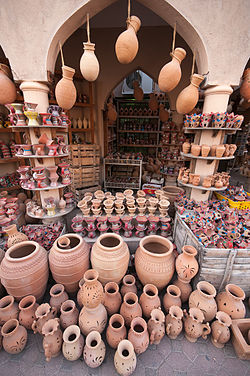 Nizwa SouqThis lively souq has separate sections for vegetables, meat, and pottery. The eastern sections are the most atmospheric as they have not yet been renovated.

Goat SouqBe there at around 07:30 and you can enjoy the last hour of the goat market. Business is brisk with a lot of shouting, haggling and handslaps. Truly Arabian and wonderful.
Buy

Nizwa is famous for its handcrafted silver khanjars (daggers), and noted for silver craftsmanship in general. You can find good pieces at the souq, but you'll have to bargain hard. The souq is also a good source for antiques, including Maria Theresa thalers, once used as Oman's official currency.
Vanilla, saffron, spices, dried lemons and nuts of all types are also good purchases, and can be found in the older section of the souq. This is also a good place to pick up some of Nizwa's prized dates.

Eat
Bahjat Al Sham

phone: +968 25 412409

address: Hwy 21

Good, inexpensive international menu. Unlicensed.

phone: +968 25 415900

Has a full hot and cold deli. This is a good place to stock up if you're heading into the mountains for a couple of days.
Sleep
phone: +968 25 412402

address: Highway 21

Has Wi-Fi, pool, gym, and restaurant.

phone: +968 24 410500

Has onsite restaurant, two pools, and gym. This hotel is popular with Omanis and tourists.

phone: +968 25 431910

address: Highway 21

Safari Hotel

phone: +968 25 432150

3 star hotel with fitness centre, massage, billiards, Turkish/steam bath, outdoor swimming pool and restaurant.
Go next
Bahla
with its magnificent fortress is just a half-hour drive to the west. Also close by is the old village of Al Hamra, and scenic Misfat which is the starting point for several good hiking trails. Jebel Shams with Wadi Ghul, and the mountain villages of the Saiq Plateau, can all be visited as day trips from Nizwa.