Nogliki
Nogliki
(
Russian
: Но́глики
NOH-glee-kee
) is a city in on the island of
Sakhalin
in
Russian Far East
, roughly 2/3 up the island. The name is a canny reference to the booming oil business here as it's derived from the indigenous Nivkh word
noghl-vo
which means 'smelling-village'. Around 10,000 people live here, and as the intro might suggest - it's one of the main population centers for the Nivkh tribe.
Get in
Nogliki Airport (Аэропорт Ноглики,ICAO:UHSN) for years a rough airstrip, now has a 1750-m paved runway and a fancy terminal building - made possible by a multi-million dollar investment from the oil industry. SAT Airlines flies chartered flights with a Dash-8 to Yuzno-Sakhalinsk and occasionally Khabarovsk for the oil companies, call +7 4242 739-000 to secure a spot on the 5-10 seats usually left for regular passengers.
Nogliki Railway station (Ноглики вокзал) 613 kilometers north of Yuzhno-Sakhalinsk has a daily nighttrain arriving from Yuzhno at 10:45, returning south again at 18:20, the journey takes just over 13 hours, and stops in Tymovsk on the way for bus connections to Alexandrovsk-Sakhalinsky. A 6-wheeled bus connects with the train to take you 250 km up a grueling dirt road to Okha in the far north of the island.
Get around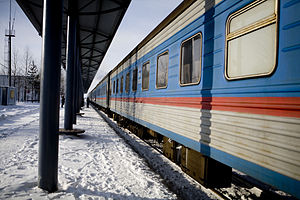 Both the airport and the station are located a few kilometers southwest of the main city in a suburb like area.
Marshrutkys
shuttle passengers there regularly for a few rubles.
See and do
Sakhalin Historical & Ethnographic Museum

phone: +7 424340 7-1245

address: ul. Fizkulturnaja 2

Housed in a rather shabby looking wooden building, the museum has around 3,000 items up for display in a space of over 200 m². It also serves as a cultural center for the Nivkh tribe, and besides displays of traditional tools, you'll also find Nivkhs studying their own culture and history.

Ostrovok Zoo

phone: +7 42444 9-7650

address: ul. Dachnaya 1A

Opened in 2005, this rather bizarre and depressing zoo spreads over about a hectare and has 67 species up for display.
Buy
There is a central market near the local school on Shkolny Lane, where you buy fresh produce and other stuff, and the central part of Sovetskaya street are lined with shops, mainly groceries and hardware stores

Eat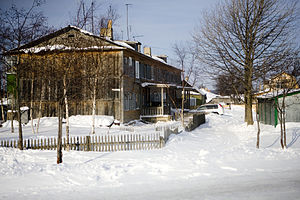 There are a number of cafes which are equally ready to serve a bite as a drink. If that is all a bit too adventurous for you, you are probably in the wrong place. But fortunately there is a restaurant inside 'Hotel Nogliki' with an English menu.
Briz Cafe

phone: +7 842444 96295

address: ul. 15. Maja 18

Darchinov Pub

phone: +7 42444 9-1678

address: ul. Deputatskaja 3

Duet Bar

phone: +7 42444 96 028

address: ul. Sovetskaya 6

Olympic Bar

phone: +7 842444 9-6537

address: ul. Sovetskaya 31
Drink
Zavod

phone: +7 89140 87-4404

address: Ul. Sovetskaya, 44A

Previously Fabrika, both names for a factory, it's the only thing in town that remotely resembles a club. Cover charge , girls free on Thursdays
Sleep
Hotel Nogliki

phone: +7 42444 9-6351

address: ul. Sovetskaya 6 (ул.Советская, 6)

3-star hotel with 70 beds, popular with oil workers.

Severyanka

phone: +7 42444 9-7650

address: ul. Sternberga 7A (ул. Штернберга, 7 А)

55-bed hotel with shared bathrooms down the hall, rusty showers and filthy toilet.

Kuban Guesthouse

phone: +7 42444 98-2-21

address: ul. Dachnaya 1 A (Дачная, 1 А)

This hotel right by the zoo has 34 beds, and features some bizarre decoration - naked mannequins, a tripped-out aquarium and tapestry that makes you feel like on speed - search for "Kouban Hôtel Nogliki" on Youtube for a taste.
Connect
Post Office

phone: +7 42444 9-1623

address: Ul. Sovetskaya, 19
Go next
Goryachie Kluchi (Горячие Ключи) is a volcanic mountain mountain area, and a village, on a tough dirt road north of town, it has a hot spring to boot.