Nome (Alaska)
Nome
is a city in the
Arctic
region of
Alaska
. It is a town of about 4,000 people, about half of whom are Alaska natives. It is the transportation and commerce center for Northwest Alaska. It also is the western terminus of the
Iditarod Trail
.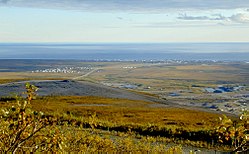 Understand
Climate
The Nome region has a tundra climate, with cool summers and very cold winters.
History
Nome's main claim to fame is a gold rush that happened at the turn to the twentieth century and caused the population to grow to over 20,000. There is still gold and mining but the gold literally lying openly on the beaches is a thing of the past.
Visitor information
phone: +1 907 443-6555

address: 301 Front St.
Get in
By plane
Nome AirportThis is the only way to get into Nome other than the Iditarod Trail, as the rest of the roads in Nome do not connect to other parts of Alaska. Nome Airport offers flights to Anchorage and many smaller places in Alaska.
By ship
Cruise Ship:
There are a couple cruise ships a year that stop in Nome as part of a trip through the Northwest Passage.
See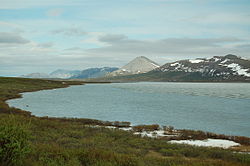 Do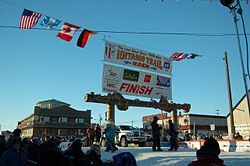 Bering Sea Ice Golf Classic3rd Saturday in March. Golf on the frozen Bering Sea.

Alaska Wilderness Expeditions

phone: +1 907 443-7231

River kayak touring. 7, 10, and 14-day trips for groups of 4-6 people, from flat water floats up to class III rivers.

Steve's Guide Service

phone: +1-907-443-2880 (day), +1-907-443-7929 (evenings)

Full or half day fishing trips for 1-5 persons, short evening trips, all tackle and bait provided.

Jade's Arctic Grizzlies

phone: +1 907 443-2083

The area has one of the largest bear populations in Alaska, depending on the season, hunt for moose, ptarmigan or caribou. Fishing trips and bird hunting also arranged. Photographer excursions are welcome.

Nome Discovery Tours

phone: +1 907 443-2814

Pan for gold, historical or tundra tours, Eskimo village visits or customize.
Buy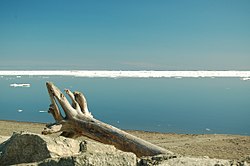 Maruskiyas of Nome

phone: +1 907-443-2955
Eat
Milano's Pizzeria

phone: +1 907 443-2924

address: 2824 Front St

Subway

phone: +1 907 443-8100

address: 135 East Front St

Polar Café

phone: +1 907-443-2661

address: 205 West Front St
Drink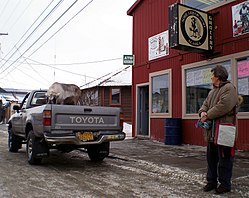 Breakers Bar

phone: +1 907-443-2531

address: 243 West Front St

Gold Dust Saloon

phone: +1 907-443-2323

address: 315 West Front St
Sleep
phone: +1 907-443-3838

address: 302 E. Front St

68 units.

Nome Nugget Inn

phone: +1 907-443-2323

address: 315 West Front St

42 rooms.

Trails End - Apartments by the Day

phone: +1 907-443-3600

address: 308 West First St

2 units.

Bed For A Night

phone: +1 907-443-3841

address: 707 E 4th Ave

Bering Sea Bed & Breakfast

phone: +1 907 443-2936

address: 1103 E. 5th Ave

Mai's Guest House

phone: +1 907 443-4113

Sweet Dreams B and B

phone: +1 907 443-2919
Go next
Council — No-one has lived in Council since 1990. However, the population can pass 100 in summer, when inhabitants of Nome drive to Council to stay in one of the abandoned homes as a vacation home. It is accessible via the Nome-Council Highway, a 72-mile dirt road, in a pretty wooded valley.
Solomon — a tiny town that is next on the Iditarod Trail
Teller — at 200, a sizable town for this part of Alaska, near the Bering Strait and accessible via the beautiful 70-mile dirt Nome-Teller Highway