Nonthaburi
Nonthaburi
(นนทบุรี) is
Thailand
's second largest city, being a part of the Bangkok Metropolitan Region.
Understand

Due to its close proximity to Bangkok the city is a suburb of the national capital, and is generally considered a part of Greater Bangkok - had it not been for the signposts you'd hardly notice where one ends and the other begins. Officially, however, Nonthaburi is one of the five neighbouring provinces of Bangkok. Covering an area of 622 square kilometres and separated into 2 parts by the Chao Phraya River, Nonthaburi is administratively divided into six districts: Mueang Nonthaburi, Pak Kret, Bang Kruai, Bang Yai, Bang Bua Thong and Sai Noi.

History

The history of Nonthaburi dates back 400 years to the era of Ayutthaya Kingdom. Firstly known as Tambon Ban Talad Khwan, and noted for its fertile soil and plentiful water where a lot of orchards nest alongside the Chao Phraya River, this tambon was promoted to Nonthaburi City in 1549 under the reign of King Mahajakrapat.
In 1665, King Narai the Great had noticed that the river has changed its own route and it might consequently have a negative effect to the city's security. Hence, the fortifications have been established at the delta of Om River where the city pillar has been built as the symbol of the new foundation of Nonthaburi.
At the time of Rattanakosin Kingdom, King Mongkut has had Nonthaburi moved to the entrance of Bang Sue Canal in Tambon Ban Talad Khwan where later in the reign of King Chulalongkorn, the city hall has been founded and lasted till 1928. In the same year, King Pokklao has initiated the idea of building a new city hall at Rajawitthayalai Ban Bang Khwan, Tambon Bang Tanowsri on Pracharaj I road alongside the Chao Phraya River which nowadays belongs to the Ministry of Interior Affairs. The building, constructed in a European style, has become a relict of Thailand while the current city hall is situated on Rattanathibet Road.

Get in
By car
#Phibun Songkhram Road, between the foot of Rama VI Bridge and Sri Phon Sawan Theatre intersection
#Pracharat I Road, between the city hall and Sri Phon Sawan Theatre intersection
#Tiwanon Road, between Wat Lanna Bun triangle and Patumthani Pier
#Ngamwongwan Road, between Khae Lai intersection and Kasetsart University intersection
#Nonthaburi I Road, between the city hall and Tiwanon Road
#Bang Kruai-Sai Noi Road, between Rama VI Bridge and Amphoe Sai Noi
#Krungthep-Nonthaburi Road, between Tao Pun triangle and Wat Lanna Bun triangle
#Rattanathibet Road, between Khae Lai intersection and Bang Bua Thong-Taling Chan Road
By bus
Several public buses operated by the Bangkok Mass Transit Authority (BMTA) connect Bangkok with Nonthaburi.
#Number 69 (Victory Monument – Sanambin Nam)
#Number 104 (Victory Monument – Pak Kret)
#Number 166 (Victory Monument – Pak Kret)
#Number 63 (Victory Monument-Nonthaburi)
#Number 30 (Southern Bus Terminal -Nonthaburi)
#Number 203 (Sanam Luang - Nonthaburi)
#Number 33 (Sanam Luang - Pathum Thani)
#Number 64 (Sanam Luang - Pra Athit - Samsen - Nonthaburi Road)
#Number 114 (Lam Luk Ka intersection - Nonthaburi)
#Number 117 (Huai Khwang-Wat Khema)
#Number 128 (Krungthon Bridge - Bang Yai)
#Number 32 (Wat Pho - Pak Kret)
#Number 51 (Wat Pho - Pak Kret)
#Number 65 (Tha Tian – Wat Pak Nam)
#Number 97 (Monks' Hospital - Nonthaburi)
#Number 522 (Rangsit - Victory Monument)
By MRT
The
Purple Line
of the Bangkok
MRTconnects Bangkok to Nonthaburi since 2016. The line starts at Tao Poon station connects to the MRT Blue Line. Going west the first station in Nonthaburi is Yeak Tiwanon. Soon the line starts following Rattanathibet Rd across the Chao Phraya River until it turns north to follow Hwy 9 before terminating at Khlong Bang Phai north of Kasemrad Hospital Rattanathibet.
Fares range from 16 to 42 baht and are based on number of stations. The ticket vending machines accept coins and banknotes. Pre-paid cards of up to 1,000 baht are also available. For single ride fares, a round plastic token is used. It is electronic: simply wave it by the scanner to enter; deposit it in a slot by the exit gate leave. Children and elderly are issued tickets at half price but you must go to the ticketing counter.
The stations have escalators going all the way up and down in addition to lifts so the metro is easier than the Skytrain for people with reduced mobility or heavy baggage. Note that bag-checks take place at the entrance of each station (usually nothing more than a quick peek inside). The stations have public toilets and some staff can provide assistance in English.
By boat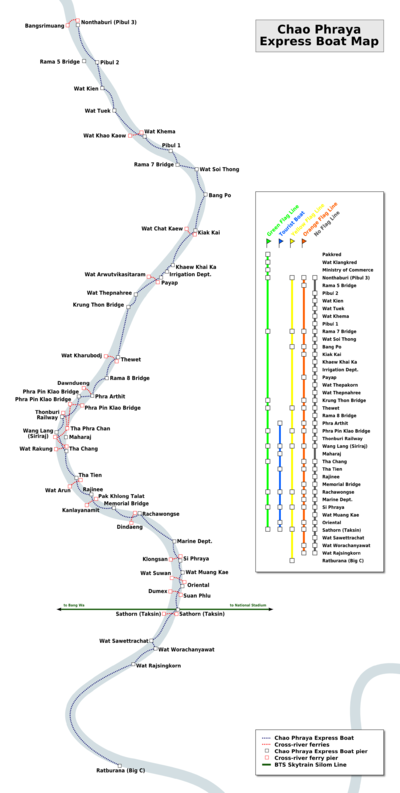 The
Chao Phraya Express Boatis a water bus service that can take you from Bangkok to Nonthaburi.
All the boats going upriver except the blue flag
Tourist Boat
stop at least at Nonthaburi pier near the
Nonthaburi Market
, but all piers north of
Rama 7 Bridge
are in Nonthaburi. Enter the express boat at a pier and pay the conductor for the trip. She will approach you bearing a long metal ticket dispenser. At some bigger piers you can buy the ticket before boarding. When the metal cylinder lady approaches you, just show her the ticket you bought on the pier.
The different boat lines are indicated by the colours of the flags at the top of the boat. These flags can be confusing; don't think the yellow king's flag corresponds to the yellow line flag! The
orange flag line
(14 baht, every day 06:00-19:00) is your best bet, as it is fairly quick with the ride from Sathorn pier to Nonthaburi pier taking about 1 hour. The yellow flag line (19 or 29 baht, M-F 06:15-08:10 and M-F 15:30-18:05) is faster with fewer stops before Nonthaburi. The green flag line (10, 12, 19 or 31 baht, M-F 06:10-08:10 and M-F 16:05-18:05) terminates at Pakkred which is the closest pier to
Ko Kret
.
The signposting of the piers is quite clear, with numbered piers and English route maps.
Sathorn (Taksin)
pier has been dubbed "Central" station, as it offers an quick interchange to Saphan Taksin BTS Station. The orange flag boats run every 5–20 minutes from sunrise to sunset (roughly from 06:00-19:00), so ignore any river taxi touts who try to convince you otherwise.
Get around
By foot
If you're planning to cover large distances on foot - don't. As is the rule in Bangkok, the multilane roads are made for drivers rather than pedestrians.

See
The island of
Ko Kret
(
Koh Kred
), floating in the Chao Phraya river, is easily accessed from Bangkok.
phone: +66 2 5045050

Mueang Thong Thani, 99 Popular Road, Pak Kret, Nonthaburi. or
Wat Khemaphirataram Rajaworawiharn
Situated on the east bank of the Chao Phraya River, in Tambon Suan Yai, Wat Khema was built in the early Ayutthaya period. The monastery underwent restoration during the reigns of Rama II and Mongkut and for a while enjoyed royal patronage. Its large pagoda houses the Buddha's relics as well as a centuries-old icon of the Buddha which dates to the period of the Wat Khema's founding. Other attractions within the monastic compound include the Tamnak Daeng Building and Phra Thinang Monthian Hall.
How to get there:
The monastery can be easily reached by bus. Taking the minibus Rewadi-Wat Pak Nam is also a good option. For those travelling by Chao Phraya express boat get off at Tha Nam Non Pier and from there hop on bus number 203.
Do
Bang Kwang Central PrisonA large prison that houses prisoners including death row inmates. The scene of some autobiographical books like The Damage Done by Warren Fellows. Visiting a specific inmate is possible with some advance preparation using charity websites. Most foreign prisoners are happy to get a break from the daily monotony and a chance to hear news from their own country in their own language even from a stranger.

Royal Irrigation Department Golf Course

phone: +66 2 583 6060-9 ext 269, +66 2 9623686

address: Tivanon Rd, Pak Kred, Nonthaburi

9 holes
Buy
CentralPlaza WestgateA huge modern shopping mall nesting at the junction of Kanchanapichek Rd (Hwy 9) and Rattanathibet Rd near a MRT Purple Line station.

Wat Takhian Market

address: Bang Khu Wiang, Bang Kruai District, Nonthaburi

A local floating market with somewhat bizarre decorations ranging from giant tiger heads to mecha statues.
Eat
Hong SengThis restaurant serves some of the best freshwater cooked Thai food. It's been given a 5-star rating on the taste of the food, 4-stars on service, and 3-stars on pricing. When getting there, try ordering koong pla (shrimp in sour and spicy sauce), Kung To Kratiem Prik Thai (shrimp fried in garlic and pepper), Tom Yum Pla Kang (Kang fish in hot and spicy soup). A reservation is required as the restaurant gets filled up quickly, especially during weekends.
Sleep
There are few accommodation options in Nonthaburi. This is largely due to the lack of foreign tourists, as well as its proximity to Bangkok.
Mid-range
phone: +66 2 9690160

address: 3/19 Moo 1 Nonthaburi 1 Rd, Muang Nonthaburi

An obscure establishment more familiar to locals as a venue to host wedding banquets. Rooms from 1,200 baht with breakfast.
Splurge
Riverine Place Riverside Service Apartments

phone: +66 2 6606300

address: 9/280 Moo 7 Phibulsongkhram Rd

As its name suggests, this 27-story luxury service apartment is located on the west bank of the Chao Phraya River and has a wide range of facilities.