Nora
Nora
is a town in
Västmanland
. Nora is one of three towns in Sweden considered to have especially well preserved wooden buildings town centres (the other towns being
Eksjö
and
Hjo
).
Understand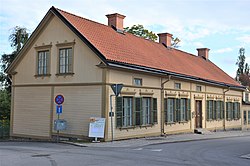 Nora is a small city with a population of about 12 000 inhabitants. It has an old city centre, packed with tiny boutiques, making Nora a proper merchant city! The town centre still has a large number of wooden houses from the 18th and 19th century. Nora's prosperity was built on mining between the 17th and 20th centuries, as part of the wider mining region
Bergslagen
. Much of its mining heritage is preserved today, including Pershyttan, one of the best preserved mining villages in Sweden. In order to benefit the health of the miners, Nora became a centre for apple farming, a tradition kept alive today by the local organization Pomologiskt Centrum. By the nearby lake Norasjön, there is a large island with an adventure park for children. Nora is a destinations for Sweden's oldest normal-track veteran railway. During summer several sections are operated with steam locomotives and old diesel engines. Nora is also renowned for its ice cream parlor NoraGlass, which sells freshly made ice cream and attracts throngs of ice cream lovers during summer.
Most Swedes know Nora from Anna Maria Roos 1909 poem and children's song
Tre små gummor
about three little old ladies, who travel to the market fair in Nora to eat candy and ride carousels.
Get in
Regular bus traffic from
Örebro
, 25 km to the south from Nora.
The closest railway station which is trafficked by passenger trains is located in Lindesberg, some north east from Nora. It is trafficked by the national train operator
SJ
and the regional train operator
Tåg i Bergslagen
. Lindesberg is connected by bus with Nora.
Nora is about 30 minutes from Örebro by car, via
Route 50
. Örebro is located on the European highway E18, connecting
Stockholm
with
Oslo
.
See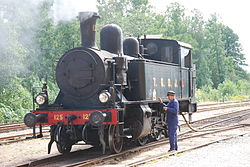 phone: +46 587-811 20

address: Kungsgatan 4

A grand building preserved and furnished like a typical Swedish bourgeois home during the turn of the century. The house was constructed in 1793 and the Göthlin family moved here in 1885. Since 1962 it is operated as a museum.
PershyttanIs a small mining town which can be reached by the museum railway train. The area has been used for mining from the 12th century until 1967. It is home to one of Sweden's best preserved charcoal-fuelled blast furnaces, made in 1856, and a huge water wheel. One of the sites best preserved mines is Lockgruvan, which is also open for guided tours. The site also features a restaurant.
phone: +46 70-2592800

A museum showing how a Bergslagen miner could have lived during the end of the 19th century. The farm was pruchased by a local history society in 1910, and listed as a historical heritage in 1970. There is also a cafe on the site.
Do
Nora Bergslags Veteran-Jernväg

phone: +46 587-103 04

address: Järnvägsgatan 1

a museum railway based at the Nora railway station at the lakeside. The museum railway has a network of 25 kilometer of normal gauge track. This is one of the most genuine old railway environments in Sweden. The station building at Järle is the oldest one in the country. The strech between Nora and Ervalla was the first normal gauge railway in Sweden, opened for traffic March 5, 1856. Several old steam powered locomotives are maintained by volunteers. In summer, a small diesel train takes tourists to Pershyttan, a few kilometers away (see above).
Buy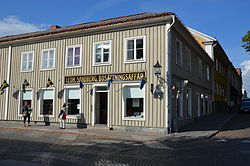 Leon. Sandbergs Bosättningsaffär

phone: +46 587-31 10 71

address: Storgatan 12

a store for household goods, which has been run by members of the Sandberg family since 1859 in its premises at the main square.
Eat
Local delicacies are cooked and served in some of the heritage railway restaurant wagons.
phone: +46 587-103 40

address: Prästgatan 42

A fine dining restaurant listed in the national restaurant guide White guide. The building was constructed in 1893, and used as a beer brewery until the 1950s, so it is only natural that Bryggerikrogen offer plenty of locally made beers!

phone: +46 587-500 70

address: Hults säteri

The hotel restaurant of Hult säteri, located in an old manor. They offer traditional Nordic cuisine made from local products.

phone: +46 738 440 700

address: Storgatan 11

Nora is home to one of Sweden's oldest ice cream manufacturers, NoraGlass. They have served fresh ice cream in waffles since 1923. Aside from their ice cream shop on Storgatan 11, they also operate Kafé Strandstugan (Storgatan 1) and the waffle parlor Selma G (Borgmästargatan 1). They are both set on the shores of lake Norasjön, and of course, they both offer delicious NoraGlass ice cream!

phone: +46 587-130 30

address: Kungsgatan 6

A pizzeria.
Sleep
Cope
phone: +46 0587-829 00

phone: +46 587-843 45

address: Kvarnvägen 11

phone: +46 587-125 80

address: Prästgatan 8 B
Go next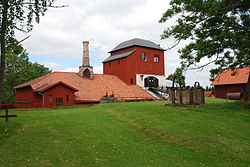 In nearby Pershyttan (4 km) the old iron works are located. The guided tour takes you inside the buildings to see how pig iron was made from iron ore. Nearby, an old mine has been reopened to visitors, though only with a guide. The mine isn't very deep underground and you can always still see daylight.
Gyttorp, a small former industrial village, with an interesting residential architecture, drafted in the 1940s by the British-Swedish architect Raöph Erskine (1914-2005).
Kopparberg (50 km to the north) is a village with some beautiful old buildings to visit. The tourist office is located in one of these, the Tingshus (Courthouse) from 1642. Next door is an old archive building from the mining company Berslagsarkivet, 1876-1877), and a very old grain seed warehouse from the 17th century. Around the corner, there is a small country life museum where the local pensioners give you a personal tour of the premises: a photographer's studio, a shoemaker, a postal office and a goldsmiths workshop. In a shed outside a small reconstruction has been made of a mine. The town also has a beautiful old church (1635) with separate bell tower and stables.
Grythyttan with its famous restaurant academy.
Örebro, the only proper city in the vicinity is known for its castle.