Norilsk
Norilsk
(
Russian
: Нори́льск
nah-REEL'SK
) is a large city in
Taymyria
. Because of its strategic importance for
nickel ore processing
, Norilsk is a
closed city
and special permission (except for Russian and Belarussian nationals) is needed for travel, which will likely be denied unless you have a really good reason. Norilsk is the second largest city above the Arctic Circle;
Murmansk
is the largest. With a permanent population of 175,000, it is also the northernmost city with a population over 100,000 inhabitants.
The barren landscape void of vegetation, abundance of Soviet era concrete tenements, and high pollution often earn Norilsk the questionable reputation of most depressing city on the planet.
Understand
Norilsk was founded because of this message the existence of a rich deposit of non-ferrous metals including nickel, cobalt, copper, platinum, and palladium. Founded before World War II, Norilsk and its mines and industrial plants, as well as a railway connecting the city with the port of Dudinka, were built with a large-scale use of convict labor from gulag prisoners.
Norilsk Nickel is the largest producer of non-ferrous metals in the world, accounting for 38% of worldwide production of palladium and 22% of worldwide production of nickel, a key ingredient in stainless steel. Some of the locally mined ore is smelted into metals at the local refinery. More ore, after some enrichment, is shipped by rail to
Dudinka
; from there it is sent by icebreaker-led ships to
Murmansk
, and eventually to the copper and nicker refinery at Monchegorsk, whose own ore has long been exhausted.
As a result of the smelters, Norilsk is the most polluted city in Russia and is one of the most polluted cities in the world, usually covered in chemical smog. The life expectancy in Norilsk is one of the lowest in Russia and its cancer rates are one of the highest.
The yearly average temperature is in Norilsk is −9.8°C and temperatures usually hover around −40°C in the winter.
Most inhabitants of the city were transplants as a result of the high salaries and abundant opportunities offered by the mining industry.
Climate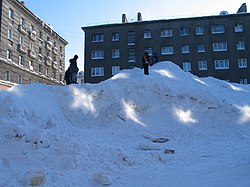 Unsurprisingly for a city above the Arctic Circle, temperatures in Norilsk are sub zero from October to May, with drops below -40° common at night during winter months. Travellers should be preparing for the coldest weather conditions when travelling to Norisk or face severe risk of hypothermia. The high temperature differences between day and night, make it easy to fall ill. Temperatures may vary as much as 70° between winter and summer!
Norilsk's climate is relatively dry, but any snow falling in winter is likely to be around until spring, usually resulting in huge amounts accumulating over the winter months. Streets are usually cleared, but suitable footwear is nonetheless essential.
Get in
By plane
By bus
Buses operate from the nearby port-city of
Dudinka
. From Dudinka, boats offer service to/from
Krasnoyarsk
in the summer months, but the journey takes 3½ days northbound and 5½ days southbound.
Get around

Buses are plentiful and go everywhere as a result of the harsh winter climate. Taxis are reasonably priced.

See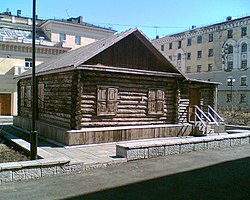 Norilsk has several grand buildings in the center; however, it mostly consists of drab
commieblocks
. Surrounding the city are vast areas of decaying industrial sites which are both depressing and fascinating at the same time.
phone: +7 3919 -460646

address: Leninsky Prospect, 14

Local history museum, main piece being the first cottage built in what were to be Norilsk by an geological expedition in 1921.

Nurdi Kamal Mosque

phone: +7 391 942-11-49

address: ул. 50 лет Октября, 2а

The world's northernmost mosque, opened in 2000, and catering to the local Tatar community.
Do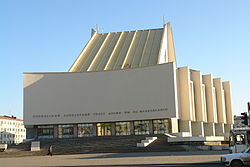 address: Leninskiy prospekt, 34

The world's northernmost theatre, opened in 1941 and manned by prisoners during its first years. The theatre hosts a wide array of cultural events.
Buy
phone: +7 3919 254-461

address: pl. Metallurgov 10

The first indoor shopping mall in Norilsk, opened in December 2013 to much celebration in town. About 30 shops and a few cafés.
Eat
Norilsk Restaurant @ Hotel Norilsk

phone: +7 391 922-99-99

address: Kirova 36

European kitchen, mainly grilled dishes.

Zharki

phone: +7 391 942-81-29

address: Bogdana Khmel'nitskogo 11

Literally, "frying", this cafe has great soups.
Drink
address: ul. Ordzhonikidze, 3

The major venue in town for the young dance crowd craving dubstep and other assortment of great - and loud - dance music. Mexanika-nights, usually held once a month is where you'll find the biggest crowd.

Sport-Bar Overtime

phone: +7 3919 43-55-75

address: ul. Vokzalnaya, 2A

Popular sport bar, located outside city centre.
Sleep
phone: +7 3919 252800

address: Leninsky prospect 2

Opened in 2002 after a redevelopment of the building that was built in 1945. Includes a restaurant, a bar, and a gym. Wi-Fi.
Connect
Since the completion of a fiber data link along the Yenisei River towards
Krasnoyarsk
in 2017, high speed internet is widely available throughout the city.
Stay safe
The major dangers in the city are the pollution and the cold.

Go next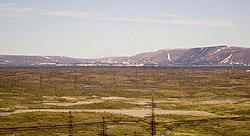 Putorana Plateau is a huge high-lying basalt plateau 150 km to the south-east of Norilsk. It has beautiful scenery and includes the Talnikovy Waterfall, the largest waterfall in Asia. However, there are no inhabitants of the area and it is extremely remote.