Norrtälje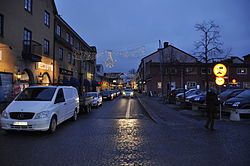 Norrtälje
, archaic spelling
Norrtelje
, is a town in northern
Stockholm County
, and the gateway to the northern parts of
Stockholm archipelago
. The ports of
Kapellskär
and
Grisslehamn
have international ferry connections.
Norrtälje municipality,
Norrtälje kommun
, makes up much of the traditional
Roslagen
region, together with
Öregrund
and
Tierp
in
Uppsala County
. The municipality has 57,000 permanent residents, and tens of thousands of summer guests.
This article describes the mainland. See
Stockholm archipelago
for the islands.
Settlements
Norrtälje itself is a town of 17,000 citizens.
Rimbo is a suburban inland town.
Hallstavik is an industrial town, dominated by a paper mill.
Get in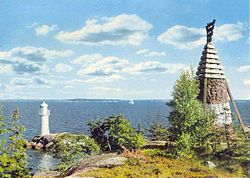 By plane
By train
By car
The E18 from Stockholm or by ferry (see below) from Finland or Estonia.
By bus
Norrtälje is served by
SL
, the public transportation carrier of
Stockholm County
. See that article for details about ticketing.
From
Stockholm
by bus 676 from Tekniska Högskolan (served by the Stockholm Metro) to Norrtälje's bus station. Line 631 and 631X connect the centre and the port of Kapellskär, line 637 the centre and Grisslehamn. Note that tickets for the buses must be bought before boarding. Travel time from Stockholm centre to Kapellskär (including transfer) is 1h 45min.
By boat
Finland and Estonia are one time zone ahead of Sweden.
The Port of Kapellskär is served by frequent
ferry
services.
Naantali and Paldiski lines do not accept pedestrians; an accompanying vehicle is necessary to board these lines.
Also the port in Grisslehamn has a connection to Åland.
Eckerö, Åland, by Eckerölinjen, two to three times daily (€5 for an adult, €10 for a car), two hours from Eckerö to Grisslehamn in Norrtälje. You can get from Mariehamn to Eckerö by the bus line 1 (€4.40).
See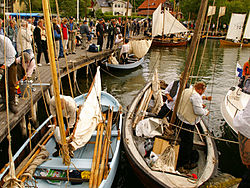 Pythagoras Industrial MuseumNorrtälje

, a factory town
, an island in the Baltic Sea with Grisslehamn

address: Albert Engströms Väg 11, Grisslehamn

A museum for Swedish satirist and illustrator Albert Engström.
Do
Norrtälje has deep forests and secluded beaches within comfortable distance from Stockholm and Uppsala, and is a great destination for
outdoor life
, such as
fishing
and
hiking
.
Cruise the , from near Grisslehamn to near Kapellskär.
Eat
Budget
Mid-range
Parken Bar
address: Societetsparken
An outdoor restaurant open from June to August.
Splurge
Sleep
Budget
Mid-range
Splurge
Rånäs slottAn estate with history back to the 14 century. The palace was built in the 1840s.
Go next