North-Eastern India
North-Eastern India
consists of seven small states that are surrounded by
Bhutan
,
China
and
Myanmar
, and almost cut off from the rest of
India
by
Bangladesh
.
States
Cities
Here are nine of the most notable cities.
— capital of Tripura

— capital and largest city in Mizoram


— capital of Assam with more than two thousand years of history

Other destinations
(Ntangki National Park), Nagaland — a wildlife park located in the Perren district. Home to several endangered species as well as other mammals and birds. Among them are the golden langur, white-breasted kingfisher, python and sloth bear


, Assam — one of the oldest national parks in India with the largest habitat for Indian single-horned rhinos


, Arunachal Pradesh — (rain forest area) third largest national park in India with a large diversity of mammals and birds and for being home to the northernmost rain forest in the world


, Assam — a national park located in the foothills of the Eastern Himalayas


(Nokrek Biosphere Reserve), Meghalaya — a small population of red pandas reside in this park. It is habitat for the Asian elephant, species of cats and primates. It is also an important area for birds. Rongbang Dare Water Fall and Nokrek Peak are located in this park with tall, thick forest

Understand
With the possible exception of the state of
Assam
, which is famous worldwide for its
tea
, this is the least-known region of India. Most of these states are known for their hill tribes, who have often been proudly independent-minded and some of whom have fought long insurgencies against the central government, though peace has broken out in some of the affected states and political violence has died down. (See
#Stay safe
.)
This area of the country is different demographically from the rest of India, which is partly shown by the nature of its religious diversity. While the great majority of Tripurans are Hindus and most Assamese are Hindus or Muslims, Mizoram, Meghalaya and Nagaland are overwhelmingly Christian, Manipur is almost equally divided between Hindus and Christians, and Arunachal Pradesh has a very slight plurality of Christians, with Hindus in nearly equal numbers and the indigenous Donyi-Polo religion, which combines shamanism and Animism, close behind. There is also a Buddhist presence, especially in places like
Tawang
that are close to the borders of
Tibet
and
Bhutan
. Tibetan cultural influence extends far beyond the population of practicing Buddhists, for example by influencing local foods in some parts of the North East. Given the unique cultural and social landscape, it helps a visitor to avoid patronizing questions about race, citizenry, or even food. Remember, these are seven diverse states with highly diverse legacies.
Geographically, again, Assam is a state apart, as it is centred around the valley of the broad Brahmaputra, whereas all the other states in this region are at least partly hilly, with some featuring tall snow-capped mountains.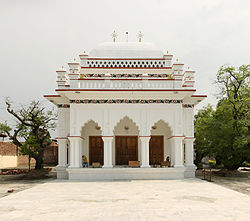 Talk
This region of India has about 220 languages from multiple language families. English and Hindi are not universally understood, and below is a list of the official languages of each state which will help your trip planning to some extent:
Get in
The main entry point for any north-eastern state is
Assam
, if one is entering from within
India
.
There are entry points from
Bangladesh
(Dawki in
Meghalaya
) and
Myanmar
(Moreh in
Manipur
), but entry is restricted to local traders and government officials.
Foreigners need a
Protected Area Permit
(PAP) to enter the state of
Arunachal Pradesh
. Permits are issued by the Ministry of Home Affairs, but the easiest approach is to get your Indian visa with a special endorsement allowing travel in the state. Individual travelers are generally granted 15 days (extendable once), but are allowed access only into major towns and sights; travels off the beaten track generally require a registered tour group of four or more people.
Foreigners are required to register with the Foreigners Registration Office (FRO) within 24 hours of arriving in
Manipur
, Mizoram or Nagaland.
Indian citizens need an
Inner Line Permit
(ILP) to enter Arunachal Pradesh,
Mizoram
or
Nagaland
.
By plane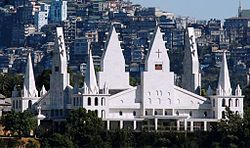 Assam
(Gopinath Bordoloi Airport,
Guwahati
),
Manipur
(
Imphal
Airport),
Nagaland
(
Dimapur
Airport) and
Tripura
(
Agartala
Airport) have direct flights from other parts of India (
Delhi
and/or
Kolkata
). There are two other major airports serving upper regions of Assam and neighbouring areas -
Dibrugarh
Airport and
Silchar
Airport. There are helicopter services to
Naharlagun
(14 km from
Itanagar
,
Arunachal Pradesh
) and
Aizawl
(
Mizoram
).
By train
There are good train connections from most of the major Indian cities to Assam. Incidentally, Assam is the only state in region with rail lines (barring Nagaland with one station-Dimapur). The important stations in Assam are Guwahati, Bongaigaon, Lumding,
Tinsukia
and Dibrugarh.
The fastest train from Delhi is Guwahati-bound Rajdhani Express (28 hrs) followed by North-East Express (32 hrs) and Dibrugarh-bound Brahmaputra Mail (42 hrs), while the fastest train from Kolkata (Howrah) is Saraighat Express. The train track in Assam is not electrified and is a single lane, so delays are the norm.
There are narrow gauge trains to Arunachal Pradesh and
Barak Valley
area but they are very much prone to cancellation and delays and are not at all comfortable.
Improving the rail connections in North East India is a priority for the Central Government of India, and rail extensions are under construction.
By road
All the states have good network of roads in urban areas. There are regular long journey buses from West Bengal to many north-eastern states.
Self-driving is not a good idea as all roads pass through heavy forest reserves and areas infested by insurgents.
Get around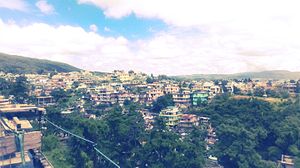 ==See==
Do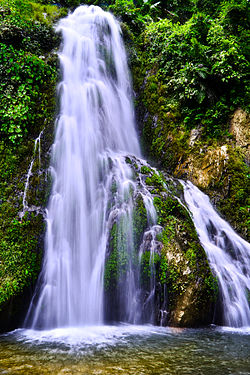 phone: +91 9435 747471

An eco-tourism company that promotes travel, conservation and sustainability in Northeast India. They provide tours that deal with tribal cultural exchange, wildlife viewing, extreme adventure sports, river cruises, history learning and tea stays.
National parks
Kaziranga National Park. Famous for its one-horned rhino found nowhere else in the world. Elephant rides in the park make for a thrilling experience. Has accommodation cottages and restaurants.
Eat
North East India is famous for its delicious and ethnic delicacies. The cuisine includes world famous vegetarian and non vegetarian dishes. North East has earned accolades for the various dishes prepared from local herbs and spices. Apart from local dishes, it is also equipped with restaurants and hotels serving conventional Indian foods (both North Indian and South Indian). So eating is no problem for tourists.
==Drink==
If you are over the age of 25, you can drink alcohol in India. In North Eastern India, there are many refreshing alcoholic beverages that you can drink. Look for aphung (a rice-beer) in Arunachal Pradesh and Assam, zutho (a type of wine) in Mizoram, or the mildly intoxicating tongba in Sikkim. You can find many of these in local markets.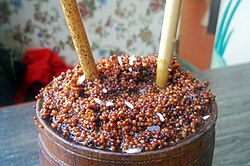 Connect
NE India is completely connected with the rest of the world with excellent communication facilities with all the major telecommunication companies like Reliance, Vodafone, Aircel and BSNL.

Stay safe
The North East is the most culturally distinct from the rest of India, and many separatist movements exist here; however, there have been no occasions where tourists have been attacked or have faced any disturbances. As of March 2017, the region has been declared safe for tourism.
==Go next==