North (Brazil)
Leave the glamorous cities and beaches of
Brazil
's central and southern coast behind and see the wilder part of the country, where cities didn't really develop until the 19th century.
Northern Brazil
is the place to see the enormous
Amazon rainforest
.
States
Cities
— a major city near the mouth of the Amazon River, with a blend of cultures including indigenous influence, colonial architecture, and modern skyscrapers
— Located on the equator north of the mouth of the Amazon River, and cut off from most of Brazil by road.
— The largest city in the region, located near the meeting of the rivers that form the Amazon. A natural place to start river tours or rainforest adventures.
— A historic town from the mining ages in Tocantins.
— A planned city built out of nowhere (like Brasilia) in the 1990s to serve as the capital of Tocantins.
— Home to the Boi Bumbá folk festival, with extravagant theatrical retellings of a local legend.
Other destinations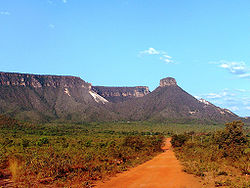 - jungle tours, wildlife, floated wood, the Mysteries of the amazon
- the large island at the mouth of the Amazon
- A departure from the Amazon region, this uninhabited cerrado area has bright orange sand dunes, rivers and waterfalls. Increasingly popular with off-road adventure lovers