North (Louisiana)
Northern Louisiana,
also known as the "Sportsman's Paradise" region, comprises the portion of
Louisiana
north of Sabine, Natchitoches, Grant, LaSalle, Catahoula, and Concordia Parishes.
Other destinations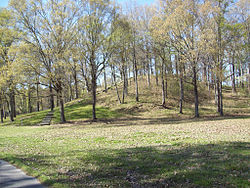 Monumental Earthworks of Poverty Point (UNESCO site)
Understand

Unlike the southern portion of Louisiana, northern Louisiana has more in common with the remainder of the American South. The Anglo culture of the American South is more dominant here, with the predominant religious practice being Evangelical Protestant Christianity, versus the French Roman Catholic culture and practices of southern Louisiana. Many points of interest and tourist sites are closed on Sundays, so it is necessary to plan accordingly. Landscapes vary drastically compared to the southern portion of the state. Bayous and swamps are replaced with rolling hills and pine forests in the northwestern areas around Shreveport and Mansfield, while open farmland, rivers, and lakes cover the north central and northeastern areas near Ruston, Monroe, Columbia, and Winnsboro.

Talk

English is almost universally spoken. French, while not uncommon in parts of southern Louisiana, is almost unheard of in northern Louisiana.

Get in
By plane
The two main commercial airports in northern Louisiana are
Shreveport Regional Airport
and
Monroe Regional Airport
.
By car
Interstate 20 and Interstate 49 are the main highways into northern Louisiana. US Highway 84 enters Louisiana from the west in the city of Logansport, and from the east in the city of Vidalia.
By bus or train
There are bus stations in the cities of Shreveport, Ruston, and Monroe. There are no train stations in northern Louisiana, except for a bus stop in Shreveport that provides transportation to and from the Amtrak station in Longview, TX.
Get around

Traveling by car is the best way to see northern Louisiana. Interstate 20 runs east-west across northern Louisiana, linking Shreveport-Bossier, Ruston and Monroe. There is bus service between the major cities in northern Louisiana.

See
Caddo LakeA large, natural lake on the Louisiana-Texas border.
Driskill MountainIs the highest point in Louisiana, and is located about one hour east of Shreveport. The mountain is located on private property, but the trail to the top is open to the public. The hike from the road to the top of the mountain is about one mile with about 100ft of elevation gain.
Eddie G. Robinson Museum

address: Grambling

Museum dedicated to the life and career of the late Grambling State University head football coach, winningest NCAA Division I football coach. Opened in February 2010.

Fort Beauregard

address: LA-124 & Memorial Drive, Harrisonburg

Site of old Army fort and May 1863 skirmish between Union Navy and Confederate garrison during the Civil War. Historical markers, picnic areas, and scenic views of Harrisonburg and the Ouachita River.
Pleasant Hill Battle Park

address: 23271 Louisiana Highway 175, Pelican

Site of the Battle of Pleasant Hill on April 9, 1864; historic markers and monuments, picnic area, old historic cemetery, annual reenactment on the second weekend of April.
Poverty PointA prehistoric Native American site consisting of mounds and other earthworks built over 2,000 years ago.
Stay safe
Crime

Don't be fooled by the relatively small size of the major cities in northern Louisiana; Monroe and Shreveport-Bossier have crime rates on par with much larger metro areas.

Weather

The weather can be hot and humid in the summer, and severe thunderstorms are common in the summer and fall. Tornadoes, while not as common as in "Tornado Alley", do occur. Snow falls occasionally in the winter, and causes more havoc than might be expected by people from colder climates. Hurricanes rarely make it this far inland, and are generally no stronger than a severe thunderstorm when they do.