North Bay
North Bay
is a city of approximately 52,000 people (2016) in
Ontario
. It has about 70,000 people in its metropolitan area (2016).
Understand
North Bay calls itself the "gateway to Northern Ontario". The region was first populated by Aboriginal tribes, and was explored and charted by Samuel de Champlain.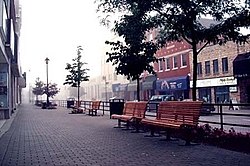 History
The site of North Bay was on the main canoe route west from Montreal. Apart from Indigenous people, voyageurs and surveyors, there was little activity in the Lake Nipissing area until the arrival of the Canadian Pacific Railway (CPR) in 1882. The CPR started its westward expansion from Callander Station (later renamed Bonfield), just to the east of North Bay, which was the point where the Canada Central Railway (CCR) ended. In 1882, John Ferguson decided that the north bay of Lake Nipissing was a promising spot for settlement. North Bay was incorporated as a town in 1891.
North Bay was selected as the southern terminus of the Temiskaming and Northern Ontario Railway (T&NO) in 1902 when the Ontario government established a development road to serve the
Haileybury
settlement. During construction of the T&NO, silver was discovered at
Cobalt
and started a mining frenzy in the northern part of the province that continued for many years. The Canadian Northern Railway was built to North Bay in 1913.
North Bay grew through a strong lumbering sector, mining and the three railways in the early days.
The Dionne Quintuplets were born in Corbeil, Ontario, on the southern outskirts of North Bay in 1934. Their births had a tremendous impact on tourism in the area, and may have saved the economy in the district during the Depression and beyond. North Bay and area lived off this legacy well into the 1960s. Many visitors to the area discovered lakes and summer retreats that were easily accessible and the businesses thrived on the tourist dollars.
In 1951, as a result of rising tensions in the Cold War, the Royal Canadian Air Force established an air base at North Bay. Construction of RCAF Station North Bay took three years, during which it became the largest industry in the community, a status it held for more than four decades. In 1963, the North American Air Defence Command (NORAD) opened its Canadian operations centre at the base. Manned by American and Canadian military personnel, the centre, situated 60 storeys underground to withstand a nuclear strike, monitored Canada's northern, east-central and Atlantic airspace, identifying and tracking all air traffic in this airspace, and responding to airborne emergencies, crime, and suspicious, unknown and potentially hostile aircraft. In 1983 this responsibility was expanded to all of Canada, and in October 2006 the base's NORAD operations moved into a new facility above ground where it continues to provide surveillance, identification and tracking of aircraft, and warning and response to emergencies, attacks and other crises, for the air sovereignty of Canada and North America.
By the 21st century the base was no longer the city's top industry. The current engines driving North Bay's economy are the university and college population, and the North Bay Regional Health Centre, opened in January 2011. Tourism and a stable provincial government service centre also contribute to the robust economy.
Get in
By car
From
Toronto
, take Highway 400 north to
Barrie
and then take the Highway 11 cutoff just north of the city. From
Sudbury
(and the west), take Highway 17 east. From
Ottawa
, follow Highway 17 west. From
Timmins
, take Highway 101 east to
Matheson
and then follow Highway 11 south. From
Rouyn-Noranda
, take Highway 101 south (in Quebec) which becomes Highway 63 (in Ontario) south.
By plane
By bus
Three inter-city bus carriers service the North Bay terminal (
Autobus Maheux
,
Greyhound Lines of Canada
&
Ontario Northland
) at 100 Station Road in North Bay.
By train
There is no train service to North Bay.
Get around
See
Do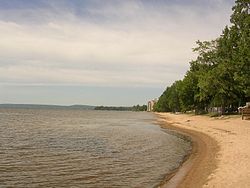 The North Bay TriathlonUsually offered the first weekend in July. Notable among the world's triathlons in that triathletes are allowed to wear wet suits for the swimming part of the competition, because of the cold waters.

phone: +1 705-494-7463

address: 15 Janey Avenue

Nice ski hill in the middle of the city with a good mix of runs and a terrain park.
There are a number of multi-purpose trails in and around the city.
Buy
address: 1500 Fisher Street

A great place to get whatever you need. Many restaurants and specialty shops are also scattered throughout the immediate area.

Downtown North BayHas many shops with fine, handcrafted goods.
Learn
Nipissing University used to be a campus of Sudbury's Laurentian University but became a separate institution in the early 1990s. It has a full undergraduate program.
Canadore College of Applied Arts and Technology. Shares a campus with Nipissing University.
Eat
Budget
Highwayman Restaurant

phone: +1 705 495-4101

address: 3001 Highway 11 North
Mid-range
Dave's Green Papaya

address: 652 Fraser Street

Asian food, eat-in, take-out and delivery.

Kelsey's

address: 1899 Algonquin Avenue

The Moose

address: 134 Main Street East

Raven and Republic

address: 246 First Ave West

Live music, wide selection of beers.

Twiggs Coffee Company

address: 473 Fraser Street

Serving freshly roasted fair-trade organic coffee, Montreal-style bagels, and soups in a lively café atmosphere. Also includes an outside patio.
Splurge
Crown and Beaver

phone: +1 705 495-4114

address: 786 Lakeshore Drive

The Boat Dockside Bar & Grill, Memorial Drive (North Bay Waterfront), (705) 472-

Churchill's Prime Rib House

phone: +1 705 476-7777

address: 631 Lakeshore Dr.
Drink
Cecils Eatery and Beer Society

address: 300 Wyld St Box 1017

Evolution Niteclub

address: 151 Main Street East

Fraser Tavern

address: 680 Fraser Street

Winnie's Pub

address: 631 Lakeshore Drive

Zoo Nite Club

phone: +1 705 472-7510

address: 300 Wyld St, Box 1017
Sleep
Budget
There are many parks in the region that are great for camping. Visit http://www.parkscanada.ca for more information on camping in the region.
The Lincoln Inn

phone: +1 705-472-3231

address: 594 Lakeshore Drive
Mid-range
phone: +1 705-476-5400

address: 1200 O'Brien Street

Clean, comfortable rooms. Free breakfast.

phone: +1 705-494-9444

address: 676 Lakeshore Drive
Splurge
phone: +1 705-474-5800

address: 700 Lakeshore Drive

address: 340 Main Street West

Northern Suites Plus

address: 710 Lakeshore Drive

phone: +1 705-713-0111

address: 2363 Highway 94, Callander

20 suites, each with wi-fi and a fireplace.
Nearby
Mattawa
A tiny town of 2000 people on the
Trans-Canada Highway
between North Bay and
Algonquin Provincial Park
. Mattawa is located at the junction of the Mattawa and Ottawa rivers and serves as point of departure for canoeing or boating on the Ottawa River. The drive along Highway 17 is pretty in the fall when the leaves are changing colours. The area offers fishing, camping, and hiking as well as numerous motels, campgrounds, and retreat centres. Many large wooden statues in the town depict local historical figures.
Go next
North Bay is surprisingly central despite its perceived location.
Sudbury
(west along Highway 17) and
Muskoka
(south along Highway 11) are only an hour and a half away by car.
Ottawa
and
Toronto
are both within a few hours' driving distance as well.
Timmins
is about 360 km to the north.
Algonquin Provincial Park
is south of North Bay, less than two hours' drive.