North Brabant
North Brabant
(Dutch:
Noord-Brabant
, commonly called
Brabant
) is a province in the south of
The Netherlands
. It's bordered by
Belgium
in the south, the Meuse River (
Maas
) in the north,
Limburg
in the east and
Zeeland
in the west.
Regions
Cities
(or Den Bosch) — the province's historic capital was founded as a fortified city with that heritage still remaining to this day
— a town with 22 Belgian enclaves, some of which contain 7 Dutch enclaves
— a medieval rivermouth fortified city
— an old garrison city having a historical and pleasant city center
— the city where Philips Electronics was founded and Eindhoven still has a good reputation on technology and design
— the Geldrop castle built in the 14th century
— a fortified city on the southern side of the river Meuse
— Eindhoven's largest satellite town with a long tradition of textile industry and a castle
— the village where Vincent van Gogh painted The Potato Eaters and hundreds of other paintings and drawings
— City that has been inhabited for an estimated 4000 years.
— a village on the outskirts of the Peel, destroyed in 1944 during World War II.
— the last railway stop before Belgium
— the erstwhile centre of wool processing, with a few surviving monuments and many cultural instutions
Other destinations
— officially opened on May 31, 1952, and has grown from a nature park with playground, rowing ponds and a teahouse into a full theme park for all ages including modern roller coasters
Understand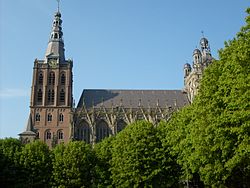 Until the 17th century a large part of the area, that today form the province of North Brabant, was part of the
Duchy of Brabant
. In the 14th and 15th century Brabant experienced its Golden Age. Especially true for the cities of
Brussels
,
Antwerp
,
Leuven
,
Breda
and
's-Hertogenbosch
. During the
Eighty Years' War
between
Spain
and the
Republic of the Seven United Netherlands
, the area was a battle field. After the war in 1648 North Brabant became officially part of the Republic. Most of the erstwhile Duchy actually ended up in present-day
Belgium
, where it is now divided between provinces of
Antwerp
,
Flemish Brabant
and
Walloon Brabant
.
Despite attempts by the republic Brabant remained Roman Catholic and thus without rights. Only in 1795 it became a province and gained equal rights as the other Dutch provinces. This unequal treatment and the adherence to the Catholic Church ensured that Brabant (and
Limburg
) feel different than the rest of the country. However, these differences become increasingly smaller in the current time.
Get in
By plane
Eindhoven Airport
(
EIN
) is an international airport located in Eindhoven. It is mainly served by European low-cost airlines.
The country's major airport Schiphol (AMS) is easily reachable by train. The city of Breda is connected by the Intercity Direct high speed service, and Roosendaal, 's Hertogensbosch and Eindhoven are connected via regular Intercity service.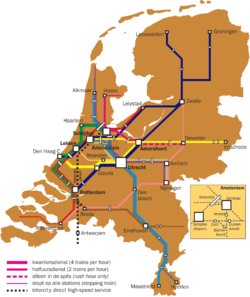 By train
As with all of the Netherlands, North Brabant is very well served by the Dutch national railway company Nederlandse Spoorwegen. The main railway lines in North Brabant are:
Rotterdam-Breda-Tilburg-Eindhoven-Venlo, with two trains per hour
Trains traversing this line mostly originate at Den Haag Centraal and thus do not go directly to Amsterdam Airport Schiphol
The exception is the bi-hourly premium Intercity Direct train (not counted above), calling only at Amsterdam Centraal, Schiphol, Rotterdam Centraal and Breda.
Other high-speed trains from Rotterdam, like Thalys and other international trains to Belgium, bypass Breda and only some stop in Roosendaal
Roosendaal-Breda-Tilburg-Den Bosch-Nijmegen, with two trains per hour
This makes the number of Intercity services through Breda total 4x hour
Those trains continue from Nijmegen to Zwolle, linking North Brabant with Western and Northern Netherlands
Schiphol-Amsterdam-Utrecht-Den Bosch-Eindhoven, with four trains per hour
This gives Eindhoven and Den Bosch more trains to Schiphol Airport than Breda
Trains on this line continue to Limburg
Further to the Intercities there are also slower Sprinter trains, stopping at every station along the way and mainly serving local traffic and as feeders from smaller stations to the abovementioned long-distance hubs.

By bus
Most communities with over 500 inhabitants are served by public bus companies. All of Netherlands is covered by a common fare system based on distance and served by the OV-chipkaart - proximity cards that need to be pre-charged with money for fares and used when boarding and alighting. See 9292nl for connections, timetables and fare calculation between any given stops in the Netherlands.

By car
All destinations in the province of North Brabant can easily be reached by car.

Get around
Road networks between the cities (40,000 inhabitants or more), except for road N65
Tilburg
-
's-Hertogenbosch
, are motorways. Around
's-Hertogenbosch
and
Eindhoven
are local/express highways which can be confusing to foreigners. Roads to smaller towns and villages can be adventurous, not because of gaps in the road, but mostly of being small and winding.
Another option to get around is by train. Trains serve the bigger towns and villages (60,000 inhabitants or more and villages between them). Trains serve also in the nights on Thursday/Friday, Friday/Saturday and Saturday/Sunday the cities of Eindhoven, Tilburg,
Breda
and 's-Hertogenbosch. Eindhoven is the terminus for both night train lines. A fast high-speed rail (300 km/h, 190 mph) connection with Rotterdam and Amsterdam is possible from Breda.
Buses are a good way to travel to the villages.
As North Brabant is flat consider to rent a bike. Alongside roads often special bicycle tracks are constructed that make biking less dangerous then in other countries. A lot of great numbered tracks lead through fields and forests. Maps are available at tourist information offices or can be downloaded from the ANWB website (€1.30 per map).
See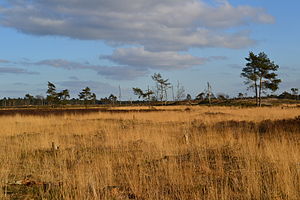 The historic cities of 's-Hertogenbosch and Breda
The many forests which cover up to 20% of the province's area
Modern architecture in Tilburg and Eindhoven
Picturesque villages are spread over all of the province

address: Ekkersweijer 1, Best

Aquabest is a recreational lake and park with a sandy beach. It has a family park with amusements for children, a water ski centre, athletic programs for groups of 10 to 2000 participants, a beach pavilion for parties and yearly festivals like Lakedance and Extrema Outdoor.

Biesbosch National ParkThe Biesbosch or Biesbos is the name for a number of river islands, sandbars and mudflats in the Dutch provinces of North Brabant and South Holland. It is situated between the rivers Upper Merwede and Amer and bisected by the artificial river Nieuwe Merwede. It is a tidal with creeks, willows and tidal forests. In 1994 the area was granted with the status of national park. The park has many recreational opportunities but is also used for storage of drinking water. There are three visitor centers; in Dordrecht, in Drimmelen and Werkendam.

phone: +31 0495 64 14 97

address: Visitors Centre: Moostdijk 15, Ospel-Nederweert

A largely excavated bog area on the border of the Dutch provinces of Limburg and North Brabant. Once this was a very impervious area. De Groote Peel has an area of approximately 15 km ² and is accessed by three routes for hikers. De Groote Peel is considered one of the richest bird areas of Western Europe.

De Zoom – Kalmthoutse HeideA cross-border nature area in the Dutch province of North Brabant and the Belgian province of Antwerp. In the Netherlands the area belongs to the system of national parks. It was established in 2001 and is approximately 37.5 km ². The diversity of plants and animals is great. Specifically, the large number of insects found in the area.

address: Europalaan1, Kaatsheuvel

The largest theme park in the Benelux that matches up with the Tivoli Gardens and Disneyland Resort Paris. The park is official opened on May 31, 1952 and has grown from a nature park with playground, rowing ponds and a teahouse into a full theme park for all ages including modern roller coasters.

address: Visitors Centre: Van Tienhovenlaan 5, Oisterwijk

A nature reserve with forest, heathland and stream valleys located between Boxtel and Oisterwijk. The Kampina is a popular hiking area, especially when the heather blooms. There are several hiking trails.

Loonse en Drunense Duinen National ParkNational Park Loonse en Drunense Duinen is a nature reserve of over 4000 hectares and is a National Park since 2002. The park is both largely an alternation of dry sand dunes and pine forest. It has the largest off-coast sand dunes in the Netherlands .

address: Beekse Bergen 1 , Hilvarenbeek

The largest Wildlife Zoo of the Benelux near Tilburg
Do
The historic cities of
's Hertogenbosch
(commonly known as
Den Bosch
) and
Breda
are well worth a visit for their historic city centres. The cities of
Eindhoven
(the largest city of the province) and
Tilburg
are also worth a visit, but due to different reasons the centres of these cities are not as historic.
Efteling
theme park is an excellent experience.
The yearly Carnival is heavily celebrated in each city and town with parades and a lot of partying.
Eat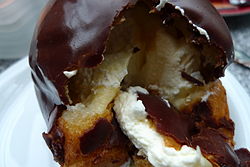 The Brabantse koffietafel (Brabant coffee table) is a lunch traditionally ushered in with a glass of brandy with sugar. The lunch is served with Brabant rye bread, white bread, gingerbread and raisin bread generously spread with butter or lard topped with fat cheese, fresh sausage or ham. Additionally, you can choose from a variety of sweet fillings, such as apple, honey, jams and sprinkles. And, as the name Brabant coffee table suggests, this feast will be washed down with a big ditch of coffee.
The Bossche Bol, a pastry from 's-Hertogenbosch is a big puff cake filled with whipped cream and topped with melted chocolate.
Popular is worstenbroodje, a fifteen centimeter long soft bread, filled with some kind of sausage.
Drink
Beer
Popular beers brewed in North-Brabant are:
Bavaria, brewery in Lieshout
Budels, brewery in Cranendonck (Budel)
Dommelsch, brewery in Dommelen (Valkenswaard)
La Trappe, the only trappist beer from the Netherlands. Brewery Koningshoeven abbey in Berkel-Enschot (Tilburg)
After a period of merger and acquisitions a trend is going on of founding new local breweries that brew special beers with limited production. These are mostly top-fermenting beers and not common lager beers. Examples are
Eijkenrode
(Eindhoven),
de Gouden Leeuw
(Vessem),
Liefde
(Geldrop),
de Markies
('s-Hertogenbosch) and
Sint Juttemis
(Tilburg).
Liqueur
Schrobbelèr is a typical drink from Tilburg. It is an herbal (and bitter) liqueur with an alcoholic percentage of 21.5%, although sweeter than most bitter liqueurs. The drink is sold throughout the year and is most popular during carnival. It's sold in many restaurants and liqueur stores.
Brabant Bont is a soft and sweet coffee liqueur from Gemert.
Go next
Visit the province of
Zeeland
in the west for relaxing, historic villages, great beaches and the
Delta Works
(
Deltawerken
).