North Caucasus
The
North Caucasus
is a region of the
Caucasus
in
Southern Russia
, bordering
Georgia
to the south and
Krasnodar Krai
,
Stavropol Krai
, and
Kalmykia
to the north. This region ranks among the world's most exotic and thrilling destinations to visit, boasting of nearly 50 distinct ethnic and linguistic groups in a space roughly the size of the state of Pennsylvania.
The North Caucasus republics have become safer and welcoming to visitors. Tourism infrastructure remains patchy, so inexperienced travelers should consider engaging a tour operator. Other nearby regions, such as
Northern Georgia
,
Northern Azerbaijan
or in the south of
Krasnodar Krai
around
Sochi
and
Krasnaya Polyana
, primarily home to poor Muslim territories, provide a reasonable second place to the unique character of the North Caucasus.
Regions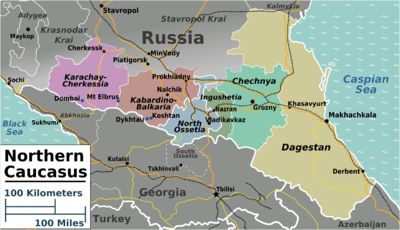 Cities
— capital of Karachay Cherkessia
— this ~5,000 year-old UNESCO World Heritage site city, location of the mythical "Gates of Alexander," justly takes its place as one of Russia's, and the world's, top historical tourist destinations
— stunning light-studded capital city of Chechnya, boasting Europe's largest mosque, "The Heart of Chechnya"
— wild and wonderful capital of Dagestan and the Northern Caucasus' largest city
— quiet beachresort city boasting several diverse beach options and a relaxing atmosphere
— capital of Kabardino-Balkaria and cultural hub of music and arts
— North Ossetia's ancient capital with stunning mountain views and a regional transit hub
Other destinations
— beautiful mountain resort in Karachay-Cherkessia
— Europe's highest mountain, also a ski area
— Europe's second highest mountain
— Europe's third highest mountain
Understand
The Northern Caucasus is one of Russia's most beautiful regions and is most certainly its most mountainous. Its peaks are Europe's and Russia's highest. In the west, near the Black Sea, the climate is subtropical, while the eastern areas near the Caspian Sea are more arid. The most beautiful natural images of this region are of its rushing mountain rivers running through deep gorges. There are also man-made monuments left behind by the mountain people of the region, particularly their fortress-like stone "auls" (mountaintop villages), as well as by former kingdoms such as Alania, Albania, and most famously the Sassanid Empire's ancient fortress at
Derbent
.
While there are many autonomous-ethnic regions throughout Russia in which ethnic Russians outnumber the namesake ethnicity, the Northern Caucasus proves the exception: travelers to the republics of the Northern Caucasus visit wholly different nations, albeit ones strongly influenced by Russia.
In addition to being the only region of Russia in which non-Russian minorities constitute a majority, the Northern Caucasus has been Russia's most rebellious and unstable region since the beginning of the Russian conquest at the start of the 19th century. As result of this long conflict, the ethnic makeup of the region has changed dramatically. The western half of the region has largely been emptied of its former inhabitants, the Turkic people of the Crimean Khanate and the "Circassian" Adyghe, and is consequently more Russified. The eastern Caucasus nationalities were mostly deported en masse to
Kazakhstan
following World War II, when Stalin denounced them as Nazi collaborators. This massive deportation was brutal and large proportions of these ethnicities died from hunger and lack of shelter. Under Malenkov and Khrushchev, however, they were allowed to return to their ancestral lands and have lived side by side with their Slavic compatriots for many years.
The current conflict in the Northern Caucasus is complex and any potential travelers should be aware of its fault lines. The conflict began near the fall of the Soviet Union when
Chechnya
, a region of the Russian ASSR, declared its independence from Russia and Russia responded with a military invasion. Russia's first attack was largely unsuccessful, but was followed by a second invasion under President Vladimir Putin following a Chechen invasion of neighboring Ingushetia and a series of terror attacks allegedly carried out by Chechen terrorists. The second war, although this time successful, was particularly brutal, with the Russian military attacking population centers and the Chechen rebels resorting to guerrilla warfare and terroristic attacks against Russian civilians in the Northern Caucasus and further afield in Russia. As throughout the history of the conflict between Russia and the people of the Northern Caucasus, members of other ethnic groups have joined the Chechen rebels under the umbrella of a proclaimed "jihad," in particular, the
Ingush
, and certain mountain groups in
Dagestan
. Thanks largely to these conflicts, as well as the low-level insurgency that continued thereafter, many consider this region dangerous and inadvisable to visit. However, since 2010 the number of victims of violent crime has dropped nearly 90%. High levels of corruption do still exist, so travelers should remain savvy. Large scale war has ceased in recent years and most high-ranking rebels, warlords and terrorists have been killed. Small-scale conflict and widespread corruption continue in most of the region, violent crime is on a steep precipitous decline.
In addition to an anti-Russian element of the conflict, there is also an intertwined
Ossete
-Ingush conflict: see
Ingushetia
for more background.
CaucasTalk
is an English-language podcast about culture, history, and tourism in the North Caucasus mountains of Russia. It is produced by two Americans living in the North Caucasus. Begun in 2017, it is the only known publication devoted to exposing English-speakers to the positive aspects of life and travel in the North Caucasus.
Talk
This mountainous region is an extraordinary patchwork of peoples and languages (Circassian, Turkic, Persian, and a whole host of smaller groups unrelated to any other)—the relatively small region contains an incredible 8 language families and upward of 46 different languages (35 in
Dagestan
alone)! Fortunately for the traveler,
Russian
serves as the region's lingua franca and is spoken by nearly everyone, even by villagers in remote mountain auls.
Get in
See
The Ingush Towers — mythical ancient towers in the Ingush border zone
Do
Skiing
Mountain climbing
Hiking/biking
Relaxing at a Soviet resort in the high Caucasus
Attend a performance of traditional regional dances (they're raucous!)
Eat
Pelmeni, khachapuri, and blinis are really popular and are regarded as delicacies.

Stay safe
Heavy military activity, terrorist bombings, kidnappings, and unexploded mines and munitions exist in the region. Throughout the region, local criminal gangs routinely kidnap foreigners, including Americans, Canadians, and UK nationals, for ransom. Close contacts with the local population do not guarantee safety. The authorities may pose an even greater threat to travelers than rebels, bandits, and gangs. All of the region is part of the turf of the infamous terrorist group, the Caucasus Emirate.
In the event of emergencies embassies can do very little, and more likely, will
not send any help
. All governments assume they will not be able to do anything for their citizens except to deliver messages.
Foreign governments can do little if you get into trouble in the North Caucasus. So only travel in the eastern republics if you are experienced in travelling to active war zones and have Russian language skills. The terrorist threat in December 2012 is minimal. Kidnapping of foreigners has not occurred for a few years so this should not put you off.
Below is a list of what a traveler should do to stay vigilant when travelling to certain regions in the North Caucasus:
Chechnya
Chechnya is probably one of Russia's most volatile regions, even though the Chechen government has been making some progress in bringing stability to the nation. Violence, terrorism and a high homicide rate continue to plague the nation. As a general rule of thumb, the farther you are from Chechnya, the safer and more plausible your travel experience will be. Downtown Grozny is fairly safe, but be careful as large parts of the nation are plagued with violence and political turmoil.
Many foreign governments, including the UK, Canadian and US governments, strongly warn their citizens not to travel to Chechnya under any circumstances. They report that there have been many incidents of their citizens and Russian citizens going missing or being killed or kidnapped for ransom in Chechnya.
As of November and December 2012, the situation there is stable. Many police around but tourists can walk and take pictures freely with only the odd glance from locals wondering why a Westerner is visiting. If you want to enter the massive central mosque, you can. Don't take pictures and take your shoes off before hand. It is magnificent. You won't have trouble finding a hotel. Expect to pay at least a night. A luxurious room in the Grozny City Hotel will only cost about a night, quite a bargain considering the Hollywood stars who have stayed in these rooms like Jean Claude van Damme and Kiera Knightly.
There is a lot to see in Grozny. You will need 2 days to see everything, like the Kadyrov monument, the parliament building, the museum of Chechnya, and a few other things. Tourists are still "very rare" in Grozny according to locals as of December 2012.
Ingushetia
Ingushetia is a very dangerous region. A civil war took place from 2007 to 2015. Research the current security situation before visiting. If you want to visit Ingushetia or any of the other North Caucasus republics you should at least have basic Russian language skills.
Dagestan
Dagestan
is one of the least stable and most dangerous destinations. Military activity, high-scale criminality and terrorism are some of the threats to locals and visitors alike. Any potential visitor should consider carefully whether to steer clear of the republic, as terrorists may attack Dagestan at any time. Cities such as
Kizlyar
,
Kizilyurt
and the capital
Makhachkala
are the most dangerous places. It is generally safer in the north compared to the rest of the region. As of 2010, many policemen and soldiers are cracking down on the militant group present in Dagestan.
Khasvyurt is an interesting city. Almost like walking onto a Star Wars movie set. Very desert-like conditions. Garbage is literally everywhere. Cows, dogs, and cats scramble around garbage piles for food because there is hardly any food to eat. Makhachkala is pretty nice. Decent hotels according to Russian standards, with a large move theatre (great place to watch Russian movies), parks, and the Caspian sea front. Undercover secret police and military patrol the streets around the government buildings. If you take pictures there you may be interrogated for about 90 minutes and have every part of your life questioned by authorities. Derbent is a nice but small city. The only thing to see there is the fortress and the large market. One day is definitely sufficient for travel to this city. The people in this republic are very nice and welcoming. They are not used to seeing tourists at all and wonder what you are doing there. Attacks in these cities are quite common but kidnappings no longer occur. Only travel to Dagestan if you are an experienced war-zone traveller who has Russian language skills.
North Ossetia
Like South Ossetia, the northern part is fairly unsafe, though not as unsafe as its southern counterpart. There have been high-profile crimes, albeit infrequently. The capital
Vladikavkaz
has recently been the site of some showdowns between law enforcement and separatists, though on a very light scale.
A very safe republic to visit if you are an experienced war-zone traveller. People are Orthodox Christian here, not Muslim. However, in the small Muslim population there are many assassinations, mainly against moderate Sufi imams by extremist salafists. The city of Beslan, 15 km north of Vladikavkaz is worth a visit to see the school that terrorists attacked in 2004. The gymnasium is now a shrine to the innocent dead. It is also free entry and a 5-minute walk west of the Beslan bus station.
Karachay-Cherkessia
Karachay-Cherkessia is safer than most regions; however, the region has continued to see minor attacks.
Kabardino-Balkaria
The republic's mainly Muslim population has become increasingly radicalised by the region's instability. The region is quite safe, though the security of the country may be occasionally shaken, due to frequent attacks by militants. Nalchik in particular has seen a very unstable situation. But as of November and December 2012 this city seems quite safe. Yes, people do get killed here but tourists will be fine. There are nice hotels and everything is within walking distance. There is not much to see and do in Nalchik but the people are very nice.
Respect
The North Caucasus are largely Sunni Islamic societies, and so you need to behave and act accordingly and properly.

Go next
The Northern Caucasus is pretty difficult to "get out" of. The borders of all the region's republics are also closely controlled by Russian authorities; expect to be interrogated and bothered at border crossings and frequent roadblocks as to your purpose in traveling in the region. Nevertheless, it is possible to leave for
Azerbaijan
through one of the two international border crossings in the south of
Dagestan
(both trains and buses cross the border). You can also enjoy breathtaking mountain vistas on the
Georgian Military Road
(the name is purely historical and does not imply any current military activity on this route) that runs from
Vladikavkaz
in
North Ossetia
to
Tbilisi
in
Georgia
and climbs to nearly 2400 m above sea level. Although frequently used nowadays, this road remains a very special experience. The section adjacent to the Russian-Georgian border is in poor condition and may be blocked by avalanches.
Another way of crossing the Greater Caucasus is the
Transcaucasian Highway
that connects
North Ossetia
to
South Ossetia
through the famous Roki Tunnel, one of the biggest tunnels constructed in USSR. Unfortunately, this road will not bring you far, because the border between
South Ossetia
and
Georgia
is closed for political reasons, so you simply get stuck there and eventually return to North Ossetia.
Otherwise, your way lies back to northern Russian regions. Flights leave from many of the subregional capital cities to
Moscow
, otherwise, it is easiest to leave as you come in: via
Sochi
or
Stavropol
/
Mineralnye Vody
. From Sochi, you can also travel to
Abkhazia
along the sea coast. Crossing the Abkhazian border from
Kabardino-Balkaria
directly through the mountains is not possible and will be physically quite difficult anyway.