North Central Plains
The
North Central Plains
are in the
Panhandle
region of
Texas
.
Understand
Cities
- A convenient stopover halfway between Dallas and New Mexico.
- With the largest historic town square in the country.
- Named after Quanah Parker, the last great Comanche war chief who fought many battles throughout the area.
- Charming small Panhandle town near Caprock Canyons.
- Historic town on the old Western Texas-Kansas Trail.
- Large regional hub near the Oklahoma border.
Other destinations
Get in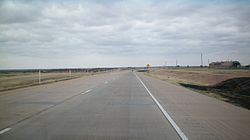 Wichita Falls Municipal Airport (SPS

)
See
Medicine Mounds, on private land visible from US 287 near Quanah. This series of low peaks was an important ceremonial site for the Comanche nation.