North Costa Rica
North Costa Rica
, also known as "
Región Norte
" or "
Huetar Norte
" (in Spanish) is a region located within
Costa Rica
and borders in the north to
Rio San Juan Region
of
Nicaragua
.
Cities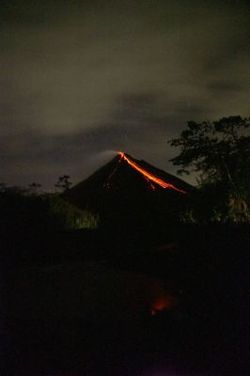 – The largest city by far in the country's North, surrounded by hot springs popular with Costa Rican vacationers.
(La Fortuna de San Carlos) – The town that sits at the foot of Arenal Volcano. La Fortuna is quaint and has a great local flavor complete with great restaurants and tons of tour companies offering Volcano tours, zip lines and Lake Arenal crossings.
– About an hour north of San José by car. The town is a decent size where you can stop at the local sodas or market, but don't expect much in the way of tourism. It is mostly a stop on the way to Arenal or to the Los Angeles Cloud Forest.
– Border town on the very north of the country. Crossing into Rio San Juan Region of Nicaragua by boat.
Understand
This region is known for Arenal Volcano, but it has other gems that are not-so-hidden such as Lake Arenal and the Los Angeles Cloud Forest.
Arenal is the world's 3rd most active volcano and can be heard rumbling several times an hour. The lava flow changes frequently, but even without seeing the lava the mountain is impressive in size and shape.
The Los Angeles Cloud Forest is not as visited as the Cloud Forests in Monteverde, but the wildlife is abundant and the locals are extremely friendly.
The city San Ramon is a moderately sized town that really only has one tourist attraction, the local church or cathedral. The church is large and in a state of repair but it is next to the town's central park which follows Japanese influence in its design. The north-eastern parts of this region are dominated by mono-cultural exploitation of sugar cane, citrus trees and pineapple farms.

Get in
The best way to get to the North Zone is by car. There are also local buses that travel San José and San Ramon, but the car offers the most flexibility to stop and experience the local culture on your trip to the North.
From Nicaragua you can cross the border by boat at
San Carlos (Nicaragua)
/
Los Chiles
, but it is not possible to take a car with you. From Los Chiles there are regular buses to
Ciudad Quesada
. A much faster overland border crossing is now open via a bridge over the Rio San Juan. The border post is at Las Tablillas 6 km from Los Chiles; it is open 08:00-16:00.
The same buses that come from San José and Ciudad Quesada serve the remote border post for around
₡
500 from Los Chiles. A land exit tax of ~US$7.00 is payable when leaving Costa Rica and an arrival tax of ~US$12.00 on arrival in Nicaragua, only payable in US dollars or
córdobas
(Sept 2017).
Buses from San José to Los Chiles leave each morning and afternoon at around 05:30 and 15:00 and take about 5 hr.
Get around

Frequent buses travel the area. Bus times are considerably unreliable and infrequent in La Fortuna, probably due to forcing tourists into taking a taxi. Otherwise, between the larger towns and cities there are buses every 1-2 hr.

See
Río Celeste (Tenorio Volcano National Park)

address: Bijagua

A turquoise blue river, whose colour results of mineral deposits in one stream mixing with the sulphurous water in another. There are plenty of birds and insects to see, including toucans. Do carry a rain-jacket with you and proper boots—the trail often is muddy. However, if money is no concern, they also rent rubber boot near the entrance. The trail takes about 1 hr one way.

The visit of the park is only really worth it with sunshine (for the water to glow) and during dry season. The water does not glow by itself, it is a beautiful reflection the light, like with water coming from a glacier. Note, during dry season a days rain is not an issue—the tropical soil stores a lot of water before it releases it.
Las Hornillas Volcano Hot springs

phone: +506 26730918, +506 21001233, +506 88399769

address: Bagaces

At the foot of Volcán Miravalles, these interesting set of mud pools and hot springs can be found. Many holes that contain clay mud. These wells also contain water at the following temperatures: 80ºC, 100ºC, and 200ºC. The clay has three different colors, gray, brown and yellow. The color indicates the depth of the holes; brown is 2 m, grey is 1 m, and yellow is on the surface and full of sulfur. You can bath in the clay and then let it try off in 15-20 min, which is said to refresh and moisturise your skin.
Do
Swim in Río CelesteSwimming in the turquoise waters of Río Celeste was possible in the past inside the national park. Nowadays, it is prohibited. However, right next to the park entrance, about 1 km away, the road crosses the river and just about 100 m from the bridge, there is a beautiful swimming spot to take a dip and pictures in the river. Do not fall for the restaurants offer, just up the hill, which has a private spot at the river for which they demand money (not worth the ₡2,000).
Sleep
Around Río Celeste there are many inexpensive guest houses available. Checkout GoogleMaps or AirBnB to find them.