North Dakota
North Dakota
is a state in the
Great Plains
of the
United States
. It is bordered on the west by
Montana
, on the east by
Minnesota
, on the south by
South Dakota
, and on the north by the
Canadian
provinces of
Saskatchewan
and
Manitoba
. North Dakota, the 39th state, was admitted to the Union in 1889. The year 2005 marked the bicentennial celebration of the
Lewis and Clark
expedition which began in
Illinois
and passed through North Dakota on the way to the
Pacific Northwest
, with help from a Shoshone Indian girl, Sakakawea, as their guide. North Dakota's 53 counties cover approximately 70,655 square miles (183,000 km 2 ) and has a population of 672,591 in 2010 census.
Regions
Cities
– the state capital, a recreational hot-spot, the scenic center of North Dakota, and is growing every day
– the heart of North Dakota lake country
– the crown of the Southwest, gateway to the Badlands
– North Dakota's largest city, home of North Dakota State University, the cultural, medical, and economical center of the state
– home to the University of North Dakota
– the Buffalo City, pride of the Prairie
– the Magic City, the primary city in northwest North Dakota
– the geographical center of North America
– the biggest city on the upper Missouri, and the epicenter for the state's recent oil boom
Other destinations
– The park has two units, the North Unit and the South Unit, both distinctly different.
Understand
North Dakota is a large, sparsely populated state. It was settled in the 1890s mainly by farmers of Scandinavian and German descent. North Dakota's population has scarcely changed since 1915, but its urban-to-rural ratio has changed dramatically over the years. One-sixth of the people in the state live in Fargo, and that figure is growing all the time. The state's economy is based on its agriculture, food processing, mining, tourism and machinery.
North Dakota is the least-visited state in the union, not surprising given its location. But there is something to be found for those willing to venture into the unknown. North Dakota is living proof that there is much to see and do off the beaten tourist path and in small towns. Outdoor activities abound year round: hiking, biking, camping (tent and RV), boating, fishing, sailing, tubing, birding, photography, cross country skiing, snowmobiling, hunting, archery, and more. If you fancy disc golf, there are fourteen regulation courses in the state. Or you can simply take a scenic drive through hills and lakes, badlands, or plains. Military buffs will enjoy visiting the old frontier forts. Nature lovers can see hundreds of species of birds, animals, fish, and wildflowers. Geological formations of almost every type are here. You can dig for fossils or hunt for unique mineral specimens.
North Dakota is a significant state to Native Americans. It holds many holy-sites that are important to Native American History, and Spirituality. It has been reported that many of these holy sites have been abused by tourists. Some reports include tourists using the Native American's holy sites as restrooms or taking back sacred objects as souvenirs. North Dakota is known to be untouched, most of these holy sites are yet to be discovered. When visiting these Native American holy sites, it is recommended to
never
take an object off the ground especially if it resembles Native American art, these objects are hopefully going to continue being undisturbed in the vast graveyard known as North Dakota.
Famous North Dakotans include: former CBS newsman Eric Sevareid (Velva), actress Angie Dickinson (Kulm), "Fever" singer Peggy Lee (Jamestown), "bubbling machine" bandleader Lawrence Welk (Strasburg), author Louis L'Amour (Jamestown), basketball coaching legend Phil Jackson (born in Montana but raised in Williston), and current
Philadelphia Eagles
quarterback Carson Wentz (Bismarck).
Get in
By plane
Scheduled airline service is available in Bismarck (
BIS
), Devils Lake (DVL), Dickinson (DIK), Fargo (FAR), Grand Forks (GFK), Jamestown (JMS), Minot (MOT), and Williston (ISN).


By car
Interstate 94 runs east-west through the southern side of the state. Interstate 29 runs north-south on the eastern edge of the state.
U.S. Highway 2 runs east-west through the northern side of the state. U.S. Highways 85, 83, 281, and 81 run north-south through the state. U.S. Highway 52 runs northwest-southeast through the state.
For those arriving from Canada, 24-hour customs stations are available at SK 39 (U.S. 52) in Portal, MB 10 (U.S. 281) at the Peace Gardens, and MB 75 (I-29) near Pembina.

By train

Amtrak serves Fargo, Grand Forks, Devils Lake, Rugby, Minot, Stanley and Williston via its once daily Empire Builder train that runs between Chicago and Portland/Seattle.

Get around
The best way to get around the state is by car.
By rural bus
Jefferson Bus Line (888-864-2832) has a route that goes along US I-29, which goes north and south.
Greyhound (800-231-2222) goes along the other major interstage, I-94, which goes east and west.
New Town Bus Line (701-852-2477) starts in New Town, ND, heads east on Highway 23 up to Minot, then continues on Highway 2 to Grand Forks. It always runs from Minot to Bismarck on Highway 83.
By official transit
Information on North Dakota Transit can be found
here
See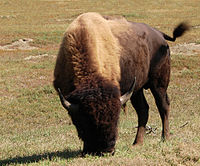 Geographical Center of North America in Rugby.
KVLY-TV Tower 2 miles west of Blanchard, is the tallest radio tower, and formerly the tallest man-made structure on earth at 2,063 ft (629 m).
The State Capitol grounds in Bismarck, which feature the 20-story Capitol, the North Dakota Heritage Center and State Museum, and open parkland.
The Enchanted Highway between the Gladstone exit on I-94 and the small town of Regent on the Cannonball River in southwest ND.
The Lewis & Clark National Historic Trail which runs through Idaho, Illinois, Iowa, Kansas, Missouri, Montana, Nebraska, North Dakota, Oregon, South Dakota, and Washington.

Knife River Indian Villages National Historic Site

phone: +1 701 745-3300

Established as a National Park Service (NPS) site in 1974. This is the only NPS site that preserves and protects the Northern Plains Indian Heritage. The Native Americans have occupied this area for over 11,000 years. There are the remains of three Hidatsa village sites within the park boundaries. The Big Hidatsa site has 110 depressions, the Sakakawea (Awatixa) site has 60 depressions and the Lower Hidatsa site has 40 depressions. This was once a thriving civilization situated along the Knife River. Sakakawea lived at the Awatixa site when she met Lewis and Clark at Fort Mandan. A state of the art museum dedicated to preserving the culture of the Hidatsa, Mandan and Arikara tribes is located at the visitor center. A 15-minute video about village life can be viewed in the visitor center theater. A full-scale reconstructions of a Hidatsa earthlodge features authentic furnishings. Programs in the earthlodge are conducted during the summer months.

Fort Union Trading Post National Historic Site

address: Near Williston

Largest fur trading post on the upper Missouri River from 1828-1867. Trading headquarters with American Indians. Reconstructed Bourgeois House contains museum exhibits. Replica trade goods are available for purchase in the reconstructed Indian Trade House.

address: Near Dunseith

The International Peace Garden is a 2,339-acre botanical garden commemorating peace between the United States and Canada along the world's longest unfortified border. It blooms with more than 150,000 varieties of flowers and showcases the Peace Chapel. It is also home to the International Music Camp, Friday night concerts in June and July, and interpretive center, floral clock and souvenir shop. RV-friendly campground.

address: Near Napoleon

Beaver Lake State Park provides an escape from the rigors of everyday life, offering a relaxing atmosphere in a secluded outdoor setting next to lake offering a full array of water recreational activities. The park is located in south central North Dakota on the west shore of Beaver Lake, 17 miles southeast of Napoleon. Comprising 283 acres, the park provides modern and primitive camping opportunities along with three camping cabins for those wanting to get away from it all.

address: Near Washburn

Cross Ranch State Park is located along some of the last free-flowing and undeveloped stretches of the Missouri River. A boat ramp and canoe and kayak rentals are available for those wishing to explore this scenic segment of the river, while anglers will find walleye, trout, catfish, salmon, pike and bass in its waters. An extensive trail system can be explored either on foot or on cross-country skis during the winter months. The trails allow access to a 5,000-acre nature preserve with mixed grass prairie, river bottom forests and wood draws. Campers can use either the park's primitive campground or hike to their camping spot in a backcountry area.The park is also well known for its bluegrass music festival held in June.

Doyle Memorial State ParkDoyle Memorial Recreation Park is located on Green Lake, seven miles southwest of Wishek. There is great fishing for perch, walleye and northern pike on Green Lake. The park has a fish cleaning station, bathrooms and shower, play ground for kids, and a new boat ramp and dock.

Fort Abraham Lincoln State Park

address: Near Mandan

General George Custer's last home is reconstructed, as are the central barracks, granary, commissary and a stable. Tours take visitors back to 1875, the year before the 7th Cavalry rode to the Little Bighorn. Museum and tour of On-A-Slant Indian Village's five reconstructed earthlodges.

Fort Ransom State ParkFort Ransom State Park, which takes its name from an 1860s military fort, is located in the midst of the scenic and heavily wooded Sheyenne River valley. The river provides abundant opportunities for canoeing, fishing and bird watching, while within the park can be found a short segment of the North Country National Scenic Trail. During the summer picnicking and camping are favorite activities, while cross-country skiing is a popular winter sport. A farmstead within the park is the setting for the annual Sodbuster Days celebration, with demonstrations and exhibits of homesteading life. Fort Ransom State Park's natural areas provide an important link in the protection of the remaining Sheyenne River Valley ecosystem.

Fort Stevenson State ParkFort Stevenson State Park, located on Lake Sakakawea's north shore, was named for the late 1800s for that served as a supply depot for other military posts in the Dakota Territory. Boaters will find excellent facilities, including boat ramp access, marina, fishing boat rental and boat storage. The North Dakota Governor's Cup Walleye Fishing Derby, as well as a variety of other events is held here annually. Other amenities include camping and picnicking facilities, sleeping cabins, visitor center, arboretum and hiking trails.

Icelandic State ParkSituated on Lake Renwick's north shore, Icelandic State Park offers water sports like boating, swimming and fishing. The park also is the site of the Pioneer Heritage Center, which features restored historic buildings providing a glimpse of North Dakota's Homesteading heritage. An early homestead preserves the state's pioneer spirit, while the Gunlogson Nature Preserve, a 200-acre natural wooded area along the Tongue River provides a sanctuary for plants, birds and wildlife. Nearby attractions include a golf course, Pembina Gorge, Pembina County Historical Museum, Pembina State Museum, snowmobile trail, Frostfire Mountain Ski Resort and Summer Theatre and a state scenic byway.

Lake Metigoshe State ParkNestled in the scenic Turtle Mountains along the U.S./Candadian border, Lake Metigoshe is one of the most popular year-round vacation spots in North Dakota. The small lakes within the park provide opportunities for fishing, canoeing, boating and swimming. A multitude of trails attract hikers and mountain bikers. Winter bring snowmobilers, cross-country skiers, sledders and ice fishing enthusiasts. The Lake Metigoshe area was home to several Native American tribes, including the Blackfoot and Hidatsa, and later the Assiniboine and Chippewa. The lake takes its name from the Chippewa phrase, "metigoche washegum," or clear lake surrounded by oak trees. Of all of North Dakota's state parks, Lake Metigoshe contains the greatest acreage of land remaining in its natural condition. The park's woodlands and wetlands are uncommon finds for visitors accustomed to North Dakota's expansive prairie vistas. Aspen and oak woodlands, as well as wetlands, cover much of the park and provide habitat for a wide variety of plant, animal and bird species seldom seen elsewhere in North Dakota.

Lake Sakakawea State ParkOne the south shore of Lake Sakakawea, adjacent to Garrison Dam, Lake Sakakawea State Park offers a wide range of water-based recreational activities and facilities. The park has a full-service marina including boat rentals, convenience store, fishing guide services, and boat and camper storage. Boat ramps in the park offer deep water access to some of the best fishing on Lake Sakakawea. The park also features modern camping and picnicking facilities. Hikers enjoy a segment of the North Country National Scenic Trail. Sleeping cabins are avialble during the summer months.

Lewis and Clark State ParkSituated on one of the upper bays of Lake Sakakawea, the rugged buttes of the North Dakota Badlands display a towering backdrop to one of the state's best recreation areas. The park is named for the Corps of Discovery explorers, Meriwether Lewis and William Clark. The expedition camped nearby on April 17, 1805, and an interpretive trail marker has been placed within the park to commemorate their historic journey through North Dakota. Two rare fish species, the pallid sturgeon and the prehistoric-looking paddlefish, can occasionally be found in the lake's western reaches. A self-guided nature trail allows visitors to become acquainted with the natural communities associated with the park, which is home for many wildlife species including white-tailed deer, mule deer, ring-necked pheasant, porcupine, sharp-tailed grouse and chipmunks.

Little Missouri State ParkLittle Missouri State Park contains some of the most rugged, picturesque Badlands terrain in North Dakota. Most of the park is accessible only by horseback or hiking. Numerous wildlife species frequent the park, including mule deer, coyote, fox, bobcat and golden eagle.

Ronald Reagan Minuteman Missile State Historic Site

phone: +1 701 797-3691

Consisting of two sites, Oscar-Zero (a former Missile Alert Facility) and November-33 (a former Launch Facility or missile silo) were only two of 165 Cold War era nuclear missile facilities operated by the 321st Strategic Missile Wing at Grand Forks Air Force Base, Grand Forks, North Dakota. Operating from 1966-1997, only Oscar-Zero and November-33 would be preserved as historic sites and in 2009 were formally opened for tours by the State Historical Society of North Dakota. Open year round with varying hours, visitors can tour a former nuclear missile control center buried 50 feet below ground and experience the living and work areas of America's Cold War missileers.

Sully Creek State ParkSully Creek provides primitive camping and related facilities for trail riding, canoeing or hiking. Located in the heart of the North Dakota Badlands, the area is just minutes away from the historic town of Medora and Theodore Roosevelt National Park.

Turtle River State ParkConstructed in the 1930s by the Civilian Conservation Corps, the park is located in a beautiful, wooded valley along the meandering Turtle River.
Do
Adventure Activities: Turn off that reality TV and visit a place with real life adventure: North Dakota. When it comes to outdoor activities, North Dakota is hard to beat. Golf the Lewis & Clark Trail, sail across Lake Sakakawea. No matter if it's bicycle or binoculars - an adventure awaits you. Search for activities like hiking, biking, canoeing, camping, boating, skiing, snowmobiling, golfing, wildlife viewing and horseback riding.
Agri-tourism: In North Dakota, one may answer a lot of questions about agriculture - like "Where does milk come from?" and "How do you make spaghetti?". Here, you can live out a real ranch vacation, become a cowboy
An Education Vacation in agriculture is one recommended way to experience North Dakota Agri-Tourism.
Discover North Dakota's Ranches, Farms and Gardens, see it all from the seat of a saddle, or just stop and take a moment to appreciate the waving greens, the golden amber waves of grain, and the immense modern farm equipment.
American Indian Experience: They are the Mandan, Hidatsa, Arikara, the Yanktonai, Sisseton, Wahpeton, Hunkpapa and other Dakotah/Lakotah (commonly known as the Sioux) Tribes, along with the Pembina Chippewa, Cree and Métis.
Though the individual tribes have distinct and different origins, histories and languages, Plains Indians are united by core beliefs and values that emanate from respect for the earth and an understanding of humankind's relationship with nature.
Visitors are welcome to explore the reservations and discover the beauty of Indian culture.
Archaeology and Paleontology: Millions of years before North Dakota was a state, prehistoric creatures were living out their legendary adventure. Today, you can visit - and excavate at - fossil-bearing sites ranging in age from 30-years to 73-million years.
Arts and Entertainment: Concerts, festivals, galleries and more abound in North Dakota. See top-name acts at a casino, or at one of the larger venues, like the FargoDome, Bismarck Civic Center, Minot all Seasons Arena or Grand Forks' Alerus Center, Ralph Englestad Arena and Chester Fritz Auditorium. Art, created by or simply appreciated by North Dakotans, can be experienced in many ways. Check out the North Dakota Council on the Arts for a good overview. You'll also want to visit the North Dakota Museum of Art, Plains Art Museum, and the many art and craft fairs you'll find on the local CVB Web sites.
Biking: North Dakota's varied topography offers mountain bikers many choices for riding. From the one million acres of rugged buttes in the Little Missouri National Grassland to the rolling hills of the Turtle Mountains, North Dakota has many areas for mountain biking, including the Maah Daah Hey Trail waiting to be discovered.
Birding: nearly four hundred species of birds inhabit or visit North Dakota.
Boating: North Dakota's lakes and rivers are well equipped with boat landings and great reasons to get out on the water, like legendary fishing.
Camping: Whether you're traveling by luxury RV or with a pup-tent in the back of the pick-up, camping adventure awaits you at 1,300 North Dakota campsites.
With 17 State Parks and Recreation Areas and countless local camping facilities, North Dakota is a great place to camp. There is abundant activity available in every park. Pack the s'mores, sing some campfire songs, and keep an eye towards the sky in case the Northern Lights join your party.
Canoeing/Kayaking: North Dakota's canoeing waters are as diverse as the state itself. Whether canoeists prefer the scenery presented by agricultural plains, rugged Badlands, thickly wooded slopes or gentle river bluffs, North Dakota's rivers offer a challenge to beginners and experienced paddlers alike.
Casinos/Gaming: You'll find fun and excitement throughout the year in North Dakota's casinos. Enjoy a variety of gaming experiences, fine dining and accommodations. Visit casino Web sites for concert and event listings.
Education Vacation: One of the fastest growing travel trends is in education vacations. This is an opportunity for visitors to customize their North Dakota experience - have fun and learn new skills - in a variety of areas, including:
Agriculture
American Indian Studies
Art
Birding
Culinary Arts
Living History
ND Immigrant Cultures
Paleontology
Energy: When you drive to the store or flip on a light switch, the energy has to come from somewhere. See how energy is produced in North Dakota by visiting the energy related attractions.
Family Fun: Building memories - that's what family fun is all about. In North Dakota your family can follow the trail of Lewis & Clark, dig for fossils buried for millions of years, splash down at a water park, tell ghost stories around a campfire ... and that's just the first day!
Fishing: Fishing is good, with lakes and rivers with game fish like northern pike, walleye, perch, trout and bass. Water levels, species diversity, fish sizes and populations are up.
Forts: Experience North Dakota's legendary military history through a visit to a fort or state historic site. As settlers pushed west, forts were established to provide protection and central meeting places. The North Dakota State Historical Society operates most historic forts in the state.
Geocaching: high tech treasure hunting with the help of a Global Positioning System (GPS), provides another opportunity for outdoor adventure the whole family can enjoy. The North Dakota State Parks System offers a wide variety of natural and historic settings, landmarks and architectural works, to make this state a great getaway for an enjoyable geocaching experience.
Golfing: North Dakota has more golf courses per capita than any other state in the nation, almost 100 courses total.
Hiking: Public lands in North Dakota, including state parks, wildlife management areas and refuges, grasslands, national parks, historic sites and recreation areas are open for day hiking of various lengths. Hiking sites include trails with historic or natural features specifically marked for self-guided interpretive walks. These short hikes are excellent for individuals, families or large group learning experiences.
Horse and Auto Racing: If you have a need for speed, there's nothing like a Friday night spent cheering for your favorite driver - or horse at the North Dakota Horse Park in Fargo.
Hunting: Hunters can decoy ducks or geese in the morning, chase pheasants in the afternoon and be back in their decoy spread again for the evening flight. Or they can bowhunt for pronghorn and mule deer in the drop-dead gorgeous Badlands. North Dakota is known as the duck factory in the lower 48 states, boasting some of the best duck hunting in the country for birds raised within its borders – and some of the best hunting for birds making southern migrations from nesting grounds in Canada. Upland hunters come from around the country for a shot at ring-necked pheasants, sharp-tailed grouse and Hungarian partridge. Big-game hunts are available, too, including for deer.
Lewis and Clark Trail: Captain Meriwether Lewis called them "the handsomest plains I ever beheld." North Dakota still boasts breathtaking scenery and its hospitality continues to leave a lasting impression on visitors. Lewis and Clark did all of the hard work, charting and exploring the West, and now you can have all of the fun! Take your own journey to a powwow, drape yourself in a buffalo robe or meander through remains of the home of Sakakawea, the Lewis & Clark Expedition's legendary Indian interpreter and guide.
Motorcycling: There is nothing quite like motorcycling in North Dakota. Great highways dissect 70,000 square miles of rural bliss and take riders effortlessly between the state's larger cities. You won't find a lot of things here that you do elsewhere: smog, crime, traffic, headaches. But you will find things here you won't find anywhere else: the nicest people, the North Dakota Badlands, Pembina Gorge, rolling hills and grasslands and the wide open farmland of the Red River Valley.
RVing: On highway, there are 350 miles of scenic byways and backways to lead you to some of our favorite "hidden gems." Create your legendary adventure by way of national park sites, state parks, city and county campgrounds, prairies, Badlands, grasslands and valleys. There are How about discovering a museum made out of rock; or hike into a petrified forest; or discover a young Teddy Roosevelt's cabin.
Scenic Drives: take a break from it all and cruise on one of North Dakota's many scenic drives.
Sporting Teams: Teams include: Northern League Baseball RedHawks Baseball (Fargo), NBA D-League Basketball Wizards Basketball (Bismarck), NAHL Hockey Bobcats Hockey (Bismarck), USHL Hockey Fargo Force (Fargo)
Western Experience: North Dakota is often known as the place to visit for a "Real American" experience.
Wineries: North Dakota is home to four wineries and one vineyard, and the popularity of North Dakota wines is growing. From pumpkin to rhubarb, apple to honey, there's a wide variety. Tours and tasting is available at all locations.
Stay safe
Urban concerns

Industrial oil development, mainly taking place in the area between Minot, Williston, and Dickinson, has made most highways unsafe for bicyclists. Crime has significantly increased, especially in Williston.

Rural concerns

The poisonous rattlesnake can be stumbled on by mistake. Rattlesnakes should be avoided and never disturbed. Bison may be beautiful but a male bison can run faster than you can and may trample or maul if it feels threatened. Always maintain a safe distance (30 yards or more) from large animals. Coyotes have been known to venture into campgrounds and can have rabies. Otherwise coyotes won't threaten humans. Pets should be brought indoors at night. A dog can become a snack to a group of coyotes, especially small dogs. Deer are known to cross roads all over North Dakota so drive aware of deer crossings, especially in the early morning or dusk hours.
Never forget that North Dakota's peaceful valleys can give way to challenging ravines and trenches, raging rivers and clay roads, cactus and thorns. A walk around Lake Sakakawea's beautiful shores can turn into a rescue mission, since lakes are deep shorelines are sometimes unsteady. Rivers can be unforgiving; a child left on a sandbar playing might wander into the swift currents of the Missouri. Life-jackets are a must. In winter people have frozen to death by getting lost on snow-covered fields or roads. Lakes can ice over in the winter, but be sure you know the thickness and quality of the ice before venturing out. (Ask a local if unsure.) Never explore North Dakota in the winter without proper gear. Blaze orange clothing during deer season is a must when hiking or hunting.
Much of North Dakota's most beautiful scenery is untouched. You are likely to be perfectly safe in North Dakota's cities and on highways. But when you travel away from the highways to reach the great scenery North Dakota has to offer, be sure to have a travel companion (or notify a trusted person of your travel plans) and plenty of supplies in case you become stranded. Since North Dakota is one of America's least populated states, there is a lot of untouched land for you to explore.

Go next
If you're leaving North Dakota by car, you may wish to take Interstate 29 north to
Winnipeg
, or Interstate 94 east to
Minneapolis
. The adventurous might choose to drive US 85 straight through the Badlands south to
Sturgis
, either to see the motorcycle rally, or en route to
Mount Rushmore National Memorial
and other attractions of the
Badlands and Black Hills
.
Minnesota - Known for cold winters and its ten thousand lakes, North Dakota's eastern neighbor is an ideal destination for wilderness enthusiasts and shoppers destined for the Twin Cities and Mall of America.
South Dakota - Home to such natural and cultural wonders as Badlands National Park, Wind Cave National Park and Mount Rushmore, the other Dakota offers a surprising amount for travelers to see and do.
Montana - North Dakota's western neighbor is often called Big Sky Country for its famed big, blue skies, but the amazing natural landscape varies from open plain regions to the east and the towering peaks of the Rocky Mountains in the west.
Saskatchewan - Located to the northwest of North Dakota, the southern portion of Saskatchewan is predominantly prairie (with a reputation for being very flat) known for its seemingly endless fields of wheat.
Manitoba - Sharing a border in the northeast of the state, Manitoba is known for its lakes, prairies, agriculture, culture and history.