North Hesse
North Hesse
, German:
Nordhessen
, is a region in the
Hesse
state of
Germany
. The destination is located in the uplands of Central Germany.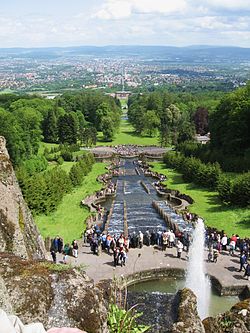 Cities
- Bad Hersfeld festival (also known as the Salzburg of the North)
- romantic old town and spa, where purportedly the Snow White story originated
- Werra valley
- Eder valley
- outstandingly well-preserved medieval old town, important place in the Christianisation of Germany and the history of the Holy Roman Empire
- deeply Catholic bishop's see rich in history and Baroque architecture
- university city (nearly half of the population are students) and administrative centre
- whose Baroque landscape park and water features are a UNESCO World Heritage Site
- Hanseatic town
- the old town with its medieval stone bridge, town fortifications and half-timbered houses is worth seeing; used to be seat of the Imperial Chamber Court
- with cherry gardens spreading across the rolling hills, from where you can enjoy brilliant views of its old town
Other destinations
Understand
North Hesse is notably hillier and less densely populated than the Southern parts of the state. Apart from major population centers and transportation hubs like Kassel this area is mostly rural, at least by German standards. Its small towns and even its cities used to have a lot of half timbered houses. As they are prone to burning down, many of them were destroyed in wars but especially in the smaller towns many still remain. There are several small and medium-sized cities that have mostly preserved their romantic, pre-modern look, more than in most other regions of the country. Here you may find Germany as you know it from picture-books or fairy tales, and indeed the Brothers Grimm spent their youth and student days in this region where many of the tales collected by them have their origins.

Get in
By train
Kassel is well connected to the major North-South Axis of Germany's high speed rail system, the Hannover-Würzbrug mainline with hourly ICEs between Munich and Hamburg along this line. Keep in mind that there are two stations in Kassel and that ICEs for the most part
don't
stop at Kassel Hauptbahnhof but instead at Kassel-Wilhelmshöhe.
By car
Kassel is well connected to the German Autobahn network. Keep in mind that much of the holiday North-South traffic passes through these Autobahns in summer and be prepared for congested roads. As both (Northern) Italy and the German North Sea Coast are popular tourism destinations for Germans during the summertime, expect congestion in
both
directions, especially along bottlenecks and
Autobahnkreuze
(~Autobahn-junctions).
By plane
While there is a small airport in Kassel, you are more likely to fly into
Frankfurt Airport
(
FRA
) or in some cases Hannover (HAJ) in neighboring Niedersachsen.

Get around
The northern part of the region is covered by Norhessischer Verkehrsverbund, whose common ticket scheme covers local and regional bus lines, regional trains and the extensive tram network of Kassel. Their
website
unfortunately has no English version.
See
Bergpark Wilhelmshöhe (mountain park) in Kassel - since June 2013 world heritage
Reinhardswald low mountain range 20 kilometre in north of Kassel, with Sleeping Beauty's Castle Sababurg
Edersee - Lake Edersee, which is located in a nice landscape, is one of the biggest reservoirs of Germany (length 27 km). Here you find at castle Waldeck an attractive panorama view onto the basin. A frequent place is the Edersee dam.
Itineraries
German Fairy Tale Route (Deutsche Märchenstraße): Hanau – Schlüchtern – Alsfeld – Marburg – Frankenberg – Bad Wildungen – Wolfhagen or Schwalmstadt – Bad Hersfeld – Homberg (Efze) – Fritzlar – Baunatal – Kassel – Hofgeismar – Reinhardswald or Hessisch Lichtenau – Witzenhausen – Hamelin
Do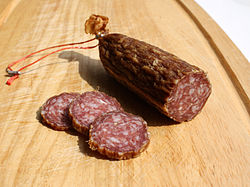 The hilly, forested terrain makes the region ideal for
hiking
, and the lakes are popular for
water sports
, especially sailing in smaller boats.
Eat
Ahle Wurst - a hard pork sausage
Drink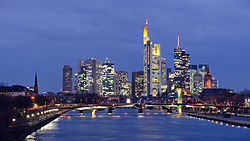 Go next
Rhine-Main region centered around Frankfurt can provide a stark contrast with to its metropolitan and cosmopolitan feel.
The federal state of Thuringia remains one of the least visited by foreign visitors, but holds a wealth of unspoiled forests and historically important cities such as Weimar, where Goethe and Schiller lived or Eisenach with the Wartburg
South Westphalia (Sauerland and Siegerland) to the east is one of the least populated regions in Germany and home to the European bison