North Holland
North Holland
(
Dutch
:
Noord-Holland
) is a province in the West of the
Netherlands
. It is bordered by
South Holland
on the south,
Utrecht
on the southeast,
Flevoland
in the east and
Friesland
in the northeast. It is the most visited province and includes
Amsterdam
, the capital of the country, as well as traditional and historic Dutch villages.
Regions
North Holland encompasses the northern half of the former county of Holland. It can be divided into six regions:
Cities
— capital of North Holland with plenty of tourists visiting its ancient city center, shops and numerous museums
— historic town, well known for its cheese market
— the place-to-be for tourists for its architecture, canals, museums, weed, red light district and nightlife
— calm beach resort, artist village, impressive dunes and natural scenery
— mostly visited for its seaside resorts, beaches and the ferry to Texel
— historic town with a rich history and the Zuiderzee Museum
— starting point for cycling tours around architectural marvels, forests and the heath
— historic town from the Dutch Golden Age
— probably one of the oldest industrial areas in the world, which makes for an unusual day-trip
Other destinations
— a former island, more authentic than Volendam and well known for its characteristic wooden houses
— the international airport of Amsterdam, one of Europe's busiest airport cities
— the largest of the West Frisian Islands, suited for cycling, walking, swimming and horse riding
— display of Dutch windmills and open-air museum
— forests, beaches and dunes to hike or cycle around in
Understand
Everyone knows
Amsterdam
. Millions of foreign visitors come to check whether its rough image as the city of cannabis and Red Light District is really justified. Obviously both exist and are legal, but Amsterdam is also an excellent family destination and has a lot of artistic, cultural and historical significance. But North Holland consists of much more than just Amsterdam. The
Zaanstreek-Waterland
around it consists of flat green polders with thousands of canals, windmills and farm houses, a landscape considered typical for the country. Especially
Zaanse Schans
,
Volendam
,
Marken
and
Edam
make a popular typical Dutch day-trip, with their clogs, traditional costumes and windmills. Also typical Dutch are its dykes, of which the Afsluitdijk and the Markerwaarddijk connect the province with respectively
Friesland
and
Flevoland
.
In the summer, many Dutch visitors head out to the sandy beaches of
Kennemerland
on the west coast. They are quite calm and relaxed, though
Zandvoort
can be crowded on very warm days. Another way to take some time off is in one of its natural parks. The historic towns of
Haarlem
and
Alkmaar
are also popular day-trips among tourists, the latter for its typical Dutch cheese market. The
North Holland Peninsula
is a distinctive area, part of which is known as West-Friesland with its own dialect (West Fries). Many historic trade towns from the Dutch Golden Age can be found here, such as
Enkhuizen
,
Hoorn
and
Medemblik
.
Texel
is the largest among the
West Frisian Islands
and a great tourist resort.
The
Gooi en Vechtstreek
is an affluent area excellent for cycling through. There are plenty of forests and heath lands to explore, as well as interesting villages.
Hilversum
is the central town of the region and is home to some interesting modern architecture.
Naarden
has one of the best preserved fortified towns in the world, while
Muiden
has a large 13th-century castle and other medieval remains.
Get in
By plane
Many visitors to North Holland (and the Netherlands) will arrive at
Amsterdam Airport Schiphol
, the fifth busiest airport in Europe. Although it officially belongs to Amsterdam, it is actually located in the reclaimed municipality of
Haarlemmermeer
below sea level. More information about the airport can be found in the
Amsterdam
article.
Getting to Amsterdam or anywhere else in North Holland from the airport is as easy as taking the train. Buy a ticket in the main hall, take the escalator below ground floor and wait for your train to arrive. A one-way to Amsterdam costs about €4, to Haarlem €5, to Hilversum €7 and to Alkmaar €8 euro. There are also taxis available, but expect to pay at least €50 for a trip to Amsterdam, €60 for Haarlem, €90 for Hilversum and €120 to Alkmaar.
By train
Amsterdam
(and
Schiphol Airport
) can be reached from many international destinations using the NS HiSpeed international train service. Daily, seven ICE International trains leave from
Frankfurt
in
Germany
that pass through
Cologne
,
Düsseldorf
and
Duisburg
to reach Amsterdam in about four hours. Plenty of intercity trains from Deutsche Bahn connect
Berlin
with
Amsterdam
in about six hours. From
Belgium
, there is a direct intercity train from
Brussels
and
Antwerp
to Amsterdam that takes less than two hours to reach. There's a direct connection from
Paris
to
Amsterdam
with Thalys that takes a bit more than three hours. From April 2018, Eurostar started operating twice daily (once daily at the weekends) trains from
London St Pancras
to
Amsterdam
; for the time being the return leg has to be made using a Thalys train to
Brussels
and changing there. Traveling by international train is generally not cheap, but booking earlier does make it cheaper.
If you're coming from other provinces in the Netherlands, the easiest way to visit is to use the Netherlands Railway service to come over. Generally, it is a reliable, fast and cheap way to get into the province. A one-way trip from
Rotterdam
costs about €14 and takes about one hour, while a trip from
The Hague
costs about €10 and takes about 50 minutes.
By car
North Holland is an important region and is approachable from all surrounding provinces. Generally just follow the signs for Amsterdam and you'll easily find your way. The most commonly used routes are:
If you're in
Flevoland
and your destination is the
Kop van Noord-Holland
, consider driving over
N302
which goes from
Lelystad
to
Enkhuizen
. This is a quick route over the Markerwaarddijk right through the Markermeer.
Get around
There is an excellent public transport network throughout the Netherlands and particularly in the highly populated province of North-Holland. Buses and railways criss-cross the region with services reaching all but the most remote villages.
Amsterdam
also has
trams and light railways (metros)
. Planning routes across the region (and throughout the country) is exceptionally easy because of the co-operation between the service providers.
OV9292
provides a comprehensive point-to-point public transport route planner covering all major transport types.
See
Historic towns
North Holland has dozens of historic town centres that are worth visiting. The most well-known is obviously the historic centre of
Amsterdam
, which became a
UNESCO World Heritage Site
in 2010. Its characteristic architecture and lovely canals (known as
grachten
) demand some pictures to be taken. But there are a lot more of them in the province — every region of North Holland at least has one town with a historic town centre.
Many visitors to Amsterdam incorporate a day-trip to
Alkmaar
or
Haarlem
, the largest towns of their respective regions with a historic core. Its a great walk (or cycle) through the romantic narrow streets in Alkmaar, and once a week a traditional cheese market is held. In Haarlem you can visit the
Grote Markt
(
Grote Markt
), a beautiful square in the centre of the city.
Hoorn
and
Enkhuizen
are also beautiful historic towns well worth a visit.
The nearest fortified town from Amsterdam is
Weesp
, which is just a 14-minute train ride. It has a quiet historic centre on the river Vecht with windmills. From there, it's an easy bicycle ride to
Muiden
, which is home to the
Muiderslot
, an amazing 13th-century castle, as well as other mediaeval remains. Close-by is
Naarden
, which is also worth a trip as its 17th-century fortifications are among the best preserved in Europe.
The Muiderslot is just one of the dozens of pieces that together form the
Defence Line of Amsterdam
(
Stelling van Amsterdam
) , a 135 km long ring of fortifications around Amsterdam. In total, it consists of 42 forts about 10 to 15 kilometres from the city centre. It's surrounded by low polder lands, which could easily be flooded in time of war. It was constructed between 1880 and 1920, but the invention of the aeroplane made the forts obsolete almost as soon as they were finished. It received recognition as a
UNESCO World Heritage Site
in 1996.
Traditional Dutch villages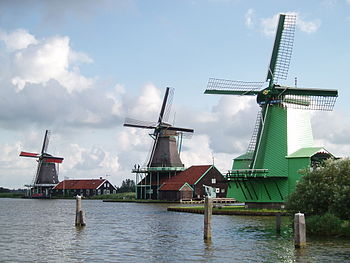 The
Zaanstreek-Waterland
is home to many traditional Dutch villages with polders, clogs, windmills and traditional Dutch costumes. The most visited attraction in the area is the
Zaanse Schans
, an open air conservation area and museum on the bank of the river Zaan, about 25 km north of Amsterdam. It displays the traditional architecture of the area (green wooden houses) and has several functioning windmills and craftmen's workplaces, which are open to visitors.
Volendam
is also very popular, which literally swarmed with visitors during the summer. It still is a traditional fishing village, although tourism took over as the engine behind its economy. Its traditional waterfront line looks picturesque, as are the local fishermen and farmers in their traditional costumes (which many visitors wear for the picture).
Less touristed and thus more authentic Dutch villages surround
Volendam
.
Edam
, which is on walk-distance from Volendam, is home to a cheese market and already feels more authentic.
Marken
, which used to be an island but is now connected by a dyke, is well known for its characteristic wooden houses. Other villages worth visiting include
Monnickendam
,
Broek in Waterland
and
Ransdorp
, the latter of which is very,
very
off the beaten path.
If you're interested in Holland's typical polder landscape, you might want to visit the
Beemster
reclaimed polder. Its land pattern bears a resemblance to the street pattern in
Manhattan
,
New York City
(except for Broadway). It's been said that the Beemster functioned as a model for the pattern in New York. In 1999 the Beemster polder was placed on the
UNESCO World Heritage List
.
Museums
North Holland has been a centre of history, art and crafts, and many museums are still dedicated to this cultural heritage. The South of
Amsterdam
has a neighborhood known as the Museum Quarter, which is home to some of the world's best museums — the
Rijksmuseum
,
Van Gogh Museum
and
Stedelijk Museum
. Other neighborhoods also have museums that are definitely worth the visit. Beat the crowds by visiting the
Anne Frank Museum
early, or visit the
Rembrandt House
.
Haarlem
is also home to numerous museums.
Teylers Museum
is the oldest museum of the Netherlands home to a very diverse collection of cultural objects, such as fossils, minerals, scientific instruments, medals, coins and paintings (including several works by Michelangelo and Rembrandt). The
Frans Hals Museum
is home to more than a dozen paintings of the famous painter Frans Hals. There are three other interesting museums in the city, including the
Ten Boom Museum
, which is about a hiding place for Jews and other underground refugees during World War II.
Hoorn
and
Enkhuizen
both lie north of Amsterdam and in the 17th century were port towns used by the Dutch East India Company (VOC). Both of these towns lie in West-Friesland, an area with a distinct dialect and culture. The
Westfries Museum
, that lies on Hoorn's beautiful central square
Roode Steen
, shows the importance of
Hoorn
in 17th-century VOC history. Much larger is the
Zuiderzee Museum
in
Enkhuizen
. Many old Dutch houses from the 19th- and early 20th-century have been moved to this open air museum in order to preserve them for future generations. In the summer old Dutch professions are shown by museum employees.
Do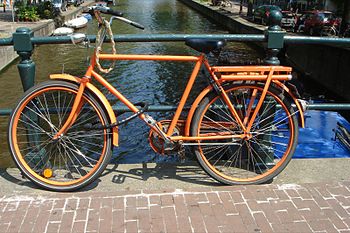 Cycling
is a fun activity that many of the locals do daily. Many visitors rent a bicycle and cycle their way through the centre of
Amsterdam
. It is a great way to see the city, just make sure to lock it properly — bicycle theft with more than 1 million cases a year just in Amsterdam is almost a national sport. You can also take a bicycle taxi that brings visitors to any place they request, such as one of the museums.
The locals like to spend their weekends cycling through the nature of the surrounding areas. If you want to see the typical Dutch polder landscape and picturesque villages, consider a cycling route through
Waterland
.
Hilversum
is a good starting point for cycling through affluent villages, forests and heath of the
Gooi en Vechtstreek
. Another interesting cycle is through the forests and dunes of the
Zuid-Kennemerland National Park
.
The
beaches
are a fun activity during warm summers.
Kennemerland
generally has a lot of calm beaches that are very family-friendly.
Zandvoort
is the busiest one, while
Bloemendaal
,
Bergen
and
Egmond
are calmer options. Many locals go to
Texel
for a few days to breeze out on its windy beaches.
Water sports
can be done at the lakes that North Holland has to offer. The artificial lakes of
Wijdemeren
, which literally means "Wide Lakes", are a popular destination for this.
Aalsmeer
is home to the Westeinderplassen, which can also be used for water sports. The lakes are very calm, so activities are limited to renting a motorized or rowing boat (don't expect to go rafting or parasailing).
Eat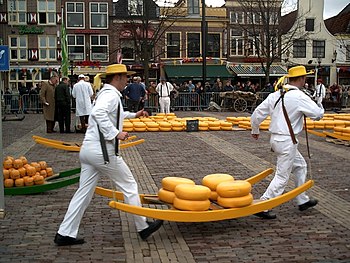 Holland is known for its
cheese
and North Holland is no exception.
Edam cheese
and
Beemster cheese
are among the most widely known brands of cheese and a must-try. These are not only known in Holland, but are sold all over the world, including the United Kingdom, United States, Canada and Australia.
North Holland Cheese
is a special kind of cheese protected by the European Union. Cheese can only bear this label if it is produced in North Holland with traditional methods and ingredients from the region. You can buy it in any supermarket in the region.
Alkmaar
and
Edam
are world famous for their traditional
cheese markets
, which give an excellent opportunity to try some Dutch cheese. These are not modern commercial markets, but traditional ones as operated in the Middle Ages. They are re-enacted during the summer months for visitors.
Hoorn
recently reintroduced their historic cheese market as well.
Restaurants in North Holland are very diverse, but generally there is plenty of choice. As
Amsterdam
is the city with the most nationalities in the world, this city is filled with
ethnic restaurants
. There are plenty of Indonesian, Chinese, Japanese, Thai, Italian, Surinamese, Mexican and Argentinian restaurants in the city, among others. It is also the best place for Dutch restaurants, as they cannot easily be found elsewhere. Try to avoid tourist traps as they are expensive, not authentic and they have a pretty bad service.
The
Gooi en Vechtstreek
is a popular night out for affluent locals, as it is home to plenty of
quality restaurants
.
Bussum
has the best restaurants of that area, while
Hilversum
has more diverse options. Another affluent town in North Holland is
Bloemendaal
in
Kennemerland
. The village of
Overveen
nearby Bloemendaal is home to two of the best French restaurants of the province. If you're on the island of
Texel
,
Den Burg
has plenty of quality restaurants as well.
Drink
If you're looking to dance and party all night long, look no further than
Amsterdam
. Its rough image is partly justified as there are plenty of bars and clubs, hundreds of so-called "coffeeshops" (for cannabis) and it is home to the infamous Red Light District. Its nightlife pretty much serves as a hub for the whole province. The nightlife in surrounding regions is less engaging, but generally the largest towns of these regions have some clubs available.
Haarlem
is the party hub for
Kennemerland
,
Alkmaar
for the north and
Hilversum
for the
Gooi en Vechtstreek
. Due to the media and celebrities living in the Gooi area, Hilversum has a few posh bars and clubs that might be worth visiting.
If you're wondering what to drink: North Holland is
beer
country. Heineken is one of the largest beer corporations in the world and its brewery has been in the South of
Amsterdam
for centuries. You can still visit the
Heineken Experience
museum if you're interested in the history of beer and the province. Another alcoholic drink that has its origins in Amsterdam is
Beerenburg
, a spirit that throughout history has been more and more associated with the culture of
Friesland
.
Go next