North Island
The
North Island
of
New Zealand
is warm, with scenery ranging from sandy beaches, through rolling farmland to active volcanic peaks. Although it is smaller than the
South Island
, it is much more populous, with half of New Zealand's population living north of Lake
Taupo
in the middle of the North Island.
The Māori population of the North Island is much larger than that of the South Island and, in the 2006 census, 24% said that they could carry out an everyday conversation in the
Māori language
. For more than two hundred years this island was known as
Aotearoa
, often translated as
land of the long white cloud
, by Māori. Use of the alternative name
Te Ika a Māui
, "the fish of Maui", has grown. In 2009, the New Zealand Geographic Board discovered that the North and South Islands had never been officially named. In October 2013, the island was officially named
North Island / Te Ika-a-Māui
.
Regions
The regions, listed from north to south (as best as possible), are:
Cities
– the "City of Sails" and, with more than 1.5 million people, by far the largest city in New Zealand and Polynesia
– sunny surf city on the east coast
– a major city, with the great Waikato River flowing through it
– Art Deco and wine in sunny Hawke's Bay
– seaside city beneath the perfectly-shaped volcanic mountain of Taranaki
– famous for Māori culture, geysers and beautiful hot pools
– trout fishing and adventure activities at the big lake
– great weather, sun and beaches in the Bay of Plenty
– the capital and third largest city in the nation, home of Parliament and the Beehive
Other destinations
– 16.3-km walking track to an old lighthouse in the Bay of Islands
– at the northern tip of New Zealand
– the largest of the Hauraki Gulf islands
– used as a road to Cape Reinga, it's actually only 58 miles long, but that's still very long
– a nature reserve for native birds (some of them rare) and other native species in the Auckland region
– snow sports and hiking in and around the three scenic volcanic mountains of Ruapehu, Ngauruhoe and Tongariro
– popular for day trips from Auckland, being just a 40-minute ferry ride
– limestone caves, stalactites, stalagmites and glowworms
– take a day tour to an active island volcano (eruptions permitting!)
Get in
Get around
See
The North Island has an impressive selection of outdoor attractions, and as it has the greater share of the country's population, it also has a good selection of urban sights.
Volcanoes and geothermal activity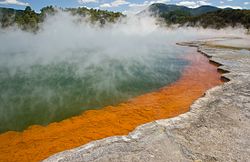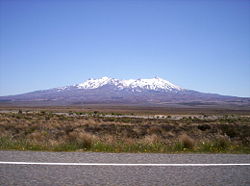 Urban attractions
Museums
Exploring Te Papa, the national museum, in Wellington can easily fill a day. It is an excellent exhibition of New Zealand history, natural history and art in an impressive modern building. Other museums and galleries in the city could occupy another day.
Auckland War Memorial Museum is also a great general museum of New Zealand history and natural history. The Voyager New Zealand Maritime Museum in Auckland is particularly worth visiting if you are interested in sailing.
Parks and gardens
Wellington has a pleasant Botanic Garden on a nice hillside site which gives good views over the city.
Hamilton has the impressive Hamilton Gardens which has over a dozen themed gardens each of which would justify a visit.
New Plymouth has the substantial Pukekura Park, which is transformed for the Festival of Lights in December and January.
Historic sites
The Bay of Islands has some of the earliest Pakeha history, and several historic (nineteenth century) sites.
Do
Beach activities. With a temperate climate and a long coastline, North Islanders love to go to the beach and other coastal areas to swim, surf, sunbathe (try to avoid burning), fish, go boating, walk, or just to play in the sand or relax under a pohutukawa tree. It's all-year activity, most popular in the warm summer months.
Hiking (or tramping as Kiwis call it). From scenic coastal walkways to native forest covered hills, to volcanic peaks, there are plenty of tracks (trails) for one-day or multi-day walks.
Snowsports. The heights of the Central North Island are busy with skiers and snowboarders in winter (July and August).
Eat
Drink
Go next