North Jeolla
North Jeolla
is a province in the south west of
South Korea
.
Cities
- Capital of North Jeolla
- the location of Geumsansa, one of South Korea's most famous Buddhist temples
- the hometown of important Korean classical literature, such as Chunhyangjeon and Heungbujeon. Chunhyangjeon was written for Pansori at first but people also met the story as a novel. It is a representative love story of Korea written in the Joseon (1392 1910) period. Namwon is also a background of the story of Heungbujeon, one of the top Korean classical literature.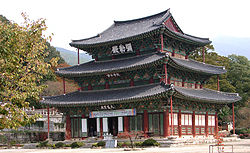 Other destinations
Understand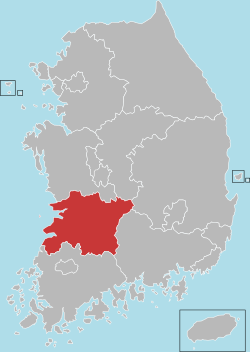 See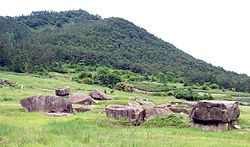 See the Gochang dolmen sites which together with the ones in Hwasun and Ganghwa are highly praised for their archaeological worth, and added to the United Nations Educational Scientific and Cultural Organization (UNESCO) World Heritage list in 2000.
Visit Namwon to see the Gwanghallu garden, which is the representative traditional garden built in the middle years of Joseon dynasty(1392-1910). Chunhyang first met her love, Lee Mong ryong, here. You can enjoy the beautiful view of nature.
Visit Naejangsan Temple in Jeongeup.
In the northern part of this region you can find two of the sites of the Baekje world heritage; the Archeological site in Wanggung-ri and the Mireuksa Temple site.
Do
Ski in Muju
Maple Leaf Festival in Jeongup
Eat
Chueotang (추어탕), a spicy, hearty stew made from minced loach (mudfish), potatoes, mushrooms, rice cakes and anything else lying around. A speciality of Namwon, where July 5 is "Chueotang Day".