North Kingstown
North Kingstown
is in Washington County,
Rhode Island
in the
United States of America
. It has of coastline on Narragansett Bay and covers almost . As of 2015, the population was approximately 22,300. The town is 60 miles south of
Boston
,
Massachusetts
, 20 miles south of
Providence
,
Rhode Island
, and 12 miles northwest of
Newport
,
Rhode Island
. The 143rd Wing of the RI Air National Guard is based at the Quonset airport.
North Kingstown encompasses the villages of Allenton, Hamilton, Davisville, Quidnessett, Lafayette, Slocum, Belleville and Saunderstown.
While
Wickford
, a quaint touristic village renowned for its history and its festivals, is part of North Kingstown, it is covered in its own separate article.
Understand
The history of the town dates back to 1637, when theologian Roger Williams established a trading post between two major Native American thoroughfares. In 1674, "Kings Towne" was founded by the colonial government and included several present-day towns. Kings Towne was the center of the King Philip's War fought from 1675 to 1676. At the start of the 18th century, settlement increased so quickly that in 1722 the colonial government divided Kings Towne into North and South, with North Kingstown being the area of earliest settlement. The seaport and colonial fishing village of Wickford was also established in the early 18th century.
The town's population grew during the Second World War, when Quonset Naval Base was in full operation. During this time, Quonset consisted largely of airplane hangars, barracks and other functional buildings. After the base ceased to be full-functioning, many of these buildings were converted to house businesses and factories. The business park has become more developed and has brought industry to North Kingstown from all over the world. Through use of its port, Quonset receives automobiles from around the world, including Germany and Japan. The Quonset Gateway project has promoted the growth of the area by providing space for local retailers and high-tech industrial and commercial businesses. To accommodate for these businesses and to improve the area, many of the World War II era-buildings have been destroyed or are being deconstructed. However, adventurous visitors can still see some of the World War II-era buildings by driving or biking around the area. Several Quonset Huts (named for the Native-American structure design they were inspired by) can be found near Alan's Harbor.

Get in
Car, from the highway, you can get to North Kingstown from Route 4 South, exits 5A and 5B, and Route 4 North, exit 5. There are 2 "Park & Rides", one off of Ten Rod Rd. and the other off of Frenchtown Rd.
Quonset State Airport, +1 401-294-4504, in North Kingstown.
Kingston Station- Serving Amtrak trains and is right near the University of Rhode Island, about 20 to 30 minutes away. +1-800-872-7245.
R.I.P.T.A. Rhode Island Public Transportation Authority, +1-800-221-3797
T.F. Green Airport, +1 401-294-4504, is a hub for major carriers. In Warwick, approximately 30 minutes from North Kingstown.
Boat: it is possible to access Wickford by boat, as it is in Narragasett Bay.
Get around
R.I.P.T.A.Rhode Island Public Transportation Authority

phone: +1 401 295-4040

Quonset Point. Between North Kingstown (Quonset Point), and Oak Bluffs. Good connecting transportation at both ends. North Kingstown has shuttles to/from Amtrak and T.F. Green airport in Warwick.

phone: +1 401 885-7558

address: 6980 Post Rd

Hours and prices may vary. Must be 25 years or older to rent a vehicle.
See
There is much history in North Kingstown, let alone all of Rhode Island. From colonial battles, and early-American life to Quonset Point's modern military use and the wildlife refuge found here, there is much to see and do in North Kingstown.
phone: +1 401 295-1030

address: 2325 Boston Neck Rd

Dating back to 1750, the 300-acre working farm overlooks Narragansett Bay and operates today as one of the oldest working farms in New England. It is one of the original plantation farms of the Colonial era and was a site of Revolutionary activity. The surrounding fields, barns, high stone walls, family cemetery, and beautiful view of the bay and Conanicut Island make for a pristine photo opportunity. The farm has been in cultivation since the time of the Narragansett Indians, and is now a community-supported farm. Organic seedlings and produce are available for purchase, and children and adults alike will enjoy the farm animals and hiking trails. The farmhouse is a museum containing artifacts and historic information about the area and the Casey family. Admission is $4, Historic New England/SPNEA members and Saunderstown residents – free.

Davis Memorial Wildlife Refuge

phone: +1 401 949-5454

Davisville Rd. The 96-acres of woods and wetlands maintained by the Audubon Society of Rhode Island on the Hunt River with access for canoeing, hiking opportunities, and wonderful scenery. See website for seasonal hours of operation and upcoming activities.

Lafayette Fish Hatchery

phone: +1 401-294-4662

address: 424 Hatchery Rd

Hosting rainbow, brown, brook, and golden trout, Lafayette Hatchery is open to viewing by the general public for the majority of the year. Offering informational pamphlets and boasting both indoor tanks and outdoor fish raceways, the hatchery provides an interesting and informative look at the state's fish stocking process.

St. Paul's Episcopal Church – Old Narragansett Church

phone: +1 401 294-4357

address: 55 Main St

Built in 1701, it is one of four original Colonial parishes in the state, and the building is one of the oldest Episcopal Churches in America. Features the Queen Anne communion silver, box pews, wine glass pulpit and slave gallery. Also houses the oldest church organ (1680) in North America. Gilbert Stewart, famous Colonial portraitist, was baptized here. Open Sundays to the public for religious services.

Wickford VillageRoute 1A. This historic seaside fishing village and colonial seaport was established in 1641. Among the attractions are scenic water views, 17th and 18th century homes and buildings, as well as fine shops and restaurants.

phone: +1 401-294-3521

address: 55 Richard Smith Dr

Smith's Castle is an historic house whose origins date to 1678. The house was "the first English-style house in the wilderness" according to Roger Williams who had established a trading post near the site and sold the land to Smith in 1651. The house was remodeled to its present state in 1740 by Daniel Updike, a descendant of smith and the longest serving Attorney-General in Rhode Island at the time. Updike turned the farm into the northernmost plantation among the "Narragansett Planters" holding up to nineteen slaves on the property. After the Revolutionary War, the family's fortunes declined, and the farm was sold to the Congdon family, then the Babbits before it was inherited by Alice Babbit Fox who had married wealthy New York businessman Austin Fox. The new owners, though advanced in years, transformed the farm into a large dairy concern. They bred their own brand of Ayershire cattle and opened an ice-cream stand at the site of the present Wickford Hardware store.
Museums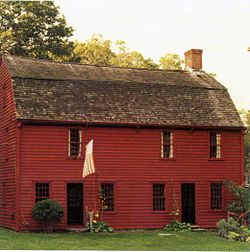 Gilbert Stuart Birthplace and Museum

phone: +1 401 294-3001

address: 815 Gilbert Stuart Rd

Gilbert Stuart, born here in 1755, was one of America's foremost Colonial portrait artists, and is best known for his portrait of President George Washington, which has been on the U.S. dollar bill for over a century. Throughout the course of his life, Gilbert Stuart painted over 1000 portraits. The house remains largely unchanged, and still features many of the original furnishings. It is the site of an operating 18th century snuff mill, the first in America, powered by a waterwheel. The homestead also features a partially restored grist mill built in 1662. Tours are available of Stuart's 1751 home, which houses Colonial furniture, tools, and reproductions of Stewart's portraits. The fish ladder is packed with migrating herring in the spring, and there are rowboats available for rent to paddle up Narrow River. The property is also home to a wildlife refuge with over 90 species of birds, an authentic 18th century garden, and nature trails.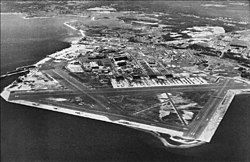 phone: +1 401 294-9540

address: 488 Ecclecston Ave

In an original Naval Air Station Quonset Point hangar built in 1945, the museum focuses on military aviation history. Indoors and outdoors, the museum has a large collection of aircraft, aircraft parts, and other historical memorabilia, as well as a novelty gift shop. The hours are dependent on the season. Adults $7; (6-12 $3, military - free, AAA members - $1 off with card).

address: 21 Lafrate Way

Built and run by Seabees, the Seabee Museum is an interesting way to learn about Rhode Island military history and the role North Kingstown played in that history. The Seabees are a force of skilled workers for the navy originally created to help in the World War II Pacific Island Hopping Campaign. Visitors can tour a set of historical displays and military equipment in one of the Quonset huts on the property and see the Seabee Monument. Although the museum is small and tours are self-guided only, visiting it is a nice way to support Rhode Island's troops, past and present, and admission is free although donations are gratefully accepted and go toward funding the museum. Funding is also provided by any purchases at the small gift shop on site, where visitors can find books, mugs, and other standard museum gift shop merchandise.
Parks
Bellville PondBellville Pond is a 108-acre pond in Ryan Park in North Kingstown. The pond is a favorite spot of NK residents for fishing during the season. The site is for launching boats from trailers. While the boat ramps are in place for boat trailers, it is okay to launch canoes and kayaks into the pond here as well. The pond is best for individuals with small boats, as there are many coves and islands that can be explored here. Bellville Pond has certain restrictions people need to be aware of, most importantly the use of non-motorized powered boats. This law is taken seriously at the pond, and failing to cooperate could result in harsh penalties.

Hunt's River

address: Devil's Foot Rd

This river is home to a local wildlife and fishery hot-spot in North Kingstown. Featuring trails that wind through the dense woods and even a place to launch a canoe, Hunt's River features plenty to see. From birds, turtles, deer and vibrant plant life, this local secret is a nice place to see on a warm day any time of year. Fun to take children of all ages and even adults just looking for a day away from work.

McGinn Park

address: 200 School St

This park sits behind Davisville Middle School and is home to a half-mile running path, several trails that go deep into the woods surrounding the park, swings, slides, 2 basketball courts, 2 tennis courts, an in-line hockey court, a softball field, a little league field, a senior league field, a sand-volleyball court and a football field equipped with 4 towers of lights. Every night during the summer, this park is bustling with activity and serves a center that the community comes together and holds events like little league barbecues and award ceremonies. The park also has public restrooms, a water fountain, and a concession stand that opens up during baseball and football games.

Pettaquamscutt Cove National Wildlife Refuge

phone: +1 401 783-6277

This 200-acre refuge preserves habitats such as tidal salt marshes, tidal sand flats, grasslands, and shrublands. It is home to a large diversity of wildlife and has been identified as the most important black duck migratory/wintering habitat in Rhode Island. It can be accessed through the Narrow River by canoe or small boat.

Signal Rock

address: 300 Signal Rock Dr

This park is another little league hot-spot that is always full of the town's children and parents during the summer. It features two basketball courts, swings, a slide, jungle-gym, two baseball fields, public parking, concession stand, public restrooms and plenty of room to do any activity you like. Nice to bring the kids to on a nice day or even had some small hills for sledding in the winter.
Beaches
Blue Beach

address: Quonset Point

The most private of the three public beaches on Quonset Point, Blue Beach is accessed by a crushed stone path through the woods from a small parking lot and offers a nice view of the Jamestown Bridge. Open from dawn to dusk, and free all year round including parking, it is a great place to go for a nice, quiet walk or a picnic, and it is a popular fishing spot. The water is pretty calm for swimming, but there is no lifeguard on duty so swimmers should be cautious. Alcohol and open fires are prohibited, but pets are allowed as long as they are leashed.

Compass Rose Beach

address: Quonset Point

The largest and most popular of the three public beaches on Quonset Point, Compass Rose Beach, like Blue Beach, offers a nice view of the Jamestown Bridge. Featuring a large parking lot directly in front of the beach where visitors can park for free, picnic tables, trash cans, and porta johns, it is a popular spot for family gatherings and picnics. Many locals also come here to watch the fireworks in July as opposed to the town beach, since there is no admission. Open from dawn to dusk, the beach also features fairly calm water for swimming, although it can get deep quickly and there is no lifeguard on duty. As with the other Quonset Point beaches, alcohol and open fires are prohibited, but pets are allowed as long as they are leashed.

Spink's Neck Beach

address: Quonset Point

Near Allen Harbor, Spink's Neck Beach is the smallest of the three public beaches on Quonset Point. Open from dawn to dusk and free year round including parking, it is a nice beach for a walk, picnic, or swim, although like the other beaches there is no lifeguard on duty. The same rules for the other two beaches also apply: alcohol and open fires are prohibited although pets are allowed as long as they are leashed.

Rome Point

address: Boston Neck Rd

Open from sunrise to sunset and free year round, Rome Point features the John H. Chafee Nature Preserve, walking trails, and a small beach with a nice view of the Jamestown Bridge. It is a popular spot for bird watchers and hikers, with free parking available on site. In the winter, it is possible to see seals from the beach, and many people enjoy looking for shells and beach glass there as well. However, the beach is not very good for swimming as the water can become rough and the bottom is very rocky. There is also no lifeguard on duty.
Do
As is everywhere else in New England what there is to do in North Kingstown varies by the season, but you will always find something.
phone: +1 401 295-4690

address: 221 Shady Lea Rd

Open to the public Wednesdays from 3:30PM–5:30PM. From June 25 - August 31, 2007, open weekdays from noon-4PM. A privately owned education center specializing in hands-on marine biology programs with knowledgeable staff on hand for schools and families. Activities include shark petting, tide pool tanks, reptile demonstrations, and touching live sea creatures. A great place for families, scouts, school groups, day care centers, and birthday parties. The Biomes Traveling Coastline Exhibit is an interactive presentation featuring live marine animals from Rhode Island's coastline. Reservations are required for groups of 10 or more people, and can be scheduled for any day of the week. Ages 3 & up - $5 per person.

phone: +1 401 295-4040

address: 1347 Roger Williams Way

Reservations are required. June through August – M-Th departing at 2PM September and October – daily at 1PM. A 90-minute narrated cruise of scenic Narragansett Bay aboard the "Millennium", a high-speed catamaran. The tour includes 9 lighthouses, 10 islands, the Jamestown & Newport Bridges, Castle Hill, Hammersmith Farm, Ocean Cliff Mansion, "House on the Rock", Fort Adams, the Naval Warfare College and the Aircraft Carriers "USS Saratoga" & "USS Forrestal". $25 per person.

Rhode Island National Guard Air Show

phone: +1 401-275-4110

Quonset Air National Guard Base. The show consists of military and civilian demonstrations throughout the weekend. Approximately 100,000 people attend the show annually every June. The proceeds from parking go towards raising money for the Children's Hospital in Providence, RI and many other local charities such as DARE. Visit the numerous local vendors, meet local celebrities, and hear the roaring excitement of the planes overhead.

The Kayak Center of Rhode Island

address: 9 Phillips St

Offers daily kayak rentals and a large selection of kayaks, canoes, and accessories that are available to "test paddle" before you buy. Knowledgeable staff offers instructions/lessons as well as guided trips and tours. Open year round. Check website for seasonal hours.

Tower Hill Equestrian Center

phone: +1 401 294-8190

address: 2415 Tower Hill Rd

Horse-drawn carriage rides, trail rides, pony parties, petting zoo, summer camp, and an indoor and outdoor arena.

Oak Tree Trail

address: 50 East Ct

This small but quiet stretch of wildlife trails sits behind Daviville's elementary school. It consists of about 7 trails that run through a small patch woods that sits next to some marshy wetlands and Davisville Pond. Featuring a bridge over the pond and a look-out tower that peers of the tree-tops, this quaint set of trails is a great idea for anyone to try on a nice day. However, after dark the trails become crowded due to a lot of younger kids playing man hunt and such, so if you are bringing younger children it's best to go during the day.

Drybridge QuarryOne of the few places in Rhode Island with the necessary ample space for Off-Roading, Drybridge Quarry has long been a popular dirt bike and ATV area for locals. Being private property and a place of active digging, any riding done is likely to be illegal without official consent. However, given the limited options in the state for off-roading, coupled with the long history of active riders on weekends and holidays, employees generally ignore riders as long as they do not tamper with any equipment.

phone: +1 401-884-4450

address: 6125 Post Rd

Offering weekday specials, child and senior rates, and a special rock and bowl event every Saturday night which includes a dj playing popular music, fun bowling challenges, and cool lighting, Kingstown Bowl provides great in-town entertainment for reasonable prices. If you don't feel like bowling, there are also pool tables on site. Food and drinks, including alcoholic beverages, can be purchased from the bar area, which is closed off from the main bowling area but features a window to serve those bowling. Since Kingstown Bowl is a popular hang-out spot, it does get busy, especially on weekend nights, so make sure you get there early. Kingston Bowl is a local favorite for friends and family of all ages. Check the website for seasonal hours and special rates.

phone: +1 401 295-6501

address: 7540 Post Rd

Cardio room with state of the art treadmills and other machines, weight room with all new, safe equipment. Saunas, showers, and steam rooms. The Y has services that entail classes, fitness assessment, massage, and personal training. The pool's small size may be perfect for teaching the tikes how to swim, but it is definitely not meant for diving.

phone: +1 401 294-3306

address: 100 Boone St

This free library in the Wickford area behind Wickford Middle School is a great place to get some reading. Just sign up for a library card and your golden. The library itself offers up and down-stairs areas to get some peace and quiet. They have tons of seating and have quiet rooms for those studying. The library has many genres of reading and is equipped with book searching computers to help you fond a certain book. The library has much history and being in Wickford brings a lot of traffic.
Golf
North Kingstown Municipal Golf Course

phone: +1 401 294-0684

address: 615 Callahan Rd

This public 18-hole golf course is not too demanding but offers a challenge from the blue tees to almost any golfer. Rates are reasonable at about $20 for nine holes, but the best deal in town is after 6 for juniors under 18 when its just $5 for all the golf you can play. It has a putting green, restrooms and restaurant right on the course. The landscape is beautiful, with a few holes that overshoot ponds and an amazing view of the bay on the back 9. It sits right next to Quonset Air Base so don't be surprised if during one of your shots a plan takes off or lands. On the back 9 in particular one gets a great view of the local Air National Guard's fleet of C-130 transport/cargo planes. Lots of deer roam the course and if you go at right time of day, you just might see a few. If not, you will most certainly come across a marmot or two as they are quite numerous on the course and come complete with their own bits of golfers' superstition. The one drawback of the course is that it was built over a marsh and drains very poorly. If it has rained heavily within 24 hours, there is a good chance the fairways and bunkers will still be wet.

phone: +1 401 294-9859

address: 1625 Ten Rod Rd

This public 9-hole course and driving range is great for beginner golfers. With the only long hole being number 9, it's a nice course to polish your game or just start playing. It is a hilly course and you have any back or leg problems, it is a good idea to get a cart. It offers a putting green, women's, intermediate, and pro tee boxes. The rough is not too dense and fairways normally pretty short so scoring low is a possibility. This course drains very well and is good to go to if it has just rained and you feel the need to golf.

Woodland Greens Club

phone: +1 401 294-2872

address: 655 Old Baptist Rd

This is another 9-hole course but may be the most difficult of the three public welcoming courses in North Kingstown. The fairways are pretty narrow but if you hit the ball straight you should be fine. Weekday rates are $21 for 9 and $28 for 18, while the weekend is just a few dollars higher. This course showcases a banquet that holds retirement parties, birthday parties, bridal showers, weddings and tournaments. Opened in 1964, Woodland is semi-private and has around 200 members.

Quidnessett Country Club

address: 950 N. Quidnessett Rd

This is a beautiful private golf club that had 18 difficult holes that will challenge all but the best in the game. Form its inception in 1960, the course has been one of the finest in North Kingstown. It is pretty expensive to join, but if you have a friend that is a member, it would be best to first play as a guest on their half and then think about joining. The rough is tough, the greens are large and the fairways are narrow. But if there is one course in NK to join, this is the one. Well-respected in the community and sporting great consumer reviews, Quidnessett is really a great golf course.
Buy
If you just need to buy something simple, like a forgotten toiletry item or a bag of chips, there are a couple "big" stores in North Kingstown, outside of Wickford, that will help to fulfill your basic needs.
phone: +1 401 268-3808

address: 1300 Ten Rod Rd

This is a "Super" Stop & Shop which means it carries more than just grocery items. It has a floral shop, card isle, books, toiletries, etc.

phone: +1 401 294-7333

address: 16 Main St, Wickford Village

A fashion boutique designer clothing and accessories for young women. Offering clothing and accessories from party formal to daily casual, Gossip sells apparel from many popular designers for prices from $40-300. The boutique is known for carrying clothing by the company Free People and for a having high quality denim selection. They also have a second hand selection of clothing towards the back of the shop. They get new pieces in for each season to keep it fresh, and like they say it is "a boutique to talk about."

Consignment Goods

phone: +1 401-295-0500

address: 7511 Post Rd

The store is a collection of antique and second hand items with new additions everyday and a wide variety of things to buy. The store works as a consignment store with markdowns on each item depending on the length of time it has been in the store. The establishment carries a wide range of items from high-end furniture to small knick-knacks for around the household. In addition they sell books, clothing, games, and jewelry. Also, they will sell or cosign items you bring in. If you have a large number of items you want to sell, you need to make an appointment for appraisal before they will take any of your items for sale in their business

Baseball Cards of Rhode Island

phone: +1 401-885-7340

address: 6861 Post Rd

Long has this retail hobby shop been a favorite to many south county collectors. With a decent staff of guys who know everything you need to know about the latest collectible card games, or the pricing on your vintage Joe DiMaggio rookie card, the service is commendably finer than you'd find in other hobby stores. In addition to that, you always find what you need; they are rarely ever out of stock of what you came for.
Eat
North Kingstown isn't a foodie haven, but you will be able to find something to satisfy your hunger.
Allie's Donuts

phone: +1 401 295-8036

address: 3661 Quaker Ln

Allie's Donuts has been a Rhode Island landmark since opening in 1968. Aside from fresh donuts, Allie's also sells muffins, cupcakes, fruit squares, novelty squares, and turnovers. The company is especially known for its specialty pastry orders. Allie's Donuts continues to succeed despite the competition of other leading coffee/donut shops.

Gardner's Wharf Seafood

phone: +1 401 295-4600

address: 170 Main St

Situated at the mouth of Wickford Cove, amongst the fishing boats and trawlers, Gardener's Wharf Seafood is not a restaurant but a simple vendor of locally caught ocean dwellers. Providing all the New England staples such as lobster, crab, clams, squid, and fish (as well as specialty seasonings and sauces), Gardener's Wharf offers some of the freshest raw seafood in the area, literally coming right off the boat in some cases.

Seven Moons

phone: +1 401 885-8383

Regarded as one of Rhode Island's best Asian restaurants. Offers casual lunches and classy dinner entrées. Aside from the restaurant, also has two bar rooms. In addition to food, well-known by residents because of its unique interior décor and design. Customers have the opportunity to sample the cuisines of seven different Asian cultures: Cambodia, China, Japan, Laos, Malaysia, Thailand and Vietnam.

Snoopy's Diner

phone: +1 401 295-1533

address: 4015 Quaker Ln

The 22nd Silk City Diner built in 1941, then shipped to Rhode Island in 1969 and has been in business since 1971. Features coffee milk, NY Style wieners, as well as your standard diner fare including breakfast served all day and bottomless cups of coffee. Daily 6AM-2:45PM (Su 6AM-1:45PM)

phone: +1 401 294-5771

address: 16 West Main St

Showcases a pristine waterfront view from both the open-air patio as well as indoors, complemented by inviting nautical decor. Its menu offers a host of classic American meals, including burger platters, club sandwiches, the obligatory fish and chips, and more. Beverages include fountain sodas and an impressive list of beer and wine. Lunch: daily 11AM-5PM; Dinner: Tu-Sa 5-11PM.

The Beacon Diner

phone: +1 401-884-9807

address: 2939 South County Trail, East Greenwich

The Beacon is not a classic manufactured diner, but it has a little lighthouse on its roof and baby jukes in the booths, so it's cool. It also has classic West Bay-style thick "johnny cakes." Slather 'em with butter and go to town!

phone: +1 401 295-2121

address: 7415 Post Rd

A local favorite, Kingston pizza has many locations across the state and offers all the traditional pizza joint classics. In addition to the basic pies and sides, Kingston Pizza is famed for its specialty pizzas, each with a clever and fitting name for what it consists of.

The Place

phone: +1 401 294-0800

address: 95 Brown St

A tiny restaurant with a full-flavored menu. Pizzas and calzones are its trademark, along with an enticing selection of grinders and salads. Side items range from fries and onion rings to mozzarella sticks and garlic bread.

phone: +1 401 294-4400

address: 1051 Ten Rod Road, Suite 7

Formerly known as "Junction Pizza", the Junction has expanded to a full grown restaurant over the years. A complete menu featuring appetizers and entrees for everyone and fancy desserts are now offered. The bar area is filled with sports fans enjoying the games at all hours of the day. Junction is a bar/restaurant that takes more of a classy approach, which brings in more families and children. Enjoy a classic Italian meal or dessert in your choice of a restaurant or bistro setting in a warm, low-light atmosphere. Curbside service and take-out is also available if you're on the go.

phone: +1-401-294-2200

address: 7315 Post Rd

Off of Post Rd, Pagoda Inn has been serving Chinese food often referred to as the best in North Kingstown for over 40 years. With lunch specials, combination plates, and the option to either take-out or dine-in, as well as friendly service with the manager knowing regulars by name, this is a local favorite. A casual dining restaurant, Pagoda is a great place for families or friends looking for somewhere with a relaxed atmosphere and great food at inexpensive prices. It also offers a bar offset from the main dining areas, complete with a TV to watch news or sports. Popular dishes include lo mein, sesame chicken, or General Tso's chicken, and their duck sauce is delicious. If you love Chinese food and can't decide what to get, a Pu Pu Platter featuring a variety of dishes (chicken and beef teriyaki, chicken wings, spareribs, chicken fingers, and shrimp rings) and great for a couple to share is also available. Their chef specials, such as the Double Sauteed Meat, are a tasty option as well.

phone: +1-401-294-5701

address: 4120 Quaker Ln

Known best for its desserts, especially its Death by Chocolate Cake, Gregg's features a variety of food, including sandwiches, burgers, pasta, seafood, and classic American dishes like liver and onions, chicken pot pie, meatloaf, and steak. There is also a different special for each day of the week. Gregg's is a popular place for family gatherings.

phone: +1-401-295-2800

address: 85 Brown St

Near the water in picturesque Wickford Village, the Beach Rose Cafe serves delicious food at great prices. Though small, the cafe makes up for its size with its open and charming atmosphere. If you're looking for somewhere to have a nice lunch, check out the cafe for salads, sandwiches, burgers, or seafood.

phone: +1 401 294-0091

address: 30 Ten Rod Rd

The place to get ice cream in North Kingstown. With all homemade ice cream in 32 different flavors, from the traditional chocolate to the more unique apple pie or coconut, it is a popular stop for locals looking for a cold treat on hot summer days. Open seasonally, from mid-March to mid-November, the Inside Scoop offers large portions of ice cream. Ice cream cakes, sherbert, sorbets, smoothies, yogurt, and shakes are also available.

El Tapatio

phone: +1-401-295-2280

address: 8220 Post Rd

Serving delicious Mexican food at great prices, El Tapatio provides an alternative to the usual pizza, burgers, seafood, and asian options found around town. The portions are pretty large, and the service is friendly. Diners can choose from a selection of burritos, quesadillas, tacos, and other traditional Mexican dishes, complete with Vegetarian options. You also shouldn't miss the homemade chips and salsa served on sitting down. A great casual dining option for both a family meal or a romantic date.

phone: +1 401 294-2087

address: 7679 Post Rd

Part of a local chain of restaurants throughout Rhode Island and Southern Massachusetts. Newport Creamery serves breakfast till 11AM then lunch and dessert for the rest of the day. Their meals are American diner based with fried food staples, such as fries, mozzarella sticks, chicken tenders, and onion rings, burgers, and other American diner foods. Although, Newport Creamery is best known for its award winning frozen dessert selection, and specifically their "Awful Awful", their take on a milk shake available in various flavors.

Breakfast Nook

phone: +1 401 884-6108

address: 6130 Post Rd

Breakfast Nook is a small local diner open for breakfast and lunch. Known for their small town feel and welcoming waitresses and regular customers, Breakfast Nook offers a cheap solution for American breakfast or lunch. Their menu has items like basic eggs and toast, omelets, burgers, salads, and more.

phone: +1 401 294-3282

address: 565 Tower Hill Rd

A locally family owned and run bar/restaurant. Known in the town as the "House of Bar-B-Que", each day of the week promotes a different menu special (Wacky Wing Wednesday-25 cent wings, for example). Features BBQ ribs & chicken, steaks, seafood, and burgers. Very popular, so wait may be up to an hour. Up the street more than a mile is a sister restaurant known as "Duffy's."

Duffy's Tavern and Restaurant

phone: +1 401 295-0073

Known for lobster and assortment of seafood dishes, Duffy's Tavern of North Kingstown is right outside of Wickford. Bar and restaurant are separated for customer convenience. Menu offers appealing choices for all budgets. Known in town as the "sister restaurant" of the Oak Hill Tavern just a mile up the road."

Ice Cream Factory

phone: +1 401 885-8640

address: 6710 Post Rd

The Ice Cream Factory opened in the heart of North Kingstown in 2005. The factory is famous for its homemade ice cream with wide variety of flavor choices (over 100 total). Aside from ice cream, they also sell soft-serve ice cream and frozen yogurts, which are great for diet seekers. The factory is open well past the summer months, as it does not close for the winter until November.

Chicago Pizza

phone: +1 401 295-1550

address: 7661 Post Rd

Chicago Pizza brings the famous Midwest United States taste to the ocean state. Most famous for its specatility pizzas, Chicago Pizza has more toppings than you would find at most other pizza places. Other than pizza, Chicago Pizza offers salads, calzones, burgers, wraps, desserts, and numerous appetizers.

The Place

phone: +1 401 294-0800

The place is a cozy little restaurant in historic Wickford Village. Best known in town for its pizza, The Place also offers calzones, grinders, wraps, and salads. Delivery is an option for local residents. The staff is engaging and friendly. Compared to the other small restaurants in Wickford, The Place's prices are considered affordable for all.

Trini's Tacos

phone: +1 401 295-4111

address: 7669 Post Rd

This is a great getaway from chain stores it is a local business that cook the food while you wait. They have everything you would expect from a Mexican eatery pan fried taco, enchiladas, their version of "fried dough" Sopaipillas, homemade salsa and more. If you don't like Taco Bell this is a way to get there real version for not that much. They have quality services but there food and especially the homemade salsa and guacamole is to die for. Highly recommended go try this place out next time you're in the mood for Mexican food.

phone: +1 401 295-0800

address: 7366 Post Rd

The Sonoma Grille offers a nice combination of California, Mediterranean, Greek food. This is a restaurant/pub. It is an elegant eatery that has an extensive wine list. They have a stylish pub that is good for after work cocktails to a restaurant for family and friends. Their wine list includes 18 wines by the glass and 80 bottle choices from well known, premier California wineries. It also has a fireplace dining room for that nice cozy feel. This place is on and off some nights the food is really good and others it is off or not made to order so it is hit and miss with this place. There are on and off reviews. The people who eat there have had bad things to say but the people using it for a bar really like the place.

phone: +1 401 884-9719

address: 6660 Post Rd

Walts is a kind of fast food restaurant. It offers high quality fast food for a higher quality price. Their specialty is the roast beef sandwich which is very good but is like $6 for just the sandwich which comes with a whole bunch of meat, lettuce, tomato, and whatever sauce you want to put on it. It may be a bit pricey for fast food but is good. Also don't let the fact that no one is there fool you it is most likely open.

Oatley's Restaurant

phone: +1 401-295-5126

address: 1717 Ten Rod Rd

Open daily, this restaurant serves up breakfast and lunch favorites to its gathering of regulars. For over 50 years this family-owned restaurant has been delivered quality diner food to patrons, both inside the restaurant and through the windows of its drive-thru. Rustic, casual atmosphere with great service and affordable homemade meals. Free parking and handicapped accessible.

phone: +1 401 268-3991

address: 125 Tower Hill Rd

Aside from being the premier local grocery store in the area, Dave's provides a catering touch that most other markets can't compete with. They have over 80 entrees at any given time already prepared in refrigerated cases in the rear of the store. These can be anything from homemade meatballs slathered in marina to citrus glazed salmon; the cold cases offer something for all age groups and tastes. Aside from the kitchen's creations housed in the cold cases, Dave's also showcases a hot buffet. This includes normal items like wings and General Tsao's Chicken, but also creations like sweet potato fries and eggplant parmesan. And as if that was not enough, they also have an entire wall of prepared dinners and sandwiches. This includes entire meals prepared in the commissary in East Greenwich, such as meat lasagna, eggplant parmesan, teriyaki beef or dijon chicken with rice. Dave's also boasts what many claim to be the best pizza in the state. Besides offering slices of cheese, pepperoni, "spicy white" and various other types of freshly made pizza, on-site chefs will whip you up any pizza creation you can think of in under 25 minutes - call ahead to have it ready, or place your order before you get your grocery shopping done. Dave's Prepared Foods also offers pre-made pizzas, paninis, grinders, soups, pot pies, meat pies, seafood pies, calzones, quesadillas and other dishes.

Taste of China

phone: +1-401-885-2216

address: 6188 Post Rd

One of those "hole-in-the-wall" kind of places. Not a glamorous restaurant (the kind of place where the decor is awful and the food is slopped on the plate unceremoniously), but it's some of the best take-out in the state. Taste of China offers a huge menu: everything from fried rice to moo shu pork, and all of it is fantastic (albeit a little greasy). While Seven Moons might be the most talked-about Chinese food joint in North Kingstown, Taste of China maintains a loyal clientele by offering great food at very affordable prices. Don't like it hot? Ask for your dish mild. Want to feel the heat? The chefs at Taste of China will insure you'll have heartburn for a week. Leftovers from this restaurant will feed you for days, so don't feel the urge to over-order. Sides range anywhere from $.50 - $6-; main dishes cost between $7 and $16. All-you-can-eat buffet is offered daily, though selection is limited. Next to Dunkin Donuts, across from Engine Co. gas station.
Drink
phone: +1-401-885-2225

address: 6525 Post Rd

A traditional Rhode Island favorite, Del's serves frozen lemonade in watermelon, cherry, blueberry, light lemon, and original lemon flavors, available in sizes from mini to extra large. If you want something to go with your lemonade, they also sell hotdogs, pretzels, nachos, and assorted candy. Del's in North Kingstown is open seasonally, from around March to September.
Bars and Pubs
All American Bar and Grille

phone: +1 401 294-3649

address: 7570 Post Rd

The All-American Bar & Grille has been at 7570 Post Road, North Kingstown, RI for the past fifteen years. It's 1 mile south of the Quonset Point entrance. The All-American is noted for bringing the best of live rock & roll bands every Friday & Saturday Nights; Karaoke is also featured every Wednesday night with Nancy T. They have Keno for those who like to try their luck, pool tables, and a big screen tv for sports entertainment. The food menu features burgers, steaks, sandwiches and appetizers in a comfortable pub setting. One downside to this place is cops frequently drive up and down post Road; stay safe!

Gillian's Ale House

phone: +1 401 667-0900

address: 7835 Post Rd. North

Gillian's Ale House, where the flavor of Ireland comes to South County. Gillian's boasts a casual, relaxed tavern setting with the largest penny bar in the state. Both traditional Irish and American cuisine is offered: burgers and mashed potatoes, shepard's pie, corned beef sandwiches and full dinners being the house specialties. $5-$10.

phone: +1 401-884-4450

address: 6125 Post Rd

KB Pub is a full service bar inside of Kingstown Bowl. It has billiards, DJs and bands, a 10' HD TV, free wireless internet, and sports and movie nights.

Pelly's 19th Hole

phone: +1 401 294-6460

address: 615 Callahan Rd

This bar is on the North Kingstown Municipal Golf Course and is the place where league members, golfers, and even local citizens go to get cheap bar food and drink whatever anything they like.

phone: +1 401 884-5007

address: 6105 Post Rd

007 Bar and Grille offers a great selection of beer, drinks, appetizers, entrees, and deserts. With live music almost every week, this bar has a great night club atmosphere. Reasonable prices and specials. Karaoke, pool, pinball, and more are available here.
Coffee
Jitters Café

phone: +1 401 295-9155

address: 530 Tower Hill

Jitters Café is considered a cozy Rhode Island favorite shop. Famous for its unique blend of coffee, Jitters has also become famous in town for its bagels, muffins, and pastries. Lunch is also served throughout the day, in form of deli-made style sandwiches, hot soups, or fresh salads. About a mile from North Kingstown High School and Wickford Middle School, Jitters is the place where most students, teachers, and faculty start their day every morning. Apparel and mugs available. Reasonable prices.

phone: +1 401 295-5300

address: 7726 Post Rd

This is a nice little coffee place off post road. This coffee house is in the chain of stores off post road. When you get inside this shop you get a whiff of great coffee. When approaching the counter there is always a smiling employee ready to help you and get whatever type of coffee and morning food you want.
Sleep
Not many chain hotels are to be found in North Kingstown.
phone: +1 401 294-7674

address: 146 Boston Neck Rd

The Haddie Pierce House is a beautiful restored Victorian home in the center of Wickford Village and is close to beaches. Bed and breakfast.

phone: +1 401 295-0700

address: 642 Boston Neck Rd

Guest rooms and suites are available and include cable television, wi-fi, telephones, and private bathrooms. Recently remodeled rooms and close to the Wickford area.

Kingstown Motel

phone: +1 401 884-1160

address: 6530 Post Rd

A small hotel that features 20 well appointed guest rooms. Each unit offers amenities such as 25 inch TV, work desk, fax, microwave, cable with HBO, refrigerator, 24 hour switchboard, copy machine, lounge nearby, fax machine, ice machine, restaurant nearby, electronic Locks, sprinkler System, wake up call system, non-smoking rooms, smoke detector, free outdoor parking, non-smoking rooms, RV or truck parking available, and free toll-free and long distance. No pets allowed.

TownePlace Suites

address: 55 Gate Rd

In Quonset, this Marriot-owned hotel offers visitors to North Kingstown the opportunity to be close to any destination in Rhode Island. Situated right off of RI-403, visitors can jump on US-95 and head north or US-1 and travel south and arrive at their destination in less than an hour. Less than 100 ft from RIPTA service (Route 14). Offering all of the latest amenities including flatscreen televisions and HD programming, TownePlace Suites can also accommodate long-term guests; in addition to studio rooms, 2-bedroom suites provide guests with full-sized kitchens and bathrooms. Rates vary according to room size and time of year. Free breakfast and internet included.

phone: +1 401 294-4852

address: 7650 Post Rd

A clean quiet hotel that seems stuck in the 1970s. Amenities included are a fitness center, in room air-conditioning, cable television, and microwaves.
Cope
Beau Brummel Haircutting, 6465 Post Rd., +1 401-884-4080. This is an old time barber shop with an owner that has been in North Kingstown for years and has many loyal customers. He has two chairs and only sees two people at a time, but when you sit in his shop, it's like you travel back to the 50s where barbers were your best friends and were people you could talk to. The haircutting is as good as the atmosphere.
Go next
Given the uniquely small size of Rhode Island, any in-state destination is always just a short drive away (usually an hour or less). As such, almost any Rhode Islander will lament over a drive greater than 15 minutes or so. Also keep in mind that, if asking for directions on your way out, Rhode Islanders have a nasty habit of imparting directions based on landmarks that
used
to be there but no longer are.
In Massachusetts: