North Macedonia
The Republic of
North Macedonia
(
Macedonian
: Северна Македонија,
Severna Makedonija
; formerly the Republic of Macedonia, also FYROM and FYR Macedonia,
Macedonian
: Македонија,
Makedonija
) is a landlocked country in the heart of the
Balkans
.
The majority of the population is ethnic Macedonian and Orthodox Christian but there is also a significant Albanian Muslim minority. One can expect a wonderful mix of architectural and ethnic heritage. The country represents the Balkans in the truest sense, consisting of a fascinating mix of Macedonian, Albanian, Turkish, and Mediterranean influences.
Understand
North Macedonia is a country with several ethnic minorities. There have been varying levels of ethnic tension between Albanians (who form majorities in areas in the northwest) and ethnic Macedonians, so this is a subject best avoided. The country officially changed its name from the
Republic of Macedonia
to the
Republic of North Macedonia
in February 2019 in order to settle a dispute over its name with Greece. Virtually no Macedonian actually refers to the country with the "North" part. Therefore, you should avoid using "North" when speaking to someone in the country as many will find it offensive.
Climate
North Macedonia has warm, dry summers and autumns, and relatively cold winters with heavy snowfall.
Terrain
North Macedonia is covered by mountainous territory marked by deep basins and valleys. There are three large lakes, each divided by a frontier line, and the country bisected by the Vardar River.
North Macedonia is blessed with outstanding natural beauty. Do not miss a trip to one of the large lakes, Pelister Mountains, Shar Planina in the west, and the fascinating rolling hills and mountains of the east with its rice fields.
History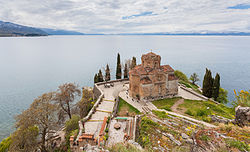 North Macedonia is dotted with beautiful Orthodox churches, monasteries, and Ottoman mosques. The territory of North Macedonia has a proud history. Being under the Ottomans for 500 years caused legendary Macedonian revolutionaries such as Goce Delcev, Nikola Karev, and Pitu Guli to lead uprisings to free Macedonia.
North Macedonia has been part of many countries, but until its incorporation into Yugoslavia by Tito in 1945 it was never acknowledged as an administrative "state". The Yugoslav Republic of Macedonia prospered under Tito's rule, especially when the capital Skopje was rebuilt after a severe earthquake in 1963 and the Yugoslav government invested heavily in the subsequent infrastructure rebuilding. This may explain why many Macedonians are somewhat nostalgic for Tito's Yugoslavia.
International recognition of Macedonia's independence from Yugoslavia in 1991 was delayed by Greece's objection to the new state's use of what Greece considered a "Hellenic name and symbols." Greece finally lifted its trade blockade in 1995, and the two countries agreed to normalize relations, despite continued disagreement over the use of "Macedonia" in the name. Greece is now the largest investor in Macedonia. Due to the naming dispute, the country was often referred to as "the former Yugoslav Republic of Macedonia" - or "FYROM" - while many Macedonians disliked this moniker, it led to such oddities as the UN delegation of the country being seated under "t" (for "the") as a compromise. In June 2018, the leaders of Macedonia and Greece signed an accord to resolve the dispute by having Macedonia change its name to "the Republic of North Macedonia". The name change took effect on 12 February 2019.
North Macedonia's large Albanian minority (about 25%), an ethnic Albanian armed insurgency in Macedonia in 2001, and the status of neighbouring Kosovo continue to be sources of ethnic tension. There were also tensions during the last parliamentary elections on 2 June 2008, although they happened between supporters of the two biggest rival Albanian political parties.
Regions
This central region consists of most of the area along the Vardar River, which somewhat bisects the country.
Skopje
, North Macedonia's capital and largest city, lies in the north of this region.
Full of the bulk of North Macedonia's tourist attractions, in particular the three national parks and the World Heritage Site of
Ohrid
. Two of the country's three major lakes lie at the southern area of western North Macedonia. Many of the countries larger cities, such as
Bitola
and
Tetovo
, are situated in the country's western region.
Not as many tourist attractions, but some spectacular vistas of rural life.
Cities
While the Macedonian capital Skopje is home to over half a million residents, the rest of the country's cities are significantly smaller, ranging from just a few thousand to under 100,000 residents.
(Скопје) — the nation's capital, home to many historic landmarks and architectural monuments, and a great number of cultural places of interest
(Битола) — North Macedonia's most "European" town, with an ancient city, Ottoman monuments, a lovely shopping promenade, great nightlife, and more
(Кратово) — a picturesque town situated in an extinct volcano crater
(Крушево) — a museum-city nestled high up in the mountains of southwestern North Macedonia; it is one the most historically significant destinations in the country as it was the site of a revolt against the Ottoman Empire; also home to great skiing
(Охрид) — a lakeside resort and UNESCO World Heritage Site, it is considered the jewel in North Macedonia's crown
(Прилеп) — tobacco fields, medieval fortifications and monasteries, and strange rocks
(Штип) — an economic and cultural hub of eastern Macedonia with a long history
(Струмица) — a city with one of the highest concentrations of historical sites in Eastern North Macedonia
(Велес) — in the center of the country, a dense city on hills on both sides of the Vardar
Other destinations
— consists of the mountainous land between Lake Ohrid and Lake Prespa.
— the largest of North Macedonia's national parks. It is home to the country's highest peak, Golem Korab, as well as several picturesque villages and monasteries.
— separates Bitola from Prespa. It covers the Baba Mountain area and features two glacial lakes known as "Mountain Eyes" that feed multiple rivers.
(Преспа) — contains most of the Great Prespa Lake, shared by neighbouring countries. Galičica to the west and Pelister to the east complement the scenery provided by the lake.
(Старо Нагоричане) — a prehistoric observatory, medieval churches, massive rocks, and important memorials
(Стоби) — an ancient city that is now one of the largest archaeological sites in the country.
(Вевчани, Vevchani) — historic mountain village known for its natural springs, its 1,400-year-old annual carnival and its attempts at autonomy
Get in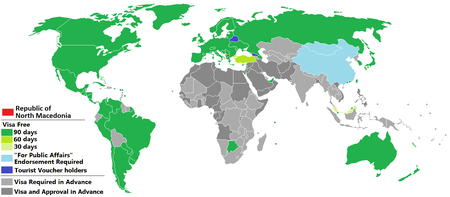 Entry requirements
Citizens of the European Union and of the countries signatories to the Schengen Agreement can enter with just a valid officially issued ID card or a passport.
Visas are
not
required by nationals from the following countries:
Albania, Andorra, Antigua and Barbuda, Argentina, Australia, Austria, Bahamas, Barbados, Belgium, Bosnia and, Herzegovina, Botswana, Brazil, Brunei, Bulgaria, Canada, Chile, Costa Rica, Croatia, Cuba, Cyprus, Czech Republic, Denmark, Ecuador, El Salvador, Estonia, Finland, France, Germany, Greece, Guatemala, Holy See, Honduras, Hong Kong, Hungary, Iceland, Ireland, Israel, Italy, Japan, Kosovo, Latvia, Lithuania, Liechtenstein, Luxembourg, Macao, Malaysia, Malta, Mauritius, Mexico, Monaco, Montenegro, Netherlands, New Zealand, Nicaragua, Norway, Panama, Paraguay, Peru, Poland, Portugal, Romania, Russia, Saint Kitts and Nevis, San Marino, Seychelles, Singapore, Slovakia, Slovenia, Serbia, Switzerland, Sweden, Spain, Taiwan, Turkey, UK, US, Uruguay, and Venezuela.
The period of stay is regulated under the issued visa, but is no longer than 90 days. The visa free stay is 90 days, with the exception of Turkey, Japan and Montenegro where the visa free stay is 60 days.
Any foreign national possessing a valid multiple entry short stay Schengen type C visa (valid for the entire territory of the Schengen zone) may enter and stay in North Macedonia up to 15 days without having to possess a Macedonian visa.
Visit this page for more details.
Border guards may not be aware of this information, and they might tell you that you require a visa to enter North Macedonia. Stay calm and politely ask them to recheck their information. They will fill a form with your passport and car registration information which can take up to 1 hour!
By plane
North Macedonia has two international airports, the main airport in the capital
Skopje
International Airport
(
SKP
) and another in Ohrid St.Paul the Apostle Airport. (OHD) There are around 150 flights a week from different European cities to Skopje.
From the low-cost airlines, only WizzAir flies directly between Skopje and London (Luton Airport), Barcelona (El Prat), Venice (Treviso Airport), and Milan-Bergamo in Italy as well as numerous small and mid-sized airports throughout Europe.
Another option to travel into North Macedonia is to fly to Thessaloniki (SKG) or to Sofia (SOF) and get a taxi or bus from there. There are 5 buses from Sofia Central Bus Station to Skopje, leaving at 09:00, 12:00, 16:00, 17:00 and 23:59. The two bus companies which operate these services are MATPU and Kaleia, both of which are outside the main bus terminal. Single ticket is approximately €16 (32 denari). There are also services from Skopje to Sofia at similar prices and times for a return flight home.
Additionally, if you contact the Sofia Tourist Information Service, they can normally put you in contact with private transfer companies who will pick you up at the airport and take you to Skopje. Prices range from as little at €60 to €160. Negotiating with taxis can be trickier but may be able to get a cheaper price.
If you fly to Thessaloniki, you can go by public bus (24/7) for €0.50 to the train station and catch a train from there (€14 one way).

By train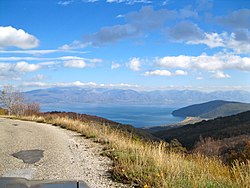 Railway services into North Macedonia run from Serbia (Belgrade) and Kosovo (Pristina). A train service from Greece existed in the recent past, and there are initiatives to get them back running, both from Gevgelija and Bitola.
A cheap way of travelling to or from North Macedonia might be the Balkan Flexipass.

By car
Be sure your Green Card (International Insurance Card) has an uncancelled "MK" box. The guards almost always want to see it, unlike those in Serbia and Greece. Try to get a good map of North Macedonia and/or try to be able to read Cyrillic letters. Although most street signs are printed in Cyrillic and Latin letters it can be helpful to have a little knowledge of the Cyrillic alphabet, especially in small towns.
The border guards often make a big deal about having the original documents for the car (no copies). The enforcement rate about this is 50-50 and if you have a rental car this can be a problem as you usually have a copy. Tourists have been told in the past to drive back several hundred kilometres over this detail by certain power-hungry guards.

By bus
Eurobus is an international coach operator based in North Macedonia that has almost daily tours from Austria, Germany, Switzerland, Italy and Slovenia. Prices from €60 and possible to get student discount. There are bus connections from Serbia, Kosovo, Bulgaria, Slovenia, Croatia and Turkey to Skopje. In addition some buses, those operated by Drity tours at least, run from Tirana to Pristina via Skopje (don't expect them to wake you up or stop anywhere near Skopje bus station though)
In Skopje, there are two bus terminals. Most buses come to the new terminal, but some connections (for example to Pristina) are serviced by the old one, which is in the city centre. If you need to change the terminals, you need to walk to the stone bridge over Vardar and cross the bridge (about 2.5 km) or take a taxi.
At both terminals, you will be constantly nagged by taxi drivers, who will try to convince you to use their services. Unless you have too much money to throw away, you shouldn't take their advice. The taxi is likely to be heavily overpriced, especially for foreigners, while the buses are cheap, clean and safe.

Get around
By car
In this mountainous developing country, the roads are often narrow and not very well maintained, with warning signs for the quite frequent sharp turns rarely provided, and the safety barriers between your tires and high cliffs often rusty, or sometimes completely absent. In the north, there is a short network of motorways with separated directions and a posted speed limit of 120 km/h, linking Skopje with Tetovo and Gostivar in the west, and with the Alexander the Great Airport and Kumanovo in the east, but the surface quality is hardly better than the rest of the roads. The toll collection on the motorways depends on a system of toll stations (
PEAGE
) every 20 km or so (typically after leaving
and
on approaching major towns, which means you will pay twice for the route, say, between Skopje and Tetovo, two neighbouring cities), where all through traffic comes to a complete halt (as opposed to only those leaving and entering the motorway) and pay according to the type of the vehicle (for motorcycles and cars, which is often 20 or 30 denari).
Always make sure your tires are good enough. Especially in spring and autumn, weather in the mountains (
Ohrid
,
Bitola
) can differ significantly from the weather in the area you're coming from.
All directional signs in the country show the town names in Macedonian Cyrillic and their Roman transliterations, sometimes accompanied by a second local language, which is often Albanian.
Renting a car is cheap. With Upgo Car Rent (+389 78 662 299, English spoken), you can get a good car for €20 a day (Oct 2017). He will bring the car to, and get it back from your hotel.
By train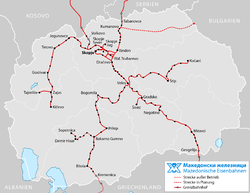 National trains are slow, but they are nonetheless a nice alternative to hot, crowded buses in the summer. The main train line runs from Skopje to Bitola and Skopje to Gevgelia. No trains run to Ohrid.
By bus
Perhaps the most common way of travelling in the country, the buses are frequent and quite reliable, if sometimes a bit slow and old (though not exactly dilapidated). The tickets are typically printed in Macedonian, with English translations or even Roman transliterations rarely provided. Here is a quick guide to reading your Macedonian ticket: The destination will be printed on the top (best to refer to the Wikivoyage article of the town in question for the Macedonian name of it), Дата (
Data
) translates, non-surprisingly, date, and Час (
Čas
) is the time of the departure. Перон (
Peron
) indicates the number of the platform your bus will be departing from, which is usually well-signed in the stations, and Седиште (
Sedište
) is your seat number, although on less travelled routes, this will typically be assigned to the seats 3 and 4, which means you are allowed to sit whatever place you like. It's possible to hail buses directly on the streets, in which case you will pay to the driver on board, but if there are no free seats available, this means you are making the whole journey standing—which is unlikely to be the best travel experience. The bus companies often prefer to inscribe their names in the Roman alphabet in the livery, but the tickets will indicate them in the Cyrillic. Common national companies include Rule Turs (Руле Турс), Galeb (Галеб), and Classic Company (Класик Компани). The destination signs in front of the buses are provided in Macedonian, and in the other common local language of the destination if there is one, this in most cases being Albanian.
See also the article on
bus travel in the former Yugoslavia
for deeper details.
By taxi
Taxis are perhaps the most common mode of transport in North Macedonia among tourists. Most will usually charge a flat rate of 30 denari (in Skopje 50 denari) with the extra kilometres added on. Be careful when negotiating the price of the fare beforehand. Within city limits, prices over 100 denari are considered expensive even though the amount only converts to a few American dollars. Macedonian cities are small, and would only take approximately 10–15 minutes to travel from one side of the city to the other by car. In Skopje, the capital and largest city, this should work out to an amount of about 100-150 denari.
A general exception to this rule is during peak tourist seasons particularly in the town of Ohrid. The summer months are the most profitable for many small businesses in Ohrid (and for some businesses, the only profitable months) including taxi drivers. For this reason many drivers will charge up to three times the flat rate for the same distance. Most taxis will insist on driving for no less than 100 denari which can be heard as "sto denari" or a "stotka" (slang term for a 100 denari bill). Generally this is excessive but you can either negotiate the price down to 80 or even 70 denari to be reasonable, or else simple bargain hunting is all that is required. During the peak seasons it is possible to find drivers willing to go as low as 40. Never feel pressured to take a taxi that seems overpriced.
By boat
There are plenty of boats for charter around Lake Ohrid and will show you the whole lake for a cheap price.
By bicycle
Despite often challenging (but also scenic) terrain, North Macedonia is, generally, a pleasant destination for bicycle travel. An idea of North Macedonia's geography can be given by the local toponymy: in most countries, mountains and hills are named, while areas of flat land often lack specific names; in North Macedonia, flat land is precious, and every area of it has an individual name, such as Bitolsko Pole ("the Field of Bitola"), and Prilepsko Pole ("the Field of Prilep"). Many bookstores are decorated with a country's 3-dimensional map, which is quite impressive.
There are many paved country roads that are in good condition, but see little traffic. Main roads betwen major cities may be busy, with narrow lanes and no shoulders; however, in many cases the busy new road (
avtopat
) is parallelled by the old road which now sees very little traffic, but is still maintained to some extent. This is the case, for example, for roads between Skopje and Veles, between Prilep and Bitola, or between Bitola and
Resen
. Some of these older roads are paved with stone, rather than with asphalt. As more expressways are built (e.g. the one from
Kičevo
to Ohrid is under construction as of 2017, one may hope that more of today's busy main roads will be relegated to the status of older low-traffic roads.
North Macedonia's air quality is pretty good, and even busy roads have much less dust and exhaust than roads in e.g. China. Unlike China, in North Macedonia one very rarely sees pedestrians or moped riders wearing face masks.
Lots of people ride bicycles in cities (for transportation and recreation), and one can see recreational bicyclists in the countryside as well. Strangely, you can see stores selling new bicycles (along with other products) much more often than stores selling spare parts. Still, major cities, such as Skopje and Bitola, have specialized shops for bicycle parts and repairs; in smaller towns, one may look for a vendor of spare parts, or a bike repair man, in a local bazaar. Gas stations may or may not have air pumps.
In the past, it was possible to take a bicycle on a train. As of 2017, train stations display an order (dated 2016) which prohibits taking bulky items, "including bicycles" on trains. However, in practice bicycles are often still allowed on older trains, even if they may be fully prohibited on new ones.
A national 1:300,000 map, as well as maps of some national parks and some regional and city maps, are published by Trimaks, and sold in Trimaks stores and by other book vendors in major cities.
A word of caution: very occasionally, a road shown on a map may not exist, or may not allow bicycles. For example, looking at a map, one may be tempted to take a scenic route from Skopje to Ohrid, along the Kozjak Reservoir (
Ezero Kozjak
) and the valley of the Treska River, via
Makedonski Brod
and Kičevo. Some maps show such a road running along the east coast of the reservoir; unfortunately, although it exists (as of 2017, it's a single-lane road, and cars are allowed to travel on it in different directions during different hours), bicycles are not allowed to proceed beyond the gates of the Jasin Nature Reserve. Other maps show such a road running along the reservoir's west side; alas, in reality (as of 2017) it does not exist at all, and to fill the missing piece (a section from the Kozjak Dam to Zdunje) would require remarkable feats of engineering.
Talk
Macedonian
is the official and national language of the country, and is spoken by almost everyone. Albanian, as of 2019, is a co-official language at the national level. Turkish, Serbo-Croatian and others are spoken by ethnic minorities. Whilst many young people can speak English, many of the older generations do not. Most people related to tourism can speak at least basic English, particularly in Skopje, Ohrid, and Bitola. Speakers of Bulgarian, Serbo-Croatian and Slovene should have no problem getting by. Some older people may speak
Russian
, as it was a compulsory second language in schools during the communist era.
Šuto Orizari, better known as Shutka, which is part of the city of
Skopje
, is the only place in the world where
Romani
(Gypsy) is a co-official language.
See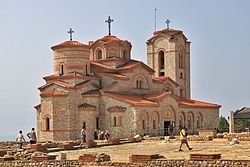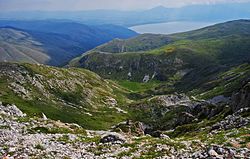 This lovely, compact country has a surprising myriad of attractions to offer. It's a fascinating mix of the ancient Balkan, the laid-back Mediterranean and the hip and happening vibe of modern Europe.
It all starts in lively
Skopje
, the country's main city and the centre of its economy. It offers great shopping and party opportunities, but also grand historic monuments. The 5th century
Tvrdina Kale Fortress
is one of the main landsmarks, together with the beautiful
Sveti Spas Church
, the charming old Ottoman bazaar
Čaršija
and the
Kameni Most
. This 600 year old Stone Bridge will take you right onto the city's main square, where a gigantic statue of Alexander the Great awaits. If you're up for a hike, make your way up to the enormous Millennium Cross on top of
Vodno mountain
, or take the rope railway to get the same views with less effort. If summer makes the city hard to bear, follow the locals to the cool shores of
Lake Matka
just out of town, where you can explore the gorge and caves through hikes and kayak tours.
Smaller but a visitor's favourite is the city of
Ohrid
, famous for its countless Byzantine churches. Beautifully situated on
Lake Ohrid
, this place is listed by UNESCO as both a cultural and a natural monument. It's home to one of the most prominent collections of
Byzantine icons
in the world, second only to that of the famous Tretiakov Gallery in Moscow, as well as to the oldest Slavic monastery in the country and the picture-perfect
Church of St. John at Kaneo
right on the edge of the lake. The city's little sister on the lake,
Struga
, offers similar charm but is less overrun with visitors.
Still, many will argue that North Macedonia's best experiences can not be found in its cities, but rather in the stunningly beautiful
mountain landscapes
, remote monasteries and friendly rural villages. In any case, a tour of the countryside is a must-do for any visitor.
Pelister National Park
is the oldest of the country's three national parks and a popular destination for its typical Eastern European flora and fauna. The larger
Mavrovo National Park
offers great landscapes year round and is popular for winter sports in winter. It also holds the impressive
Sveti Jovan Bigorski Monastery
and a relic of its namesake patron. There are dozens of other monasteries to see, of which the
Monastery of Bogorodica
and the
Zrze Monastery
are good picks. For true nature lovers, the little known
Public Enterprise for Managing and Protection of the Multipurpose Area Jasen
is an excellent and off the beaten track reserve with great wildlife spotting opportunities, and yet right next to the capital.
There are plenty of other attractions to choose from, if you have enough time to spare. Consider a visit to the
Stone town of Kuklica
, which is only a short ride from the charming little town of
Kratovo
. Or, head over to the ancient
Towers of Marko
near
Prilep
.
Do
Festivals
Taksirat FestivalOne of the biggest winter festivals in Eastern Europe, which happens at the end of November and beginning of December.
Buy
Money
The official currency of North Macedonia is the
denar
(plural
denari
), denoted by the abbreviation "
ден
" (
den
) (international code:
MKD
). Many Macedonians quote prices in euro (€). The new denar replaced the old denar in 1993 at a rate of 100:1.
Most cities have ATMs where you can withdraw money with cheap commission rates, although there are also plenty of banks and exchange booths where you can easily change money. While banks often offer
slightly
better rates, you need to register with your passport which may take up to 10 minutes. Changing money in the exchange offices, on the other hand, is fairly straight forward, painless and quick. Do not change money on the street. Shops may accept euro but it is illegal for them to do so.
Shopping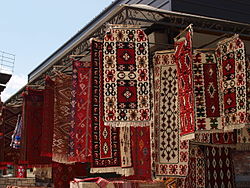 North Macedonia is full of markets and bazaars well worth a visit. The bazaars of Skopje, Tetovo, Ohrid and Bitola are the largest selling anything from dried peppers to fake designer sunglasses. While much of the merchandise may not be worth buying, there is normally a good selection of shoes, fruit, and vegetables of good quality, depending on the season. Merchants are generally pleasant and welcoming, especially to westerners, who remain something of a rarity outside of Skopje and Ohrid.
Ohrid is famous for its pearls and there are dozens of jewellers in the old town that will offer good products at decent prices. The Macedonian Orthodox paintings in old Ohrid are also worth a look.
Tipping is not seen as essential, but it is always welcomed.
Eat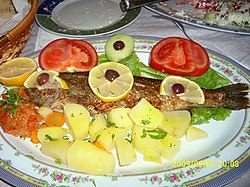 If you are on a tight budget, try one of the Skara (grill) places.
There are quite a few up-market restaurants serving better quality food on the waterfront, but these cater to tourists, so don't be surprised by a rather sizeable bill at the end of your meal.
Service at the restaurants and cafés nationwide tend to be slow-ish, either because these businesses are chronically understaffed, or because of the general laid-back culture. Consider yourself lucky if your food is served within half an hour after you get seated.
General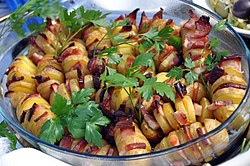 Typical Macedonian food resembles the food of the southern Balkans, meaning loads of grilled meat (known as
skara
). Side dishes usually have to be ordered separately. North Macedonia is also famous for its
shopska salata
, a mixed salad of cucumbers, tomatoes and grated
sirenje
.
Sirenje
is a white cheese similar to feta cheese. Usually Macedonians will translate the English cheese to
sirenje
. Another local speciality is
ajvar
, a red paste made from roasted peppers and tomatoes, which is either used as an appetizer or side dish. Another typical local dish is
tarator
which is comparable to the Greek tzatziki. It is made of yoghurt, cucumbers, and garlic and it is served as a cold soup.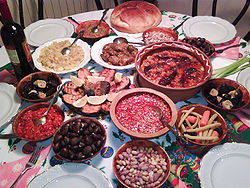 The most popular street food is either
burek
(бурек) which is a flaky phyllo-like pastry filled with melted cheese and/or ham, or pressed, panini style sandwiches, called toast (тост).
Stobi Flips
are a ubiquitous snack food found in supermarkets and corner stores, with the shape and texture of a cheese doodle, but a salty peanut flavour.
Traditional food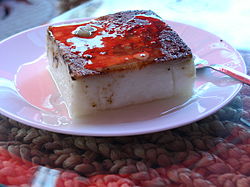 Tavče gravče (тавче гравче) is the national dish and unique to North Macedonia. It basically consists of beans, paprika and is traditionally served with cut sausage mixed in.
Fish
North Macedonia, being landlocked, does not offer a great variety of fresh fish. A notable exception is
Ohrid
, where fresh fish from the local lake can be enjoyed. If you have no objections to eating endangered species, the Ohrid trout is a local delicacy.
Drink
Rakija is a strong grape brandy that has the best claim to being the republic's national beverage.
Macedonians boast the largest winery in the Balkan area—the Tikveš (Tikvesh) winery in Kavadarci. Red wines are usually better than white ones. Try T'ga za Jug, a Macedonian affordable red wine made from a local grape variety called Vranec. Local white wines include Traminec and Temjanika.
The local beer market is dominated by Skopsko (Скопско, "of Skopje", following the Slavic convention of naming beers after their origin), a drinkable, if not entirely distinctive, lager. There are also many breweries which brew surprisingly good-tasting beer.
Sale of any alcoholic beverages from the stores end by 21:00 all over the country, but in the restaurants and cafés, it's business as usual.
Unlike much of the rest of the Balkans, sparkling water or water with gas is instead mineral water, or kisela voda.
The most common coffee drink in cafés is the macchiato (макијато, espresso topped by a foamy cream), which can be ordered as a single shot, small, mali macchiato, or double shot, large, golem macchiato. Cold cappuccinos with flavoured creams coming in large glasses are also popular in summer.
Tea is pretty much limited to the black and green varieties, and served in bags. Those longing for strong brewed black tea should head for the tea-houses run by the local Turks in the old town of Skopje or Ohrid.

Sleep
Being the national tourist attraction, Ohrid is more expensive than any other destination in North Macedonia. Hotel prices are very expensive throughout the country and charge double rates to foreigners. It is therefore advisable to stay in private accommodation. If someone does not ask you at the bus station, you can always consult one of the many travel agencies in and around the centre. If you do opt for private accommodation make sure you see the room first and then decide. Payment is normally made in advance and should cost no more than €10-15 per night per person in peak season and half that during the rest of the year. Finding suitable accommodation in July and August is not easy, so try and book through a travel agent in advance.
When visiting Lake Ohrid, staying in nearby Struga as opposed to the more popular Ohrid is a wise alternative for the price and tourist-trap conscious.

Learn
For those interested in learning the
Macedonian language
, the options are the official Center for Testing and Certifying Macedonian as a Foreign/Second Language CETIS MAK . You can also get certified with the Test in Macedonian as a Foreign Language - TEMAK, and get a certificate issued by the Ss. Cyril and Methodius University.
Also, there are several private language schools offering courses for foreigners. Some of them are: LinguaLink , LogosOxford , VortexCenter .
You can study in many of the state and private universities listed below in English, Macedonian and Albanian.
Stay safe
North Macedonia is a safe country. Driving is not ill-advised, but it's recommended for foreigners to try and use taxis and public transport wherever possible. As in all countries, keep an eye out for
pickpockets
and all valuables safe. Hotels and most private accommodation will offer a safe to store valuables and cash in.
Most people are very friendly and hospitable.
Stay healthy
Water
is safe to drink and there are public drinking water fountains in most public places. It is advisable to wash all fruit and vegetables.
Use caution when eating
red meat
at restaurants. Although Macedonian cuisine typically revolves around grills ("skara") there are some restaurants that do not use proper or clean methods of cooking, which if practised in many Western countries would be seen as a violation of certain health regulations. Bad restaurants can be spotted easily; they will probably not look very appealing and will not have many customers. However, the vast majority of restaurants in North Macedonia serve good quality food.
Respect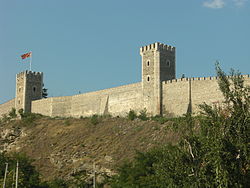 It is advisable to simply refer to the country as "Macedonia". The "north" part of the name, added in 2019 to resolve a naming dispute with Greece, has not made it into everyday use among Macedonians and may never do so. Many, in fact, consider it offensive. Macedonia is directly transliterated from the Cyrillic as Makedonija, and is pronounced roughly how it would appear to an English speaker: "mahk-eh-DOHN-ee-yah".
Touchy topics are Macedonian-Bulgarian, Macedonian-Albanian, and Macedonian-Greek relations. Most Macedonians can hold strong political opinions regarding their neighbours and won't shy away from expressing their views in most cases. Politics often finds its way into conversation over a cup of coffee. To keep from upsetting your hosts or new-found friends, avoid topics such as the 2001 war against the NLA, Macedonia's partition during the Balkan wars and North Macedonia's pending membership into the European Union or NATO. Don't worry about talking about the Communist period or about Josip Tito.
With the current situation in Kosovo, be very careful when talking about politics, as there is also a significant Albanian minority here. Ask as many questions as you'd like (within reason), but don't make any statements. Best to keep in mind that roughly one in four people you see on the street are likely to be Albanian, with far higher percentages in the west, and tensions are at times high between the Macedonian and Albanian communities. In short, keep your political opinions to yourself.
Connect
Domestic phones
Domestic telephone service is available in all inhabited towns, via the PSTN or VoIP. The PSTN network is run by T-home . There is an affordable fixed phone service (wireless and easy to install) from the mobile operator ONE , available prepaid (without a monthly fee, 12 months availability without recharge, recharging for only 500 denari/€8) and postpaid.
Mobile phones
Mobile phones are widely spread and the coverage is excellent. There are 3 mobile networks (T-mobile , One and VIP ), all using the GSM/3G standard. You can buy a pre-paid SIM card from T-mobile for 295 denari (€5) with 250 denari free talk time, from ONE for 190 denari (€3) with 250 denari free talk time, and from VIP for 300 denari (€5) with 300 denari free talk time. You may need to show your ID card or passport when buying.
Internet access
Internet access is widely available throughout the country. Almost all hotels provide internet access, either free or paid. Local coffee shops usually offer free Wi-Fi access, as many other public places do. Feel free to ask for the password, if the network is locked. Broadband internet is available through cable, ADSL, WiMax and LAN connections. You can also access internet with your mobile phone, via GPRS or 3G.
ONE offers both internet for home and mobile internet.
More information here
. T-home offers ADSL internet for 599 denari/month (€10) - 30GB bandwidth, 6Mbit/s speed - you need to have PSTN connection from T-home.
Internet cafés are available in most cities and in some villages.