North Smithfield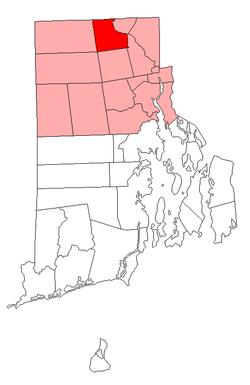 North Smithfield
is a large town in
Rhode Island
.
North Smithfield is located in
Providence County
,
Rhode Island
,
United States
, and was settled as a farming community in the 17th century and incorporated into its present form in 1871. North Smithfield includes the historic villages of Forestdale, Primrose, Waterford, Branch Village, Union Village, Park Square, and Slatersville. The population was 10,618 at the 2000 census.
According to the United States Census Bureau, the town has a total area of 24.7 square miles (64.1 km²).
North Smithfield is in a New England upland region; both the Branch and Blackstone Rivers provided much of the power for the early mills in the town.
Understand
Though the town of North Smithfield is small in size, there is an abundance of historic houses, sites, landmarks and mills enriched with history to visit. Originally settled in the 17th century by British colonists it started out predominately as a farming community. Located along the Blackstone River, mills were later built along the river. These mills are still standing today, some of them are open to public tours and others have been turned into luxury living communities or offices.
If you are into old, historical New England architecture, then consider checking out the historic Slatersville Congregational Church. Built in the early 1800s this historic white colonial church features an old piano, organ and the original pwes and balcony. The church is open for viewing Monday - Friday from 9AM - 12PM and worship is open to all on Sundays from 10-11 with a coffee hour following the service. The service is open to all religions and all people.

Get in
There are a number of ways to get in and out if North Smithfield. If you are traveling a significant distance, you may want to consider flying into T. F Green airport (PVD)and taking either a taxi or rental car from the airport. If you are relatively close to North Smithfield, driving would be your best bet. Considering the fact that Rhode Island is so small in size, everything is within short driving distance. There is also a train station located in Providence (downtown) that you may want to keep into consideration.

See
The historic Slatersville Public Library may be of another interest to some. This Public library was also built in the 1800s right on the Blackstone river. Behind the library lies an old bridge as well as remnants of old mill engineering devices.
If you are into historic school houses, the Forestdale Red School House is also located here. Though this old one room school house is no longer used for educational purposes, it is open to tours.
The Indian Burial Grounds - On the corner of Black Plain & Greenville Rd. These Historic Indian Burial Grounds are located deep in the woods. There is a trail that has been made by passerby's and is generally maintained, but it is not guaranteed. Throughout the trail you will be able to see what looks to be piles of rock (where Native American bodies lie) as well as caves and tunnels. If you are lucky, you may even be able to spot an arrowhead or two!

Bryant UniversityRoute 7. Though Bryant University is located in Smithfield, it is right on the North Smithfield line. This University features Division 1 sports teams. Many people come from all over to watch the Football team as well as Men's and Women's basketball. There is generally an admission fee of about $5-7. The sports schedule can be found at the University's online website!
Do
Rustic Tri-View Drive-In - Route 146, +1 401-769-7601, . Apr-Sep. Seasonal outdoor movies just like the good old days! The Rustic Drive-In is a great alternative to the usual movie theater; one of the last surviving drive-in theatres in the United States, it still brings in quite the crowd every summer. Cost is by carload and each screen shows 2 movies each night with a brief intermission.
Slatersville Reservoir - Located in Slatersville (North Smithfield) Accessible off of Providence Pike. On this body of water people are allowed to fish, and boat (electric boats. However, make sure you have a fishing and boating license if you plan on doing either!

Pacheco Park

address: Main Street, Slatersville

This park is open to the public year round, each day from dawn to dusk. In the park are multiple baseball fields, basketball courts, tennis courts, and a skatepark that the public can use for free unless there is some type of event such as a recreational baseball game already taking place. Although the skatepark is not the best it still provides an area for casual skateboarders to skate but make sure to bring a helmet, as the police have been known to throw people without them out of the park.

Homestead Gardens

phone: +1 401-765-5700

address: 200 Industrial Dr

This area is open to the public year round and offers a nice little get away for someone looking for peace and quiet. In the winter around Christmas time there is always a trail with christmas lights set up that the public is welcome to walk down. In the summertime the ice cream shop, Killer Kones, is open and the pond in the center of the area is open for catch and release fishing.

North Smithfield Public Library

phone: +1 401-767-2782

address: 20 Main Street, Slatersville

If you are looking for a quiet place to relax then this library is the place for you. Even though it is located in the middle of Slatersville it is almost never crowded and has a collection of over 50,000 volumes.

Family Fun Center

phone: +1 401-597-5544

address: 408 Eddie Dowling Highway

Located right off of Rt 146 this center is full of fun! The Monkey Shack Arcade caters to any age group with many games and prizes. There is also a laser tag arena called Lazer Wars. 1 round is $4.00, 2 rounds are $7.00, 3 rounds are $10.00, 4 rounds, $13.00, and 5 rounds is $15.00. Last they have a restaurant called Chef Mama's which is best known for their pizza which starts at $6.00 for a personal cheese pizza.
Buy
Goodwin Brother's Farm Stand - Greenville Rd. This farm stand has been a part of North Smithfield tradition and history for decades and has attracted people from all over the state. This farm stand was just recently rebuilt into a beautiful timber frame. There is a wide variety of fruits and vegetables available for purchase! All fruit and vegetable are organic and fresh!

Wright's Dairy Farm

address: 200 Woonsocket Hill Rd

Another farm; yet this time selling to die for pastries, cakes, and any other item you could imagine to make your mouth water! These delicious treats are moderately priced and freshly baked daily! Fresh, organic skim, whole, chocolate and coffee milk are also available for purchase! Cakes can also be custom made for any celebration!! Not to be confused with Wright's Farm Restaurant.

address: 1184 Providence Pike

This flower shop is open year round and offers a vast array of flowers as well as gardening equipment to purchase. Buy local!

phone: +1 401-766-7171

address: 639 Great Rd

Firehouse pizza is a little pizza shop located on Great Road in North Smithfield. The pizzas start at $4.95, Spaghetti at $4.30, Salads at $3.50, and grinders at $3.25.
Eat
Beef Barn

address: 1 Greenville Rd

If you're looking for a "quick eat" without fast food quality this would be the place for you. The name might not be the most appealing to you but the food is fairly decent! The menu consists of shakes, sodas, burgers, sandwiches, soups and pies for desserts. This tiny restaurant is low in price and the service is fast! Food here is also available for take out if you call ahead of time. Good to go to after having breakfast at.

Coffee & Cream

address: 1 Greenville Rd

A breakfast nook located right next to the Beef Barn. Again, this is a quick eat with an array of crepes and pancakes on the menu as well as eggs (cooked to your preference) muffins, cereals and anything else you could imagine for breakfast! The prices are very low,and the service is friendly and fast! You might think the two food places are related, and you'd be right; they share a similar logo and are owned by a married couple.
Parente's Restaurant 1114 Douglas Pike. Though Parente's is located in Smithfield, it is right on the North Smithfield line. The prices are reasonable and fair, their food is served in very good portions, and the service is always friendly. It's one of those little mom-and-pop places that is worth trying at least once, and they've got what is probably the best Greek pizza in the whole state; try it for yourself.
Gator's Pub Corner of Main St and Victory Highway. This restaurant is also a bar and features an outdoor, sand volleyball court. The food ranges from pizza to sandwiches, steaks to fish. There is a wide range of beer on tap at the sports bar. This restaurant has a tendency to be very crowded on Fridays, yet the service is also very quick and the food is moderately priced. The majority of its clientele are elderly, but that should be no hindrance to an enjoyable dining experience.

Hercules Pizza

address: 9 North Main St

Looking for a Pizza place? Hercules Pizza would be ideal. This Greek inspired pizza parlor is generally a take out atmosphere, yet if you so choose you may eat in as well. There are two pizza sizes, small and large and you can order virtually any topping and prices range from $6-12. Grinders are also available for order as well as Greek salad!

phone: +1 401-769-7437

address: 1402 Victory Highway

This little pizza shop is located in the same building as Gator's Pub. They are best known for their pizza and wieners but they also offer a wide variety of sandwiches, salads, appetizers, and calzones. Their wieners are $1.25 a piece, sandwiches start at $4.99, salads at $3.99, and calzones from $5.99.

Quik Stop Deli

phone: +1 401-765-3227

address: 11 N Main St

Famous for their subs, Quik Stop Deli is a staple of every local's diet. It is located right next to Pacheco Park and the Town Hall. They serve breakfast and lunch as well as deli meats sold by their weight.

phone: +1 401-762-4242

address: 90 School St, Forestdale

The Village Haven is famous for their family style chicken which is served with salad, pasta, fries, homemade cinnamon rolls, and ice cream; a genuinely good place for the whole family!
Sleep
Go next