Northampton (Massachusetts)
Northampton
is a city in the
Pioneer Valley
of
Massachusetts
. It has a picturesque and vibrant downtown, consisting of numerous art galleries, restaurants and quirky shops sprinkled among coffee shops and performing arts venues. It is home to prestigious Smith College and the Clarke School for the Deaf. Northampton lies 15 miles (25 km) north of the City of
Springfield
, and 6 miles (10 km) west of
Amherst
, another bohemian college town.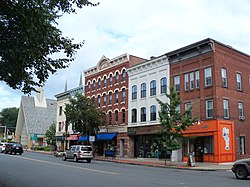 Understanding

Northampton is nationally known for being a bohemian college town and LGBTQ haven. It is home to Smith College, a prestigious women's college. This small city of 30,000 is populated, mostly, by artists, intellectuals, political activists, hipsters, and a large LGBTQ community.
Long-time residents nickname Northampton "Hamp," while newer residents tend to call it "NoHo." Another nickname for Northampton is the "Paradise City", after opera singer Jenny Lind remarked that Northampton was "the paradise of America."
The Town of Northampton (originally named Nonotuck) was granted its charter in 1654; the City of Northampton was incorporated in 1884.
Liberal politics are an important part of Northampton's scene. By one website's criteria, it was pronounced the most liberal mid-sized city in the country in 2004.

Get in
By car
From the east: take the Massachusetts Turnpike (Interstate 90) to exit 4, and get on Route 91 North. Take exit 18 and turn left.
From the south: take Interstate 91 North to exit 18. Turn left at the light.
From the west: take the Massachusetts Turnpike east to exit 4. At exit 4, get on Interstate 91 North, to exit 18. Turn left off the exit.
You can also take Route 9 east, or Route 2 east to I-91 South, exit 20.
From the north: take Interstate 91 South, exit 20.
By bus
Peter Pan Bus Lines
has frequent service from
Boston
and
New York
to Northampton. All buses run through
Springfield
first.
Pioneer Valley Transit Authority
(PVTA)
provides local bus service throughout the Pioneer Valley, from Northampton and Amherst south to the City of Springfield.
By train
Passenger rail service for Northampton and the surrounding area is provided by
Amtrak
via its once-daily
Vermonter
service between
Washington, D.C.
,
New York City
and
St. Albans
. Both south- and northbound trains depart during the afternoon. More frequent service is available from Springfield, which is about a 25-minute drive south of Northampton or a short walk from the Peter Pan Bus terminal in Springfield. is a platform at 170 Pleasant Street next to the historic Union Station building. While there are no facilities at the station, there's a restaurant and bar in Union Station.
By plane
Bradley International Airport in
Windsor Locks
,
Connecticut
is 25 miles (40 km) from Northampton with easy access onto I-91 North.
Boston Logan International Airport in
Boston
,
Massachusetts
is 90 miles (145 km) from Northampton, and can be reached by taking the Mass Turnpike.
TF Greene International Airport in
Warwick
,
Rhode Island
is 92 miles (147 km) from Northampton, and can be reached by taking the Mass Turnpike.
Get around
Like many cities in the
Pioneer Valley
, Northampton is eminently walkable, but is also a very bicycle- and pedestrian-friendly city. You can also take a
PVTA
bus around town and to other cities (e.g. Springfield) and towns in the Pioneer Valley (e.g. Amherst.)
Lyft
and
Uber
are popular in the area.
Zipcars are available for rent by the hour.

address: 319 Pleasant Street

Bike rentals by the hour or longer.
ValleyBike Share provides electric pedal assist bikes in a number of Pioneer Valley locations.
See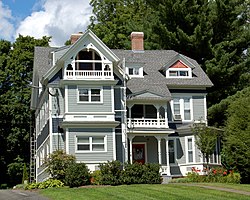 Elm Street/Round Hill Historic DistrictThis historic district consists almost exclusively of buildings that line Elm Street or Round Hill Road. Quite a few historic houses and other buildings are in this district, which is about a mile long.

address: 114 Main Street

2nd floor, above Ultragal. Not-for-profit gallery, started by Hampshire College students, specializing in contemporary art and new media.
Peanut Gallery, in the Eastworks building in Easthampton, 10 minutes outside of Northampton. Peanut Gallery specializes in contemporary art, exhibiting the work of unknown and established, local and far away (Tokyo, Belgium) artists side by side. Peanut Gallery is also connected to a store called Peanut . The gallery and store also overlap, featuring one-of-a-kind fashions made by artists and artistic printed matter.

phone: +1 413 585-2760

address: 20 Elm St

East Heaven Hot Tubs & Paradise Spa

phone: +1 414 586-6843

address: 33 West St

Michelson's Gallery, Main Street, This gallery has a lovely permanent collection which includes a Dr. Seuss exhibit (great for kids and adults) with many original sketches and paintings, works by John Lennon, Leonard Nimoy, and others.

Forbes Library

phone: +1 413 587-1011, +1 413 570-0444 (text/SMS)

address: 20 West St

Includes the Calvin Coolidge Presidential Library and Museum.
David Ruggles Center, 225 Nonotuck St, email: info@davidrugglescenter.org. Part of the National Underground Railroad Network to Freedom, the David Ruggles Center offers walking tours and hosts visiting groups to educate the public about David Ruggles, Sojourner Truth, Lydia Maria Child and the local Underground Railroad.
Events
First Night, Northampton celebrates the New Year with events all over downtown.
Four Sundays In February, escape the winter gloom with four events of fun.
Smith College Spring Bulb Show, a reminder that spring is just around the corner.
Noho Pride, a celebration of Northampton's large lesbian, gay, bisexual, and transgender community, typically held the first Saturday in May.
Paradise City Arts Festival, every May and October, a nationally renowned arts and crafts event.

Northampton Sidewalk Sales

Three County Fair, One of the country's longest-running county fairs, a tradition that marks the end of summer.

Northampton Independent Film Festival

New Century Theater In the summertime, New Century Theater comes to Smith College and puts on a season of plays. Excellent performances! They also have children's theater.
Hot Chocolate Run Usually held the first Sunday of December, the Hot Chocolate Run is a popular and festive 5k that benefits Safe Passage, a Northampton organization that provides support and services to people affected by domestic violence.
Do
The Iron Horse Music Hall

address: 20 Center Street

Has musical acts nightly, usually focusing on lesser-known artists. It is also has a restaurant with a full menu and full bar.

The Calvin Theater

address: 19 King Street

Features bigger name artists.

Pearl Street

address: 10 Pearl Street

Features more youth-oriented acts.

Broad Brook Conservancy/Fitzgerald LakeNorthwest of downtown Northampton. 591-acre conservation area owned by the City of Northampton and co-managed by the Northampton Conservation Commission and Broad Brook Coalition.

Northampton Bike Trail, 2.7-mile-long linear park from Stoddard St/back of the Stop and Shop on King Street to Look Park/Bridge Rd/JFK school, .
Norwottuck Rail Trail, more than 10-mile-long linear park from Woodmont Street off of North Street in Northampton to Belchertown via Hadley and Amherst, .
Pleasant St. Theater, Pleasant St off Main Street. This is a very small, independent theater with two screens. It shows independent films and foreign films.
Look Park, off Route 9, This park has a zoo, mini golf, tennis, picnic areas, playgrounds, a waterpark for small children, and a duck pond with paddle boats. It is also home to the Pines Theater, Noho's outdoor theater and concert hall.
Scottie's, on Route 9. Driving range, also serves burgers, fries, ice cream, etc. Has clam bakes weekly.
Village Day Spa on Main St. in Florence. Adorable little salon and spa, relaxing getaway for a massage.

Academy of Music Theater

address: 274 Main Street

Classic 19th-century theater in the heart of Northampton, showcasing local acts in the performing arts, including music, dance and theater.

Northampton Airport

address: 160 Old Ferry Road

Local airport that hosts flying programs, including summer camps, pilot training, and air sight-seeing tours.
East Heaven Hot Tubs by the Forbes Library features a roof-top hot tub tht is open year-round.
Buy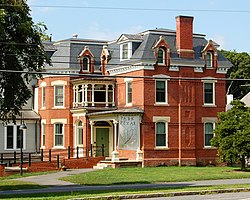 address: 150 Main Street

An old department store that was converted into several unique boutique stores and restaurants.

The Hempest

address: 177 Main St

The largest selection of natural fiber clothing and accessories in the country. Ask about the endless benefits of hemp and you'll be blown away.

address: 75 Service Center Road

One of the largest and most remarkable yarn stores in the country, noted for its size and its diversity of offerings for spinning, weaving, knitting, and crocheting.
Sweetie's, Main St. Noho's favorite candy shop. All sorts of candies and chocolates, pay by weight.
Synergy, Main St. Great shoe shop!
The Mountain Goat, Main St. Great for outdoorsy apparel and shoes.
Raven, Right off Main St, best used bookshop in town!
Unite Footwear Main St, cutting edge of fashion and trends.
Flowers A La Carte In Thornes Marketplace, Main Street, great place for fresh flowers.
Turn It Up Pleasant St off Main St, great selection of used CDs and vinyl records. Also some VHS and DVDs. You can listen before you buy.
Harlow Leather Main St, upscale travel store. Luggage, leather goods (wallets) bags and purses. Also a good place to buy travel items like money belts and toiletry cases.

Newbury Comics

address: 38 Pleasant Street

Amherst's store has moved to a spot in downtown Noho. This location is bigger and more open, and as always, they have great prices for CDs and DVDs.

address: Main Street

A division of the larger Provincetown store, home to all sorts of interesting merchandise for the "alternative lifestyle." They have interesting clothes, jewelry, incense, and other paraphernalia.

Urban Outfitters

address: 109 Main Street

Local division of the chain of stores, located in the old bank on Main Street. Large selection of men's and women's apparel and home goods.
Eat
This little town is full of restaurants, you can pretty much find anything you crave.
Amanouz Cafe

address: 44 Main Street

Moroccan place, very tasty and inexpensive.

Bela

address: 68 Masonic Street

Vegetarian restaurant, wholesome and delicious. Try the Harvest Burger!.

Eastside Grill

address: 19 Strong Ave

This is where the locals go when they want to impress someone.

Haymarket

phone: +1 413 586-9969

address: 185 Main Street

Many vegetarian and vegan options, plus delicious smoothies: try 9-1-1.

Herrell's

address: 150 Main Street

Worth a special trip for the great ice cream. The servers will mix in ingredients called "smoosh-ins". Hot fudge sundaes and heavenly milkshakes available.

India House

address: 45 State Street

If you like Indian food, this is your place.
Jake's, breakfast-brunch. Your typical diner (with diner coffee) but everything else is delicious. Try banana pancakes or waffles with strawberries and whipped cream.

La Veracruzana

address: 31 Main Street

Authentic Mexican food.

Mimmo's

phone: +1 413 584-1711

address: 71 Pleasant Street

Largest pizza in the world (or at least the Pioneer Valley or Noho).

Paul & Elizabeth's

phone: +1 413 584-4832

address: 150 Main Street

Pizarria Paradiso

address: 12 Crafts Av

A pizza place run by the same people who own Spoletos, so you can expect not just your standard pepperoni, but also carmalized onions with white sauce or calimari pizza.

Spoletos

address: 50 Main Street

A fairly expensive restaurant but worth the prices. You won't be disappointed.

Sylvester's

address: 11 Pleasant Street

Named after, and in the house of, Sylvester Graham, inventor of the Graham cracker. Very popular place, especially for breakfast. The house and surroundings are beautiful, but the food can be a little hit or miss.

address: 116 Main Street

Offers a mix of Chinese and Japanese cuisine, but serves surprisingly good sushi nonetheless.

Osaka

phone: +1 413 587-9548

address: 7 Old St. South

Regularly voted the best sushi restaurant and the best Japanese restaurant in the Pioneer Valley, Osaka has great service, innovative sushi ideas, and, best of all, giant boats to eat your sushi off.
Bueno y Sano, Main St, A mix of El Salvadorian, Mexican, and healthy foods. Known for big burritos, great vegetarian options, and the barbecue chicken burrito.

Delivery ExpressHas menus for several Northampton restaurants on their website, including many of those listed above. As their name implies, they deliver orders from these restaurants.

The Sierra Grille

address: 41 Strong Ave.

Unique "choose your own" style menu in which you pick a protein, a sauce, and two sides- large variety of options, and always a large list of special items- also offers appetizers, salads and panini. Great atmosphere, live Jazz on Sunday nights, delicious food. Call ahead if you want to get a seat!

Mosaic Cafe

address: 78 Masonic Street

Delicious Mediterranean food, a number of vegetarian options. Try the stews, salads or crepes. Dine inside (a bit crowded) or outside on the patio.

address: 241 Main Street

Interesting breakfast options, mainly scrambles and sandwiches (vegan options available). Great sandwiches for lunch. Small, but delicious menu, specials generally available. Not really a quiet spot, but good food served quickly.

Mulino's Restaurant

address: 41 Strong Ave

Above Sierra Grille. Delicious Italian food, nice atmosphere.

address: 274 Main Street

Mexican restaurant owned by Spoletos serving traditional Mexican dishes, tapas, and the widest selection of Tequilas and Mescals in the region. Try the flavored Margaritas or Mojitos!

address: 16 Main Street

A restaurant that embodies its name! Local Burger offers a variety of specialized burgers, including turkey, veggie and portobello, in addition to beef. Serves only fresh meats from local farms.

address: 2 Bridge Street

Large menu offering a wide variety of Thai specialties.

address: 186 Main St

Teas from all over the world and light fare. Also sells teaware.
Drink
phone: +1 413 584-9903

address: 11 Brewster Court

The Pioneer Valley's first brewpub, serving food that is as good as the beer is.

phone: +1 413-341-3161

address: 125A Pleasant St

Located in the historic Union station, serves up typical pub food to go along with the beer.

Northampton Coffee and Tea

address: 269 Pleasant Street

Lovely, quiet, unpretentious, fresh coffee (fresh every hour), yummy treats. Free New York Times on the tables each morning.

address: 29 Main St

Bar featuring 40 quality beers on tap.

address: 21 Main St

Woodstar Cafe

address: 60 Masonic Street

A popular place to get good coffee and great baked goods while enjoying free WiFi.
Tunnel Bar Across from Pearl St Nightclub, underneath The Depot Restaurant. Swanky, in a tunnel. Leather armchairs and expensive, but tasty, martinis.
Packard's Only bar that allows 18+, but only on the first floor. Serves food. Second and third floors have pool and foosball.

address: 1 North Main Street

Great little cafe in Florence serving coffee, specialty drinks, shakes, smoothies, breakfast and lunch! Supports a number of local farms and other entities.

Starbucks

address: 211 Main Street

Just your typical Starbucks. Not a ton of seating, but enough, considering the number of coffee shops in Noho.
Sleep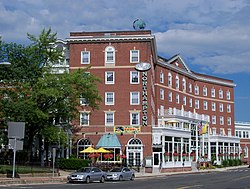 phone: +1 413 584-7660

address: 259 Elm Street

phone: +1 413 584-3100

address: 36 King Street

In the center of town: by far, the nicest place to stay. The staff is always friendly and accommodating. Built in 1927, the hotel building is historic.
Bed and breakfast
phone: +1 413-575-2277

address: 62 Chestnut Street, Florence
Go next