Northeast Pelion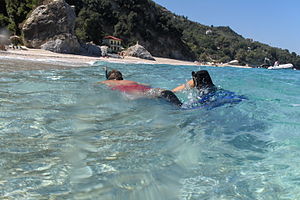 Mount Pelion
(also spelt Pelio or Pelium; Greek, Modern: Πήλιο, Ancient/Katharevousa: Πήλιον) forms a hook-like peninsula between the
Pagasetic Gulf
and the Aegean Sea.
North East Pelion
(Population: 5,809 (2011), Municipality of Zagora - Mouresi) lies by the Aegean Sea
The mountains are entirely forested, with beech, oak, maple and chestnut trees. Pelion is a tourist attraction throughout the year: the mountain includes trails and sidewalks for walking within small and large beaches with sand or pebbles.
Located near the city of
Volos
, in the prefecture of
Magnesia
.
Villages
Villages are grouped together in clusters of nearby villages:
are located southeast of Chorefto, north of Mylopotamos beach. Agios Ioannis is about 55 km east of the city of Volos (Magnesia's capital). Agios Ioannis is linked with the road linking with Tsagkarada and near Zagora. It stretches from north to south.
are located southeast of Zagora, north of Agios Lavrentios and about 55 km east of the city of Volos (Magnesia's capital). Tsagkarada is linked with the road linking with Agios Lavrentios and near Zagora. It stretches from north to south as well as residential buildings and are surrounded by forests as well. Its population in 2001 was 710 and 784 for its municipal district which includes Mylopotamos beach. The altitude is 450 meters. It offers a view of the Aegean Sea to the northeast. The area around Tsagkarada are made up of forest to the east and the west while the extreme west features grasslands and the top of mount Pilio.
Get in
It takes about 1 hour from Volos by car to reach the North East Coast of Pelion.
By bus it takes about 1 hour and 30 minutes. You can take the bus from
Volos
Interurban Bus Terminal ("Yperastiko KTEL") (
KTEL Volou
). Details on buses,
can be found online here
Do
Walk along the recognized hiking routes.
Beaches
There is a good variety of beaches on Pelion. Beaches on the Aegean sea are huge sandy beaches with deep waters and sometimes big waves.
Agios Ioannis has 3 main beaches:
The main beach in front of the village
Papa Nero, to the south
Plaka, to the north
Tsangarada has a few sandy beaches.
Drink

The tap water is drinkable and restaurants will serve glasses of ice water upon request. Local drinks include Mythos (beer) and Ouzo.

Stay safe
Northeast Pelion is a generally safe destination.
The summer sun tends to get very strong. You should not take the risk of dehydration, sunburns or even heat strokes lightly. Wear appropriate clothes, maybe with a hat and sunglasses; use sunscreen; bring enough water on excursions and know when to stop exhausting yourself and seek the shade of a tree.